Lop Buri gold shop gunman pleads guilty to all nine charges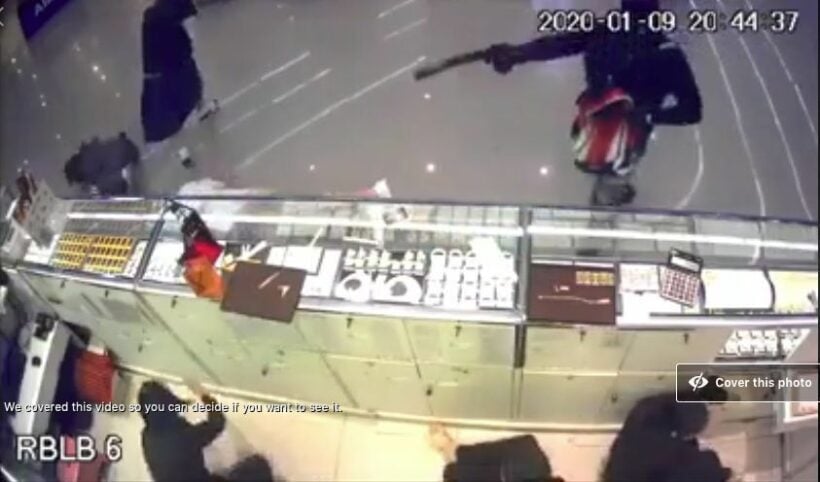 The school principal, who gunned down three people, including a 2 year old boy, and injured four others during a robbery in Lop Buri province on January 9, has pleaded guilty to all charges.
38 year old Prasitthichai Khaokaew, stormed into the Robinsons shopping centre and strode up to the Aurora Gold Shop brandishing a pistol and silencer and calmly shot at staff and customers. He was wearing a military-style combat uniform and bike helmet and escaped on a 110cc motorbike after shooting a security guard as he fled the crime scene.
The three people killed were the security guard, Mr. Thirachat Nimma, an employee of the gold shop, Ms. Thidarat Thongthip and the young boy, Panuwit Wongyu. The gunman escaped with 33 gold necklaces valued around 665,000 baht. These items were recovered the day after the man's arrest at his parent's home.
The gunman was identified as the principal of a Sing Buri public school and arrested on January 21. Prasitthichai was yesterday indicted on nine charges, including pre-mediated murder, attempted murder and robbery to illegal possession of firearms and carrying firearms in public without permission.
The shootings and murders shocked Thai society.
Prasitthichai was escorted from prison to the Criminal Court in Bangkok yesterday morning to hear the nine charges filed against him. He pleaded guilty to all nine charges. The first hearing is scheduled for March 23.
SOURCE: Thai PBS World
Keep in contact with The Thaiger by following our
Facebook page
.
Monkey brawl shocks Lop Buri – VIDEO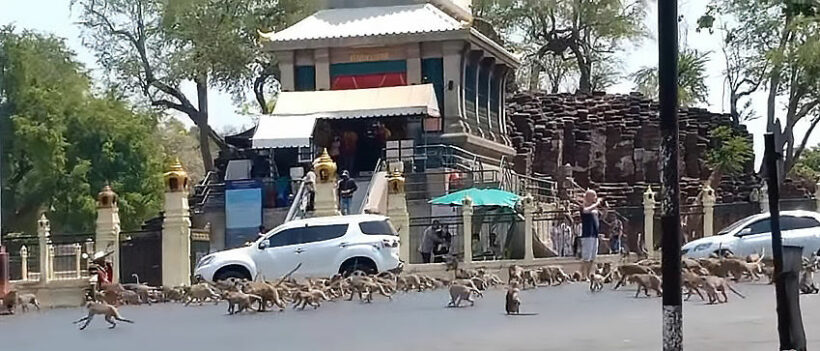 Central Thailand's Lop Buri province was a battleground yesterday, with fierce skirmishes raging through city streets. Fortunately no casualties were reported. No human ones, anyway. Rival monkey gangs took to the streets and brawled for hours. Lopburi is home to two monkey clubs, with thousands of members: city monkeys and temple monkeys.
The temple monkeys control the area around Phra Prang Sam Yod, an ancient Hindu shrine, while the rival gang controls the city streets. The zones are divided by the northern train track.
Normally the two camps do not encroach on one another's turf.
Locals residents offered different theories for the brawl. Some pointed to the scorching heat, saying that might have made them hot-tempered, while others believe they were fighting over food.
A taxi motorcyclist told Thai Rath online that he saw the leader of the temple monkeys leading members into the area controlled by the city gang to take food at a market. The city chief then fought back, leading the intruders to retreat to their home turf.
A woman told Thai Rath online that the temple monkeys didn't have enough food and decided to take to the streets to meet their needs.
Somchai Unakong, a local resident, said he saw the incident as a bad omen for the country — the 75-year-old man said it was like nothing he had ever seen before before.
"Did this relate to the Covid-19 virus that is spreading? I wondered."
SOURCE: Bangkok Post
Keep in contact with The Thaiger by following our
Facebook page
.
Ayutthaya mother and son drug gang, police seize 5 million meth pills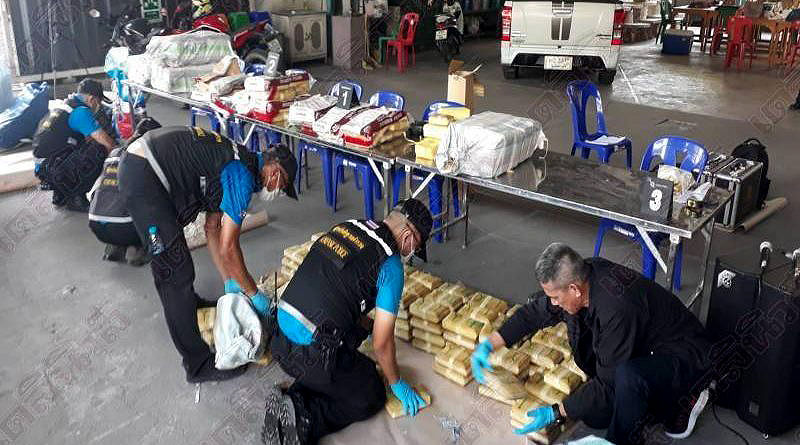 A mother and son, suspected to be part of a larger central Thailand drug gang, have been arrested after 5 million methamphetamine pills were discovered inside a rented rooms in Prainracha, Ayutthaya, north of Bangkok.
Officials searched the property on March 6, noting that there were two bedrooms in bad repair with sacks of pills strewn around the rooms. Sacks of pills were also found piled up in the bathrooms. Officials seized a phone and a white Honda Jazz car. In total, 5,474,600 meth pills were discovered.
On 5 March, officials arrested 27 year old Lerdmongkol Bundee with quantities of crystal methamphetamine (ice) as evidence. Investigation revealed that Lerdmongkol had been trafficking and selling drugs since 2019. The suspect confessed that there were meth pills hidden inside a rented room where his mother stores the drugs for him.
51 years old Somwang had been renting the rooms in the apartment for a long time. Somwang, the enterprising mother, originally worked as a maid before starting selling lottery tickets then acting as a money lender in the area. Locals told police that Somwang was never boasting about her new wealth and had no idea about her activities.
In 2019 police arrested 5 suspects belonging to an alleged drug gang operating in Ayutthaya. The gang were selling methamphetamine pills and crystal meth throughout the province. As a result of the arrests, the suspects told police of a man named 'Lerdmongkol' who was involved in smuggling and storing the drugs.
SOURCE: Thai Residents
Keep in contact with The Thaiger by following our
Facebook page
.
Central Thai junk shop raided for recycling tens of thousands of face masks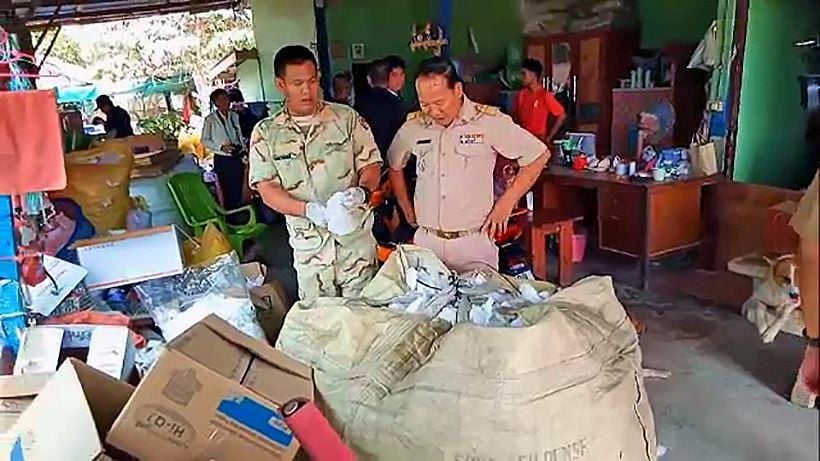 An enterprising junk shop in the Wiharn Daeng district in Saraburi, central Thailand, is being investigated after a raid found tens of thousands of recycled face masks being prepared for packing and re-selling.
According to Somsak Kaewsena, the Wiharn Daeng district chief officer, thousands of used face masks were found in washing machines, thousands more were piled up behind the shop and many more waiting to be packed.
Six men are now being questioned. Some where separating the used masks, other doing the washing and others ironing and packing the recycled masks.
The owner of the junk shop told officials that she had bought the used masks to extract the metal wire for smelting, but police suspect that she was cashing in on the current shortage in the market and panic over the coronavirus.
The Internal Trade Department is warning hoarders of face masks that they face prison terms of up to seven years and/or fines of 140,000 baht if they are caught overcharging for the masks.
The department head, Wichai Potchanakit, says the department receives a quantity of new face masks each day – 150,000 are for state hospitals, 200,000 for the Government Pharmaceutical Organisation, 25,000 for the association of drug stores, 18,000 for Thai Airways and 200,000-300,000 for the Commerce Ministry.
The masks for the Commerce Ministry are repackaged in fours, for sale at 10 baht per pack at Blue Flag shops, convenience stores and other retail outlets.
SOURCE: Thai PBS World
Keep in contact with The Thaiger by following our
Facebook page
.