Phuket's governor appeals for calm, issues warning over fake virus news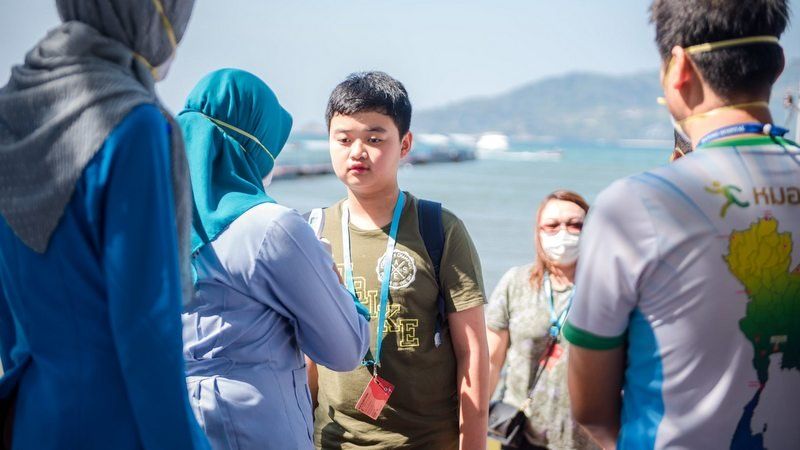 Amid the flurry of news stories about the Wuhan Coronavirus outbreak, Phuket's Governor Phakaphong urged people this week to beware of fake news and reports that don't cite their sources.
"Fake news has been shared on social media, making people worried and damaging Phuket's tourism image. Please check before believing it, reduce the panic."
One report that went viral this week claimed that a foreign woman had died of the virus at Phuket International Airport. The post, uploaded to Facebook on Monday, showed a photo of a person covered with a white sheet being wheeled out of the airport and loaded into an ambulance.
Along with the photo was a caption in Thai: "One death at Phuket International Airport #Chinese."
But Sutsinee Sakswut, the airport's doctor on duty on Monday, confirmed on Wednesday that nobody has died from the "Wuhan flu" at the airport.
"The post is wrong."
Sutsinee explained that female tourist suffered a minor stroke in the arrival hall at the international terminal and was taken to Bangkok Hospital Phuket, adding that she was discharged the following day.
Another post claimed that Chinese tourists from Wuhan were not allowed to board a flight home on January 24 because a 4 year old girl travelling with the group had contracted the virus.
While it is true that a girl and her family members from Wuhan were detained for screening, tests quickly confirmed that she was not infected with the Wuhan virus, and only had a mild case of the flu.
There are currently no confirmed cases of the coronavirus in Phuket, and Governor Phakaphong assures the public: "We are working on measures to control and prevent the Wuhan virus from spreading here. We have set up an 'Emergency Operations Center' to follow up on the situation and updates are given through press briefings every day.
"So everyone should check any information first before sharing it online. Anyone who finds fake news reports, please inform the Phuket office of the Public Relations Department or relevant officers so they can check it out."
More ominously, a report by the Phuket PR office on Wednesday reminds that posting or sharing fake news online is illegal under the Computer Crimes Act.
"If anyone sees fake news on social media, please send an image and details to the Phuket PR Dept Facebook page," the report noted.
SOURCE: The Phuket News
Keep in contact with The Thaiger by following our
Facebook page
.
US evacuates citizens from Japan virus ship as China death passes 1700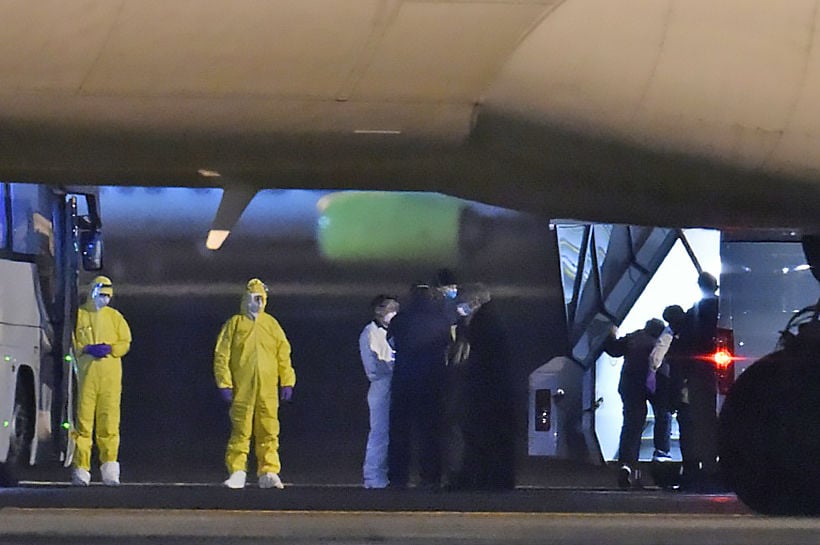 Some US citizens from the cruise ship Diamond Princess, currently quarantined off the coast of Japan, have been evacuated and flown home, where they face a further 14 day quarantine. Other nations are preparing to follow suit as global concern grows over the spread of the COVID-19 coronavirus, and the death toll at its epicentre in China topped 1,700. More than 70,500 in China have been infected by the flu-like disease, which has sparked panic buying and jitters over the global economic impact.
The Diamond Princess represents the biggest cluster of infections outside of China. Cases have climbed to 355, despite passengers being confined to their cabins. Governments are scrambling to repatriate their citizens amid growing criticism of Japan's handling of the crisis, with Canada, Australia, Italy, Israel and Hong Kong all poised to evacuate their citizens.
This morning, a convoy of buses driven by people in protective suits removed American passengers from the ship after a makeshift passport control. There were no health checks at that point, said one US passenger, a 52 year old medical social worker, who complained that the US government "should have acted much sooner, at the beginning."
"I am happy and ready to go. We need a proper quarantine. This was not it."
The US embassy in Japan has confirmed two jets had left Japan en route to the US. Those on board expected to undergo a further 14-day quarantine period on US soil.
But some Americans on the ship declined to go. An American lawyer on the ship with his wife tweeted:
"My health is fine. And my two-week quarantine is almost over. Why would I want to be put on a bus and a plane with other people they think may be infected when I have spent nearly two weeks isolated from those people?"
He described a fellow American standing on her balcony chanting "USA, USA" as buses arrived to collect them.
"Of course, in contravention of the rules of quarantine, she's not wearing a face mask, and she's talking with a passenger on the adjacent balcony… And you wanted me to get on a bus with her?"
Forty US passengers tested positive for the virus and were rushed to hospitals in Japan, according to Anthony Fauci, a senior official at the National Institutes for Health. It isn't clear if they were already counted among the 355 known cases on the ship.
Chinese authorities have placed about 56 million people in Hubei province and its capital Wuhan under quarantine, virtually sealing off the province from the rest of the country and the world in an unprecedented effort to contain the virus. New cases outside the central province have been steadily declining for the last thirteen days. There were 115 fresh cases outside the central province — sharply down from nearly 450 a week ago.
Chinese authorities are quick to point to the slowing rise as proof their measures to stem the spread are working, even as the death toll climbed to 1,770.
But World Health Organization head Tedros Adhanom Ghebreyesus has warned it is "impossible to predict which direction this epidemic will take."
SOURCE: Bangkok Post
Keep in contact with The Thaiger by following our
Facebook page
.
New coronavirus case brings Thailand total to 35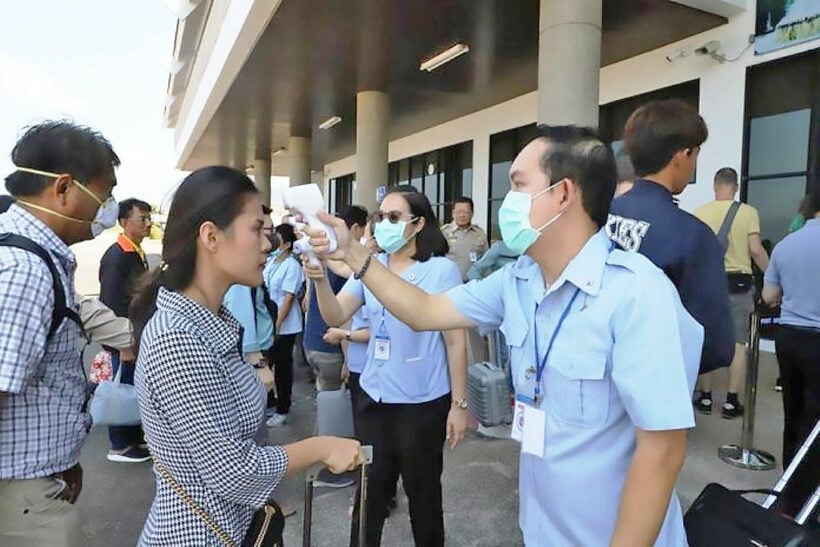 Thailand has a new case of the COVID-19 coronavirus, bringing the total in the country to 35 since January, the Ministry of Public Health's permanent secretary announced at a press conference today. The new case is a 60 year old Chinese woman whose relatives earlier contracted the virus.
Of Thailand's 35 confirmed cases since January, 15 have recovered and return home. Over 1,700 people in China have died from the virus but Thailand has had no fatalities so far.
If you believe you may have been exposed to the COVID-19 coronavirus, the Tourism Authority of Thailand (TAT) would like to inform locals and tourists alike that an online self-screening for has been launched.
The questionnaire is available in Thai, Chinese and English, and can be accessed online at http://sescimande.net/Self-Screening.
On completion of the questionnaire, the user is classified as either "no risk," "medium risk" or "high risk." A recommended course of action is provided for each category.
TAT urges users to provide the most accurate and truthful medical statement to assist Thai health authorities to treat and prevent the spreading of the disease effectively. Do not provide fake or incorrect information, as it may cause widespread panic. Individuals spreading fake information can be found guilty under Thailand's Computer Crime Act of 2017. Also, people should check any news before sharing and not believe information that appears in unreliable sources.
To protect themselves from the disease, the general public as well as local and international tourists are advised to comply with the Ministry of Public Health's recommendation by eating cooked food, using a serving spoon, washing hands, wearing a mask when visiting crowded places, and not touching their eyes, nose and mouth.
Useful contacts:
Department of Disease Control Call Centre 1422
TAT Contact Centre 1672
Tourist Police 1155
SOURCE: Bangkok Post |Tourism Authority of Thailand
Keep in contact with The Thaiger by following our
Facebook page
.
21 Vietnamese fishermen taken for coronavirus testing in Songkhla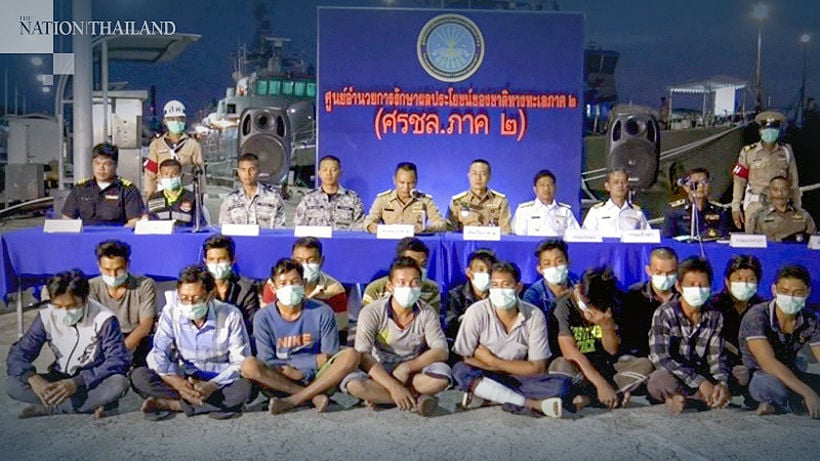 21 Vietnamese crew from four Vietnamese fishing boats looking for sea cucumbers have been taken ashore to a Songkhla Navy hospital by Royal Thai Navy officials last night. They are being quarantined whilst being tested for coronavirus.
Sea cucumbers are echinoderms from the class Holothuroidea. They are marine animals with a leathery skin and an elongated body containing a single, branched gonad. Sea cucumbers are found on the sea floor worldwide.
The Songkhla Naval Base Hospital's medical team has now screened the entire crew following a report that the Vietnamese boat had travelled to China since the start of the outbreak. Concerns were raised when Maritime Information Sharing Centre was informed on February 14 that foreign ships searching for sea cucumbers had also encroached into Thailand's maritime zone.
Thailand, Cambodia and Vietnam share parts of the Gulf of Thailand.
Its name in Malay and Khmer translates as the "Gulf of Siam". In Thai, the gulf is historically known as Ao Sayam. In Vietnamese it is known as Vịnh Thái Lan.
Of the fishermen brought ashore, 16 didn't show any symptoms of coronavirus while the condition of the other five, who have now been screened, is yet to be confirmed.
SOURCE: The Nation
Keep in contact with The Thaiger by following our
Facebook page
.