Phuket
"Phoenix to be raised in five days" – says Surachate Hakparn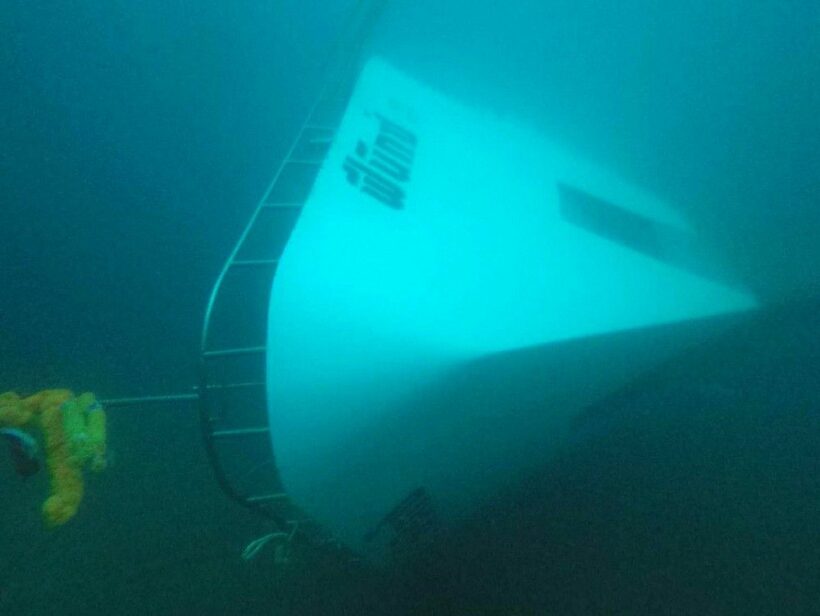 For now, the Phoenix sits 45 meters underwater in the Andaman Sea, south west of Phuket, off Koh Racha
After the contracted salvage team threw in the towel trying to recover the Phoenix, the Marine Office says the police have taken over the project to bring the sunken vessel back to the surface. The police say it's a necessary piece of evidence for the forthcoming court cases related to the sinking of Phoenix and the drowning of 47 Chinese tourists, including many children.
Boat salvage operations started again this morning with a crane that has arrived from Singapore. The salvage is expected to be completed in five days according to newly appointed Immigration Bureau Maj-Gen Surachate Hakparn.
A private sector company walked away from the contract to salvage the Phoenix after numerous failed attempts over two months. The company continually complained about poor weather and strong currents despite many calm days.
They have officially cancelled the contract to salvage the boat after saying they are unable to complete the operation.
Read more about the private contractor's cancellation of the salvage HERE.
The newly appointed Immigration Bureau Maj-Gen Surachate Hakparn says, "The previous equipment that had been installed on the boat for the purpose of lifting it from the bottom of the Andaman Sea has been removed. The salvage must be done quickly as the boat is important evidence and can be further damaged the longer it is under the sea."
"A one thousand tonne crane from Singapore is being used for the new salvage operations. The new salvage started this morning. The Phoenix is expected to be raised in five days."
"Forensic police and foreign experts will then inspect the boat immediately to complete investigations and take legal action."
The 'barrel and cable' system of floating the Phoenix didn't work

Emergency responders attend to survivors of the sunken boat on July 5