Patong
Floating beach club party barge requests to anchor in Phuket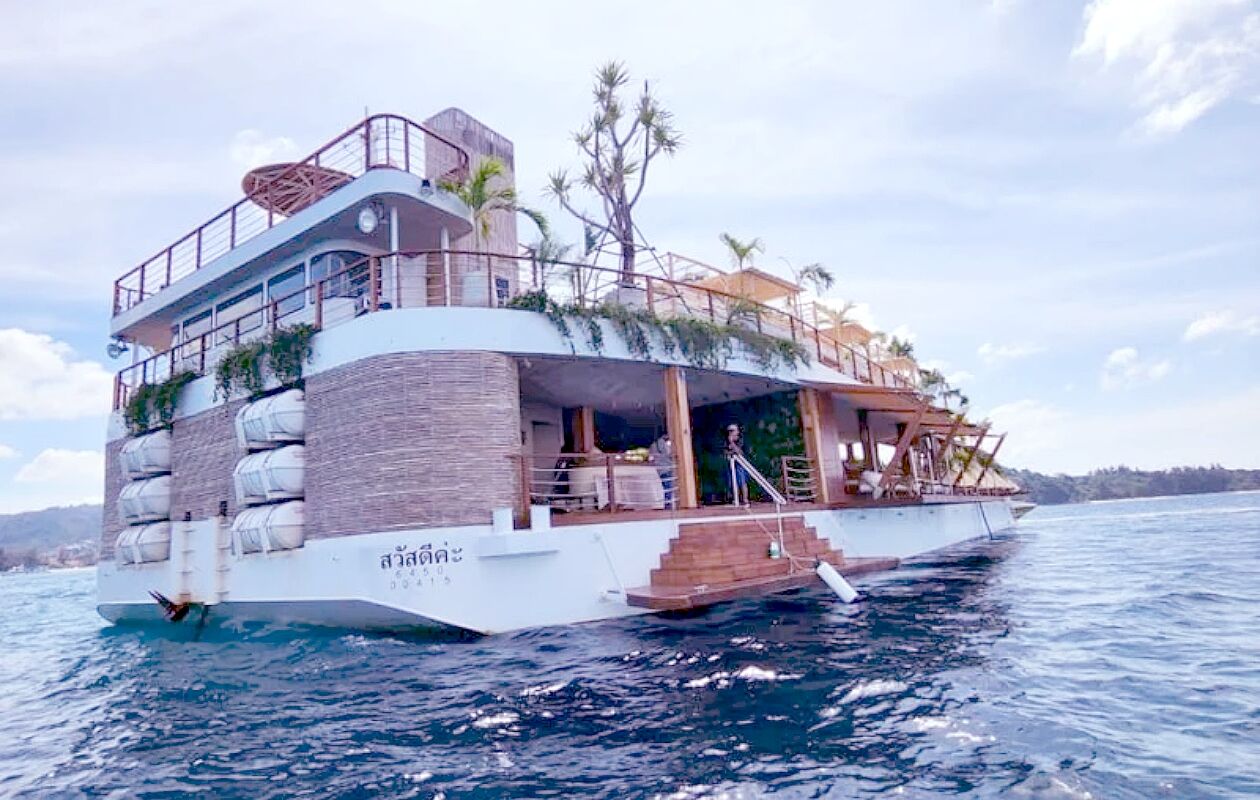 A floating beach club barge in Phuket is seeking approval to anchor in Patong Bay. The 500-gross-ton vessel, called the Sawasdee, has luxury party amenities like a bar and swimming pool and can accommodate 500 guests with a crew of 35. The Phuket office of the Marine Department reported that the boat is currently anchored in Patong Bay, where it has been approved to operate as a restaurant by Patong Municipality.
However, it is yet to be decided whether the boat will be allowed to remain in the bay. If approved, it will be the first such floating beach club barge permitted to anchor in Patong. Similar barges are floating off the east coast between Phuket and Koh Maphrao and off Bang Rong Pier but are operating as restaurants, not party entertainment venues.
The Sawasdee party barge has already faced issues with Marine Department regulations, as its registration expired last month. The boat's operators were fined 10,000 baht for the infraction and have applied to renew the boat's registration. Phuket marine officials are still in the process of inspecting the party barge, which they have described as a steel vessel with a size of 579 gross tons.
Marine officials expressed concerns about safety measures on board, including the boat's life rafts and fire hose station. They also previously asked the owners of the vessel to present plans for waste management and passenger safety when they inspected it last November at Baan Yamu Pier.
The Sawasdee was initially registered in Trang province, south of Phuket, on December 16, 2021. It is powered by dual 373kW Cummins diesel engines and is registered as a sea-going vessel permitted to operate in specific areas, though it is not specified which areas. The party barge arrived in Phuket from Kantang on June 4, 2022.
The ship was inspected on January 4 as part of a license renewal request submitted on December 29. During this inspection, officers looked at the boat's sailing equipment, communication equipment, maritime signal apparatus, hull structure, and safety equipment on board.
Patong City municipality has issued a "certificate of sound use" for the Sawasdee party boat. The barge owner also has a letter of approval to anchor in Patong Bay from the Phuket Marine Resources Conservation Centre, as well as a certificate of transport and approval for its solid waste management system according to the Phuket News.
The boat owner has requested to change the boat's registered type of ship to meet its intended purpose to create a party barge in Phuket, and the request is currently under consideration by the Marine Department's Bureau of Ship Standards in Bangkok. Phuket marine officials will make a final decision on whether to allow it to anchor in Patong Bay after conducting one more inspection.