Officials investigate complaints of elephants on Phuket beach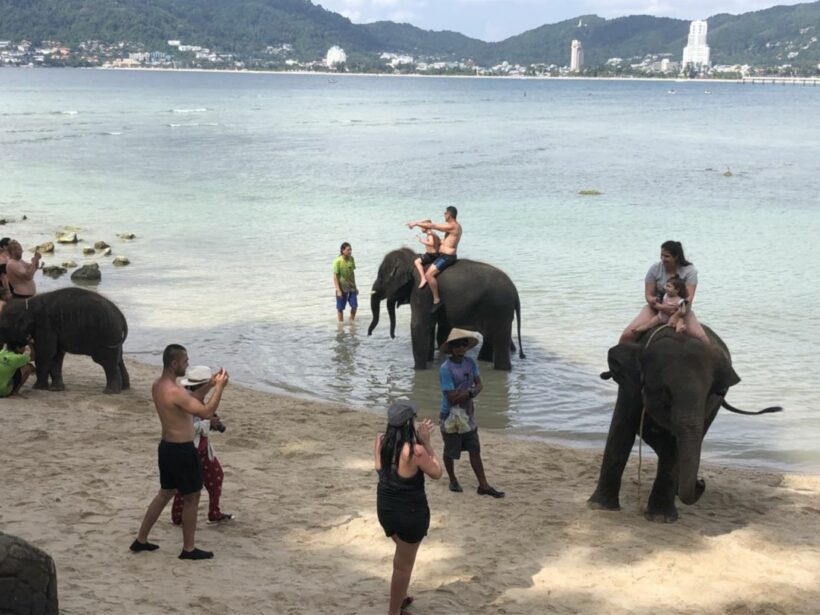 Officials have investigated social media complaints about elephants in the water and the taking of photos with tourists on Tri Trang beach. Officials haven't arrested anyone at this stage.
The issue about elephants playing in the shallows with tourist went viral in local social media as netizens made comments ranging from the "elephants are damaging the coral" and the "elephants were being tortured".
Yesterday officials from the Department of Marine and Coastal Resources investigated the issue. They say that any coral is about 50 metres from the shore, far from any possible damage from baby elephant feet.
Pijittra Tanot, the business owner, says that they have been doing the business about four months where tourists can have their photo taken with elephants in the sea. She confirmed that no elephant had been tortured and that the elephants are near the shore, not near the coral.  They said they were also clearing any elephant dung from the area.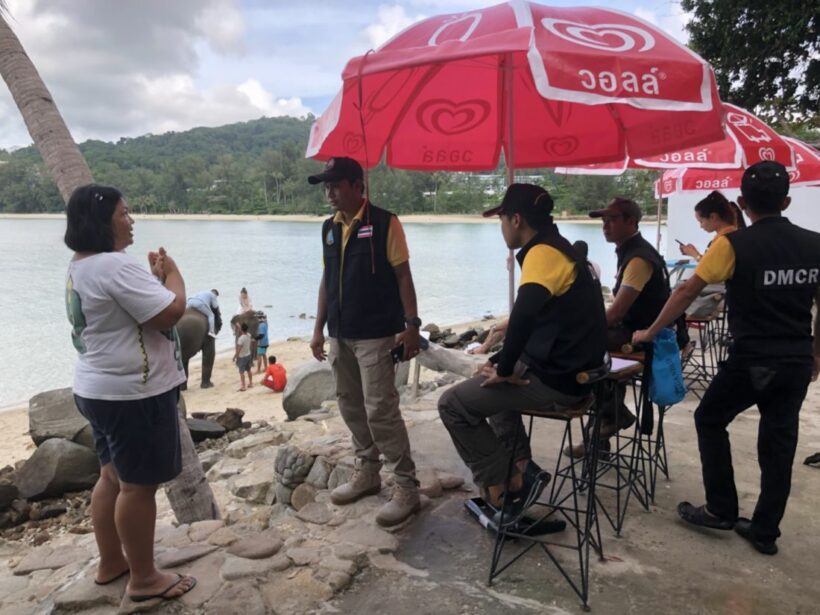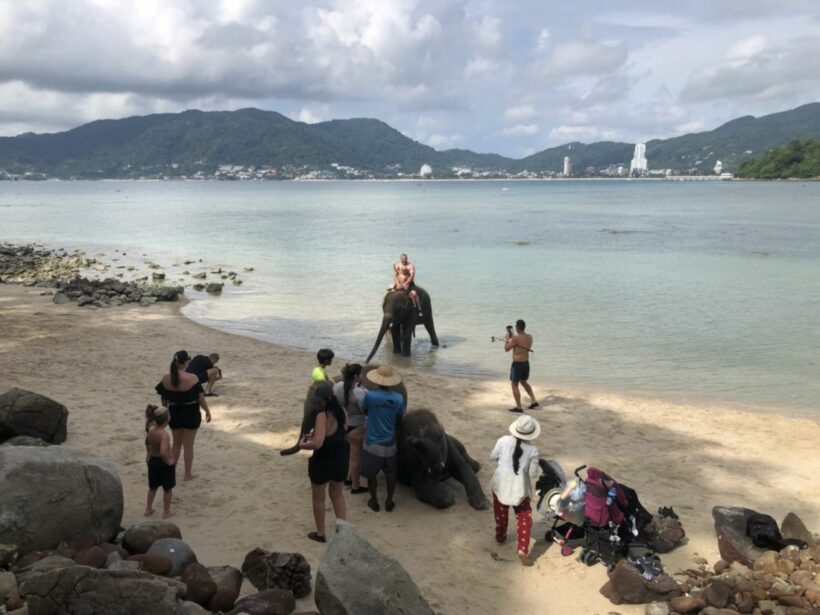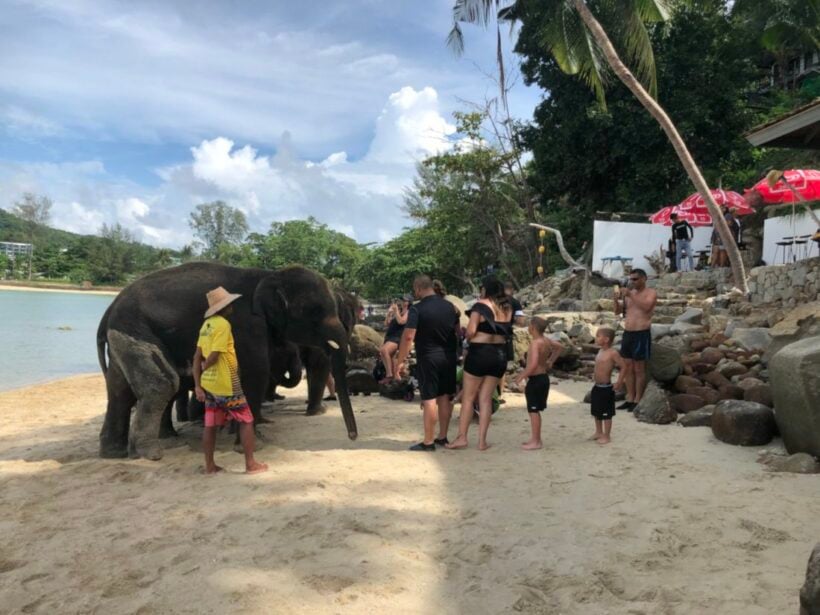 Read more headlines, reports & breaking news in Phuket. Or catch up on your Thailand news.
The magic disappearing murky and muddy waters of Pattaya's Jomtien Beach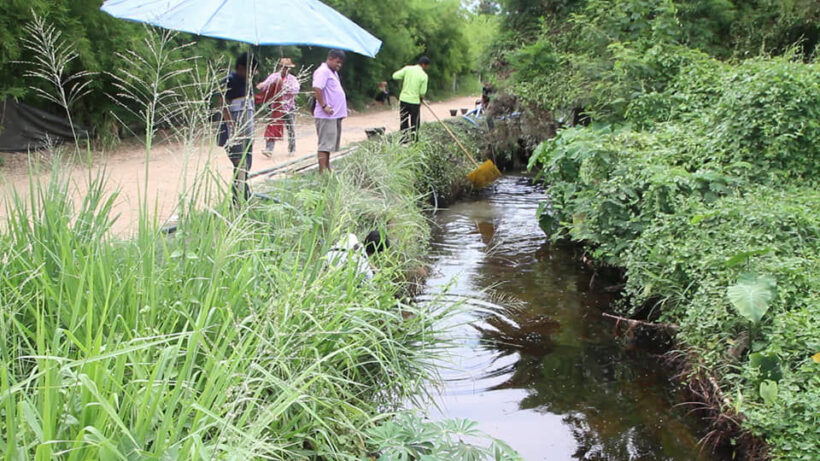 PHOTOS: Pattaya Message
Officials from Chon Buri Municipality says there is no source of wastewater found after inspections along the canals.
The video of the untreated sewage and wastewater gushing into the Gulf of Thailand has accumulated 1.5 million views already. Read more and see the video HERE.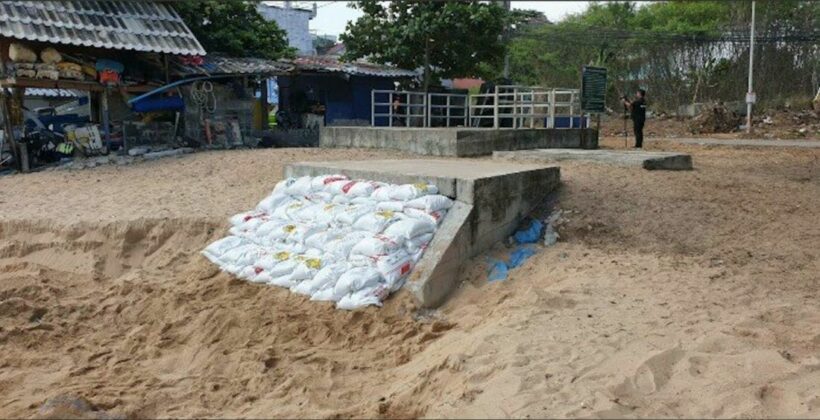 The 'stop gap' solution was a real STOP GAP solution as they rammed sandbags into the outlet which had blackwater gushing last weekend and forcing officials to close the beach.
Read more HERE.
Pattaya Message today reports that Nongprue Municipality in Banglamung report they can't any business operators or factories that are releasing wastewater into local canals. They also presented documentation to the media to confirm that those places have been checked.
Whatever was gushing into the Gulf of Thailand, there was a LOT of it and ruined the beach for holidaymakers for many days.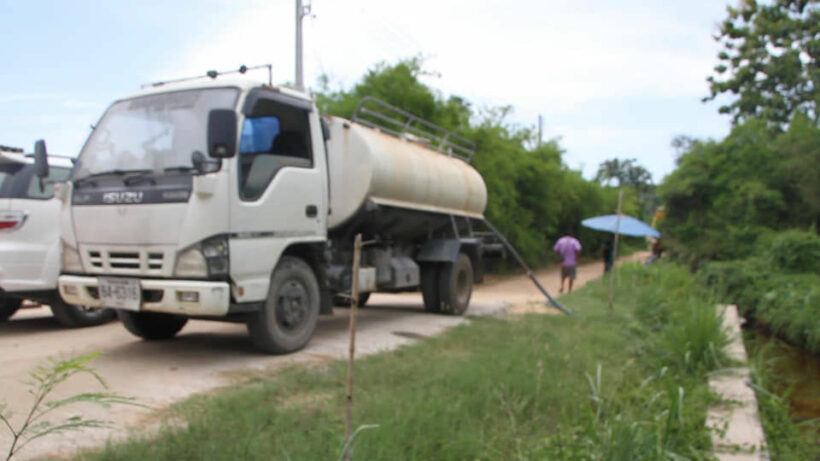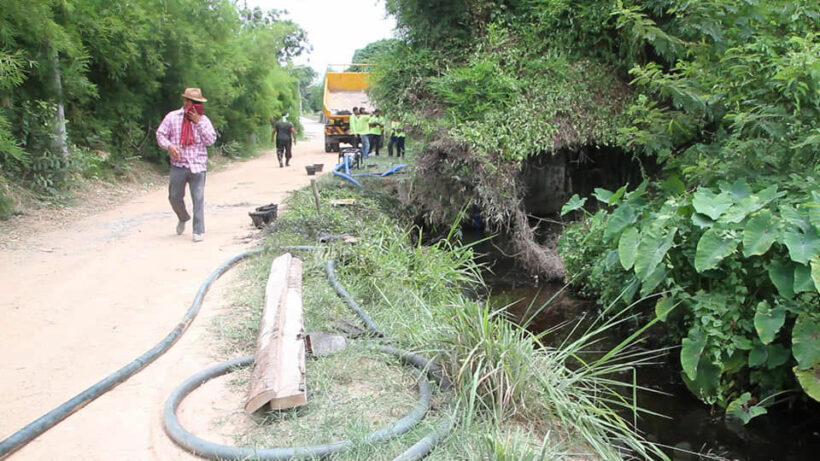 Koh Lan stinks! Environmentalist calls for limit on tourism.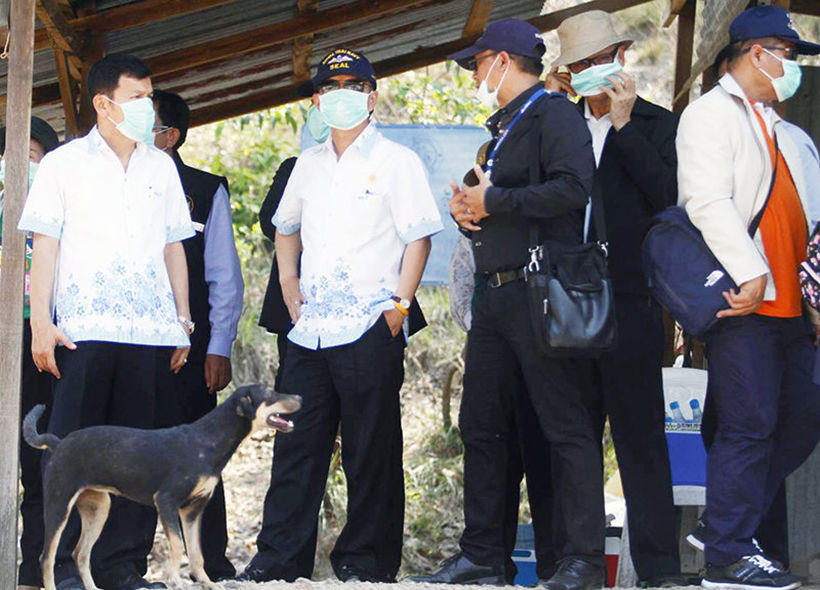 "The atmosphere at the island's Ta Waen Beach resembles that of a disaster refugee camp."
An environmental health expert is calling for the number of visitors to Koh Lan in Chon Buri to be cut to less than 5,000 a day to tackle the overwhelming garbage problem. Ko Lan is 10 kilometres off the coast of Pattaya.
Sonthi Kotchawat, in his Facebook post, also says that tour operators should transport their customers' garbage back to the mainland.
As well, Sonthi said the island authority should strictly impose a regulation against littering on the beach and a limit should be imposed on the number of restaurants, resorts and accommodations.
"The atmosphere at the island's Ta Waen Beach resembles that of a disaster refugee camp. Large umbrellas mushroom all over the beach."
Koh Lan has about 4.7 square kilometres of space and a population of  4,000. The population doubles, however, when combined with the number of unregistered residents, including tourists. There are some 1,500 rooms for tourist accommodation, he said.
"Normally the number of visitors stands at more than 3,000 people per day, while that leaps to 10,000-15,000 people on a holiday day."
"There are 50,000 tonnes of garbage accumulated on the island pending disposal, sending a foul smell. Each day, 30-50 tonnes of garbage are produced, mostly from shops, restaurants, resorts and home-stays."
"Pattaya City workers bring up to 35 tonnes of garbage per day from Koh Lan back to the mainland for disposal, hence about 20 tonnes is left piling up there," he said.
Even with the planned construction of two garbage incinerators (each with a capacity to dispose 25 tonnes a day), the island will still be overwhelmed by trash that will take more than five years to remove, he said.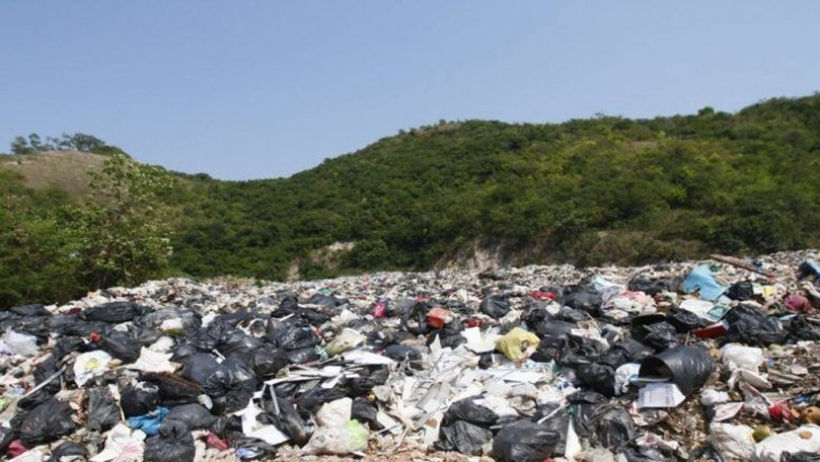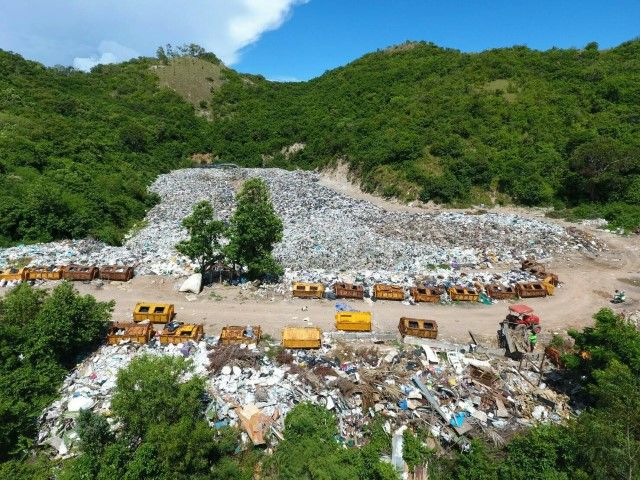 SOURCE: The Nation
Whale shark sighted off Koh Racha – VIDEO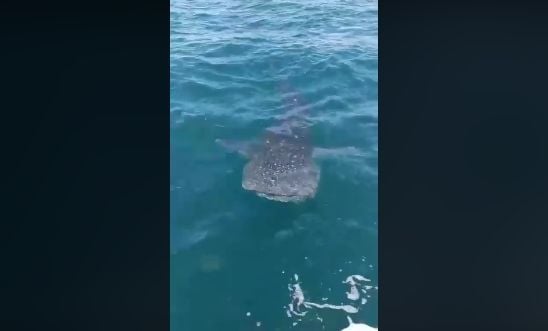 VIDEO/PHOTO:  บังดำ นายสุวัฒน์ บาเร็ม/Saranyu Hassanai
A whale shark was sighted off Koh Racha, south of Phuket, yesterday.
A Facebook user 'Saranyu Hassanai' has posted the video clip with a message saying "A whale shark has showed up near the boat while we were travelling near Koh Racha."
"Tourists on the boat were very happy to see the whale shark."
ฉลามวาฬขึ้นมาอวดโฉมนักท่องเที่ยวตื่นเต้นที่มีโอกาสได้เห็น วันนี้เจอฉลามวาฬโพล่เหนือน้ำขึ้นมาให้ชม และฉลามวาฬวิ่งตามเรือเข้ามาไกล้ๆ วันนี้ประมาณ 11.00 น เรือโชคณรงณ์ กับคันเรือ นายสุวัฒน์ บาเร็ม กับตันเรือ ได้พานักท่องเทิ่ยวไปเกาะราชา ระหว่างทางตอนวิ่งเรือได้พบเจิอฉลามวาฬระหว่างเกาะเฮและเกาะราชา ขึ้นมาให้นักท่องเที่ยวดูเป็นขวัญตา ทำให้นักท่องเที่ยวดีใจมากๆ และปลาวาฬตัวนี้คุ้นกับเรือกับคนเหมือนว่าไว้มาที่ท้ายเรือ ในรอบปีนี้ได้เห็นฉลามว่าอีกครั้งเมื่อก่อนหน้านี้ได้เห็นมาแล้วเมื่อต้นปี ธรรมชาติทะเลบ้านเรายังสมบูรณ์ อยากให้ทุกๆคน ไม่ว่านักท่องเที่ยวหรือผู้ประกอบการณ์ คนขับแรือและทุกคนช่วยกันรักษาทรัพย์ยากรและช่วยกันอนุรักษ์ให้คงอยู่คู่กับทรัพยากรณ์บ้านเราตลอดไป….ขอบคุณวิดีโอจาก บังดำ นายสุวัฒน์ บาเร็ม By Saranyou. Hassanai

Posted by สรันยู หัสนัย on Monday, May 20, 2019