Chonburi immigration introduces "smart car" to check foreigners' visa status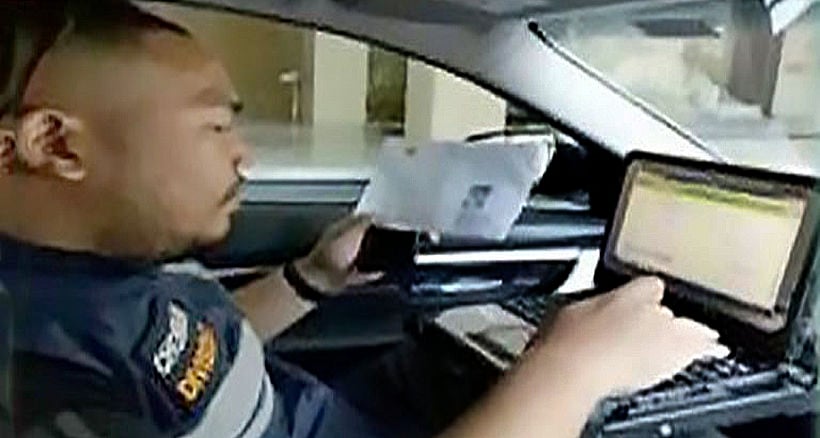 Overstayers and ne'er-do-wells beware: Thai media are reporting that Chon Buri immigration sent a brand new BMW "smart car" into action, with state of the art electronics onboard, to verify the status of foreigners in and around Pattaya.
By "smart' it's basically some Pattaya cops riding around in an expensive car with a laptop. We presume that if the car was a much cheaper Honda City or Toyota Yaris it would been less smart.
Authorities say the vehicle will be used to quickly verify the passport and visa status of "suspicious" foreigners across the city (code for "non-caucasian"). The vehicle's computer has the ability to instantly check the passport and criminal background status of foreigners.
The car's first target was 54 year old Imadh M. from Sudan, spotted walking outside his house in south Pattaya. After running a random check on him from the vehicle, immigration soon realised that Imadh was in Thailand illegally. He was taken to Pattaya police station and will be deported and blacklisted, at his expense.
Police told reporters that the car is part of Immigration Bureau chief Sompong Chingduang's plan to rid Thailand of illegal aliens and "undesirable" foreigners.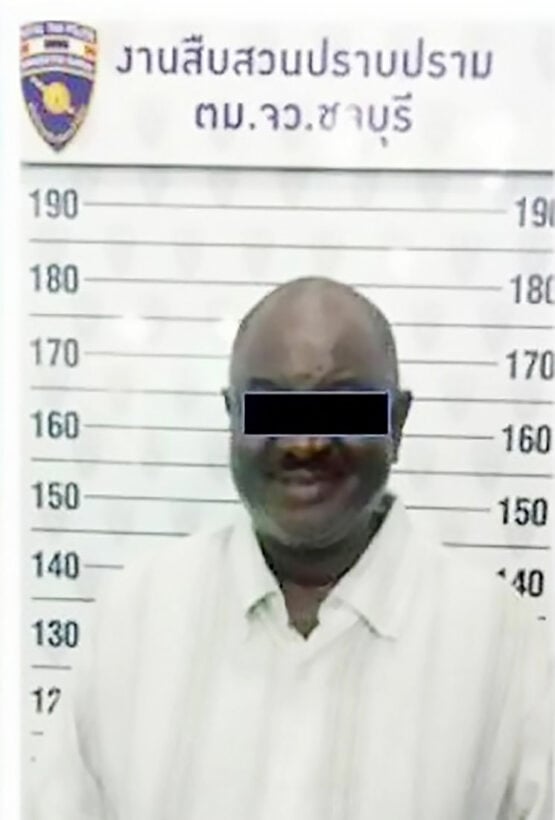 Stopping visitors for random passport checks is entirely legal in Thailand. Under Thai law, foreigners must carry their passport at all times, though in practice a copy is generally permitted. However, the copy must have the individual's arrival and visa stamps, not just the identity page.
Chonburi Immigration told the media that they will continue to conduct random checks on a daily basis, looking for "suspicious individuals." They didn't define what makes an individual "suspicious." Authorities noted that those who are in the country legally and following the rules have nothing to worry about and a normal check takes only a few seconds.
The public is encouraged to call 1178 to report infractions of immigration laws, or if they believe someone has overstayed or is in the country illegally.
Source: The Pattaya News | Naew Na
Keep in contact with The Thaiger by following our
Facebook page
.
German man dead after jumping from Pattaya condo, refusing medical assistance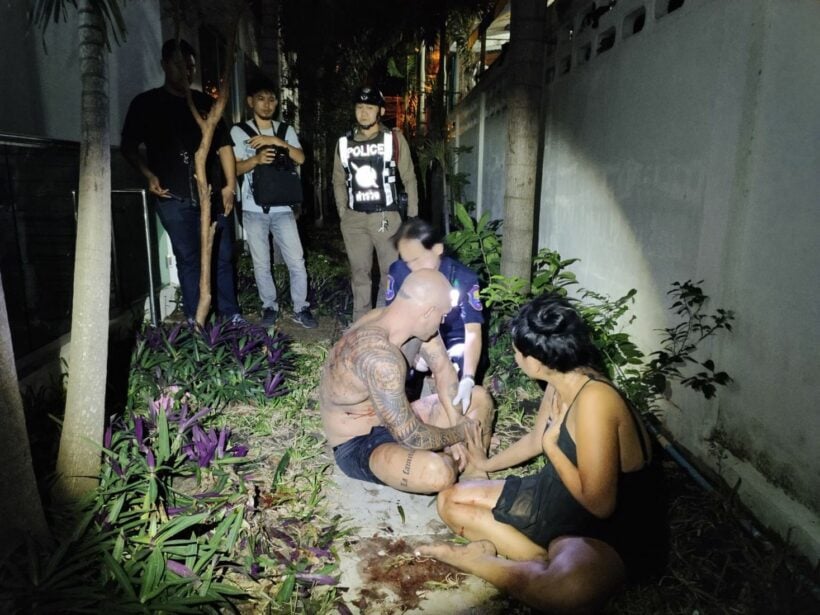 A 34 year old German man is dead after he argued with his girlfriend and jumped from his fourth floor condominium in Pattaya this morning. He initially survived the fall, but refused medical assistance. Pattaya City Police were notified of the incident at 5am.
Police, emergency responders and reporters arrived at the scene to find the man sitting on the ground, conscious, calm and cognizant, refusing medical assistance and telling medical staff to go away. He had broken at least one arm but would not cooperate with with medics, police or his girlfriend and refused every attempt at assistance.
The man, whose name is being withheld pending notification of family and the German embassy, refused every attempt to take him to hospital, despite being told he likely had internal bleeding. He later collapsed and died at the scene. His cause of death is believed to be internal bleeding.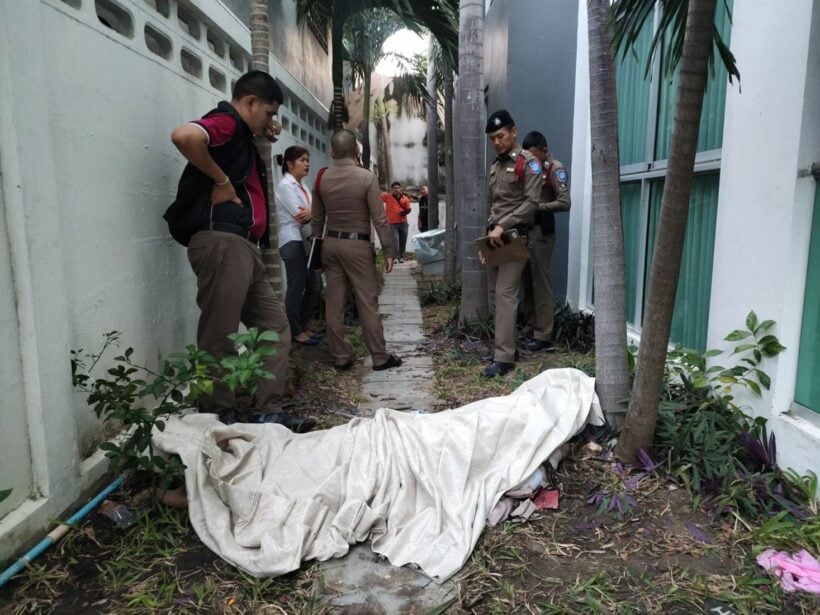 PHOTO: The body of the 34 year old German man – The Pattaya News
26 year old Srijantra Kosaidil, the man's live-in girlfriend, wept and said they were arguing before the man jumped from the fourth floor. Police say alcohol was a factor, but the exact reason for the argument was not given.
Police are continuing their investigation and informing the embassy today.
If you or anyone you know is in emotional distress, please contact the Samaritans of Thailand 24-hour hotline: 02 713 6791 (English), 02 713 6793 (Thai) or the Thai Mental Health Hotline at 1323 (Thai).
SOURCE: The Pattaya News
Keep in contact with The Thaiger by following our
Facebook page
.
Chon Buri sugarcane vendor dragged behind motorbike after thief steals his phone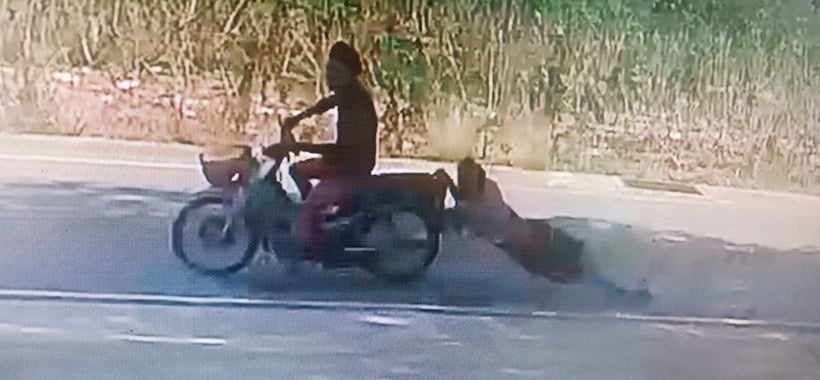 An elderly sugarcane vendor in Chon Buri province's Sattahip district sufferered multiple injuries when a potential customer stole his phone and tried to speed off on his motorbike, leading the vendor to grab onto the bike in a desperate attempt to to get it phone back.
63 year old Chaiyapat Warawan says a young Thai man about 20 years old pulled up to his stall on a grey and black Honda motorbike at about 10am on Saturday, saying he wanted to buy some sugar cane. But he said he needed to make a call to figure out how much his mother needed, and asked to borrow a phone.
Warawan lent his phone to the man who then attempted to speed away on his motorbike. Warawan grabbed onto the back of the bike and was dragged for over twenty metres down the road, yelling for his phone back. The thief threw the phone onto the side of the road and sped off. Warawan let go once he saw his phone was safe.
The entire incident was caught on CCTV. Police say they have identified the suspect and were working toward an arrest as of yesterday afternoon.
Warawan is recovering from his injuries but is happy to have his phone back and says he would do it again in a heartbeat, regardless of his age.
SOURCE: The Pattaya News
Keep in contact with The Thaiger by following our
Facebook page
.
Disabled Belgian man busted by Chon Buri's "smart car"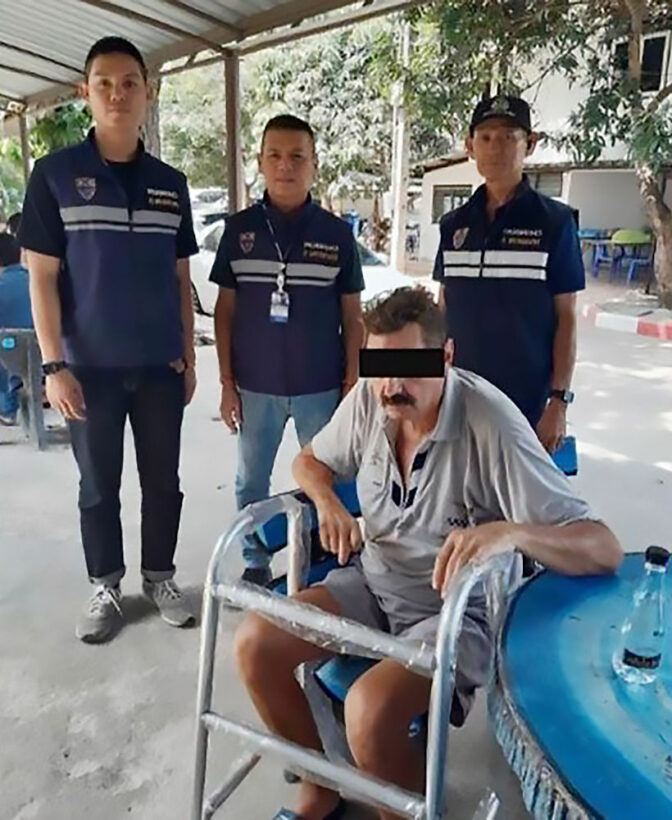 A 57 year old Belgian man, who is disabled and uses a walker for mobility, was arrested earlier this week in Chon Buri province for overstaying his visa.
Immigration officers found the man behind the Burapha hospital in the Bang Saen area on Thursday. They were using Chonburi Immigration's new "smart car," which allegedly identified the man using facial recognition technology.
Officers verified his passport and found he had overstayed his visa by 85 days. The man, whose name was not given, offered no explanation for being on overstay, according to authorities. He'll be blacklisted and deported at his expense, facing at least a five year ban from reentering the country as per Thai law.
Chonburi Immigration officials say the new smart car, which uses cutting edge technology to identify "suspicious" individuals, has caught two people on overstay in less than a week. They reassure those concerned with privacy that "if someone is doing nothing wrong they will have no problems."
Source: The Pattaya News | Naew Na
Keep in contact with The Thaiger by following our
Facebook page
.