Woman badly injured in Rayong car accident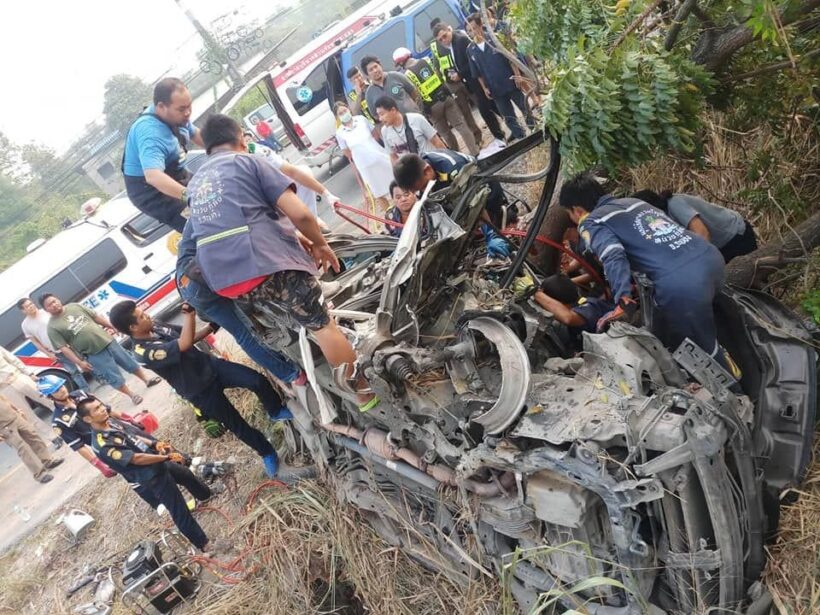 PHOTOS: สื่อสาร 01 / Siam Rayong Rescue Foundation
Rescue workers took two hours to free a woman from a car following a road incident in Rayong south east of Bangkok.
The Siam Rayong Rescue Foundation has reported that they were notified of the incident in Rayong city at 7am this morning.
Rescue workers arrived to find a car overturned after colliding at speed with a tree on the side of the road.
Rescue workers used four set of hydraulic cutters to free the injured passengers from the car. One woman suffered two broken legs and was rushed to a nearby hospital.
Looking at the wreckage it is a wonder no one was killed.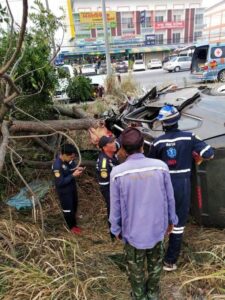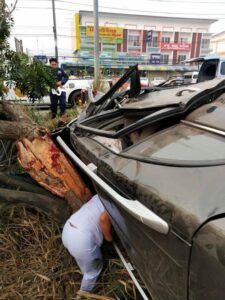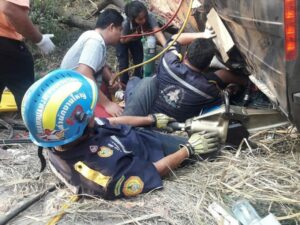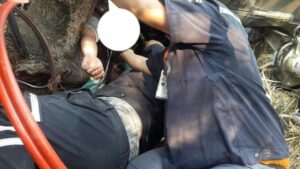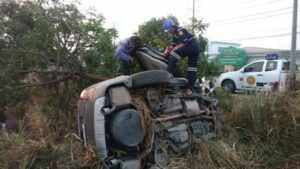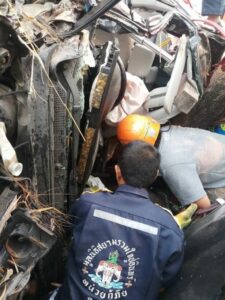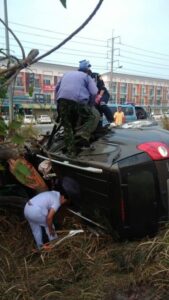 Keep in contact with The Thaiger by following our
Facebook page
.
5 year old Burmese girl raped, murdered in Tak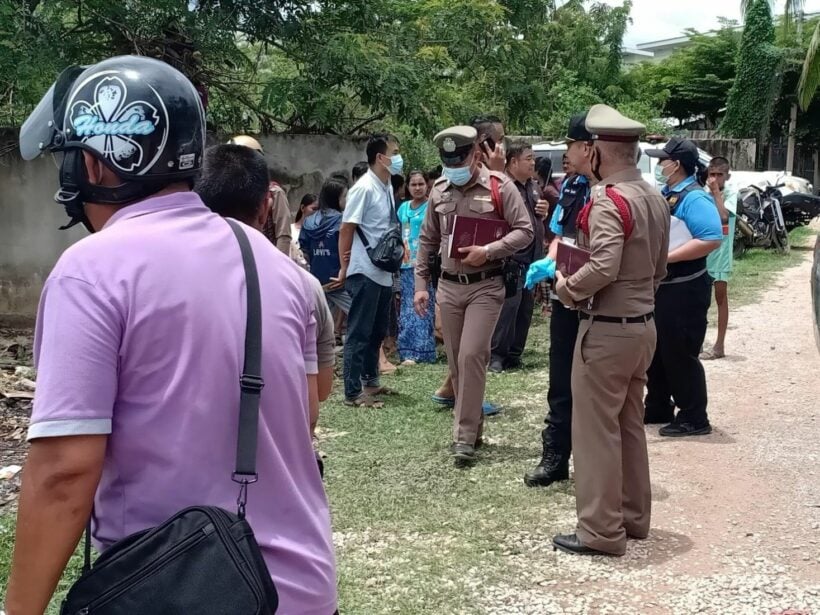 Villagers in the north western Tak province were shocked yesterday by reports of the rape and murder of a 5 year old Burmese girl. Her body was discovered in a forest in Mae Sot district. Police went to Muhajireen community in Mae Sot after being notified of the crime. They found the girl's body, her hands and legs bound with rope and her clothes torn.
It's was assumed the girl was raped and murdered. 3 suspects have been arrested while authorities await forensic test results. Mae Sot Hospital has confirmed the girl suffered internal injuries and bleeding. Doctors also found a piece of cloth stuffed in her mouth.
The community of about 100 residents were horrified by the news. They say the girl went missing at around 7pm on Friday and was found the next morning.
Witnesses claimed that they saw a man take the girl away while she was playing alone in the yard. He reportedly returned alone. It was later revealed the man had previously been convicted for rape and imprisoned for 7 years when he lived across the border in Myanmar.
SOURCE: Nation Thailand
Keep in contact with The Thaiger by following our
Facebook page
.
US ambassador meets deputy PM to discuss Thailand's "great investment potential"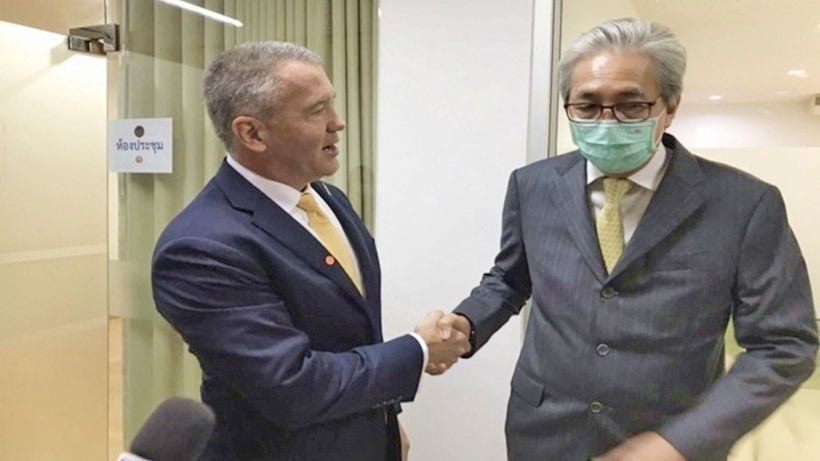 US Ambassador to Thailand Michael George DeSombre, who raised eyebrows in May when he described the US as "a better friend than China," has praised the kingdom's "great investment potential", highlighting the expansion of current projects and further support for industry as ways to promote further cooperation. Deputy PM Somkid Jatusripitak welcomed the ambassador to the open discussion amongst key trade officials.
The US Ambassador chose not to wear a facemark during the visit.
The DPM and the ambassador discussed cooperation between the 2 nations, to help strengthen the economies of both countries and promote more US investment in Thailand. The ambassador says Thailand has huge potential and suitability for US companies to invest, especially as part of the supply chain of the South East Asia region.
Somkid says DeSombre is enthusiastic about the development of mutual economic relations, revealing that the ambassador proposed ideas on what industries should receive more support from both sides.
The ambassador expressed confidence that Thailand will become a technological hub in the region, with immense growth potential in the manufacturing and service sectors, as well as stock exchanges that could connect to Hong Kong and Shenzhen.
"Thailand provides excellent medical services, an area which could be expanded to reach more clients and patients…. related agencies are ready to develop mutual exchange packages through the Board of Investment, to promote competitiveness and attract investment."
The DPM said Thailand doesn't need standalone investment from individual companies, but rather demands investment packages, which the ambassador says he'll be proposing soon.
Somkid also stressed that he's still working on the country's domestic and international economic affairs, while declining to comment regarding the recent political developments in ruliing Palang Pracharath Party.
Thailand's economic ministers will meet on Friday to discuss 2 main economic packages.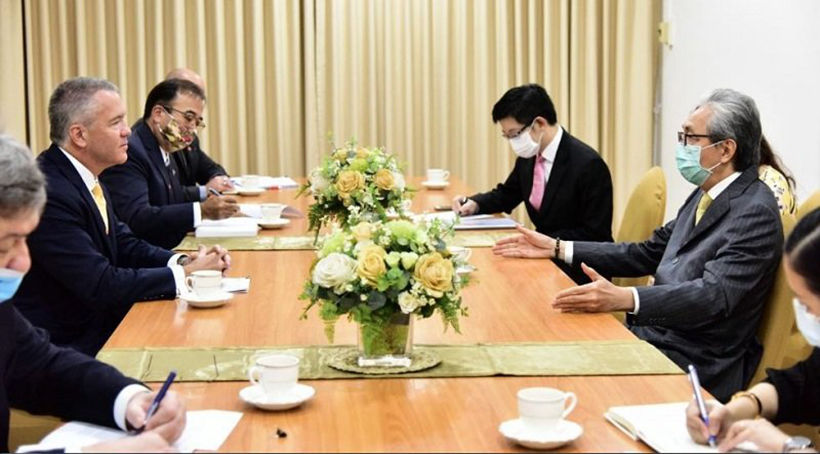 SOURCE: NNT
Keep in contact with The Thaiger by following our
Facebook page
.
Poll shows majority of Thais still worry about coronavirus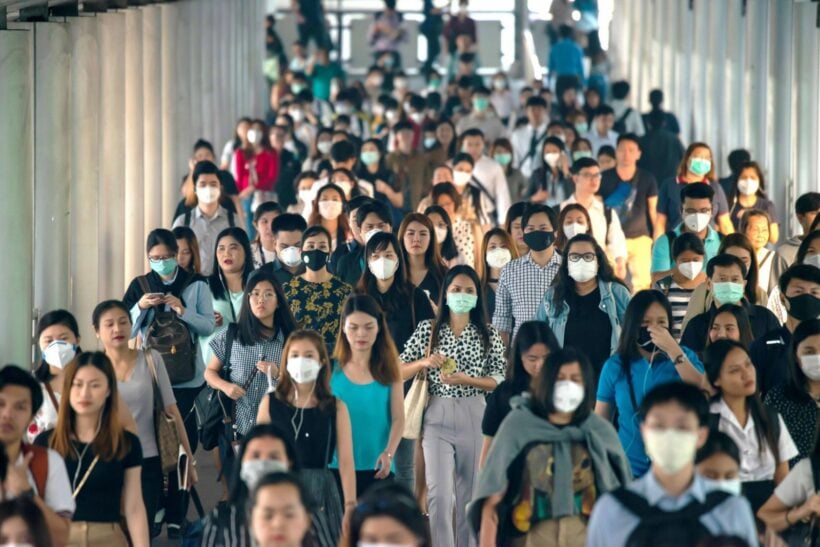 Although there have been no locally transmitted Covid-19 cases in Thailand for 41 days, a majority of locals are still worried about the spread of the virus, according to the most recent survey by Suan Dusit Rajabhat University, better know simply as the Suan Dusit Poll.
The survey was conducted between July 1-4, on 1,109 people throughout the kingdom to gather their opinions on the Covid-19 crisis, now that the government has loosened many restrictions and is allowing people to travel to their home provinces during the July 4-6 long weekend.
When asked if they still worry about the coronavirus spread now that there have been no domestic infections for over a month, 52.9% said they still worry about it but to a lesser degree; around 29.9% said they worry about it as much as before; 12.4% no longer worry about it and 4.7% said they worry more.
The highest number, 39.4%, expect the Covid-19 situation to return to normal by the end of the year; 27.9% said mid-2021; 23.9% by the end of 2021 and 8.7% said it's was hard to predict, but the situation might improve if a vaccine becomes available.
Asked what they want the government to do after the situation improves, 77.5% said it should remain strictly vigilant against the virus; 71.8% want it to introduce more remedial measures; 69.4% want the government to concentrate on creating jobs; 65.6% want it to help people who have been laid off and 57.3% said they want it to promote domestic tourism.
SOURCE: Bangkok Post
Keep in contact with The Thaiger by following our
Facebook page
.