Two million stray cats and dogs by 2027 – warning from Livestock Department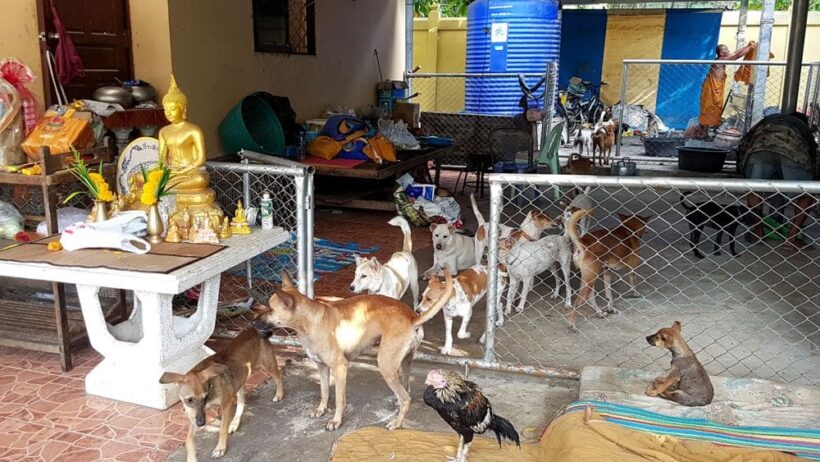 by Kornrawee Panyasuppakun
In the wake of the criticism on social media following the proposal of the new pet and livestock registration laws, the Livestock Development Department has hit back warning that we'll face a crisis soon if we don't take action now.
"Stray dogs and cats must be registered and sterilised, otherwise their population will reach 2 million in 10 years."
The number of stray cats and dogs was estimated at 820,000 last year, and the total will reach 2 million by 2027 and 5 million in 20 years if nothing is done, Livestock Development Department deputy director-general Somchuan Ratanamungklanon said during a panel discussion held by Chulalongkorn University's Faculty of Veterinary Science today (Tuesday).
The forum was held to discuss the hotly disputed pet registration bill, which if passed would make it mandatory to register cats and dogs, in order to encourage responsible ownership.
The draft law has been opposed by many who think the registration fee of 450 baht per animal is too expensive.
The Livestock Development Department promised to reconsider the fee, including waiving fees for a few years after the law is passed.
"We will also consider waiving fees for those who have sterilised their pets," Somchuan said.
He promised that the registration fees would not be a burden, but reiterated the importance of licensing pets and putting strays in shelters instead of letting them roam the streets and reproduce at will.
"Stray dogs often cause danger and can spread diseases like rabies, and their poo is unsanitary and can spread diseases related to parasites," the deputy agency chief added.
According to the Information Centre for Emerging Infectious Diseases at Chulalongkorn University, 40 per cent of stray dogs could carry the rabies virus.
The panellists, including Livestock Development Department officials, top veterinary professors and a senior news editor, agreed that the pet registration law was necessary to curb the population of stray dogs and cats.
Registration and reproduction control are a sustainable way to reduce the number of strays, said Prof Dr Roongroje Thanawongsuwech, dean of Chulalongkorn's Faculty of Veterinary Science.
Not only does sterilisation control their population, it actually makes pet less likely to develop breast and prostate cancers and makes them less aggressive, he explained.
The dean proposed that the government should waive registration fees for a few years, and help reduce the cost for people to get their pets neutered and spayed. He also proposed that vets should get a tax reduction if they help sterilised animals.
People online have been discussing the costly registration fees. Many believe that the fees could make many owners abandon their cats and dogs, and that unwanted puppies and kittens would also be less likely to find a home.
STORY: The Nation
'One Night In Bangkok'. The song, 35 years later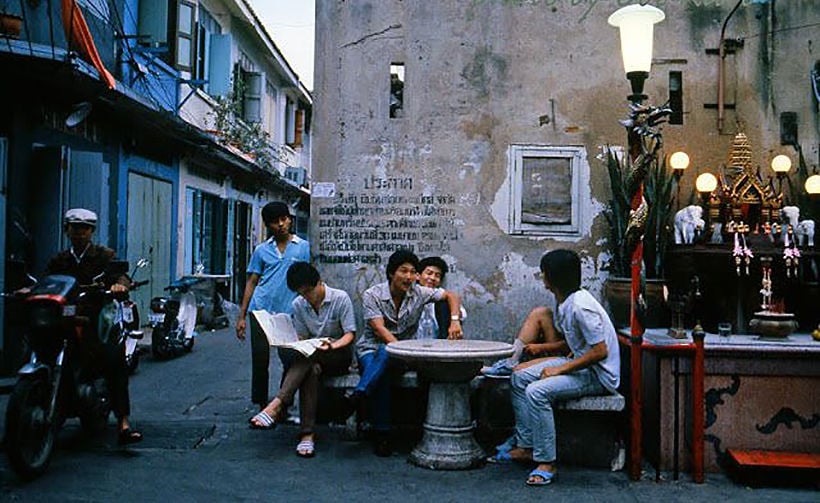 PHOTO: Doi Kuro, Bangkok 1980
When 'One Night In Bangkok' was released in 1984 it was an unlikely hit- the opening song from a (at the time) little-known stage pop-opera called 'Chess'. The song made Number 1 in South Africa, West Germany, Switzerland and Australia, and Number 3 in Canada and the United States. It has remained a staple of Classic Hit radio ever since. Have a listen below…
The musical was the first outing for the two 'Bs' in ABBA – Benny Andersson and Bjoern Ulvaeus. Their pop grooves had made ABBA one of the most famous music groups in the world between 1973 and 1982 with a string of hits including 20 singles in the Billboard Top 100 from eight albums, etc, etc. The lyrics of the song were penned by Tim Rice (Jesus Christ Superstar, Evita, Joseph and his amazing technicolour dreamcoat, Aladdin, The Lion King, Beauty and the Beast).
In the opening song of 'Chess', the American chess champion Freddie Trumper gets ready for a chess game with his Russian counterpart. He ridicules Bangkok's 'pleasures' and tourist attractions – the Chao Phraya River ("muddy old river"), Wat Pho ("reclining Buddha"), and the red-light distractions. The choruses are more complimentary.
At the time the sarcasm of the song didn't go down well with the Thai Mass Communications Organisation (now the NBTC) issuing a ban on the song in 1985, saying its lyrics "cause misunderstanding about Thai society and show disrespect towards Buddhism", a line still trotted out about inappropriate Instagrammers and their selfies in front of Thai temples.
Thirty-five years later the song still paints a picture of a contrasting 'oriental' city alive with lights (including red lights), colour, pungent smells, culture and history.
We're not sure if the ban was ever lifted but I hear the song played on Thai stations from time to time. At the time, when Bangkok was less on the tourist map than now, the song was a lone reference point for westerners.
How does it stand up thirty-five years after becoming a world-wide hit? Comment on our Facebook Page.
One Night In Bangkok
Bangkok, Oriental setting
And the city don't know that the city is getting
The creme de la creme of the chess world
In a show with everything but Yul Brynner (referring to the actor's starring role as the King of Siam in 'The King and I')
Time flies, doesn't seem a minute
Since the Tirolean spa had the chess boys in it
All change don't you know that when you
Play at this level there's no ordinary venue
It's Iceland or the Philippines or Hastings or,
Or this place!
One night in Bangkok and the world's your oyster
The bars are temples but the pearls ain't free
You'll find a god in every golden cloister
And if you're lucky then the god's a she
I can feel an angel sliding up to me
One town's very like another
When your head's down over your pieces, brother
It's a drag, it's a bore, it's really such a pity
To be looking at the board, not looking at the city
Whaddya mean?
Ya seen one crowded, polluted, stinking town
Tea, girls, warm, sweet
Some are set up in the Somerset Maugham suite
Get thai'd, you're talking to a tourist
Whose every move's among the purest
I get my kicks above the waistline, sunshine
One night in Bangkok makes a hard man humble
Not much between despair and ecstasy
One night in Bangkok and the tough guys tumble
Can't be too careful with your company
I can feel the devil walking next to me
Siam's gonna be the witness
To the ultimate test of cerebral fitness
This grips me more than would a
Muddy old river or reclining Buddha
And thank God I'm only watching the game… controlling it
I don't see you guys rating
The kind of mate I'm contemplating
I'd let you watch, I would invite you
But the queens we use would not excite you
So you better go back to your bars, your temples
Your massage parlours
One night in Bangkok and the world's your oyster
The bars are temples but the pearls ain't free
You'll find a god in every golden cloister
A little flesh, a little history
I can feel an angel sliding up to me
One night in Bangkok makes a hard man humble
Not much between despair and ecstasy
One night in Bangkok and the tough guys tumble
Can't be too careful with your company
I can feel the devil walking next to me
Songwriters: Tim Rice / Benny Goran Bror Andersson / Bjoern K. Ulvaeus
Thai Immigration bristles about TM30 revolt as it copes with PR disaster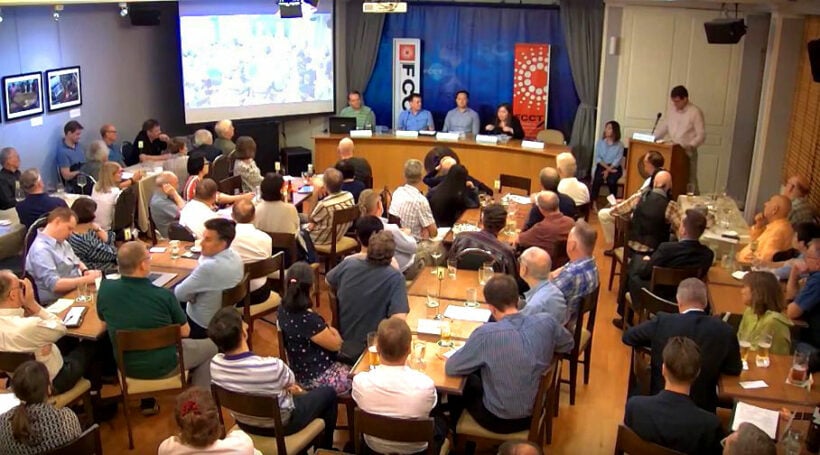 The TM30 form, as well as the associated TM28 form, have now become a huge public relations liability for the Thai Immigration Department.
The more questions asked, and the more explanations by well-intentioned Immigration officials, the more confusing the whole matter becomes.
If the policy is intended to make Thailand safer and make foreigners feel more secure, the opposite is happening. And now the story is catching on in foreign media, the situation is becoming a minor PR disaster for Thailand where tourism authorities would much prefer to be showing off the beaches and temples.
Over the weekend foreigners scratched their head after another week of contradictory forums, panel discussions, thousands of comments on social media and confusing responses from Immigration officials. Last Thursday's forum at the Foreign Correspondents' Club of Thailand included senior Thai immigration officials and was meant to 'clear the air' on many of the issues.
Whilst mostly flying beneath the radar, quietly legally working, living their lives on a pension or spending months of a year in the Kingdom, foreign expats say they now feel targeted in a well-intentioned, but poorly executed, security initiative.
Officials hammered home the importance of 'national security' whilst failing to understand the concerns of long-term, legal and 'nice' foreigners who simply wished to live in the Kingdom without too much fuss.
The Immigration staff gave no clear indication if they took the suggestions and general discussion seriously or how they could address some of the more cumbersome and onerous conditions applied by the TM30 and TM28 forms. But they did say there was no timeline to examine any of these issues.
On the books for 40 years, but not rigorously enforced until March this year, the TM30 form requires Thai landlords providing accommodation to foreigners to report their arrival and departure to immigration within 24 hours.
Long-termers, foreign retirees, foreigners married to Thais, and foreigners travelling a lot for work, etc must also report their whereabouts within 24 hours with the TM28 form when they stay overnight at locations other than their registered primary residence. That would include visiting an hour away, in another province or arriving back from overseas.
According to the Immigration officials attending the panel discussion, they kept saying the process is 'easy'. They were challenged repeatedly by other panel members and some of the audience, a number of times clearly taken aback by the nature of the questioning and the litany of frustration being shared with them. They were saying that it was not only 'not easy' but also confusing.
Some of the people in the audience threw up example after example of unworkable situations with the current enforcement and sought clarification that was not forthcoming.
Richard Barrow, a popular blogger and long-termer offered his reflection on Thai immigration enforcing the TM30 and TM28 sections of the 1979 Immigration Act.
"The landlord has to register foreigners within 24 hours. The problem is the landlord might have 10-15 units. It is a lot of work for them to keep registering foreigners every time they come back from a trip. Sometimes, the landlord is not even in the same city or country."
"Now some apartment blocks are putting up signs saying 'no foreigners' because they don't want the hassle."
For foreigner staying in Thailand, you should prepare…
A copy of foreigner's passport photo page
A copy of the visa page
A copy of latest entry page and
A copy of the immigration departure card
The landlord should prepare…
A copy of the title deed of the property
A copy of the rental contract
A copy of ID card and hose registration of owner
Power of attorney (POA) appoint authorised person Thai/Foreigner to report TM30
The completed TM30 form
There are three ways the owner or lessor of the residence can file the TM30…
Filing directly at the Immigration Bureau or related Immigration Office located in the area of residence.
File by registered post mail (at the Post Office).
File by internet. Note: the notifier must first register at https://immigration.go.th/index and obtain a username and password before being able to do this online. If the owner or lessor of the residence is current obligate to pay an outstanding fine, this online process will not be available.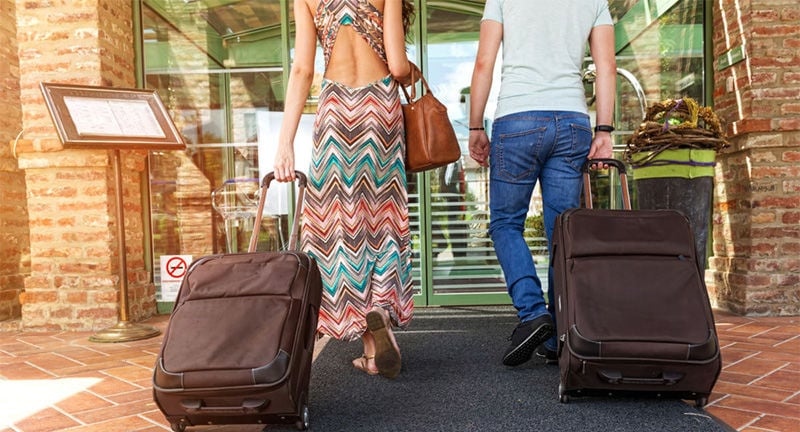 Australian bailed bikie boss refused entry into Thailand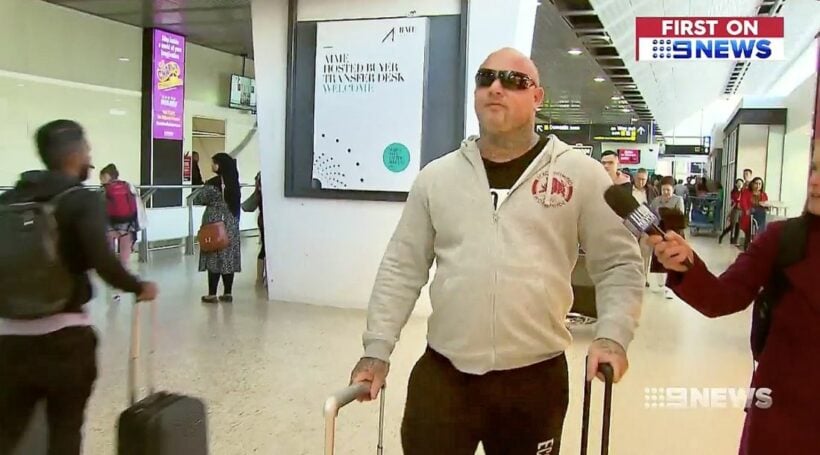 SCREENGRAB: 9news.com.au
The leader of an Australian outlaw motorcycle gang, Mick Murray, was turned around at the border in Thailand, despite his bail conditions allowing him to leave Australia for travel. The Comanchero bikie gang president, facing more than 100 fraud charges, had his bail conditions varied by the Melbourne Magistrates Court last Wednesday so he could travel to Thailand and Dubai.
Murray flew to Thailand on Thursday night, where he had planned to spend five nights, before a 10 day holiday in Dubai.
But he arrived back at Melbourne Airport on a Thai Airways flight about noon on Saturday after Thai authorities turned him around at Suvarnabhumi Airport in Bangkok.
Among other charges, he is accused of having associates falsify a loan application to a car-leasing company on his behalf and allegedly owes the Australian Taxation Office $1 million.
Although police failed to have the changes to his bail halted, Mick will have to stay put in Australia for the time being, arriving back at Melbourne's Tullamarine Airport on Saturday.
A spokeswoman for the Victoria Police says that the man had been refused entry into Thailand.
"This is a matter for the Thai authorities."
SOURCES: 9news.com.au | theage.com.au