Teenagers lighting up more than their krathongs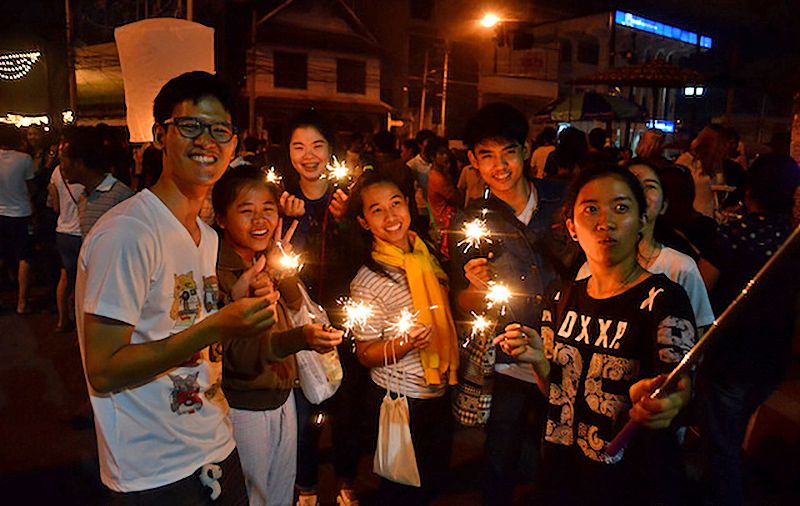 For the teenagers who have more on their mind than floating a Krathong tonight…
Teenagers are being warned not to engage in inappropriate sexual behaviour or unsafe sex during the Loy Krathong Festival.
The Public Health Ministry's Department of Health deputy chief Dr Bancha Khakhong says that young people usually release flowery floats into rivers and water sources at night during the festival and then hang out or attend booze-drinking parties.
"This impairs their judgement and self-control and poses a risk of unprotected sex that could lead to unwanted pregnancy and STDs."
Bancha urged boys to be responsible and use condoms. Young women could also take emergency birth-control pills sold over-counter to reduce the chance of pregnancy, the official said, warning that such medicine however isn't for regular use as it was less effective compared to other methods.
"The best way is to restrain one's emotions, refrain from sex or have protected sex, and to be aware of the issue of premature sex and subsequent problems," Bancha said.
Families can provide good advice to youngsters about appropriate interaction with members of the opposite sex, and Thailand's traditional values of reserving themselves and the respectful treatment of women and girls, the officials said.
Keep in contact with The Thaiger by following our
Facebook page
.
Never miss out on future posts by
following The Thaiger
.
Officials to choose "low risk" countries for possible reduction in quarantine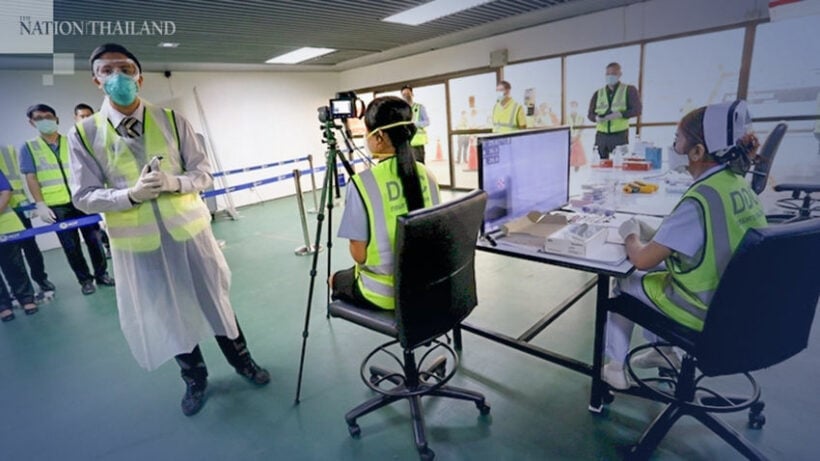 The Thai government is to compile a list of countries considered "low risk" for the Covid-19 virus, as it considers a reduction in the mandatory 14-day quarantine period for foreign arrivals. Nation Thailand reports that, once finalised, the Public Health Ministry will submit its list to the Interior Ministry, who will use it to decide the criteria for reduced quarantine.
Danucha Pichayanan, from the National Economic and Social Development Council, says there must be clear criteria for the admission of foreign visitors to the Kingdom. Currently, all those arriving must carry out 14 days' quarantine, regardless of the Covid-19 situation in their country of origin.
It's understood the government's Centre for Economic Situation Administration is considering a proposal from the private sector to ease up on some entry restrictions for foreign investors and businesspeople, including a reduction in the quarantine period.
SOURCE: Nation Thailand
Keep in contact with The Thaiger by following our
Facebook page
.
Never miss out on future posts by
following The Thaiger
.
Government planning new strategies to boost economic recovery
Energy minister and deputy PM Supattanapong Punmeechaow has outlined a number of strategies the government hopes will help the Thai economy recover from the Covid-19 fallout. The Eastern Economic Corridor, the special economic zone covering the eastern provinces of Rayong, Chon Buri and Chachoengsao, continues to eye foreign investors with a number of large infrastructure projects in the pipeline. One of those is a high-speed rail link between U-Tapao, Don Mueang and Suvarnabhumi airports. Also in the works is a 290 billion baht project to develop U-Tapao, with plans for a new, third terminal, and an aviation training centre, among other facilities.
Supattanapong adds that the Board of Investment is considering a range of incentives to encourage foreign investors to purchase property in Thailand. The government is considering offering permanent residency to those buying condos in the Kingdom, provided they don't mortgage, transfer, or sell the units within 5 years of purchase.
In relation to foreign arrivals, he says the government will clarify its plans on any further re-opening to tourists and investors, in addition to any potential reduction in quarantine. He adds that if the current 14-day period is to be reduced, this would only apply to those coming from countries considered "low risk" for Covid-19. It's understood the Public Health Ministry is working on categorising countries into low, medium, and high risk, in order to determine the new mandatory quarantine period for international arrivals.
Officials are also considering how foreigners can be encouraged to up their spending from the current average of 50,000 baht per person to 100,000 baht. Since the closure of Thailand's borders due to the Covid-19 pandemic, the country's tourism sector, once welcoming around 40 million visitors a year and generating 3 trillion baht in revenue, has been decimated.
Meanwhile, the government continues to target domestic tourists and residents through a number of stimulus measures, including a recently announced co-payment scheme aimed at boosting spending.
SOURCE: Nation Thailand
Keep in contact with The Thaiger by following our
Facebook page
.
Never miss out on future posts by
following The Thaiger
.
Head of development think tank calls for dialogue to resolve political crisis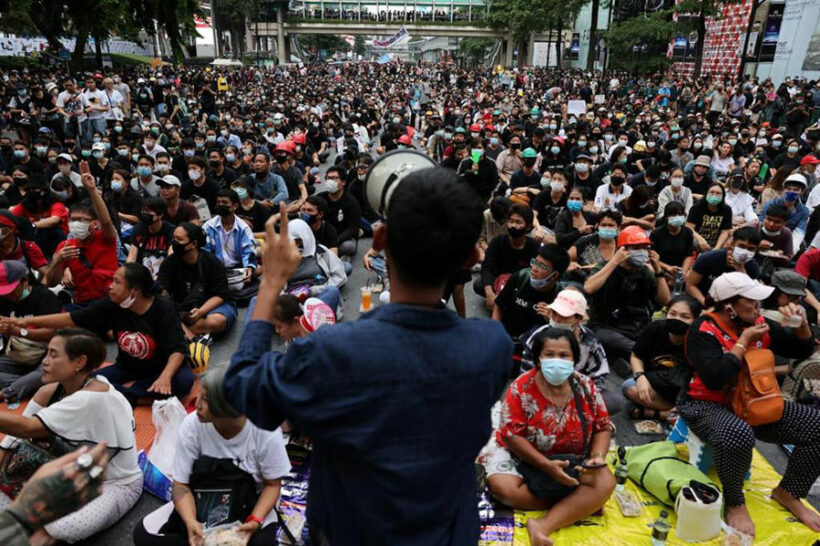 The president of the Thailand Development Research Institute is calling on both sides to resolve the ongoing political impasse through "dialogue and democracy". In a report in the Bangkok Post, Somkiat Tangkitvanich warns that the situation is reaching a "crisis point" as he lays out his proposals for how both sides can reach an agreement.
A new round of protests started again on the weekend are a short pause in activities following the Thai PM's speech to the nation, offering a few olive branches to the protesters and asking them to "stand down" in return for rescinding the State of Emergency, after having it in force for the past 7 days. The protesters largely ignored the laws forbidding gatherings of more than 5 people.
Today an emergency session starts at the national parliament with an emergency joint sitting to discuss the political conflict. There is also a rally proposed for this afternoon where protesters will march from Sam Yan intersection to the German Embassy in Sathorn Road. Government supporters and "royalists", most likely clad in their yellow uniforms (showing their loyalty to the Thai monarchy), are saying they will assemble at Lumpini Park, right in the middle of this afternoon's march route.
Posting on Facebook, Somkiat Tangkitvanic points out that the country is currently divided politically, partly based on their age, which he says is still preferable to being split by religious or racial differences. He adds that each side still needs to live alongside the other and that "the only way out of the current impasse is through dialogue".
"For many Thais, the main question is what kind of political and governing system we should have and how the Monarchy should play a role. Many have expressed their own opinions, and it is obvious there are still huge differences. Whatever happens, we will still continue to co-exist in Thailand and we cannot expel or get rid of the side just because they hold different opinions."
One of Somkiat's suggestions is to use the House of Representatives and the parliamentary process to find a solution in the first instance. If this fails, the next step would be to hold a referendum and allow the people to decide. In the event of a referendum, each side should have equal opportunity to argue their case without intimidation, so that voters can make a fully informed decision.
He adds that, in addition to the formal process, a mediator acceptable to both sides could chair informal talks between them, but warns that these should not be held publicly, in order to avoid pressurising negotiators into a corner where they're unable to change their stance.
"In order for both sides to work together and learn to trust each other, the government must release everyone currently being held on politically-related charges and listen to what they have to say."
SOURCE: Bangkok Post
Keep in contact with The Thaiger by following our
Facebook page
.
Never miss out on future posts by
following The Thaiger
.