Teen crashes motorbike into parked car while looking at phone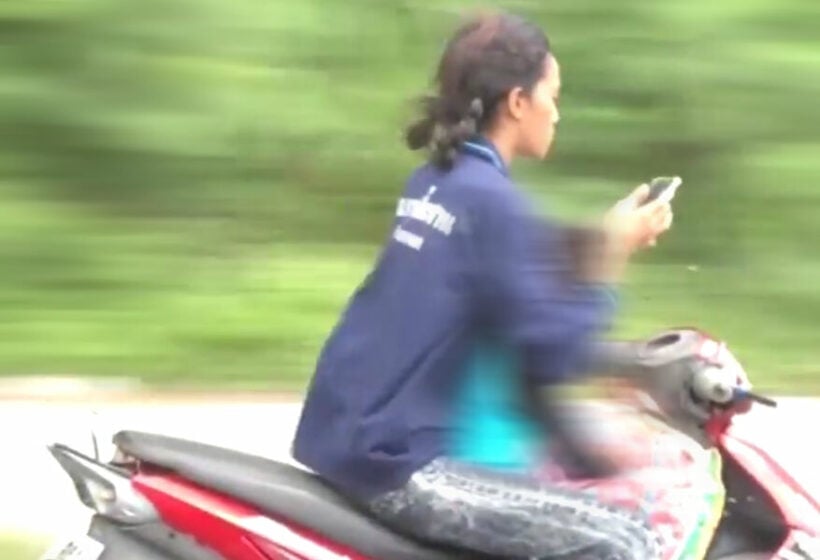 A teen girl has crashed and ended up trapped under her motorbike early yesterday morning after using her mobile phone while driving. The accident occurred around 3:30am on Jomtien Second Road in South Pattaya.
The 14 year old girl was driving home from what she described as a private engagement when she looked down to check her mobile phone. Distracted, she crashed into a parked car on the side of the road. When she crashed, the bike fell onto her leg, trapping her under it, pinned by the gear lever. Rescue workers and police were called when someone out for a late-night stroll came across the accident.
As the girl is a minor, her details were not released, but as she is below the Thai legal driving age, charges may be pressed against her parents. It was confirmed that the teen motorbike driver sustained moderate injuries in the crash. Rescue workers could not separate the bike from her injured leg without using special rescue equipment.
The girl remained calm and coherent throughout the whole ordeal, and true to teenage form, reportedly played on her mobile phone throughout the rescue effort. When her leg was freed from the motorbike crash, the teen was transported to a local hospital for treatment.
SOURCE: The Pattaya News
Want more from the Thaiger family?
📱 Download our app on Android or iOS for instant updates on your mobile
📧 Subscribe to our daily email newsletter
👍 Like/Follow us on Facebook
🔔 Subscribe to or Join our YouTube channel for daily video updates
Pattaya fisherman surprised by friendly whale shark visit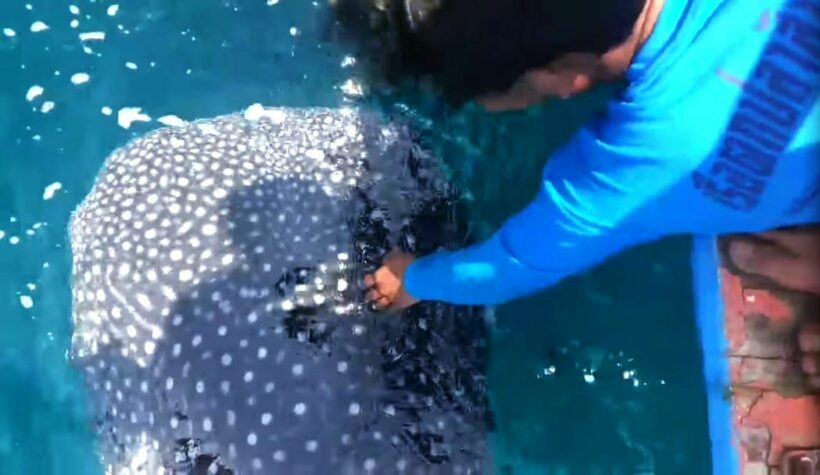 A local Pattaya fisherman had a shocking surprise visitor and was conscious enough to record a video to share with the world. The man, a fisherman for 10 years, posted 2 videos to Facebook on Wednesday of what appears to be a friendly whale shark casually visiting his fishing boat. Sightings in Pattaya of the majestic sea creature are relatively rare.
Whale sharks are the largest known fish species still living on Earth. They average from 5.5 to 10 metres in length, but the largest shark ever confirmed had a length of 18.8 metres.
The man, who goes by Mai Yud Yoo Ning Naklua (ไม่หยุดอยู่นิ่ง นาเกลือ) was sailing near Pai Island when the shark approached. The shark spent several minutes floating just inches from the boat and could be seen with shark suckers flanking it. The whale shark swam around the back of the boat and the man was able to capture a 3-minute video of the shark and another 49-second video where he can be seen getting up close and personal with the sea creature as it surfaced.
The Facebook video can be viewed on his original post, seen here. The man's post showed his excitement, as he described that it was his first time experiencing this in his 10 years on a fishing boat.
"This is my first time seeing a whale shark. I have been a fisherman for ten years and have heard many stories but this is my first opportunity to see one and share it with the world."
Locals in the Koh Larn area believe the appearance of this friendly fish is a sign that the environment is thriving. Covid-19 has prevented the throngs of tourists that normally flood the area, and with the reduction in traffic and boats churning the water, marine life such as whale sharks can safely return. In the waters off the coast of Pattaya, it appears that nature is healing.
SOURCE: The Pattaya News
Want more from the Thaiger family?
📱 Download our app on Android or iOS for instant updates on your mobile
📧 Subscribe to our daily email newsletter
👍 Like/Follow us on Facebook
🔔 Subscribe to or Join our YouTube channel for daily video updates
Stimulus package gives more back the more you spend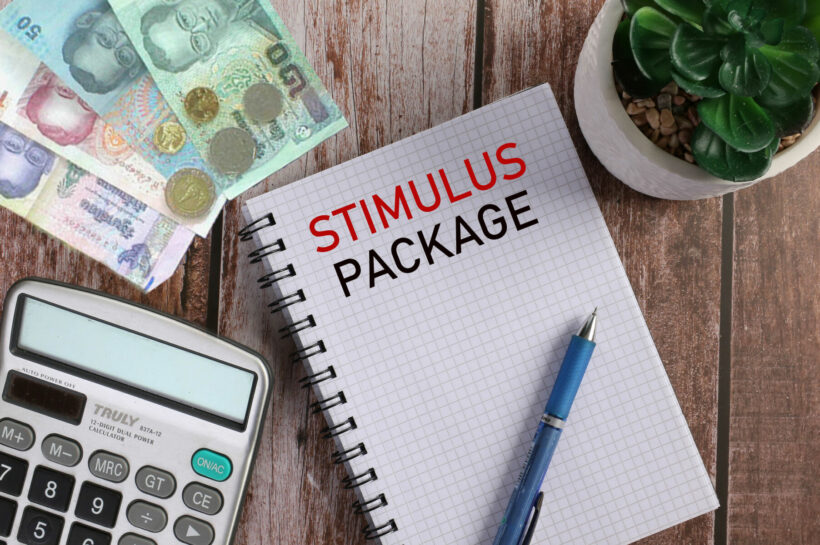 A new stimulus package targeting middle and high-income people aims at increasing spending by offering more e-voucher the more you spend. Ying Chai Ying Dai, which translates to "the more you spend the more you get", will reward those who spend between 46,000 and 70,000 baht with a 7,000 baht e-voucher. This part of the government's 225 billion baht stimulus package hopes to encourage 4 million qualifying middle- to upper-class people to spend more money by refunding 10-15% back, according to the Finance Ministry's Fiscal Policy Office.
People wishing to participate must register and make their purchases through a government e-wallet system. The system works by refunding 10 to 15% of purchases with a maximum of 7,000 baht. So at 15%, a person who spent 46,000 baht would receive back the full 7,000. On the 10% scheme, 70,000 baht in spending would be necessary to reach 7,000 cashback. No details were available on what determines the percentage level.
An additional 2,000 baht will be available for people participating in the "Section 33 Rao Rak Kan" and "Rao Chana" scheme. The plans are expected to push 85.5 billion Baht back into the economy as recipients must spend the cash by the end of June.
The 50/50 stimulus program that has been popular with the government covering half of what people spend for half for food, drink, and other items up to 150 baht per person per day will also be expanded. That plan began on October 23, and ended at the end of 2020, covering 10 million people with each receiving 3000 baht. The second phase of the popular program added 5 million more people and raised the limit to 3,500 baht per person.
A third phase of the "Khon La Khrueng" stimulus plan is expected to begin in July with participants getting a maximum of 3,500 baht each to spend, and opening the program to 16 million new people. This massive expansion though will stipulate that anyone participating in this program cannot also participate in the Ying Chai Ying Dai scheme.
All of these cash and voucher benefits aimed at supporting vulnerable groups, along with cash handouts for people who have state welfare cards, are part of 245 billion baht the government is spending in an attempt to keep the economy from collapsing. This falls under an emergency loan decree allocating the government 1 trillion baht total to cope with Covid-19.
SOURCE: The Phuket News
Want more from the Thaiger family?
📱 Download our app on Android or iOS for instant updates on your mobile
📧 Subscribe to our daily email newsletter
👍 Like/Follow us on Facebook
🔔 Subscribe to or Join our YouTube channel for daily video updates
Deputy PM declares Thammanat Prompow controversy finished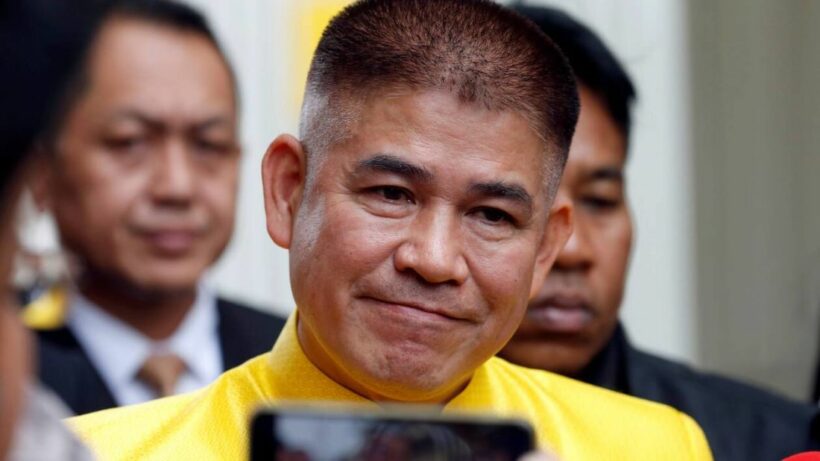 Deputy PM Wissanu Krea-ngam says that the debate is over regarding Thammanat Prompow, the controversial Deputy Minister of Agriculture and Cooperatives and influential Palang Pracharath Party 'fixer'.
The Constitutional court has already ruled that he is qualified to hold office under Thai law and will keep his position, though a huge backlash followed the ruling, and the public wondered how his 1993 heroin trafficking conviction in Australia. Then using the name 'Manat Bophlom', he was convicted of conspiring to import a traffic able amount of heroin, serving 4 years of a 6 year sentence.
According to Wikipedia, Thammanat parliamentary declaration of assets in August 2019 listed "2 wives, 7 children, and a net worth of about $42 million, including a Bentley, Rolls-Royce, Tesla, and Mercedes-Benz along with 12 Hermès and 13 Chanel handbags, luxury watches, and Thai Buddha amulets."
Thai law says that no one who has been convicted of an indictable offence is eligible to hold public office, but the new decision seems to imply that anything that happens outside of Thailand's border does not qualify. A legal expert, the Deputy PM says that this ruling is not in opposition to the rules about convicts holding office.
He says that a conviction by Australia's New South Wales Court is not legally binding in Thailand and therefore does not disqualify Thammanat. Only a jail sentence from a Thai court would be considered a roadblock to a candidate being confirmed to hold government office.
Thai immigration law, however, determines that convictions in home countries will bar people from entry into Thailand. The decision also calls into question the legitimacy of the Australian/Thailand extradition treaty which saw Thammanat deported back to Thailand after serving 4 years of his 6 year sentence.
But the Council of State had declared that someone in jail for 2 years cannot hold office within 5 years of release, regardless of whether the jailing was in Thailand or in another country. The 4 year jail term Thammanat served in Australia ended in 1997 so the 5-year grace period has already passed.
The Deputy PM says that this ruling by the Constitutional Court does set a new precedent for future issues of possible MP candidates that may have been in trouble with the law outside of Thailand. But he stopped short of supporting Thammanat's prior conduct unconditionally, declining to comment.
The National Anti-Corruption Commission has been under pressure to investigate Thammanat and whether his conduct has been ethical. The Deputy PM said that the Constitutional Court ruling does not whitewash any other issues Thammanat may face.
SOURCE: Bangkok Post
Want more from the Thaiger family?
📱 Download our app on Android or iOS for instant updates on your mobile
📧 Subscribe to our daily email newsletter
👍 Like/Follow us on Facebook
🔔 Subscribe to or Join our YouTube channel for daily video updates