More catchy than Covid, K-Pop fans raise millions to support Thai protesters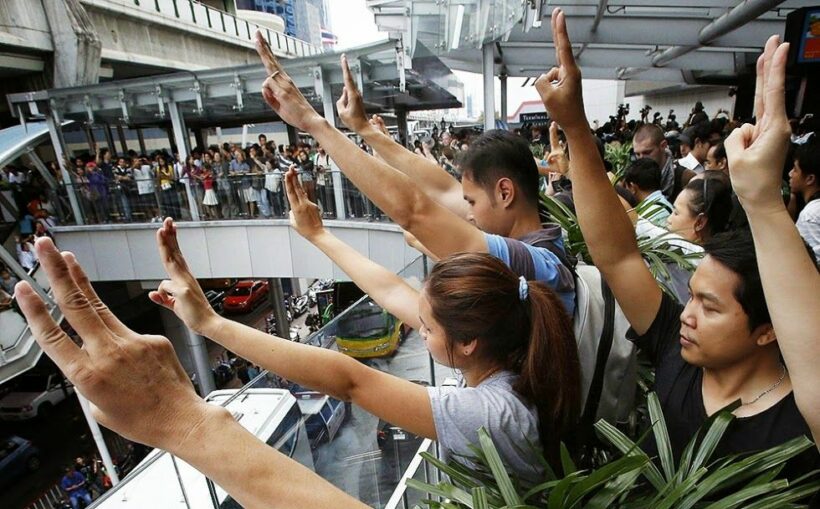 More catchy the Covid and spreading out around the world, this time from South Korea.
Fans of K-Pop groups, South Korea's slick pop music genre, have already raised millions of baht to support Thailand's anti-government protests. The young Thai protesters have been showered with support, supportive K-Pop lyrics, Tweets, messages. And money.
The incredible worldwide reach of K-Pop fans, for over 20 'idol' groups and South Korean celebrities, has been a major force in spreading the plight of the Thai protest movement to a younger audience, across the world.
K-pop fandom have rallied together and pooled their resources to support the anti-government protesters who have been holding rallies around Thailand, mostly in Bangkok, since July. The Girls' Generatin 'Into The New World' is just 1 K-Pop song being taken on as an unofficial anthem for the Thai protesters.
Political statements are relatively unusual from South Korean idols but some defy their tightly controlled public image. It's even led common in Thailand where lucrative endorsements rely on the billionaire clans that control the country's 'establishment'. But last week's use of water cannons against the protesters at the Pathumwan intersection has pushed some to publicly voice their support for the protest movement.
Thai-American K-Pop idol Nichkhun, the so-called "Thai Prince", Tweeted to his nearly 7 million followers that he cannot "stand idly by". Nichkhun is a member of popular South Korean boy band 2PM
"The use of violence is something I cannot watch and stand idly by." His message has been retweeted nearly 100,000 times.
Even Thailand's BNK48 member Milin "Namneung" Dokthian – the group criticised in the past for doing paid promos for the Thai government – has made it clear where she stands in regards to the protests, posting "stay safe" this week.
"We wouldn't have to say 'be safe' if we had a true democracy". Her post was shared by the other band members.
Amanda Obdam, the current Miss Universe Thailand, posted on her Instagram a photo of a young protester facing off against a cordon of riot police.
"A picture says a thousand words. Your job is to protect the people not harm them."
Former Thai beauty queen and TV presenter Maria Poonlertlarp posted on her Facebook page that the treatment of protesters was "completely unjust".
"People have been silenced from speaking up about the double standards and the abuse of power. We've had a lot of injustice going on in Thailand for decades, fighting against our government for democracy."
Thai daily Khaosod reported last week that K-pop fan groups had collectively raised more than 3 million baht to help the anti-government protest organisers. It's now well past 5 million baht.
Thai Actress Intira "Sai" Charoenpura Tweeted that the funds raised from fans of groups including BTS , Exo , Got7 , and Girls' Generation had helped buy equipment such as helmets and raincoats.
Mega group BTS (last week they held the Number 1 and 2 positions on the US Billboard Top 100 singles chart, this week 5 and 6), tweeted that they wanted fans (aka. 'Army') to stop spending money on fan posters for members' birthdays with the owners of the Thai public transport system. The BTS fandom frequently buy expensive poster spots in the Skytrain and MRT statins to wish their favourite idol members happy birthday. Bangkok's skytrain system was closed down last Saturday in a move by the operators to prevent the movement of protesters to rally around the city. The command had come from the police.
The Thai protesters are being funded by donations, in-kind support and the selling of merchandise on their social media platforms. But they'll be happy for the support from the huge worldwide K-Pop fan base.
BTS, 'Not Today' lyrics
All the underdogs in the world
A day may come when we lose
But it is not today
Today we fight!
No not today
Someday the flowers will fall
But no not today
That time is not today
No no not today
Never die, not today
The light pierces through the darkness
The new world. You want it too
Oh baby yes I want it.
If you can't fly, then run
Today we will survive
If you can't run then walk
Today we will survive
If you can't walk, then crawl
Even if you have to crawl, gear up
Aim gun! Ready! Fire!
Keep in contact with The Thaiger by following our
Facebook page
.
Never miss out on future posts by
following The Thaiger
.
K-Pop fan-funded billboards move from BTS and MRT stations to tuks tuks to support protesters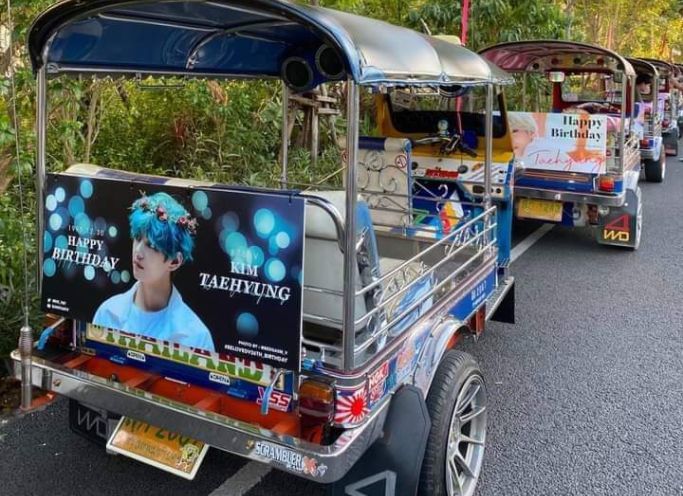 K-Pop fan-funded "happy birthday" billboards are moving from mass transit stations in Bangkok to tuk tuks after the BTS Skytrain and MRT Bangkok Metro temporarily shut down services during pro-democracy protests last month.
K-Pop fans are a large backer of Thailand's pro-democracy movement. As of last month, Thai and overseas K-pop fans raised more than 3 million baht to support the growing student-led movement calling on government and monarchy reform.
A Thailand fan page for the South Korean K-Pop band BTS (not to be confused with Bangkok's BTS Skytrain) urged fans to stop paying for the "happy birthday" billboards displayed in BTS and MRT stations. The fan-funded signs celebrate the birthdays of the 7 members of the band.
The band members also issued a statement asking their fans (known as Army) to stop paying for signs in the BTS and MRT stations because the mass transit systems "inconvenienced protesters and normal citizens from getting home and putting them in danger."
The "happy birthday" signs have been seen on tuk tuks throughout Bangkok while some have posted photos of empty advertising space in the transit stations.
🐹𝑯𝒂𝒑𝒑𝒚 𝒃𝒊𝒓𝒕𝒉𝒅𝒂𝒚 𝐉𝐈𝐍 & 𝐕🐯
พร้อมแล้วสำหรับวันเกิดพี่น้องตะกูลคิม ลิมิเตดสุดๆ 15 คันเท่านั้น ใครเจอป้าย ถ่ายรูปมาอวดกันที่แท็กนี้นะคะ 🌕#OursmilebeginwithJIN
🧸#BelovedV26th_Birthday#Happyvday#Happyjinday Special thanks for beautiful photos @Bedgasm_v 💜 pic.twitter.com/cVenc2SN9W

— 🌻⁹⁵ᶻ𝒊𝒔 𝑳☻𝒗𝒆 ᴮᴱ⁺𝘭𝘪𝘧𝘦 𝘨𝘰𝘦𝘴 𝘰𝘯 (@nuna_vmin) November 30, 2020
Keep in contact with The Thaiger by following our
Facebook page
.
Never miss out on future posts by
following The Thaiger
.
Court to deliver verdict on PM's military residence this afternoon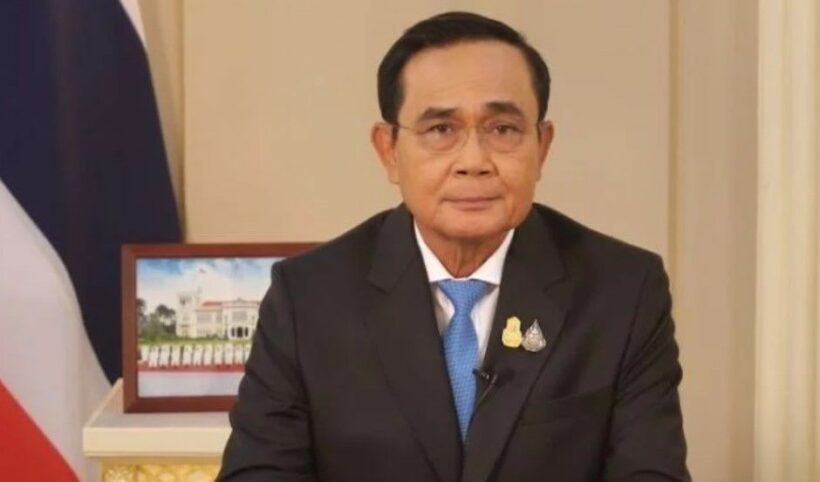 Security is expected to be extremely tight at Bangkok's Constitutional Court today, as the ruling in the matter of the PM's residence is delivered. Prayut Chan-o-cha is accused of violating army rules by occupying a military residence rent-free, despite having retired from the army in 2014. Critics say his tenancy represents a conflict of interest. Should the court agree with them, it will spell the end of his premiership, something pro-democracy protesters have been calling for since July.
Thai PBS World reports that the court has issued a statement to confirm that only approved parties will be allowed in the courtroom, including the PM, the complainant, and relevant lawyers and officials. The case was brought earlier this year, following a request from the leader of the Pheu Thai opposition party, Sompong Amornwiwat. The court has confirmed the verdict will be broadcast on its You Tube channel from around 3pm, meaning the public can watch it live.
Bangkok authorities are apprehensive about potential unrest should some parties disagree with the court's findings. Piya Tavichai from the Metropolitan Police Bureau has confirmed that hundreds of police officers will be on duty, in and around the court buildings, with the front entrance already sealed off. A planned rally by the anti-government protest group, Ratsadon, has now been switched to the Lad Phrao Intersection, in the Chatuchak district of the capital.
We'll all know the decision around 3pm this afternoon.
SOURCE: Thai PBS World
Keep in contact with The Thaiger by following our
Facebook page
.
Never miss out on future posts by
following The Thaiger
.
Protesters switch today's rally venue, will now take place at Lad Phrao intersection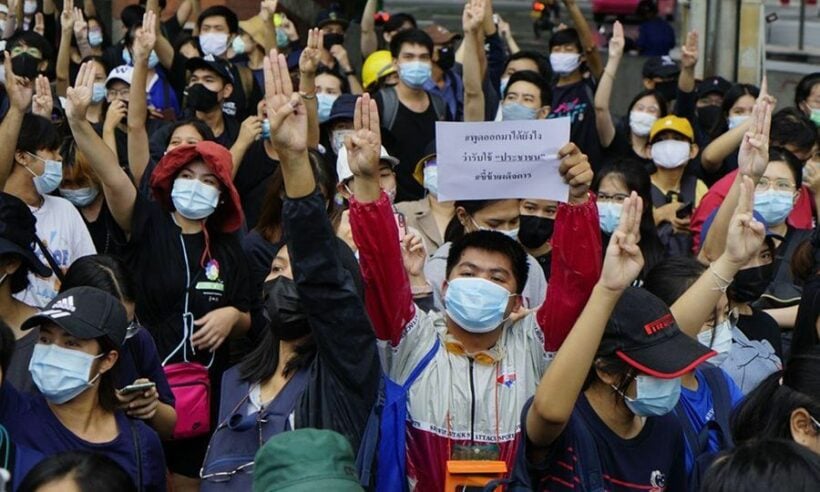 A planned protest outside the Constitutional Court in Bangkok this afternoon will now take place at the Lad Phrao Intersection, in the Chatuchak district. The Ratsadon (People's Party) group have announced the change on the Facebook page of fellow activists, the United Front of Thammasat and Demonstration. The rally is expected to kick off at 4pm.
It was originally due to take place at the Constitutional Court, to coincide with the court delivering its verdict on PM Prayut Chan-o-cha's place of residence. The PM has come under fire from opposition quarters for occupying a military residence, despite having retired from the army in 2014. Critics say this is a violation of army rules, while the army argues that the arrangement is for security reasons.
The PM and deputy PM Prawit Wongsuwan were both excused from an order issued by former army chief Apirat Kongsompong earlier this year, that gave all retired military personnel until the end of February to vacate state-owned residences.
Should the court's verdict go against the PM this afternoon, it will mean the end of his premiership and his current cabinet. Anti-government protesters who have been campaigning for his resignation since July are calling on activists to assemble at the Lad Phrao intersection this afternoon for what they hope will be a significant event.
"If Prayut is found guilty in this case, he could be forced to step down as the court has deemed his action unconstitutional, rendering him unfit to be prime minister. Please come out at Ha Yaek Lad Phrao from 4pm to witness this historical moment together."
But the Constitutional Court has a demonstrated history of siding heavily with the incumbent government and the current Thai PM. So a ruling against the PM in this case would be highly unexpected and against the grain of their past decisions.
SOURCE: Nation Thailand
Keep in contact with The Thaiger by following our
Facebook page
.
Never miss out on future posts by
following The Thaiger
.