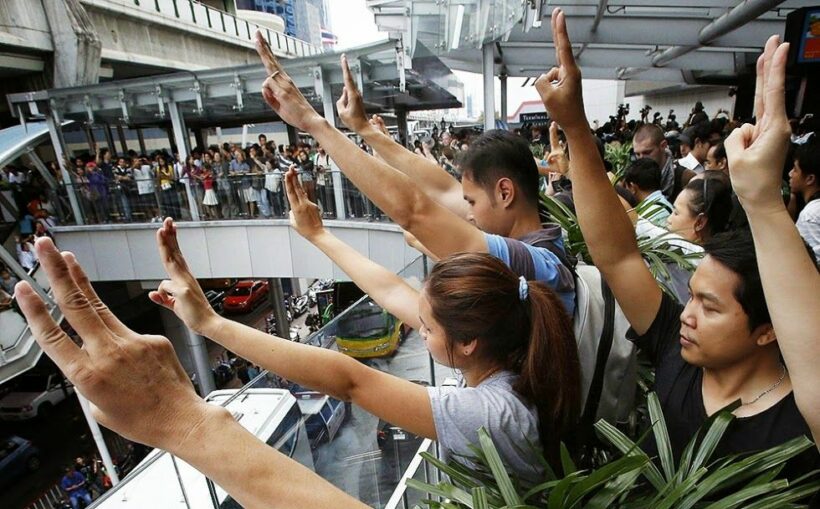 More catchy the Covid and spreading out around the world, this time from South Korea.
Fans of K-Pop groups, South Korea's slick pop music genre, have already raised millions of baht to support Thailand's anti-government protests. The young Thai protesters have been showered with support, supportive K-Pop lyrics, Tweets, messages. And money.
The incredible worldwide reach of K-Pop fans, for over 20 'idol' groups and South Korean celebrities, has been a major force in spreading the plight of the Thai protest movement to a younger audience, across the world.
K-pop fandom have rallied together and pooled their resources to support the anti-government protesters who have been holding rallies around Thailand, mostly in Bangkok, since July. The Girls' Generatin 'Into The New World' is just 1 K-Pop song being taken on as an unofficial anthem for the Thai protesters.
Political statements are relatively unusual from South Korean idols but some defy their tightly controlled public image. It's even led common in Thailand where lucrative endorsements rely on the billionaire clans that control the country's 'establishment'. But last week's use of water cannons against the protesters at the Pathumwan intersection has pushed some to publicly voice their support for the protest movement.
Thai-American K-Pop idol Nichkhun, the so-called "Thai Prince", Tweeted to his nearly 7 million followers that he cannot "stand idly by". Nichkhun is a member of popular South Korean boy band 2PM
"The use of violence is something I cannot watch and stand idly by." His message has been retweeted nearly 100,000 times.
Even Thailand's BNK48 member Milin "Namneung" Dokthian – the group criticised in the past for doing paid promos for the Thai government – has made it clear where she stands in regards to the protests, posting "stay safe" this week.
"We wouldn't have to say 'be safe' if we had a true democracy". Her post was shared by the other band members.
Amanda Obdam, the current Miss Universe Thailand, posted on her Instagram a photo of a young protester facing off against a cordon of riot police.
"A picture says a thousand words. Your job is to protect the people not harm them."
Former Thai beauty queen and TV presenter Maria Poonlertlarp posted on her Facebook page that the treatment of protesters was "completely unjust".
"People have been silenced from speaking up about the double standards and the abuse of power. We've had a lot of injustice going on in Thailand for decades, fighting against our government for democracy."
Thai daily Khaosod reported last week that K-pop fan groups had collectively raised more than 3 million baht to help the anti-government protest organisers. It's now well past 5 million baht.
Thai Actress Intira "Sai" Charoenpura Tweeted that the funds raised from fans of groups including BTS , Exo , Got7 , and Girls' Generation had helped buy equipment such as helmets and raincoats.
Mega group BTS (last week they held the Number 1 and 2 positions on the US Billboard Top 100 singles chart, this week 5 and 6), tweeted that they wanted fans (aka. 'Army') to stop spending money on fan posters for members' birthdays with the owners of the Thai public transport system. The BTS fandom frequently buy expensive poster spots in the Skytrain and MRT statins to wish their favourite idol members happy birthday. Bangkok's skytrain system was closed down last Saturday in a move by the operators to prevent the movement of protesters to rally around the city. The command had come from the police.
The Thai protesters are being funded by donations, in-kind support and the selling of merchandise on their social media platforms. But they'll be happy for the support from the huge worldwide K-Pop fan base.
BTS, 'Not Today' lyrics
All the underdogs in the world
A day may come when we lose
But it is not today
Today we fight!
No not today
Someday the flowers will fall
But no not today
That time is not today
No no not today
Never die, not today
The light pierces through the darkness
The new world. You want it too
Oh baby yes I want it.
If you can't fly, then run
Today we will survive
If you can't run then walk
Today we will survive
If you can't walk, then crawl
Even if you have to crawl, gear up
Aim gun! Ready! Fire!