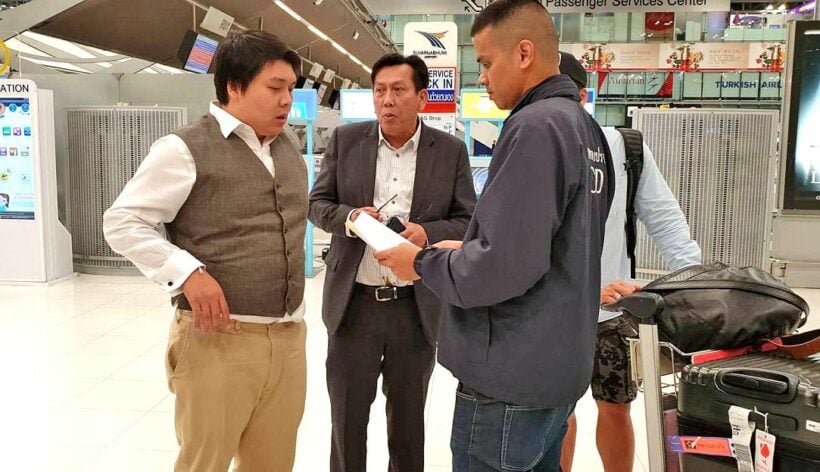 Parinya Jaravijit, a key suspect in an alleged 800 million baht bitcoin investment scam, was arrested last night at Suvarnabhumi Airport when he arrived back in Thailand.
Parinya – who continues to maintain his innocence – was taken to Ratchadapisek Criminal Court today to apply for his first 12 day detention period (October 12-23). Police have objected to his bail release on the grounds that he was a flight risk and that the case has caused considerable damage.
Parinya's relatives and his lawyer had prepared assets worth 20 million baht to apply for his bail release.
The 35 year old Parinya, who's facing charges of colluding in money-laundering and colluding in fraud, was apprehended as he was going through the Suvarnabhumi International Airport's Immigration Police checkpoint at 11.30pm.
He was then interrogated at the CSD head office throughout the night with his lawyer present.
CSD deputy chief Pol Colonel Chakrit Sawasdee said that Immigration Police in the US denied Parinya's entry as his passport was revoked, so he was forced to return to Thailand.
Parinya, along with other family members, including his younger siblings – actor Jirapisit "Boom" Jaravijit, Thanasit Jaravijit and Supitcha – are suspects in the fraud case.
Police say the actors and relatives' bank accounts showed millions of baht in deposits reportedly derived from the conversion of the cryptocurrency units transferred by Finnish owner Aarni Saarimaa for bogus investments in Thai stocks and other assets.
Initially, the suspects in the case included businessman Chakris Ahmad and well-known stock investor Prasit Srisuwan, both of whom maintained their innocence. But the damaged person later dropped the charges against the two men following settlement talks in September.
According to Chakrit, Parinya's parents, Suwit and Lertchatkamon Jaravijit, were summoned to hear the charge of colluding in money-laundering on October 17.
STORY: The Nation