Baby elephant Chao Duan dies, 13 days after falling it pit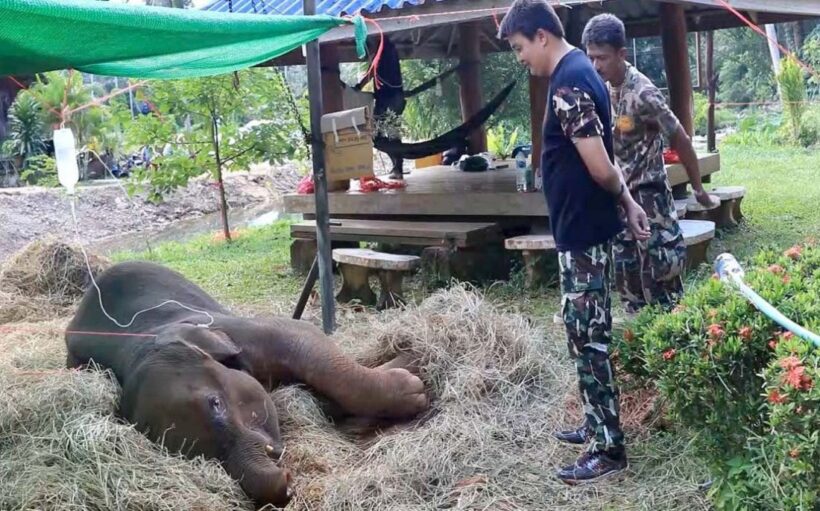 A two year old male elephant, nicknamed Chao Duan, died earlier today from his injuries, 13 days after veterinarians tried to save it after it fell into a pit in Chumphon.
Nam Tok Ngao National Park head Somjet Chanthana said the young elephant died at 4am.
It was rescued from a muddy pit in the forest near Ban Chanren in Tambon Tako of Chumphon's Thung Tako on September 26.
Park officials said it fell into the pit from a steep mountain, resulting in back injuries that caused it to have no feeling in its torso and hind legs.
Somjet said the elephant also had a severe internal infection because of the injuries.
Chao Duan was among three young elephants of a herd with two male and eight female elephants in the park. Officials named it Chao Duan because its trunk was three or four times shorter than a normal elephant's trunk. With the short trunk, the elephant could not hang on to trees and it might be the reason it fell, Somjet said.
Thung Tako district chief Somyos Na-Nakhon said officials will hold a praying rite for the elephant and bury it in front of a cave near the village.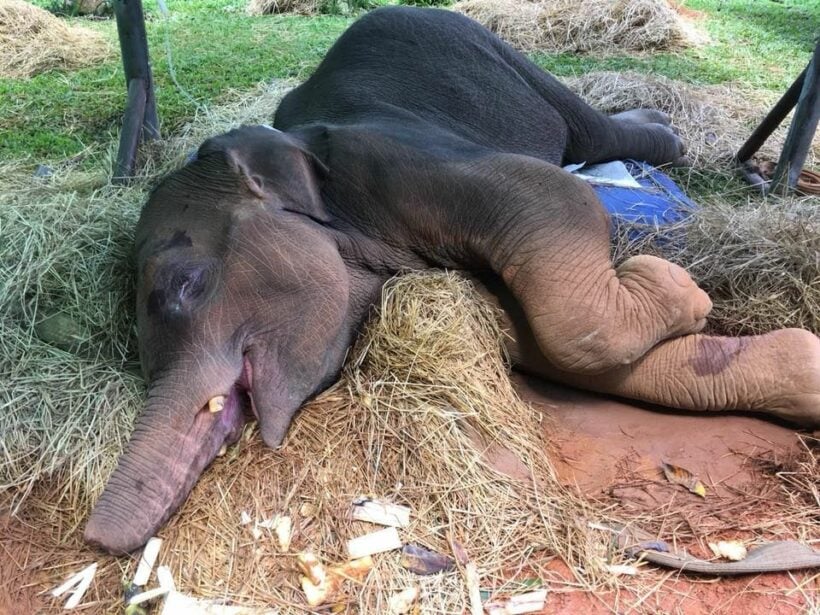 STORY: The Nation

Read more headlines, reports & breaking news in South Thailand.

Ninth measles victim in Yala, 3 remain critically ill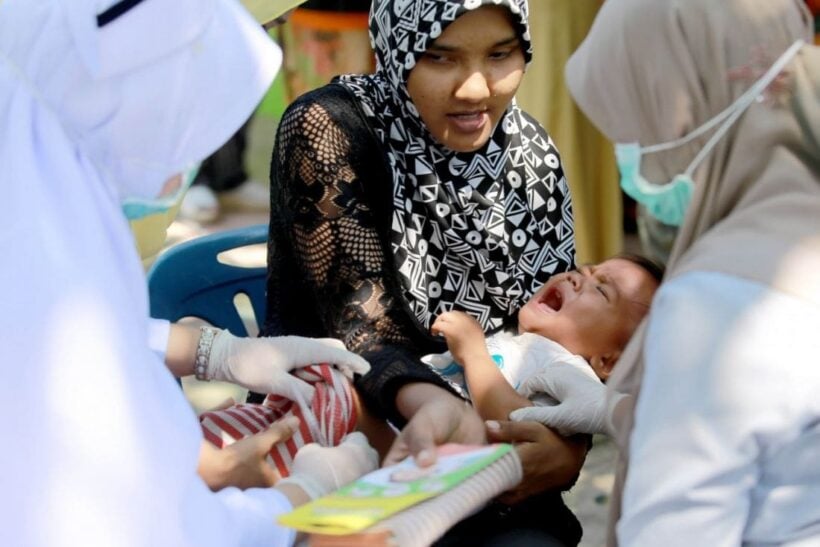 PHOTO: A mother holds her child as nurses at the Tambon Yala Health Promotion Hospital in Yala's Muang district vaccinate him against measles yesterday. – Nakharin Chinnawornkomol
Another child has died as a result of complications from measles in Yala province yesterday morning.
This latest preventable fatality brings the number of deaths from the disease in the southernmost province to nine since June. The Yala Provincial Public Health Office head Dr Songkran Maichum announced the sad news to the media yesterday.
The Nation reports that three other children remain critically ill with measles at Yala Hospital. Admitting the disease outbreak in the province was "worrying", he said his office aimed to have 7,000 at-risk children – especially those aged between five months and five years old – in Yala vaccinated by November 4.
He said the main reasons for the fatalities were that the patients had not been brought to hospital early enough, dying from subsequent health complications, and not been vaccinated at an early age. He also said the 8,000 doses of vaccines available were sufficient, though the office has requested for another batch of 3,000 doses.
Songkran noted that the most-affected districts were Yaha, Bannang Sata and Kabang in Yala province.
Health officials continued vaccinating young children against measles yesterday. Acting director of Tambon Yala Health Promotion Hospital, Nurse Thelma Doyor, led a team to vaccinate 15 children in Ban Pajo (Moo 3) in Muang district.
Aiming to cover the area's 108 toddlers, the hospital will ask for additional doses to cover the rest by November 4, she said.
The hospital had previously vaccinated 35 children. Abdul-Roning Abdulloh, the imam of Ban Pajo Mosque, said he was inviting residents to have their children vaccinated, as he was able to confirm that it is acceptable for Muslims to receive the vaccine. He cited his previous consultation with many Muslim doctors about the vaccine, as some people were afraid that the vaccinations were not in accordance with halal principles.
The Imam added that he will tell people during the Friday prayer assembly that vaccines were necessary to protect young children. Songkran said officials giving the vaccines have been told to download a video clip featuring statements from the Sheikhul Islam Office and Provincial Islamic Committees saying this treatment is acceptable.
STORY: The Nation
Read The Thaiger's editorial about the issue HERE.
Religious tolerance is OK until it starts interfering with community health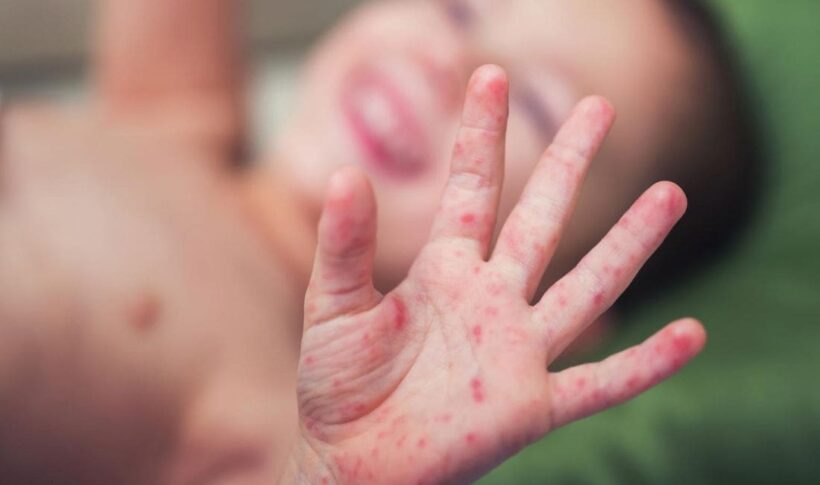 Last week it was revealed that six children have died in the southern provinces of Thailand since June this year. Sadly, children die all the time through misadventure and incurable disease.
But these six children died from Measles, one of the many diseases that have been brought under control in most communities over the past half century. Vaccination has also brought under control scores of other, in the past, deadly or disabling diseases. Here are just a few…
There is no mystery about all this. The untold misery that's been prevented by the science of vaccines has been one of the greatest inventions in medical history. So why are we reading this news?
Yala province alone has registered nearly 500 measles infections since the disease began spreading in June, according to the Yala Provincial Public Health Office. So far there have been six deaths in the province, and the infection rate has rapidly risen since September.
The recent completely baseless fear-mongering about vaccines and their connections with autism, has now been completely debunked and disproven. There is no peer-reviewed evidence that supports these claims, originally made by a now-discredited Dr. Andrew Wakefield in 1993, now struck off the UK medical register for unethical behaviour, misconduct and fraud.
When added to religious conviction, this mis-information can become life-threatening for the unvaccinated and uneducated.
"The main cause of the mass outbreak of measles in the far South is the large number of Muslims who are refusing to take the vaccine," said Vaccine Preventable Diseases Division director Dr Pornsak Yoocharoen.
For a Muslim mother, she is torn between a number of clashing influences – the Thai medical system which rolls out the World Health Organisation standard for vaccination of children, misinformation on the internet, some Dato (Islamic teachers) who advise against vaccines and their Islamic texts which, in a round-a-bout manner, says Muslims shouldn't be vaccinated (depending on your interpretation).
Dr Abdul Majid Katme, head of the Islamic Medical Association, is telling Muslims that almost all vaccines contain products derived from animal and human tissue, which make them "haram", or unlawful for Muslims to take. Islam permits only the consumption of halal products, where the animal has had its throat cut and bled to death while God's name is invoked.
But, put simply, the facts must win out if Thailand is to avoid a dangerous outbreak of measles, and potentially, other completely preventable diseases
Not vaccinating children is a form of child abuse. If not vaccinating your own child isn't bad enough, the situation can get completely out of control, quickly, as measles (in particular) is very infectious and can spread to unvaccinated populations quickly. So it's not just about you and your children, it's about the whole community.
"We have been trying to promote childhood immunisation in the three Southernmost provinces for many years, but these efforts are not very fruitful. This is because since the southern insurgency was ignited a decade ago, officers have found it harder to work with local communities due to the lack of trust among local Muslims and the insecure situation for the officers," said Dr Pornsak.
Whilst the battle against passionately-held beliefs, misinformation and non-sensical religious-based resistance to vaccines seems unsurmountable, it is one area where 'tolerance' is not an option when there are wider public health implications. Big implications.
Sheikhul Islam Office secretary Sutham Boonmalert directly addressed the issue last week, saying that though some vaccines contain ingredients derived from pigs, which are forbidden for Muslims, it was more important for a good Muslim to remain in good physical health at all times.
A book written some 1,400 years ago, long before anything was known about the causes of disease and famine, let alone vaccines, is not a reliable text for the modern control of public health. People are well entitled to their religious beliefs and should be able to conduct their lives in a way that brings them comfort, peace and happiness. But when those beliefs step into the realm of public health and community safety the push-back from authorities must be swift and firm.
Believe what you will but leave you faith at the front door of the hospital or medical clinic before you enter.
The three southern Thailand provinces are now facing a serious outbreak of measles – this is a major public health concern for anyone traveling to these communities or the possibilities of infected people travelling beyond their daily borders.
Having any children diagnosed with Measles in 2018 is a preventable scandal that deserves urgent attention from medical authorities before it spreads further. The virus cares not about borders, or your religion, and will spread to unvaccinated populations.
No amount of prayer will stop that nor will your prayer bring any comfort to your infected child.

PHOTO: Jakarta Post
Heavy rain in spots around the country until Monday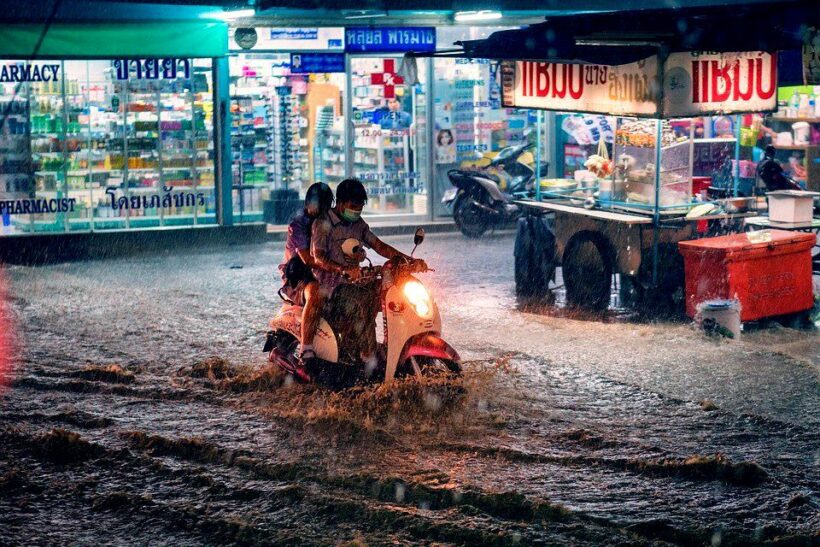 Residents in the Central, East and the South, including Bangkok and suburbs, are being warned to brace themselves for heavy rains from tomorrow until Monday.
In a first warning issued at 11am this morning, the TMD (Thai Meteorological Department) said that heavy rains would hitting the forecast areas due to a low-pressure cell over the lower South China Sea. They say the front will move past the tip of Indochina, through the Gulf of Thailand and the Southern regions from tomorrow until Monday.
Affected areas…
Sunday:
Central: Kanchanaburi, Suphan Buri, Nakhon Pathom, Ratchaburi, Samut Songkhram and Samut Sakhon as well as Bangkok and its vicinity. East: Chachoengsao, Nakhon Nayok, Prachin Buri, Sa Kaeo, Chon Buri, Rayong, Chanthaburi and Trat. South: Phetchaburi, Prachuap Khiri Khan, Chumphon, Surat Thani, Nakhon Si Thammarat, Phatthalung, Songkhla, Ranong, Phangnga, Phuket, Krabi, Trang and Satun.
Monday:
Central: Kanchanaburi, Suphan Buri and Ratchaburi. East: Chon Buri, Rayong, Chanthaburi and Trat. South: Phetchaburi, Prachuap Khiri Khan, Chumphon, Surat Thani, Ranong, Phangnga, Phuket and Krabi.