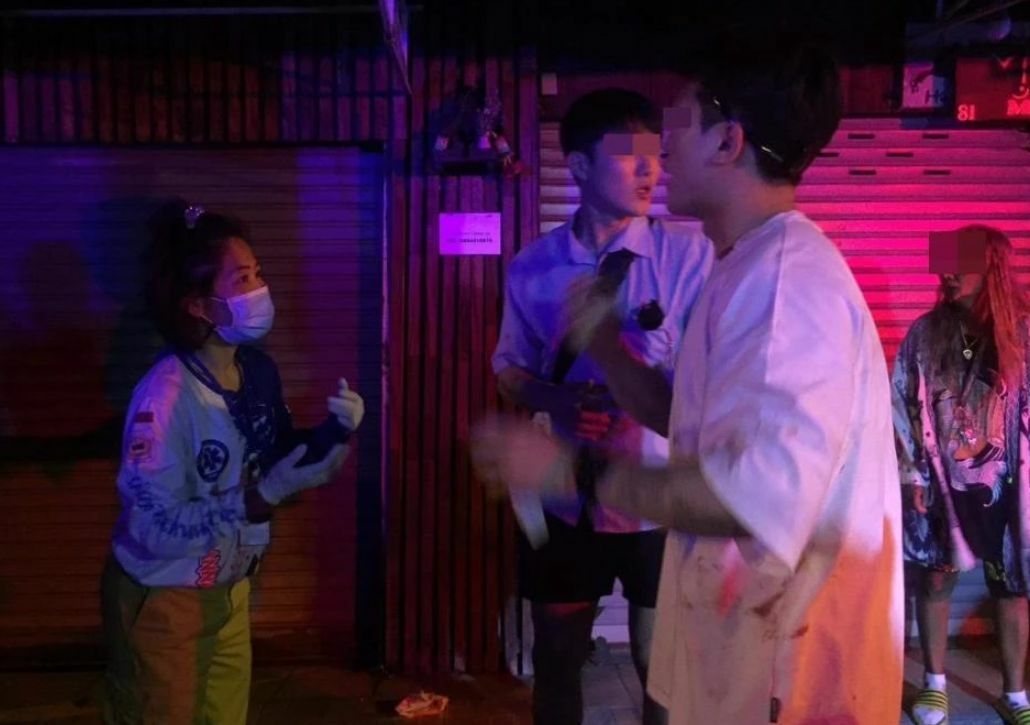 Two Chinese citizens were injured after two groups of Chinese tourists brawled at the end of a boxing match at a bar in Chiang Mai. The fight also caused a heavy backlog of traffic near Tha Phae Gate.
Members of the Ruamlanna Chiang Mai Rescue Association rushed to the bar on Loi Kroh Road near Chiang Mai Old City after they were notified of the injured Chinese people.
The rescue team reported that one victim was a man who suffered a major wound on his neck and was sent to the Central Chiang Mai Memorial Hospital. The other victim was a Chinese woman. Her condition has not been reported.
According to the rescuers, two groups of Chinese tourists visited the bar to see a boxing show. The chaos ensued at the end of the bout and led to a fight between the two groups. The cause of the fight has not been revealed.
The incident caused a backlog of traffic on Loi Kroh Road. The road was crowded for an hour before police officers arrived at the scene and dealt with the situation.
The owners of businesses on the Loi Kroh Road informed the media that Chaing Mai was crowded with foreign tourists, both European and Asian, especially Chinese.
According to one witness, a Chinese tourist let one of their children poop in a male urinal in a bathroom at MAYA Lifestyle Shopping Centre. It caused the urinal system to break down.
Another observer reported the Chinese tourists fighting with each other and causing problems for partygoers and motorists. The business owners came together with Chinese tourists to resolve and end the drama.
The director of the Chiang Mai Provincial Tourism Authority, Suratda Sarutilawan, reported today that Chiang Mai expects to welcome about 500,000 to 600,000 Chinese tourists this year. Suratda stated that the amount was just half of the total in 2019 before the pandemic.