'Monk' tries some alternative enlightenment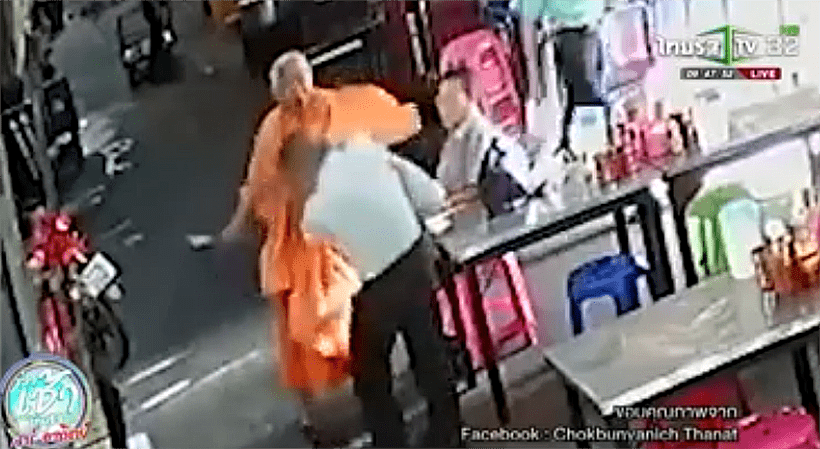 Thai Rath has shared a widely viewed CCTV clip featuring a man, apparently a monk, in saffron robes swinging a beer bottle at a man in a food market. The alleged monk appears to be holding a beer bottle.
According to Thai Rath, the layman, believed to be a store-holder, confronted the monk asking why he was drinking beer in the market at 9am and not praying in the temple.
The reporters even questioned whether the man was a real monk as his behavior was not befitting of a Buddhist monk.
They said that real monks should not be drinking beer, at any time, and should be in their temple after the morning alms round.
The incident is believed to have taken place in a Bangkok food court.
เปรี้ยงเข้าให้ พระต่อยลุงฆารวาส หน้าหงาย แค่ถามทำไมไม่ฉันที่วัด

Posted by Thairath on Saturday, October 13, 2018
SOURCE: Thai Rath


Read more headlines, reports & breaking news in Bangkok. Or catch up on your Thailand news.
Australian and Thai transnational drug smugglers drop the ball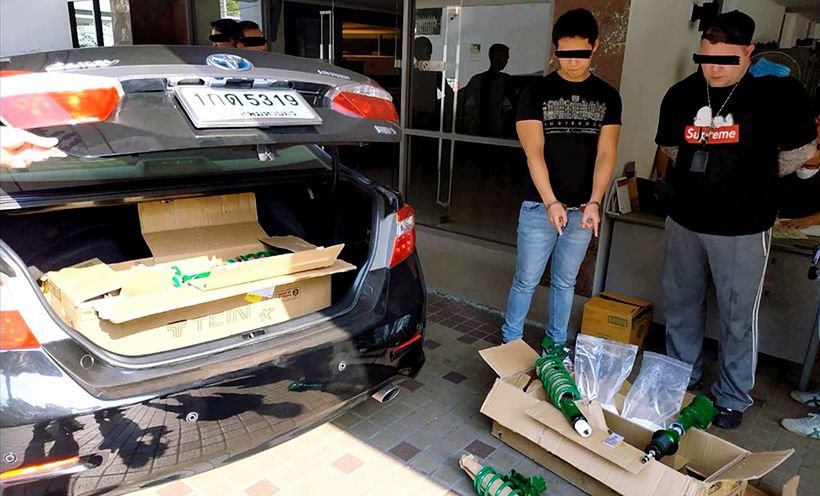 PHOTO: The Nation
How much heroin can you smuggle in eight (car) shock absorbers? Apparently close to 4 kilograms.
A joint Thai-Australian drug suppression operation called Taskforce Storm has yielded results and arrested two transnational heroin smugglers.
Police identified the two as 38 year old Canadian Stephens Blair and 27 year old Thai Pahon Sivasirikaroon. The pair were apprehended when they both showed up to Suvarnabhumi airport to pick up a returned parcel comprised of eight shock absorbers – and the 3,740 gram of heroin hidden inside.
Police then raided two apartments in Bangkok's Phayathai and Rama 9, as well as a house in Prawet district. During the raids, police seized one kilogram of compressed marijuana, one gram of cocaine, two ecstasy pills, a Toyota Camry, a Benz E300 Coupe, a Kawasaki Z1000 motorcycle, and AP Royal Oak wristwatch, a Rolex Oyster S GMT wrist watch and 2.5 million baht in cash. Police told reporters the items seized were worth over 7.5 million baht.
The Office of the Narcotics Control Board say the drugs were being smuggled from the Golden Triangle into Thailand before heading to Australia or Canada for sale.
The spokesperson also said this was just a small quantity of drugs in the big pictures as it was part of an "army ant delivery system".
Authorities believe they have now been able to identify all suspected members of the drug gang and are currently gathering evidence to arrest them.
SOURCE: Bangkok Post 
Thailand Tourism Festival 2019 showcasing Thailand to Thais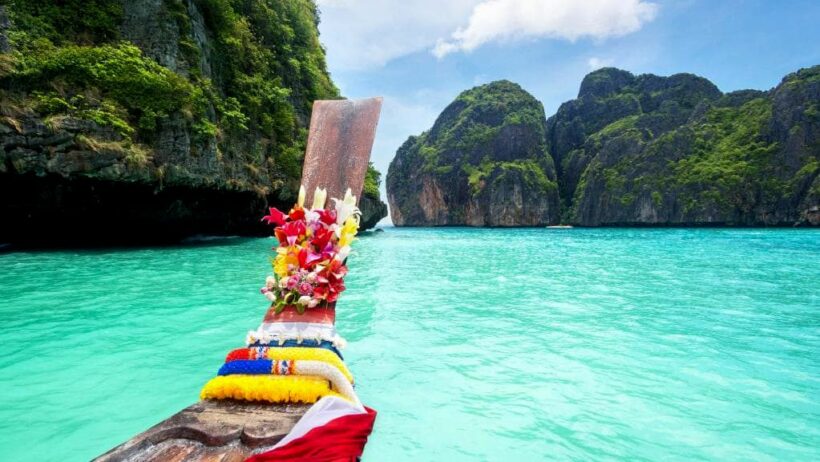 The Tourism Authority of Thailand will host the 39th edition of Thailand Tourism Festival at Bangkok's Lumpini Park from January 23-27. This year the festival features five 'tourism villages' representing different regions of Thailand plus two additional zones of activity.
Central Region Zone – presents the heritage of old Siam through a traditional Thai house and the former rural way of life back in the days through demonstrations, such as, traditional garland making.
Northern Zone – showcases the beautiful hand-woven cotton and silk textiles the region is famous for, presenting the intricate patterns. The zone reflects the artistic nature of the people of the North plus a range of contemporary arts inspired by the region.
Southern Zone – presenting new perspectives of the South that go beyond the beaches and islands including the secondary cities such as Surat Thani and Phatthalung, the hidden gems in major cities like Phuket's Peranakan and arts in the three southernmost provinces.
Northeastern (Isan) Zone – brings Thailand's more vibrant cuisine to life. Food is one major inspiration for travelling to this region, linking it with traditional festivals and cultural values while promoting its three main tourism clusters: North Isan, Central Isan and South Isan.
Eastern Zone – presenting new perspectives of the East under a 'more fun' concept through replicas of landmarks most synonymous with the region in combination with three dedicated corners for 3D photography backdrops reflecting the region's identity.
Perhaps most importantly, there is also a 'Reduce-Reuse-Recycle' waste initiative zone to help raise awareness and promote responsible and sustainable tourism through various activities, games and more.
And TAT Studio provides daily live broadcasts of the Thailand Tourism Festival2019 in all formats: news reports, special scoops, interviews plus activities and performances. It comprises a live digital TV studio, a 1672 traveller companion information centre, an 'Or Sor Tho' magazine section, and virtual reality games and lucky draws.
For more information, call the TAT contact centre on 1672.
Bangkok smog: Diesel buses and vehicles key problem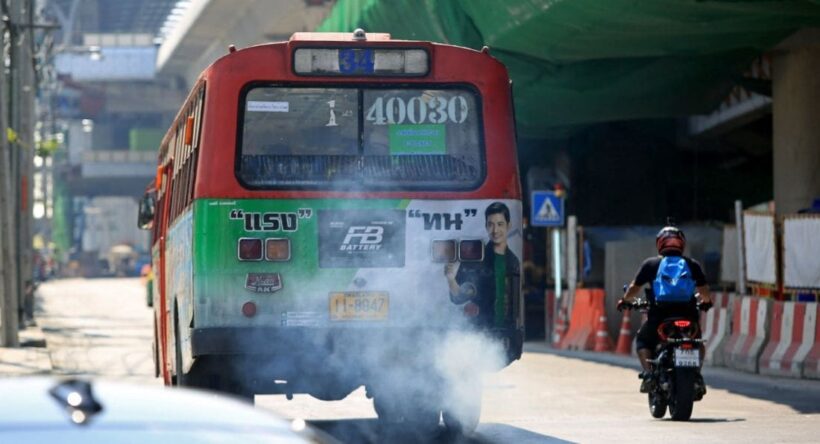 by Wichit Chaitrong
"The problem is the estimated 2.5 million diesel-powered trucks and buses still on city roads."
Experts are saying this morning that, given the problems in recent weeks with Bangkok's smog, the national government's pursuit of a "low-carbon economy" has fallen short of needs. They are recommending higher taxes on "dirty fuel" and a reduction in the number of vehicles on city streets.
Like other countries, Thailand has incorporated the low-carbon economy model in policies, aiming for sustainable development and better public health. But, in reality, the necessary changes have not taken effect.
The Finance Ministry has already introduced excise taxes on vehicles that vary with emission levels and successive governments have endorsed railway projects such as the mass transit system in Bangkok. The Energy Ministry plans to use more renewable-energy fuels to produce electricity in place of natural gas and coal.
Praipol Koomsup, an economist specialising in energy issues, says the high level of air pollution in Bangkok indicates that that the country has not yet done enough to make the low-carbon economy a reality.
One of several key contributors to the pollution problem is the estimated 2.5 million diesel-powered trucks and buses still on city roads. Diesel engines produce a significant amount of the PM2.5 particulate matter – a big contributor to the health issues related to Bangkok's smog.
Praipol backs the idea of government subsidies for people willing to buy electric vehicles, the cost of which remains high.
"The government plans to increase the amount of renewable fuel for producing electricity from about 10 per cent to 20 per cent in the next 20 years. That is our target and we need to do a lot to achieve it."
Thanawat Polvichai, director of the Economic and Business Forecasting Centre at the University of the Thai Chamber of Commerce, estimated that the air pollution could cost Bangkok businesses 5 billion-10 billion baht because, among other issues, no one wants to linger at open-air food stalls.
But Thanawat expects the crisis' impact on the overall economy to be short-lived.
Speaking at a recent Thailand Development Research Institute seminar on "air pollution as a negative impact of development", Adis Israngkura, an economist involved in national resources and the environment, urged the government to raise the tax ante.
"It should review the excise tax system and make it clear to people that pollution will be taxed heavily to discourage the use of dirty fuels such as diesel."
But Adis believes the government is on the right track with its policies on sustainable development, but it needs to do more. PM Prayut Chan-o-cha chairs a committee overseeing the effort, he noted, but "Prayut could take more action".
SOURCE: The Nation