Department warns of possible floods and landslides for 12 provinces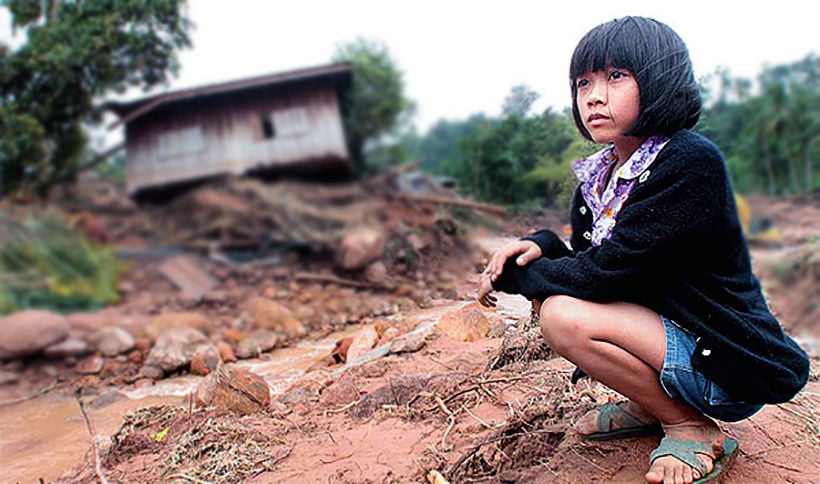 FILE PHOTO
Officials and emergency responders in 12 provinces have been instructed to be prepared, and put equipment on standby, to cope with possible floods and landslides until August 20 (Tuesday).
Department of Disaster Prevention and Mitigation director-general Chayaphol Thitisak says the alert was issued because of heavy downpours in the North, the Central and southeastern coastal areas.
Officials were told to monitor weather conditions, as well as rainfall and river levels around the clock while also preparing fast-moving teams and equipment to be stationed at disaster-prone areas, ready to aid residents. The locals have also been urged to follow weather reports closely, according to The Nation.
The 12 affected provinces include…
Mae Hong Son (Muang, Pang Mapha, Khun Yuam, Mae Sariang, Mae La Noi, Pai, Sop Moei districts), Chiang Rai (Mae Chan, Mae Suay , Mae Lao and Wiang Pa Pao districts), Phayao (Chiang Muan, Chiang Kham and Pong districts), Phrae (Song, Long, Wang Chin and Rong Kwang districts), Nan (Muang, Bo Klua, Chalerm Phrakiat, Wiang Sa, Chiang Klang, Tha Wang Pha, Na Noi, Na Mun, Pua, Thung Chang, Santisuk, Mae Jarim and Ban Luang districts), Uttaradit (Ban Khok, Tha Pla and Nam Pad districts), Tak (Tha Song Yang, Mae Ramat, Mae Sot and Pop Phra districts), Nakhon Nayok (Muang district), Trat (Bo Rai and Khlong Yai districts), Ranong (Muang, Kra Buri, La-un, and Kapoe dsitricts), Phang Nga (Muang, Kapong, Takua Pa and Tai Muang districts), and Trang (Na Yong district).
The department's hotline is 1784 and monitored 24/7.
FORECASTS: weather.com
Meanwhile the forecast from weather.com for Phang Nga is for mostly dry conditions during the warning period.

…whilst Chiang Rai's forecast includes a greater chance of rain.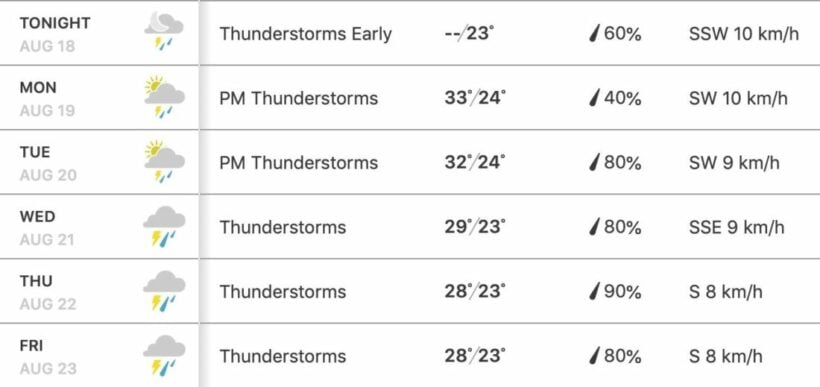 Keep in contact with The Thaiger by following our
Facebook page
.
Accomplice in Chiang Rai robbery found hanging in Phayao forest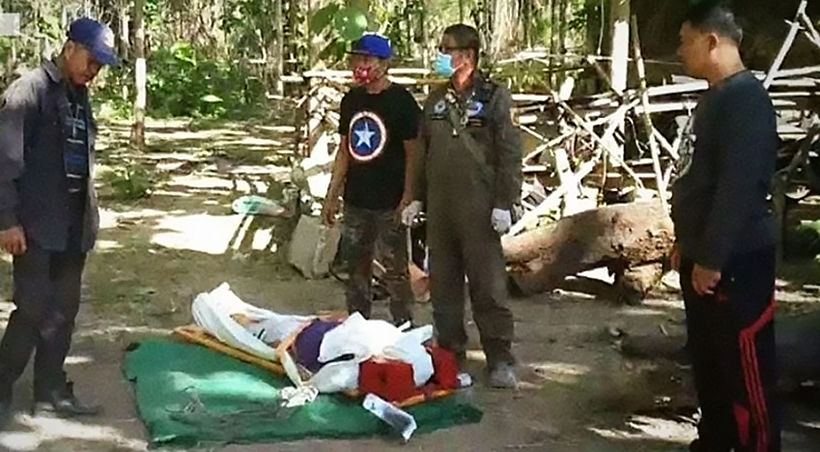 The alleged motorcycle driver in a recent Chiang Rai robbery has been found hanging in a forest in the upper northern Phayao province, in an apparent suicide. Two men pulled off the daring daytime robbery of more than a million baht in Chiang Saen district last Monday. Both men were then tracked down by police.
The first suspect, identified only as "Sitthichok," a former Chiang Saen agricultural cooperative employee, was arrested yesterday. Police say the man confessed to stealing 1.05 million baht with his brother in law to pay off gambling debts. He says he left the gun used in the robbery with a friend after committing the heist. The friend then allegedly contacted police after he heard about the crime.
Police say Sittichok at first denied all charges and claimed no connection with the robbery, but after further interrogation he confessed, also giving up his brother in law as the motorcycle driver.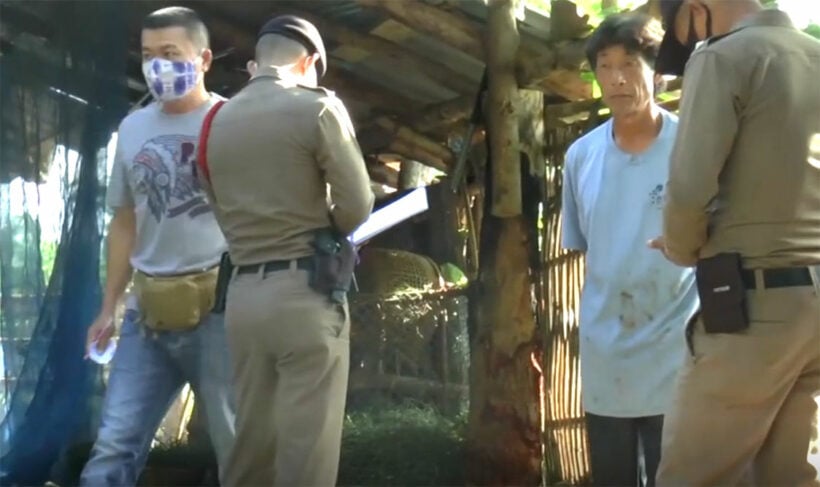 Sitthichok had only 200,000 baht remaining from of the 1,005,000 he stole. He told police the rest was used to pay off gambling debts.
The brother in law, 48 year old Cheunjai Konkham, was found dead by the police in the Phayao forest. Police assume he committed suicide, choosing death over a lengthy prison sentence.
Authorities say a forensic team has collected evidence and had also sent the body for a postmortem examination.
SOURCE: Chiang Rai Times
Keep in contact with The Thaiger by following our
Facebook page
.
One of the robbers in Chiang Rai arrested – VIDEO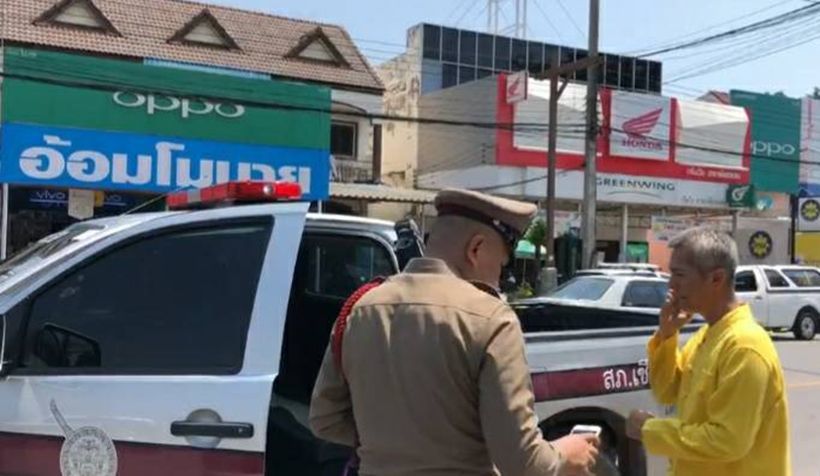 UPDATE: Police have arrested a suspect from Monday's robbery that took place in Chiang Saen district in Chiang Rai, when a pair of robbers stole 1.05 million baht outside a Krungthai Bank. 2 men on a motorbike managed to escape and a manhunt was ordered. Read more HERE.
When officials arrived at the crime scene they found 46 year old Watcharin, the driver, who was waiting in his vehicle in front of the bank. Watcharin told authorities that he went to the branch to withdraw cash to be used in an agricultural cooperative. He withdrew 1.05 million baht and put the cash in a purse.
While in his car and about to leave, one of the robbers knocked on his window. Thinking it was someone he knew, Watcharin opened the door, at which point the man threatened him with a gun before fleeing on a the back of a motorbike.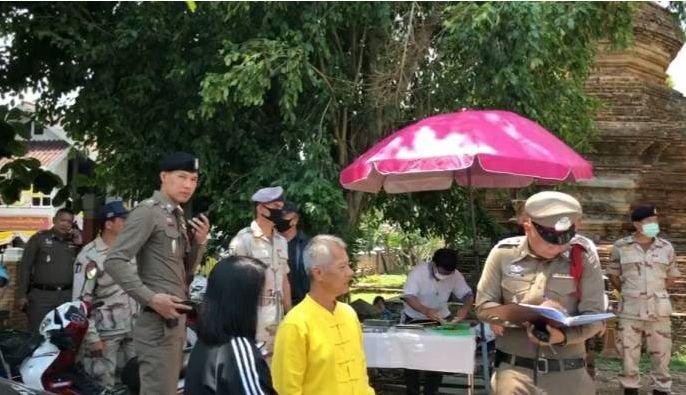 Security camera footage and witnesses revealed that there were 2 robbers, both wearing a full-face helmets. After grabbing the cash, the robbers headed south.
Police have arrested a suspect identified as "Sitthichok" after tracking down the gun used in the crime. He initially denied all charges and claimed no connection to the robbery but police say he eventually confessed. Sitthichok told officers he once worked in the cooperative, which is how he knew when Watcharin would go to the bank.
Sitthichok claims to have only 200,000 baht left after spending 800,000 baht in one day. Police are still seeking the other suspect.
SOURCE: Thai Residents
Keep in contact with The Thaiger by following our
Facebook page
.
Robbers stole 1.05 million baht in cash from a Chiang Rai bank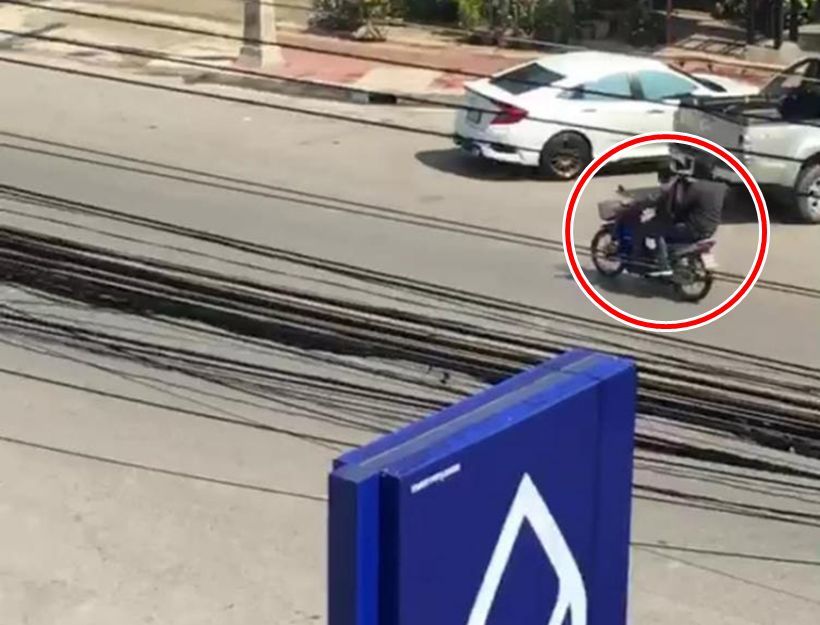 Today at 10am Police in Chiang Saen district Chiang Rai (which borders Myanmar and Laos on the so-called Golden Triangle), were notified that a pair of robbers had stolen 1.05 million baht from the local Krungthai Bank. Police authorities are currently chasing down the 2 suspects who pulled off the daring daylight robbery on the bank.
Both suspects were dressed in black and were wearing motorbike helmets. The offenders managed to grab 1.05 million baht in cash before fleeing the scene on a blue Honda Wave motorcycle.
The employee that was targeted by the robbers told police and the bank manager that she had cashed the 1.05 million baht and put it in a bag for delivery to the agricultural cooperative of Chiang Saen. As the money was being loaded into the delivery vehicle, the thieves threatened the driver with firearms to hand over the bag of cash.
Chief of Chiang Saen's police station has launched a manhunt for the 2 men.
SOURCE: Nation Thailand
Keep in contact with The Thaiger by following our
Facebook page
.