Department warns of possible floods and landslides for 12 provinces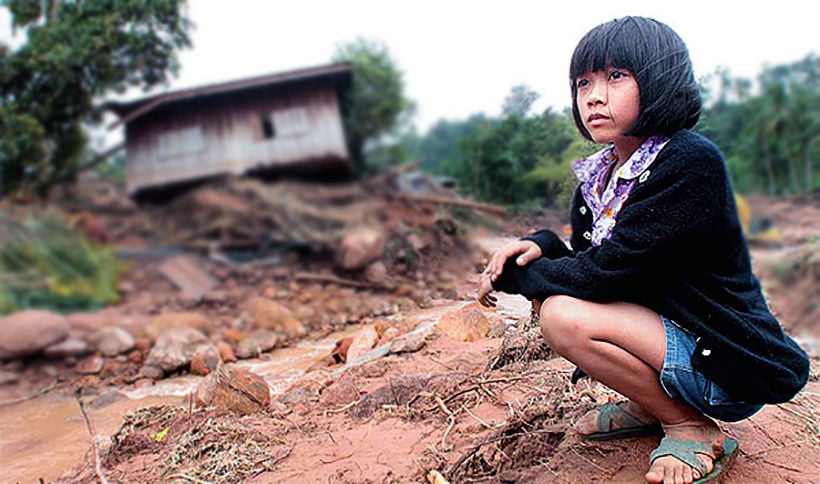 FILE PHOTO
Officials and emergency responders in 12 provinces have been instructed to be prepared, and put equipment on standby, to cope with possible floods and landslides until August 20 (Tuesday).
Department of Disaster Prevention and Mitigation director-general Chayaphol Thitisak says the alert was issued because of heavy downpours in the North, the Central and southeastern coastal areas.
Officials were told to monitor weather conditions, as well as rainfall and river levels around the clock while also preparing fast-moving teams and equipment to be stationed at disaster-prone areas, ready to aid residents. The locals have also been urged to follow weather reports closely, according to The Nation.
The 12 affected provinces include…
Mae Hong Son (Muang, Pang Mapha, Khun Yuam, Mae Sariang, Mae La Noi, Pai, Sop Moei districts), Chiang Rai (Mae Chan, Mae Suay , Mae Lao and Wiang Pa Pao districts), Phayao (Chiang Muan, Chiang Kham and Pong districts), Phrae (Song, Long, Wang Chin and Rong Kwang districts), Nan (Muang, Bo Klua, Chalerm Phrakiat, Wiang Sa, Chiang Klang, Tha Wang Pha, Na Noi, Na Mun, Pua, Thung Chang, Santisuk, Mae Jarim and Ban Luang districts), Uttaradit (Ban Khok, Tha Pla and Nam Pad districts), Tak (Tha Song Yang, Mae Ramat, Mae Sot and Pop Phra districts), Nakhon Nayok (Muang district), Trat (Bo Rai and Khlong Yai districts), Ranong (Muang, Kra Buri, La-un, and Kapoe dsitricts), Phang Nga (Muang, Kapong, Takua Pa and Tai Muang districts), and Trang (Na Yong district).
The department's hotline is 1784 and monitored 24/7.
FORECASTS: weather.com
Meanwhile the forecast from weather.com for Phang Nga is for mostly dry conditions during the warning period.

…whilst Chiang Rai's forecast includes a greater chance of rain.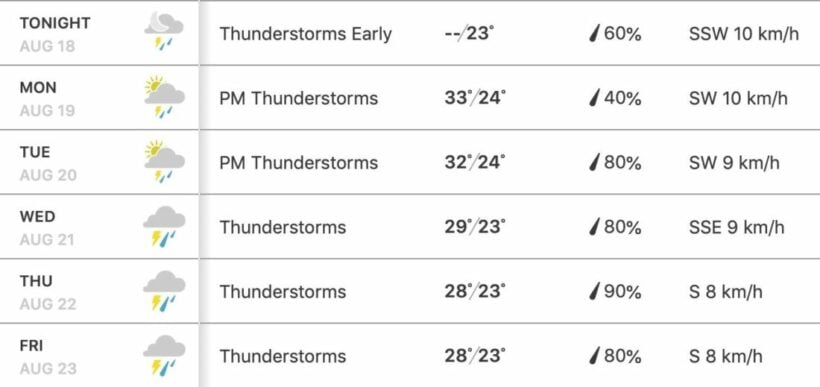 Keep in contact with The Thaiger by following our
Facebook page
.
Thai police officer arrested with nearly 200,000 meth pills in his luggage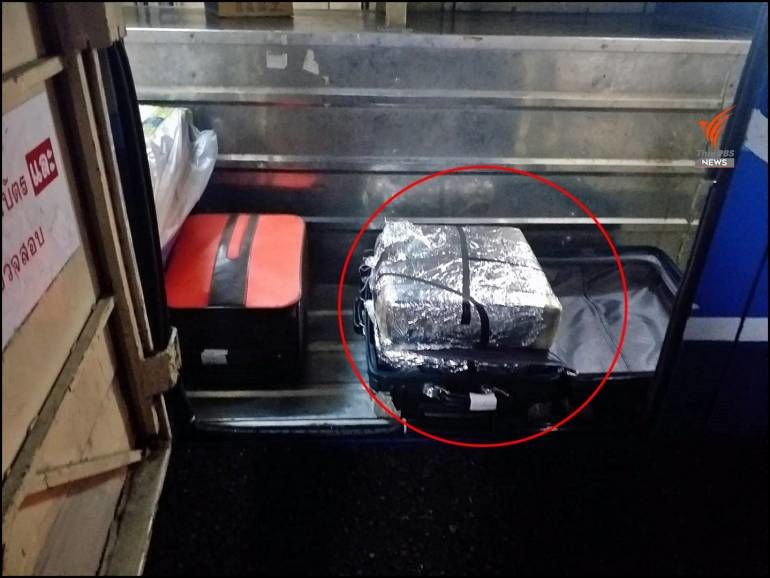 PHOTO: Thai PBS World
A serving policeman has been arrested by police in Chiang Rai province after 198,000 methamphetamine pills were found in his luggage on a Bangkok-bound bus.
Mae Sai district policemen at a checkpoint in Tambon Pong-Ngam, stopped a Nakhonchai Tour bus bound for Bangkok from Mae Sai, for a routine check. The officers found a locked suitcase on the luggage rack above the front seat, occupied by Pol Lt-Col Surachit Thavuth, and asked him to open the bag for inspection.
Pol Lt-Col Surachit Thavuth is a police investigative inspector in Uthai Thani in central Thailand.
Surachit managed to run out of the bus and hid in the roadside bushes, but was eventually apprehended and brought back to the bus to unlock the bag, where the methamphetamine pills were found.
Surachit told the police he went to Mae Sai to take delivery of the drugs for transport to a drug dealer, whom he identified as 'Oak', in Bangkok in return for 100,000 baht. Following his arrest, Thai PBS reports that Surachit was temporarily suspended from duty and a disciplinary committee has been set up to deal with the matter.
Royal Thai Police deputy spokesman Pol Col Krisana Pattanacharoen said the national police chief Pol Gen Chakthip Chaijinda ordered the investigation to be expanded to find the mastermind behind the drug deal.
SOURCE: Thai PBS World
Keep in contact with The Thaiger by following our
Facebook page
.
Police arrest Chiang Rai woman with thousands of counterfeit US$100 bills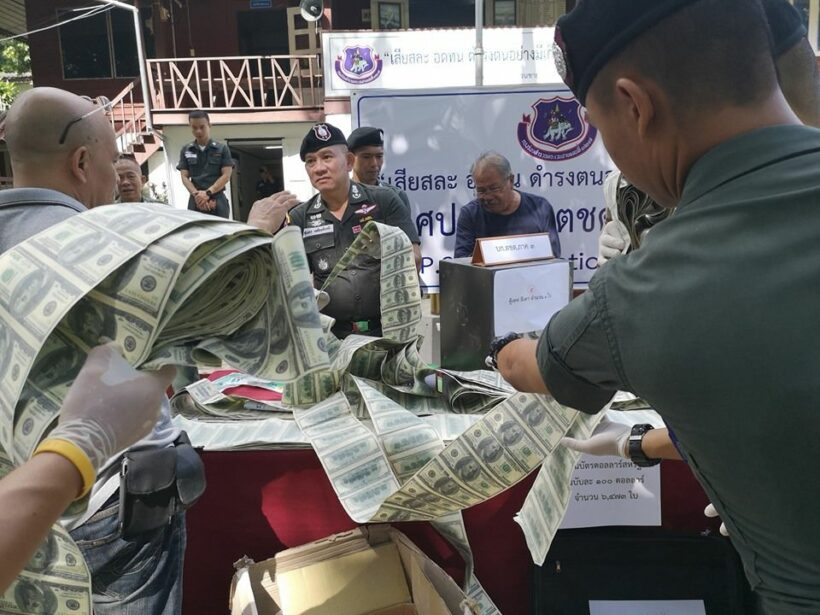 PHOTOS: Facebook/32nd Border Patrol Police
Counterfeit US dollar banknotes valued more than 16 million baht have been seized at a Chiang Rai house after police organised a sting. A 54 year old woman was arrested over the matter last Thursday. The sting followed a tip off to border patrol police about the fake USD notes being circulated around tambon Rim Kok.
Police say they discovered two metal boxes containing fake US$100 notes in the house of Masaras Nitisakyothin.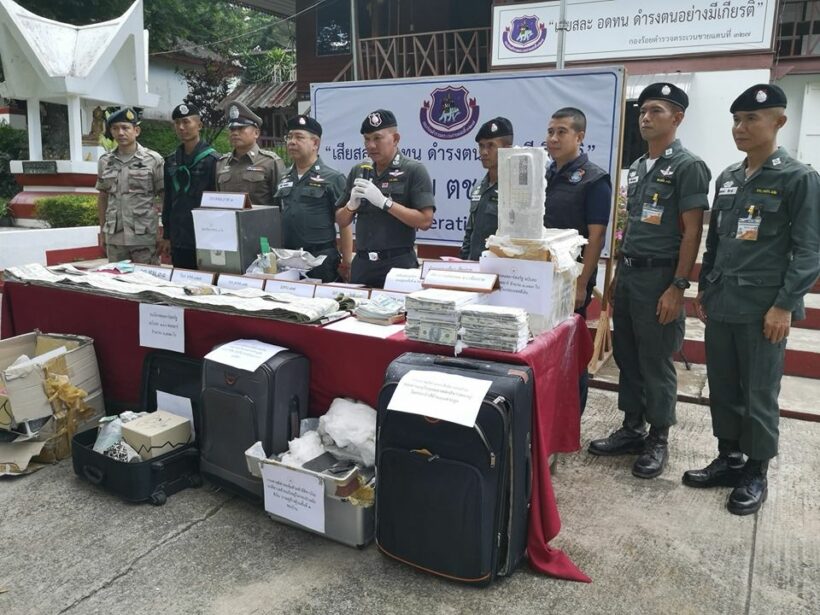 Police also found hundred of black notes the same size as the $100 bills believed to be a part of the process of making finished counterfeit notes
One box contained 4,949 banknotes, a second box contained 524 banknotes, the total valued at more than 16 million baht.
Police conducted a sting where an undercover officer posed as a buyer of the counterfeit currency and contacted the owner of the fakes. They met at a nearby petrol station where the woman then took the policeman to her house, showing him the process of making the bills. He then called in border control police, revealed that he was a policeman, and arrested the woman.
The woman has been charged with possessing counterfeit foreign currency with intent to use.
SOURCE: Bangkok Post
Enjoy the dramatic report below, complete with 'action movie' soundtrack and finger pointing…
Keep in contact with The Thaiger by following our
Facebook page
.
Release dates announced for Tom Waller's 'The Cave'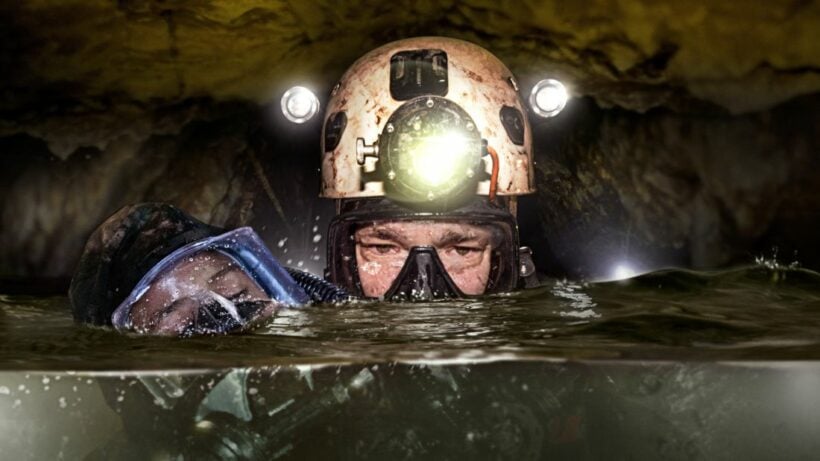 The first of a few productions about last year's massive cave rescue at the Tham Luang caves in Chiang Rai is going to be released on November 28. It is a feature film called "The Cave" (Nang Non) and will be released in Thai theatres as well.
The film focuses on the rescue itself as the director said working with the censorship board, set up to control copyright issues around the story and the people involved, were a nightmare to work with.
Director Tom Waller said he wasn't allowed to have any contact with the 13 young men who were rescued from the caves so had to work around the story of the actual rescue instead.
A trailer was released yesterday. "The Cave" will also screen at the London Film Festival starting on October 2. The film has confirmed other festival dates, including a North American premiere at the Vancouver festival and a European debut in the Thrill section of the London festival. These will be followed by a commercial release in Thailand from November 28 through SF Cinemas and Major Cineplex.
Director Tom Waller, a Bangkok-based Thai-Irish producer and director, spoke at a screening of his 2008 indie film "Soi Cowboy" saying he's focused on the unsung heroes of the rescue.
He said the film includes the stories of an Irish diver who aided the rescue, an American who was on-site, and a farmer who allowed the water pumped from the cave to flood her fields.
Tom's other films for De Warrenne Pictures include "The Last Executioner," "Patong Girl" and "The Elephant King."
Netflix and Ivanhoe Pictures are also preparing a series on the events surrounding the June/July 2018 rescue when the Mu Pa (Wild Boars) soccer team, consisting of 12 schoolboys and their coach, became trapped in the Tham Luang caves in northern Thailand.
Keep in contact with The Thaiger by following our
Facebook page
.