Trucks lining up at border checkpoint after Myanmar imposes cross-border quota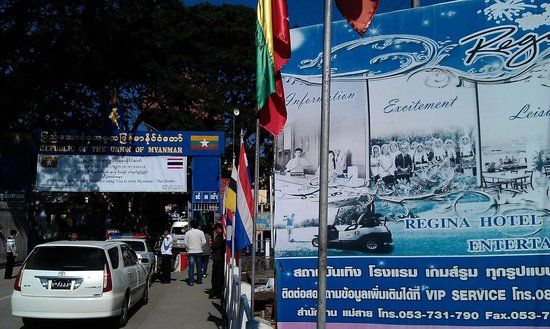 Over 600 trucks are stranded at the border between Thailand and Myanmar after the latter country imposed a Covid-19 cross-border quota-allowing only 6 trucks per day to cross from each side. The trucks are carrying goods across the Mae Sai border checkpoint in Chiang Rai to be delivered to the town of Tachileik in the neighbouring country.
The tight restrictions come after Myanmar has seen an uptick in Covid cases and the clamp down is reportedly part of the effort to control the spread of the virus. Before the surge in cases, the country was allowing up to almost 170 goods transport trucks to enter from Thailand in an effort to bolster trading between the 2 nations.
Now, however, the restrictions are causing trucks to pile up in the hundreds as they await to cross. Some truck drivers, who are worried their products may spoil before making it across the border, are taking to selling their goods on the street in front of the Thai-Myanmar Friendship Bridge.
The trade across borders between the two countries is considered to be lucrative as it was valued at 12.2 billion Thai baht this past year with the export of products making up the majority of its value. The Mae Sai Customs Office has reportedly collected up to 23.7 million Thai baht in tariff and taxes during the last year.
There is no word yet on when the border quota will be lifted to allow more trucks to pass over the borders.
SOURCE: The Nation
Catch up with the latest daily "Thailand News Today" here on The Thaiger.
Want more from the Thaiger family?
📱 Download our app on Android or iOS for instant updates on your mobile
📧 Subscribe to our daily email newsletter
👍 Like/Follow us on Facebook
🔔 Subscribe to or Join our YouTube channel for daily video updates
Burmese junta hit with additional US sanctions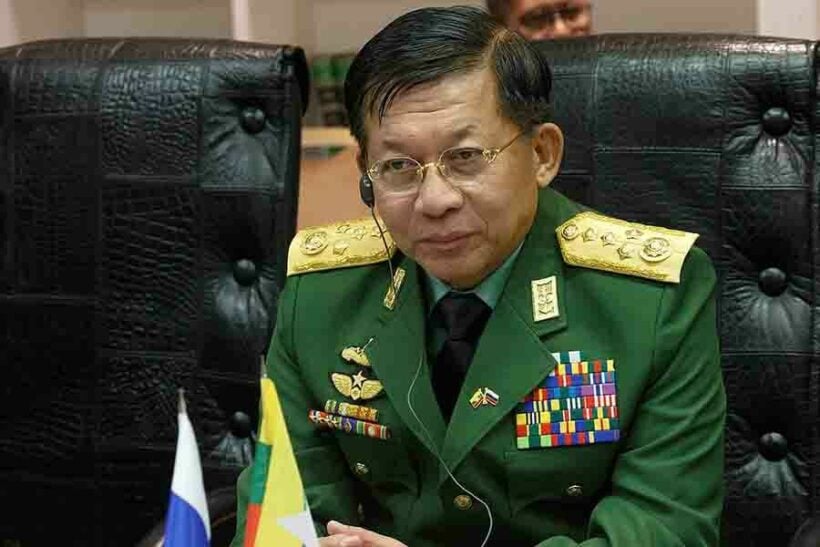 The US has confirmed additional sanctions against Myanmar in response to the February 1 military coup that ousted the democratically-elected civilian government of Aung San Suu Kyi. CNN reports that the latest round of sanctions, which have been introduced in coordination with the UK and Canada, are aimed at the State Administrative Council, or military junta. In particular, they target a number of prominent figures in the Burmese military, along with family members of previously identified individuals.
The February 1 coup plunged Myanmar into chaos, with anti-coup protests met with violence and bloodshed. This is the third round of sanctions to be introduced by the US government in recent months, with Antony Blinken, US Secretary of State, saying those who orchestrated the coup must be held to account.
"As President Biden has stated, the United States will continue to promote accountability for those responsible for the coup. Our actions today underscore our resolve and that of our partners to apply political and financial pressure on the regime as long as it fails to stop violence and take meaningful action to respect the will of the people."
The US Treasury has named 16 people targeted in the latest round of sanctions, 13 of whom are prominent figures in the Burmese military. They will no longer have access to their property and possessions in the US. The other 3 are reported to be the adult children of previously identified members of the military.
"13 of the individuals sanctioned today are key members of Burma's military regime, which is violently repressing the pro-democracy movement in the country and is responsible for the ongoing violent and lethal attacks against the people of Burma, including the killing of children."
SOURCE: CNN
Want more from the Thaiger family?
📱 Download our app on Android or iOS for instant updates on your mobile
📧 Subscribe to our daily email newsletter
👍 Like/Follow us on Facebook
🔔 Subscribe to or Join our YouTube channel for daily video updates
17 year old Burmese teenager details abuse at the hands of junta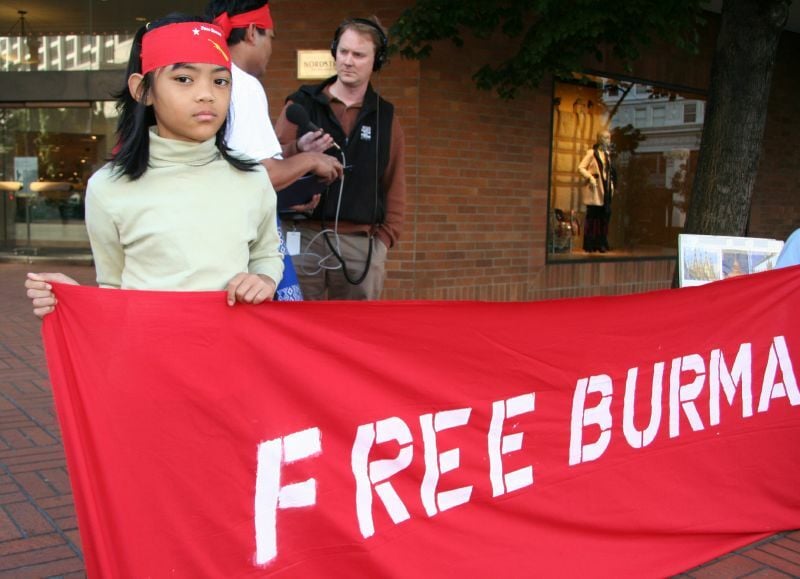 A 17 year old Burmese teenager has spoken about her time behind bars at the hands of the Myanmar junta. Ma Chaw says she and her mother were arrested on April 14 in Rangoon as they were walking to a friend's house from a morning protest. She says they were stopped by the military who jumped out of 2 security trucks and forced them to crouch on the ground face down.
Ma says she was kicked in the groin and was threatened with sexual violence as she spent 6 days in detention along with other women who were allegedly tortured and abused by the police. She says a police officer molested her during an interrogation session in which she pushed his hand away as he threatened her life. She says her mother was slapped 2 times while being interrogated.
Before Ma was released on April 20, she had to sign a document stating the opposite of what was true: that no one tortured her behind bars.
"It's the opposite of what they have done. It is totally unacceptable and unfair."
Her mother, however, was not released but transferred to Rangoon's Insein prison. Ma says she is worried for her mother's life and that her mother is her only family. Ma says other prisoners were beaten so badly that they could hardly eat or talk. An underground group of ousted lawmakers who oppose the junta has announced it is investigating the "allegations of sexual and gender-based violence against women and girls in unlawful detention." In a statement it said:
"These cases are indicative of the wider pattern of sexual and gender-based violence committed by Myanmar's military that has persisted for years with impunity, particularly against ethnic minority women and girls in armed conflict areas."
Local monitoring group the Assistance Association for Political Prisoners says more than 3,800 civilians have been arrested and are behind bars since the coup on February 1.
SOURCE: Bangkok Post
Want more from the Thaiger family?
📱 Download our app on Android or iOS for instant updates on your mobile
📧 Subscribe to our daily email newsletter
👍 Like/Follow us on Facebook
🔔 Subscribe to or Join our YouTube channel for daily video updates
Burmese military declares martial law in border city after attack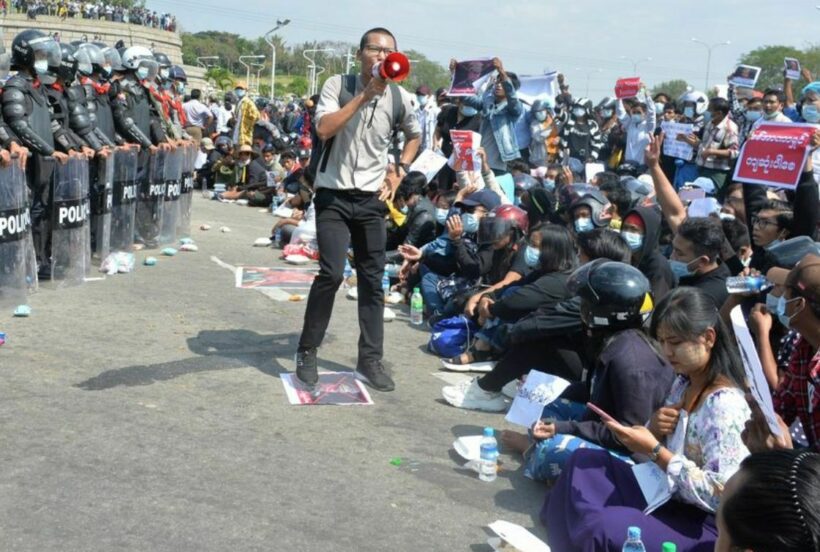 After blaming attacks on a bank and a police station on armed terrorist the Burmese military Junta has declared martial law in the town of Mindat in Chin State. Ethnic rebels have been increasingly battling the military in these border regions – the Chin State borders India – and about 100 people were reported over the last 2 days to have launched an attack on the police station using homemade guns while 50 more people sieged the Myanmar Economic Bank.
State media reported that Burmese military forces quashed the attacks that lead to the martial law declaration without sustaining any casualties, though international news outlets have been unable to confirm any details. Local media aligning against the junta claim that the skirmishes erupted after the Burmese military broke a deal to release 7 recently detained protesters, and claimed that the martial law was invalid. a new militia called the Chinland Defense Force claimed responsibility for the attacks and supported the local media account of events.
That militia say that one of their members was killed in the confrontation and that the military has called in reinforcements. They claim that the junta is losing power in rural areas and can only maintain strongholds in the cities they have military bases in. The martial law declaration comes as the Burmese military continues to try to maintain control amidst daily protests in major cities and violent conflict in border states since their February 1 coup.
The People's Defence Forces, a group formed last week by the National Unity Government of leaders deposed in the coup, have been working to coalesce support against a common enemy between the protesters in cities and ethnic insurgents who have long fought the oppressive military. These insurgents have assassinated junta leaders and clashed frequently with Burmese military security forces in attacks like the one leading to martial law today.
Still, Pro-democracy demonstrators marched through Yangon today, with videos surfacing on social media showing their defiant chant, "we believe that we gonna win, we must win, we must win"
SOURCE: Bangkok Post
Want more from the Thaiger family?
📱 Download our app on Android or iOS for instant updates on your mobile
📧 Subscribe to our daily email newsletter
👍 Like/Follow us on Facebook
🔔 Subscribe to or Join our YouTube channel for daily video updates