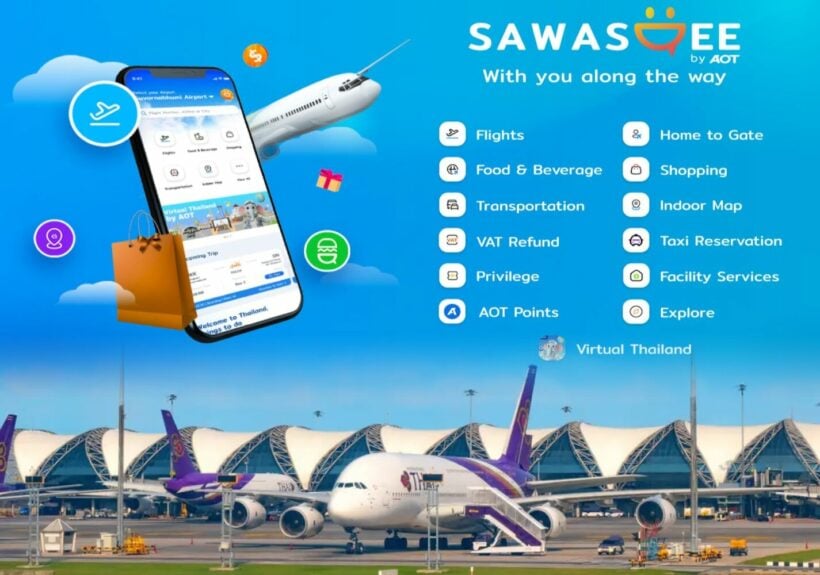 The "Sawasdee by AoT" app is continuing to grow, with new features stretching outside the scope of airports. Sky ICT, an aviation technology firm, announced that it will be adding an e-payment feature to the app by April. Sawasdee by AoT now includes 64 active features and growing. Coming next? The payment feature and tourism calendars for different popular regions.
The app, which was originally created by Airports of Thailand (AoT) and relaunched by Sky ICT in late 2021, will now enable tourists to pay for goods and services outside of airports. They are also gathering information and event details in the next three months to create regional calendars for tourists to know what's going on locally as they travel to hotspots.
The app currently provides airport and flight information, along with dozens of other features, including a "Tourist Help" feature, through which travellers can seek assistance from the police in six languages, and the ability to purchase insurance at special prices.
Users can enter their itinerary and all aspects of their flight will be tracked for them. They'll receive notifications if there are any changes in their flights, gates, or any important information at the airport they will be at.
The AoT app will also give useful information about how long current wait times are at immigration, security checkpoints, and check-in areas to allow travellers to be more prepared. Airport taxi booking will be incorporated into the app to help speed up the arrival process as well.
The app will be available in Thai, English, Mandarin, Korean, Japanese, Russian, Hindi, and Spanish. There is a Tourist Help section that can connect travellers to police in each of those languages except for Hindi and Spanish.
The app is being developed for the AoT by app maker Sky ICT as part of a 10-year, 8 billion baht contract to develop aviation platforms. The contract includes the development of the Sawasdee by AoT app, a facial recognition system, a smart security system, a self-service check-in system, a ground handling system, and an e-gateway.
After getting the go-ahead from AoT, Sky ICT is currently in talks with three payment gateway providers, including 2C2P, to integrate e-payment services outside the airports, complementing the Sawasdee Pay feature. That system, developed with Krungthai Bank currently allows for purchases inside airports at participating shops using an e-wallet.
They are also in talks with King Mongkut's University of Technology Thonburi to design an app overhaul. They aim to make Sawasdee by AoT more beautiful and user-friendly, including recategorising the features in the app.
The expansion and redesign are expected to be completed this year.
As the aviation industry is expected to recover faster than expected, with the influx of tourists from China's reopening, the Sawasdee by AoT app will provide an additional service that can support tourists in various ways while they're in Thailand. Sky ICT is also in the process of submitting a proposal to the Securities and Exchange Commission for listing on the Stock Exchange of Thailand.