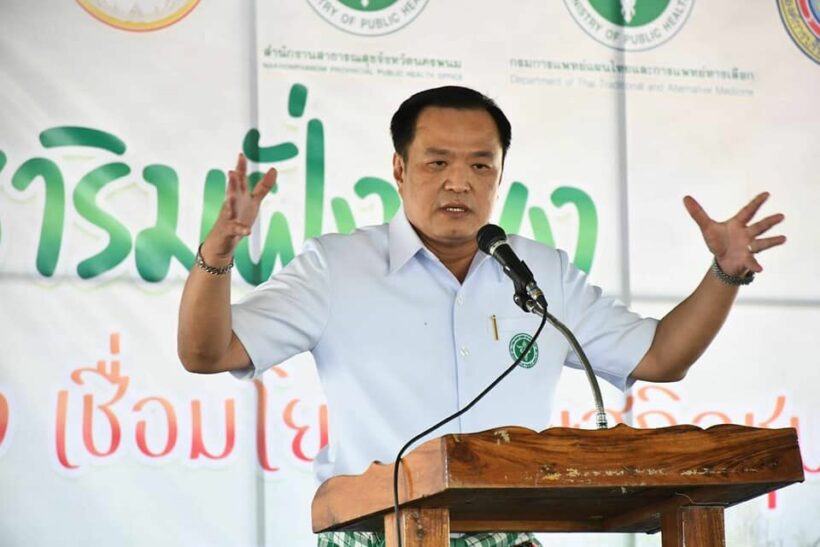 Thailand's somewhat controversial health minister, Anutin Charvirakul, says he's ready to lead the country and become the next PM. According to an ASEAN NOW report, Anutin was addressing a gathering of his Bhumjaithai Party in the northeastern city of Nakhon Ratchasima, also known as Korat.
His comments have been picked up by the Thai media, with Sanook posting a photo of him with a caption indicating that he is now a prime ministerial candidate. He has some support too, with Transport Minister Salsayam Chidchob saying he'd back him. However, Anutin was careful to point out that he still fully supports the current PM, Prayut Chan-o-cha, and would only consider taking over when the PM is ready to step down.
The Covid-19 pandemic has put Anutin in the spotlight, and not only with Thai citizens. He came to the attention of foreign residents and some tourists during the early days of the pandemic, when he berated "dirty farang" for not accepting the face masks he was handing out as part of a PR stunt at a Bangkok station. He then went as far as to suggest that foreigners should be kicked out of the country. Rightly or wrongly, many blame his comments for a disturbing wave of xenophobia that emerged shortly after.
Last week, Anutin hit the headlines again when he declared that the pandemic was no match for Thailand and the healthcare workers he's in charge of. Addressing an event in the north-eastern province of Loei, he described Covid-19 as "inferior" when compared to his ministry. The ASEAN NOW report points out that he's also survived several potentially politically damaging incidents when he was caught not wearing a facemask.
SOURCE: ASEAN NOW