Thai PM orders investigation into Samut Prakan gas pipeline explosion, 3 dead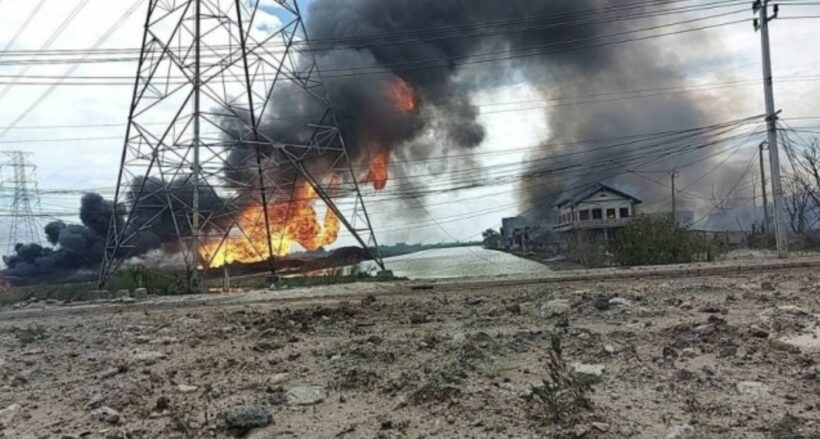 Thai PM Prayut Chan-o-cha is ordering an investigation into yesterday's explosion of a gas pipeline in Samut Prakan, just south east of central Bangkok. At least 3 people were killed. Among the dead, 2 elderly women were killed, plus at least 28 confirmed injuries when the PTT gas pipeline exploded in the coastal Bang Bo district.
The prime minister has also expressed his condolences to the families of the victims stating that authorities would "get to the bottom of the incident". The explosion was near the Soi Preng Wisuthathibdee School. Children were evacuated from the area immediately. The gas pipeline exploded during a gas transfer from Laem Chabang district to an industrial estate in Samut Prakan province.
Samut Prakan-based emergency responders arrived quickly on the scene with firetrucks and extinguishing foam.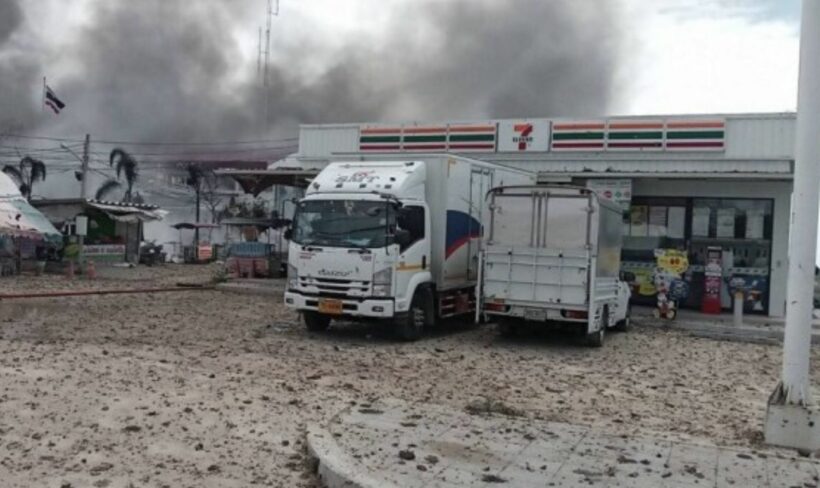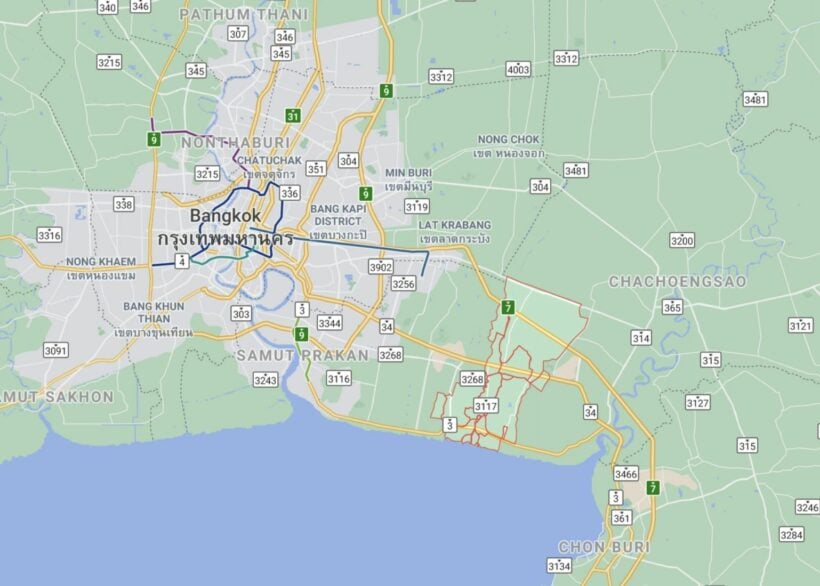 PTT, the Thai petrochemical company announced yesterday around 2.30 pm that the fire was under control and the situation contained.
"It is initially believed that the explosion was caused by the leakage and diffusion of NGV liquefied natural gas in the pipeline."
Officials from the PTT Emergency Control Centre have been assisting the injured and said they will "resolve the situation as quickly as possible".
Authorities speculate that built up pressure in the pipelines were responsible for the blast. Investigators are now on sire to inspect the scene. There hasn't been any announcement about the full extent of the damage caused by the explosion. Video below from INN News.
Keep in contact with The Thaiger by following our
Facebook page
.
Never miss out on future posts by
following The Thaiger
.
Whale skeleton around 3,000-5,000 years old found in Samut Sakhon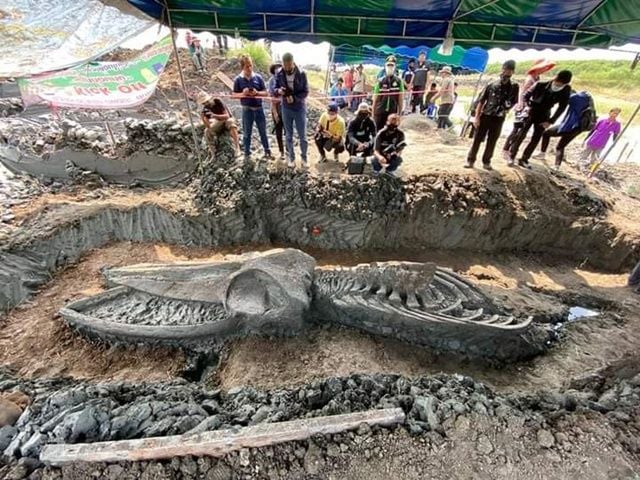 A whale skeleton estimated to be around 3,000 to 5,000 years old was found in Samut Sakhon, just west of Bangkok, about 12 kilometres inland from the coastline. The bones will be carbon dated to determine a more precise age.
The Natural Resources and Environment minister Varawut Silpa-archa says the bones resemble the Bryde's whale. About 50 Bryde's whales live in the upper Gulf of Thailand near the Samut Sakhon coast.
"The seas around Thailand have been abundant with life for thousands of years, as shown by fossils."
The partially fossilised skeleton is around 12 metres long with 3 metre long skull. Archaeologists excavated 19 vertebrae with 5 ribs each along with a shoulder blade and left fins. They estimate another 20% of the skeleton needs to be excavated.
SOURCE: Nation Thailand
Keep in contact with The Thaiger by following our
Facebook page
.
Never miss out on future posts by
following The Thaiger
.
Thai-American US senator says women need to break through the glass ceiling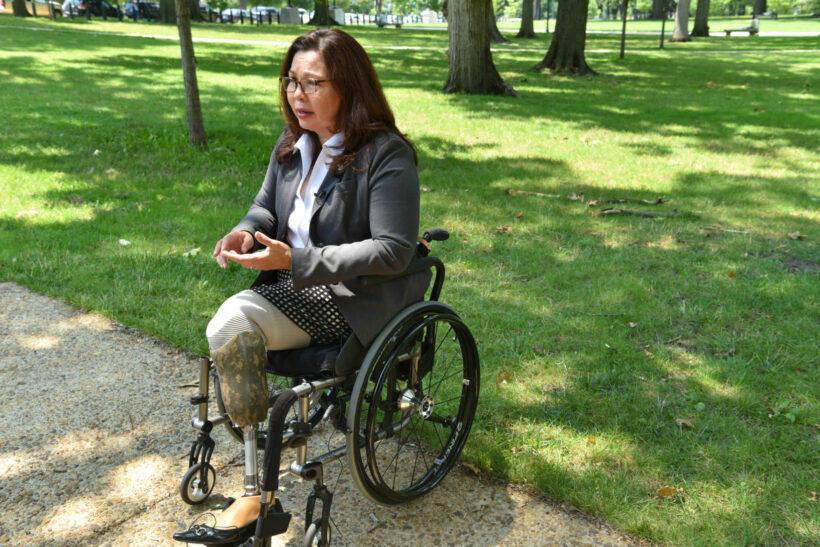 Thai-American United States Senator Ladda "Tammy" Duckworth says women – in both Thailand and the US – need to take on leadership roles and break through the glass ceiling. Her speech, recorded in Illinois and played back at the Bangkok Post International Forum 2020, comes at a time where groups of Thai women attending the ongoing pro-democracy protests are expressing concerns with patriarchal society.
At a recent protest, a woman dressed in a school uniform with tape over her mouth held a sign saying "A teacher sexually assaulted me. The school is not a safe space." At another protest, a group of women performed a dance and chant to raise awareness about how some victims sexual harassment and rape are blamed because the way they dress.
Others attending the protests have brought to light issues on gender equality in Thailand, such as how the nation's top military school does not accept women. In an earlier report, a student protester told a New York Times reporter "The monarchy and the military have all the power in Thailand… I shouldn't be afraid to say that men have almost all the power."
The US senator, who was born in Bangkok, says she spent her entire life in male-dominated fields. She served in the US army and lost both her legs back in 2004 when a Black Hawks helicopter she was co-piloting in Iraq was shot down. In her speech, she told a story about her experience being a woman in the army.
"I made sure that on every sub-zero morning there were hot teas and hot cocoas for my crew because it's so cold in Chicago in the winter, but some of the male commanders and platoon leaders started to call me 'the mommy platoon leader'. It was meant to be an insult."
"Once I took away the warm teas and warm cocoas, my guys performed worse because they were cold. They were doing better when I provided them hot beverages to keep them going. What I should have done is to fight like a woman and beat those male leaders by doing it."
She says women in America and in Thailand will never be as strong as they can be if they keep accepting the status quo that doesn't "fully accept" half the world's population, women.
"Our nations will never be at their best as long as 50% of our population have to keep ducking our heads to avoid hitting that glass ceiling."
"National security is a women's issue. The economy is a women's issue. Healthcare is also a women's issue. Our countries will never reach high stature as long as we keep siloing women's issues in the way we are used to, because women's issues don't start and end with equal pay."
Along with urging women in both Thailand and America to challenge gender barriers, Tammy says she hopes to see closer ties between the 2 countries.
"There's a reason Thailand is often called Washington's oldest ally in Asia. Ever since Washington's ship landed on Siam's shore more than 200 years ago. Ever since King Mongkut offered to send elephants to President Abraham Lincoln. Ever since we agreed to help strengthen one another's economies with the Treaty of Amity and Commerce and helping defend one other through the Manila Pact."
SOURCE: Bangkok Post
Keep in contact with The Thaiger by following our
Facebook page
.
Never miss out on future posts by
following The Thaiger
.
Thief makes off with over 500,000 baht in Bangkok bank robbery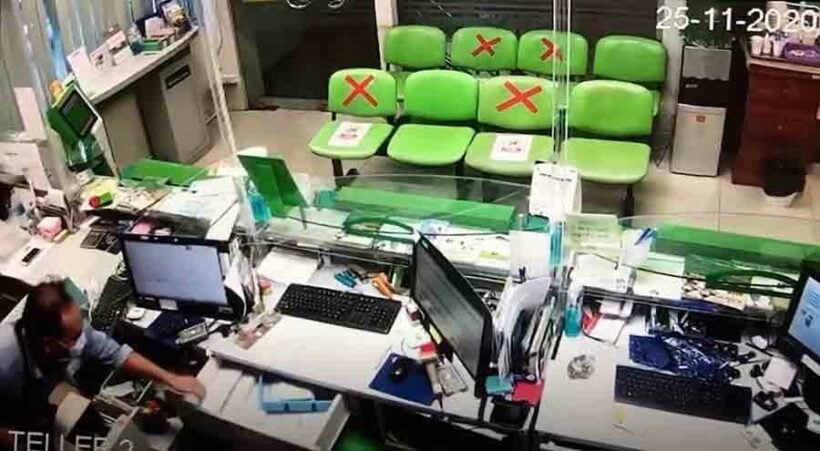 A man who robbed a Bangkok branch of the Government Housing Bank at gunpoint has escaped with over 500,000 baht. Nation Thailand report that the robbery took place yesterday afternoon, at the bank's Bangbon branch on Soi Ekachai 86 in the capital.
A security guard at the branch told police that the thief jumped over the counter, before grabbing the cash and running out. It's understood nobody was hurt in the incident. CCTV footage shows a man wearing a long-sleeved grey shirt and a face mask entering the branch, before producing a gun and pointing it at employees. He produces a plastic bag, before jumping over the counter and grabbing cash from a drawer and making his escape.
It's understood additional footage shows the man fleeing in a vehicle, headed towards Ekachai Road. The police investigation is ongoing.
SOURCE: Nation Thailand
Keep in contact with The Thaiger by following our
Facebook page
.
Never miss out on future posts by
following The Thaiger
.