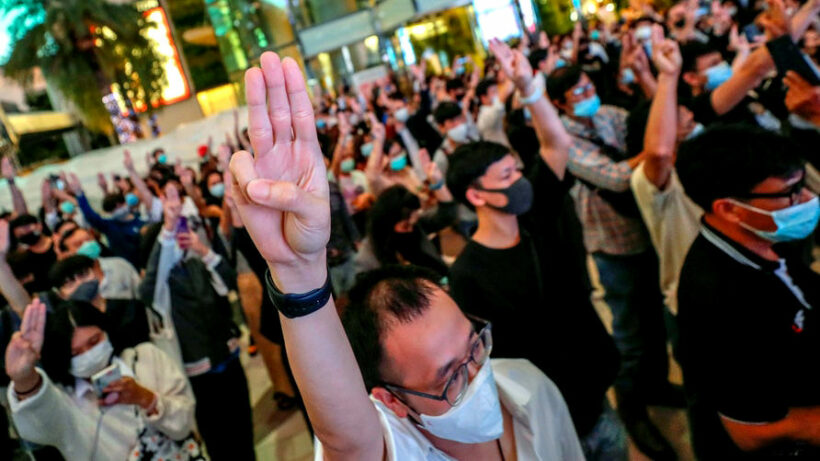 The Thai Parliament is getting ready for an extraordinary session called by the Lower House Speaker to debate the current impasse between the protester's demands and the PM and government. The session will be held on Monday and Tuesday. But even before the emergency session begins, government and opposition parliamentarians cannot decide on the terms of the debate.
Parliament president and lower house speaker, veteran Chuan Leekpai, hosted a meeting yesterday in preparation for the "extraordinary joint session" which will run over 2 days. He says the session will debate "ways to defuse the ongoing political crisis". The debates will involve both houses of parliament, constituting the elected MPs of the lower house and the hand-picked, unelected Senators of the upper house. The preparatory meeting included members of cabinet, government coalition parties, opposition and the upper house.
Outside of the unfinished Thai parliamentary building, police and security officials were preparing for expected return of protests and a large turnout for the next round of political rallies. The protesters have already made this Sunday night the deadline for the Thai PM to resign, having already decided to co-operate with the PM after his Wednesday night request for the protesters to "stand down' pending parliamentary discussions.
It's unlikely the PM will meet this deadline and will participate in the 2 day emergency session.
The 2-day special session is being held under Section 165 of the 2017 Thai constitution which states "the government can request a joint House-Senate sitting for a general debate". The next scheduled session of parliament was November 1.
But even the terms of the motion for the emergency session is causing debate before the doors even open for the emergency session. Opposition parties are demanding that their be the opportunity for a substantive vote following the session so that some concrete progress can be made to diffuse the current political crisis.
"We may refuse to be involved in the debates unless there is an opportunity to vote on the motions."
Sutin Klungsang, opposition whip from the Pheu Thai Party, says unless the topics covered actually address the protesters demands, there is little use in turning up to the sessions.
The Move Forward Party's (including remnants of the disbanded Future Forward party) Chaithawat Tulathon, says there must be a motion which includes the protesters' key demands… that PM Prayut Chan-o-cha resign, a new constitution be written and the role of the Tha monarchy be limited and codified.
"Parliament should serve as an example in discussing sensitive issues in an appropriate and mature manner."
SOURCE: Bangkok Post | Reuters | Nation Thailand