Inaugural Thailand Charter Week in Phuket opens tomorrow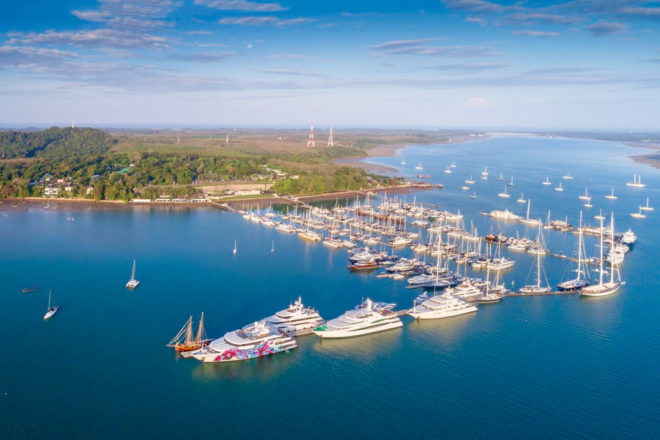 PHOTO: Phuket Yacht Haven, ready for the inaugural Thailand Charter Week – asia-marine.net
The Tourism Authority of Thailand has signed up as a Supporting Sponsor of the first Thailand Charter Week in a huge boost for the inaugural six-day event, held at Phuket Yacht Haven from tomorrow to November 21. Organisers were also facing the 'good problem' of over demand for berths, especially after a series of large yachts signed up in the lead-up to the event.
The Thailand Charter Week is Asia's first international charter show for industry professionals only, a 'B2B' event for charter brokers, central agents, luxury travel agents and tour operators to meet local agencies and discover leading charter yachts operating in Thailand and the rest of Southeast Asia.
The iconic 41.3m Ocean Emerald is the largest boat in the line-up and will exhibit at Yacht Haven four years after appearing in the movie remake of Point Break. The yacht often berths in Pattaya, is represented by Camper & Nicholsons, and is available for charter in Southeast Asia and the Indian Ocean.
Launched by Rodriguez Yachts in 2009, the 135ft motor yacht was designed by Norman Foster and has five suites for 12 guests, a bar, jacuzzi and enormous exterior decks for entertaining.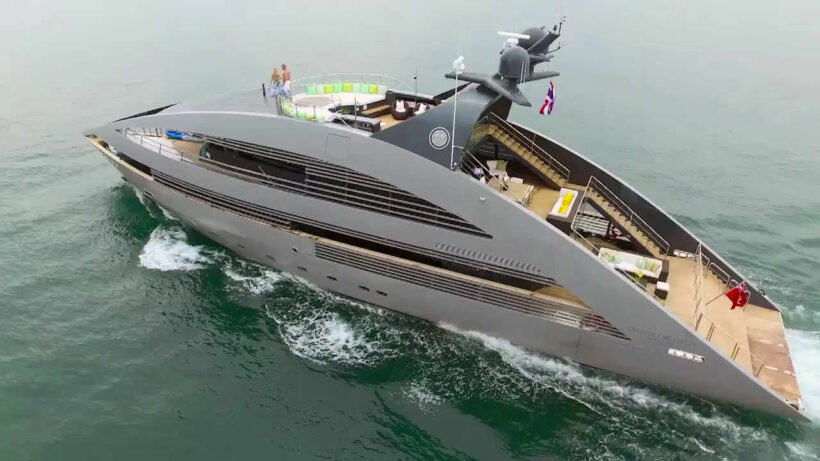 PHOTO: Ocean Emerald
At 31.6m in length, Silverlining is the biggest sailing yacht in the line-up and is represented by Fraser. A Sparkman & Stephens design, the 104ft yacht was launched in 2011 and has cruised more than 50,000nm, visiting more than 40 countries. Now based in Phuket, the yacht features two saloons and four guest cabins.
The 31.5m Aveline, a Maiora 31DP motor yacht, is a recent addition to the show by Northrop & Johnson and newly available for charter in the 2019/20 season.
Other newcomers include the 29.5m Mia Kai, which is represented by Ocean Independence and had an extensive interior refit in 2017, and the 29.5m Lady Eileen II, a motor yacht built by Taiwan's New Ocean Yachts and represented by Yacht Sourcing.
Built by renowned Turkish yard Bilgin in 2007, Mia Kai had an extensive interior refit in 2017. The yacht features four guest cabins, including two almost equally sized, full-beam master suites, while the sun deck features an al fresco dining area, jacuzzi, bar and high-tech sound system.
Motor yachts include the 27m Baglietto Ajao, 27m Thai-built wooden boat Maha Bhetra, 25m Azimut 80 Mirage, 23m Sunseeker Maxxx, 22m Chowa, 21m Riva Aria Blue, 20m Cheoy Lee L'Orientale, 18m Princess Mayavee, 18m Princess Shard 1, 17m Azimut Pillars Spirit and 15m Sea Princess.
Sailing catamarans include the 19m Lagoon 62 Jyohana and 16m Lagoon 52F Blue Moon – the latter launched in 2018 – a 16m Andaman 50 and a 15m Moorings 4800, while Super Mario is a 15m powercat.
Companies exhibiting on land include Sevenstar Yacht Transport, Southeast Asia Pilot, Yacht Sourcing, Corsair Marine/Seawind Catamarans, Port Takola Yacht Marina, Zodiac ribs and Advance Yachting.
Matthew Na Nagara, Chairman of the Thai Yachting Business Association, the event organiser, says the event is designed to show the amazing appeal of Thailand's yacht tourism industry and its spectacular coastlines, islands, beaches and marine life.
"The Thailand Charter Week is building up nicely, with more large yachts signed up in the last couple of months and challenging us to find ways to accommodate them all. We have a full calendar of events for the show, including some great trips into the beautiful areas surrounding Phuket, and are confident that this first edition will prove a success."
The event's partner hotels include The Slate and Dusit Thani Laguna Phuket on the island's west coast, and Como Point Yamu on the east coast, while Coconut Village will host a beach party.
www.thaiyachtingbusinessassociation.com
Keep in contact with The Thaiger by following our Facebook page.
Never miss out on future posts by following The Thaiger.
Florida is ready to host Olympics if Tokyo draws back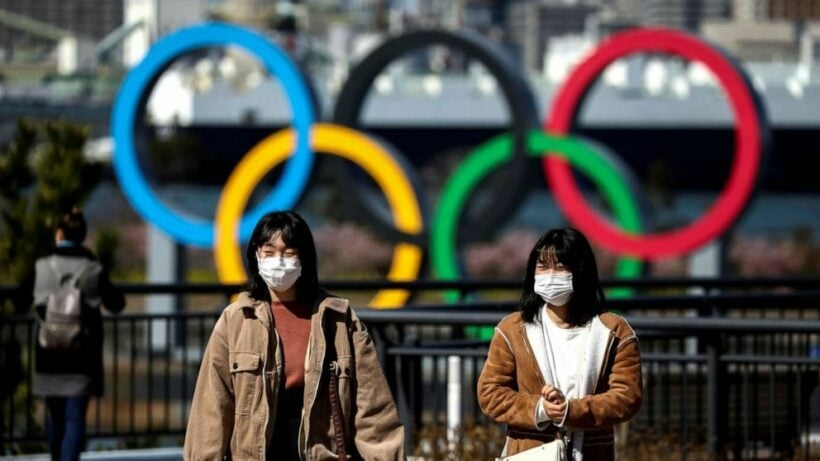 If Tokyo backs out of hosting the Olympics, Florida might step in. The 2020 Summer Olympics in Tokyo was postponed due to the Covid-19 pandemic and rescheduled for this July. With a fairly unpredictable future, Tokyo could back out of its plan to host the Olympics. Florida's chief financial officer says the Sunshine State is ready.
The CFO, Jimmy Patronis, sent a letter to the head of the International Olympic Committee saying he encourages him to consider relocating the games to Florida.
In a letter, he pointed out strong points of Florida that make it a good site for the games, including the state's vaccination roll-out, reopening of businesses, and ongoing sports events hosted in the state during the pandemic. Tampa, Florida is also set to host the 55th Super Bowl on February 7.
"Whatever precautions are required let's figure it out and get it done."
Although businesses are open and sports events still going on, Florida is rated as the third state with the highest number of Covid-19 cases with a total of 1,658,169 reported cases and 25,446 coronavirus-related deaths since the start of the pandemic.
"With media reports of leaders in Japan 'privately' concluding that they are too concerned about the pandemic for the 2021 Olympics to take place, there is still time to deploy a site selection team to Florida."
But those planning the Tokyo games say they're sticking with the plan to host the Olympics from July 23 until August 8. Japanese Prime Minister Yoshihide Suga also says he's keeping to the plan.
"I am determined to realise a safe and secure Tokyo Games as proof that mankind will have overcome the virus."
SOURCE:AFP
Catch up with the latest daily "Thailand News Today" here on The Thaiger.
Keep in contact with The Thaiger by following our Facebook page.
Never miss out on future posts by following The Thaiger.
Son lights himself on fire after asking mom for lottery money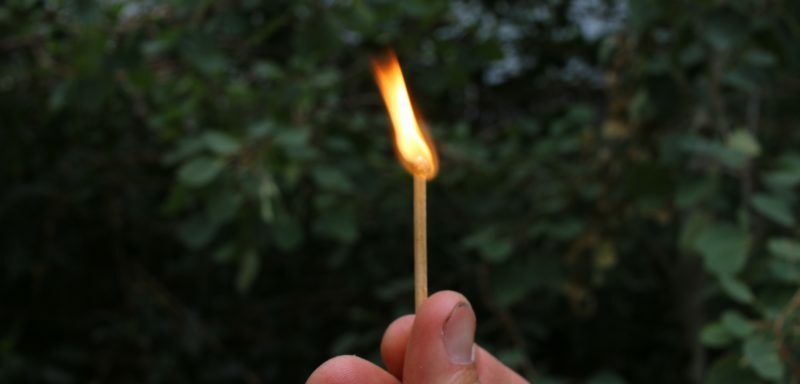 A woman's 32 year old son, in northern Thailand's Phrae Province, is in critical condition from lighting himself on fire after falsely believing that his mother had won the lottery and would not share her winnings with him.
Police at Denchai Police Station were alerted of a man who burned himself in Ban Mai Jua, Denchai District and notified a rescue team at Somdej Phra Yupparat Hospital. 60 year old Pen, the auntie of the man, who is only identified as Tossapon, says she was having breakfast when she heard an argument.
When she looked out the window, she saw Tossapon on fire and wrapped in a blanket. She says he ran to a water hose and put the fire out, but not before almost catching his house on fire. Officials arrived and found that several items in Tossapon's bedroom had been on fire, along with pieces of the blanket scattered throughout the house. They also found burnt pants and a pillow.
At the hospital, officials met 64 year old Sila, the mother of Tossapon, waiting for her son in front of the Emergency Room. Sila told police her son is a "psychiatric patient" because he used to use meth, or "yabba" in Thai. She says his addiction left him with long-term damages and says her son often falsely believes his mother won the lottery, to which she tells him she lost the lottery ticket.
Sila says she tells him it is not true, but this time Tossapon asked for proof and continued questioning her the next day. The mother says she described her love for her son, which upset him, leading him to wrap himself in a blanket and set himself on fire.
"Son, 99% of the love that I have for you has been changed to hate, the remaining 1% is technically loved because of the word 'son'."
SOURCE: Thai Residents
Keep in contact with The Thaiger by following our Facebook page.
Never miss out on future posts by following The Thaiger.
Why Thailand celebrates the New Year not once, not twice, but 3 times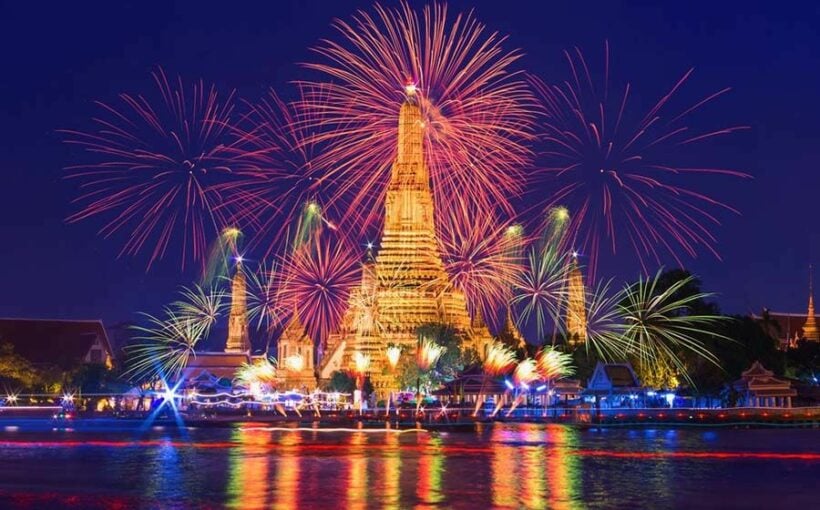 While the year just gone may be referred to as 2020 by most of us (with perhaps a few expletives thrown in, given the year it was), we are currently in the year 2563 in Thailand. As everyone who lives here knows, Thailand uses the Buddhist calendar, as well as the Western, or Gregorian, calendar, adding to our eternal confusion when wading through Thai documentation.
While the Gregorian calendar, also sometimes called the Christian calendar, is based around the birth of Jesus, the Buddhist one begins with the birth of Buddha, currently 2563 years ago. However, as can be seen below, the date in Thailand is usually written by combining the Gregorian date and month with the Buddhist year. The quickest way to work out what the year equates to in the Gregorian calendar, is to subtract 543 from the Thai year.

A lot of superstition governs the Buddhist calendar, with certain days having special meanings and considered more auspicious than others. Thais take these very seriously, particularly when choosing when to hold a wedding or funeral ceremony. Even when to buy a car or to propose marriage. The calendar is less frequently used by the younger generation, who tend to rely more on the Gregorian one.
Meanwhile, when it comes to celebrating the arrival of a new year, Thailand does so 3 times. The Buddhist New Year, the Chinese New Year, and the Western New Year, are all celebrated in some or all parts of the Kingdom.
The Buddhist New Year
This celebration is also known as Songkran, or Thai New Year, and is celebrated in April, when the weather is usually at its hottest. Traditionally, Buddhists celebrate Songkran by performing a ceremony in which they pour water over statues of Buddha, as well as on each other. This represents a period of cleansing, in which bad fortune and sins are washed away.
However, the original water ceremony has also evolved into large-scale water fights and street parties involving super-soakers and buckets of water (often, ice cold). It's a bit of a mega-party that, in pre-Covid times, was a huge tourist draw. Although the water throwing only lasts a day in most places, it can continue for several days in some, even up to a week in places like Chiang Mai.
The Western New Year
In Thailand, despite the Buddhist New Year being marked in April, the official start of the year, particularly for international businesses, is still January 1. This is a public holiday and the evening before is the scene of glittering New Year's Eve festivities, just like Western countries. While celebrations this year may have been somewhat muted due to the ever-present awareness of Covid-19, in more normal times, you can expect parties, live music, and fireworks a-plenty. By the way, Happy New Year!
The Chinese New Year
According to Wikipedia, up to 16% of Thailand's population is considered ethnic Chinese, with the Kingdom having the largest overseas Chinese community in the world outside mainland China. This group also has their own calendar, with a noisy, firecracker-dominated celebration to welcome the Chinese New Year in late January or early February. The festivities culminate in the "lion dance", involving 2 people in a large, colourful lion costume, performing dance moves.
There's no doubt about it, the Thais love an excuse to party. And celebrating a new year, not once, not twice, but on 3 separate occasions, is one way to guarantee some fun. Let's hope that the first of those celebrations, which took place last night, heralds the arrival of a more positive period for all!
SOURCE: Spirit of Thailand
Keep in contact with The Thaiger by following our Facebook page.
Never miss out on future posts by following The Thaiger.