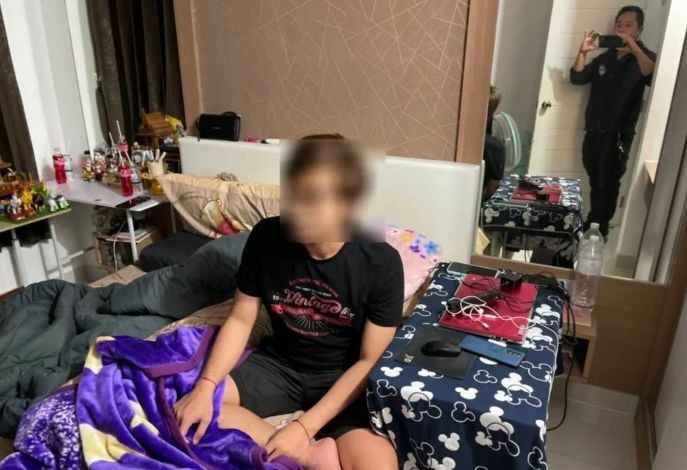 Cops swooped on a gambling den in Pattaya on Wednesday that had accounts with about 360 million baht in its circulation.
Officers from the Police Cyber Taskforce raided a luxury condominium in Chon Buri's Bang Lamung district and arrested four suspects, one man and three women. The police confiscated two laptops, four screens, three smartphones, and other appliances worth 100,000 baht.
The suspects faced charges of collusion to encourage others to play or gamble in unlicensed electronic media, and promoting gambling activities without proper authorisation, The Pattaya News reported.
The officers said the website, called Paris99th, had over 200,000 gamblers' accounts with 360 million baht in circulation.
Thailand's Ministry of Digital Economy and Society says more than 1,500 people were arrested in 2022 for online fraud and gambling. The Cybercrime Control Committee announced the statistics at its first meeting of the year.
According to Bangkok Post, 166 suspects were nabbed for their roles in eight call centre scams. Some 461 were reprimanded over illegal online gambling websites while 270 were arrested over online trading fraud.
Authorities seized 118,530 sim cards over phishing calls or messages. Some 58,463 bank accounts were opened illegally for the sole purpose of conducting cybercrime. Of those accounts, eight were closed after authorities found them to be linked to illegal account trading groups on social networking sites.
Some 6,024 illegal website URLs were closed with the committee saying most were suspected of opening anti-monarchy and illegal online gambling websites.
Pattaya is one spot in Thailand with quite a few gambling busts. In June last year, cyber police busted an illegal online gambling ring in Pattaya and arrested 11 suspects in connection with the illicit activity that pulled in over 100 million baht in revenue.
The alleged criminals used Facebook and YouTube advertisements to lure victims into their illegal gambling websites. But anti-cybercrime police managed to trace their digital footprints and raided the house where they were engaged in illicit activity in the Na Pa subdistrict of Chon Buri's main city district.