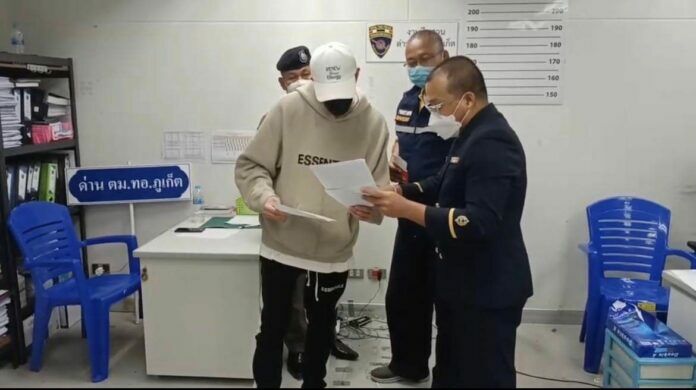 Cops caught an alleged Singaporean scammer at Phuket International Airport yesterday, who was accused of involvement in Thailand's 'Forex-3D scam' that grabbed headlines in the kingdom last year.
Immigration police busted the suspect, 32 year old Daryl Cai Yonghui, as he was about to fly to Singapore, according to the head of the Department of Special Investigation (DSI)'s financial business administration.
The DSI's Director-General Police Major Yuthana Praedam said the department would object to Daryl's request for bail since he was a serious flight risk. Yuthana said the department sent Daryl from Phuket to Bangkok.
Officers had contacted Daryl's wife, Thai-Italian model Sarah Casinghini, and his lawyer, requesting that Daryl report to the police and acknowledge his charges last Friday. But Daryl didn't show up, claiming that his bail money had not been settled, Bangkok Post reported.
The DSI went to check Daryl's residence at a Chao Phraya River condominium, but he wasn't there.
Following Daryl's arrest, Yuthana said the DSI would take legal action against Daryl, although there was no indication about whether action would be taken against his wife.
The Forex-3D scam was a 'Ponzi' scheme that persuaded people to invest their money in foreign exchange through the website forex-3d.com, claiming that they would make 60-80% profit on their investment.
However, once people invested, they didn't get any profits in return as promised. The scam allegedly cost its victims 2.4 billion baht in losses.
The 24 defendants who were summoned out of prison into court in September included famous actress Savika "Pinky" Chaiyadej, her mother and brother, and CEO of Forex 3D Apirak Kotthi.
In November, Pinky was released on bail for 5 million baht after being detained for over three months inside Central Women's Correctional Institution in Bangkok.
Thailand's Criminal Court granted bail to Pinky on the condition that she does not leave the country, must inform the court within seven days if she changes her address, and must report to the court every month.
Time will tell what further developments unfold surrounding the Forex-3D scam case.