Thailand becomes more cannabis-friendly after leaves removed from narcotics list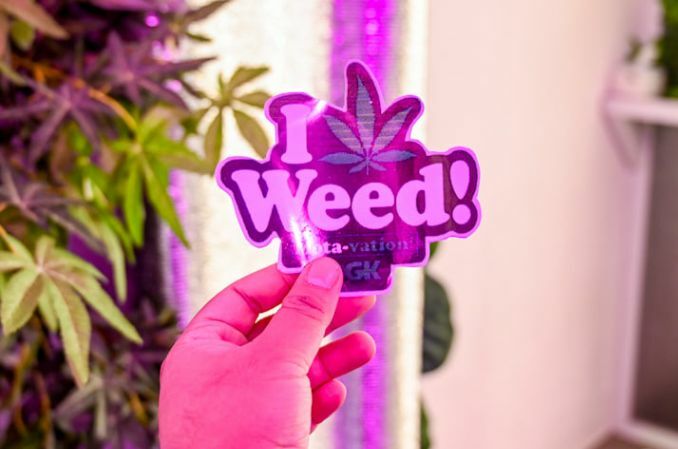 With cannabis leaves now off Thailand's narcotics list, the once taboo and criminalised plant is making its way into daily life in Thailand. Since the government decision in December to remove certain parts of the cannabis plant from the narcotics list, Thailand's first cannabis cafe "Taste of Ganja" opened in Prachin Buri and another called "420 Cannabis Bar" just opened in Bangkok. The Bangkok dessert shop Kanom Siam also announced it was adding a special ingredient to its pandan coconut Thai pancakes… cannabis.
The Department of Thai Traditional and Alternative Medicine is even encouraging the public to use the plant… as long as it has very low traces of the psychoactive component tetrahydrocannabinol, or THC. The plant's THC-rich buds are still illegal.
The department recently held a 2-day informational event at the Museum of Public Health and Medicine in Nonthaburi, just outside Bangkok, to educate people about the various uses of cannabis… and probably not the uses you're thinking of. There were no tips on how to make a gravity bong out of household products or how to make cannabis butter for magic brownies. Tips were more like how to use the plant's stems and fibre to manufacture textiles and paper as well as how to use the leaves to make cannabis tea.
Some are using the cannabis leaves in foods. The leaves have very low traces of THC and won't cause a "high." At the Taste of Ganja, people can munch on deep fried cannabis leaves and stir fried meat with basil and cannabis leaves. The cafe is affiliated with Chao Phraya Abhaibhubejhr Hospital which opened Thailand's first medical cannabis clinic in 2019.
The 420 Cannabis Bar offers cannabis teas and drinks with names like Stoner Plummer, which is made with plum soda, and Herbs Party, which is tea made with lemon. Prices range from around 125 baht to 145 baht. The bar also serves Fly High Cookies and Happy Brownies for 180 baht. Despite the names, the food and drinks won't get you stoned.
Cannabis buds are still classified as a Category 5 narcotic with fairly harsh penalties. Police are continuously cracking down on the illegal marijuana trade. Just over the weekend, officers seized 484 kilograms of dried, compacted cannabis, commonly known as "brick weed," in a bust by the Mekong River in the Isaan province Nakhon Phanom, which borders Laos.
SOURCE: Bangkok Post| Coconuts Bangkok
Keep in contact with The Thaiger by following our Facebook page.
Never miss out on future posts by following The Thaiger.
PM defends measures used against Sunday protesters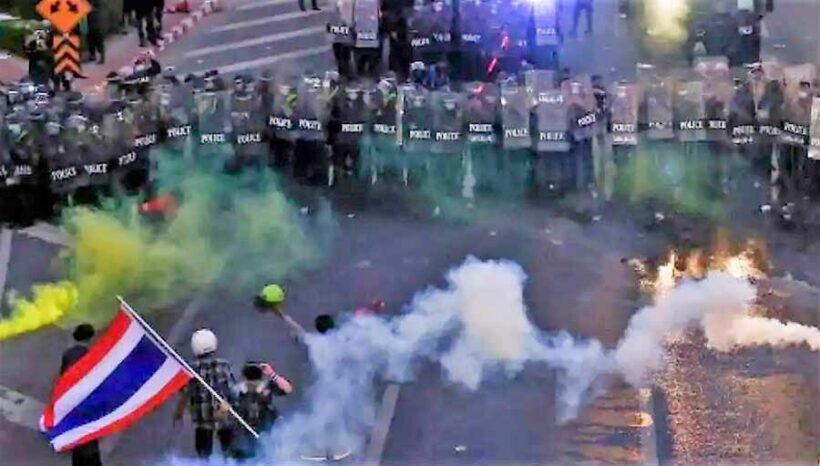 The Thai PM, Prayut Chan-o-cha has defended police action against protesters taking part in Sunday's anti-government rally in Bangkok. Officers from the Metropolitan Police Bureau used tear gas, water cannon and rubber bullets in an effort to drive protesters back from the PM's residence at the 1st Infantry Regiment barracks, King's Guard. The PM insists the actions were in line with international standards.
"I insist the crowd-control measures were in accordance with international standards and police did not violate the protesters' rights."
The PM has also criticised some media outlets for their reporting of the rally, claiming they only focused on officers' use of force against protesters. 33 people were injured at the rally – 23 police officers and 10 protesters. One police officer, named in a Bangkok Post report as Wiwat Sinprasert, died of heart failure. 22 protesters have been arrested, 4 of whom are minors who will have their cases heard in the Central Juvenile and Family Court.
Phukphong Phongpetra from the MPB says the use of rubber bullets was necessary in order to stop things getting out of control. He says protesters also gathered outside Din Daeng and Suthisarn police stations, where they set fire to police cars. He claims 90 officers were injured in the clashes, with 27 receiving hospital treatment.
National police chief Suwat Jangyodsuk says the measures used by police were not aimed at dispersing protesters, but rather to arrest anyone using violence against officers. He claims this latest protest was different to others, in that some activists kicked things off by attacking police officers.
"We've discussed it several times that we will enforce the laws where necessary. If the protesters didn't harm officers or destroy barriers, we wouldn't have had to act. And the protesters, they were unable to control each other."
Opposition politicians have slammed the measures used against protesters, with Rangsiman Rome from the Move Forward Party claiming police fired rubber bullets at random and not at any particular targets.
SOURCE: Bangkok Post
Keep in contact with The Thaiger by following our Facebook page.
Never miss out on future posts by following The Thaiger.
Thailand News Today | Bangkok protest fallout, northern fire bans | March 1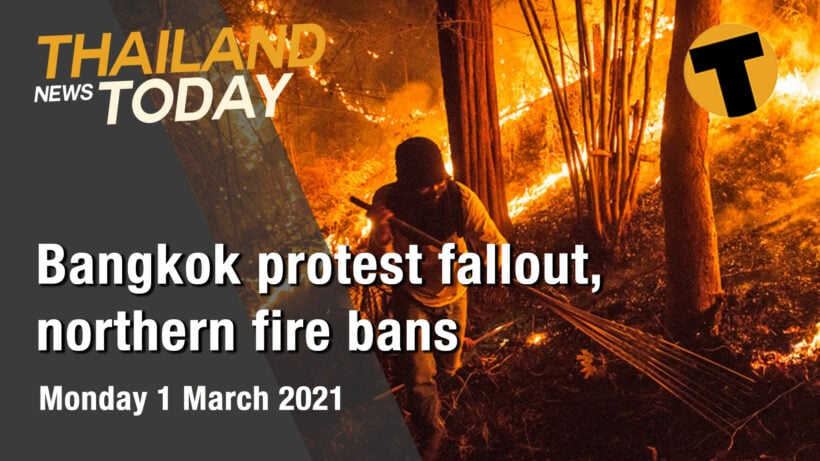 Coming up today… the fallout from yesterday's latest protest violence in Bangkok, the first vaccine in Thailand who got it, and a major drug haul along the Mekong.
But first we'll start up north where Lampang Province is joining other northern provinces todday by putting a total fire ban in place from today, March 1, until the end of April. Chiang Mai also started a ban on all deliberately lit fires from today and Lamphun, just south of Chiang Mai, already has one in place.
The bans are timely after a horrid weekend of air pollution in many of Thailand's provinces over the long weekend, even as far south as the tourist destination of Phuket where visibility was down to about 1 kilometre and the smell of smoke was noticeable.
Whilst up in the north… 4 Thai women were arrested at a security checkpoint in Tak's Mae Sot district after they illegally crossed the border from Myanmar into Thailand.
Illegal casinos and fancy hi-so massage parlours in Myanmar in areas near the border, have attracted wealthy Thais and Burmese. The establishments have also attracted plenty of Thais looking for well-paid work across the border.
In a major bust along the Mekong River, a notorious hotzone for drug trafficking, border patrol police seized 920 kilograms of dried, compacted cannabis from a boat along the Nakhon Pathom riverbank, bordering Laos.
Now to the weekend violence as the protests resume where they left off last year…
At least 22 people were arrested during the major Bangkok protest yesterday. It turned violent as pro-democracy activists marched toward the Thai PM's residence. It's been reported that one officer died during the rally, reportedly due to heart failure.
At least 33 people were injured… that includes 23 police officers. The clashes happened in front of 1st Infantry Regiment barracks on Vibhavadi Rangsit Road and involved around 1,500-2,000 activists from the Restart Democracy movement, part of the Free Youth group. The group has been protesting against the government and calling for reform of the country's constitution and monarchy since protests began in July of last year.
And Thailand's Covid-19 vaccine campaign started with Public Health Minister Anutin Charnvirakul who received the first of China's Sinovac vaccine yesterday. PM Prayut Chan-o-cha was initially planned to be the first to kick off Thailand's immunisation plan with the AstraZeneca vaccine, but due to problems with paperwork, the PM's injection was postponed.
Keep in contact with The Thaiger by following our Facebook page.
Never miss out on future posts by following The Thaiger.
Nearly 300 cats rescued from Bangkok home shelters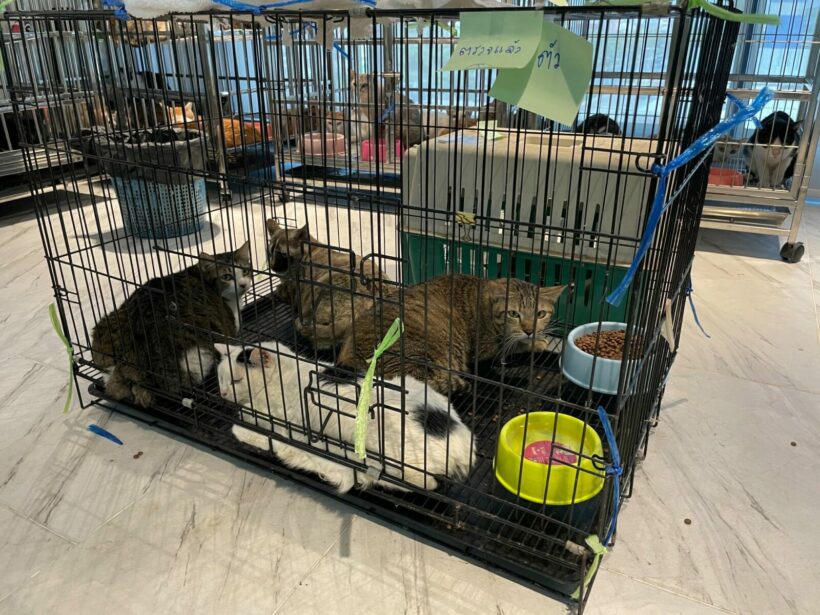 Nearly 300 cats, many in wire cages, were found in 2 recently abandoned home shelters in Bangkok. Some cats were found dead and an animal activist who rescued the cats says the homes were filthy and smelled of cat feces.
The owner of the homes was initially providing shelter for the stray cats, but due to the financial problems brought on by the coronavirus pandemic and the lack of donations, the owner could no longer afford to feed and care for the cats, according to animal activist Warattada Pattarodom. The owner did not come by for a while and a neighbour would sometimes come by to feed the cats.
"The owner did not come to this place for quite a while, many months. So you can say they were abandoned because of her unfortunate circumstance, but they were not abused."
After being rescued from the homes, the cats were taken to various veterinarian clinics for check ups. One veterinarian said he was sure the cats would recover.
"The cats got stressed because they were in an enclosure for a long time… but after last night they started to snuggle in the cage when people approached."
The cats will be sent to a shelter in Chiang Mai which is also caring for elephants. Since the pandemic, the Chiang Mai shelter started taking in cats. It now cares for nearly 1,000 cats.
Keep in contact with The Thaiger by following our Facebook page.
Never miss out on future posts by following The Thaiger.