Doctors warn Thailand unprepared for Stage 3 virus outbreak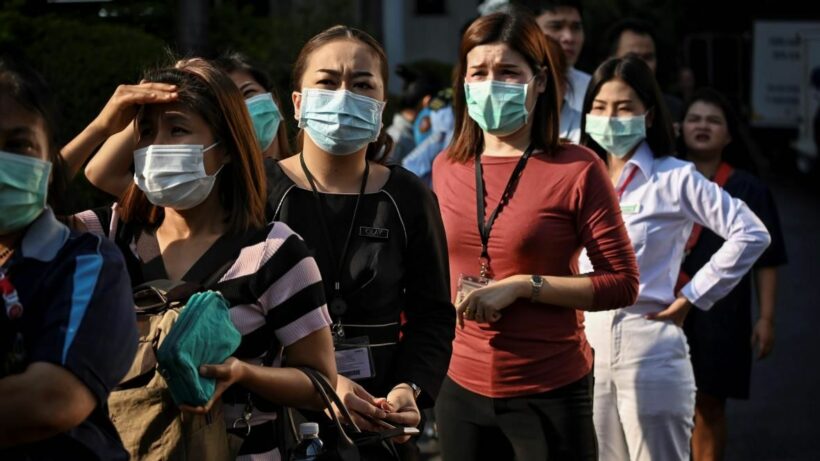 The Covid-19 coronavirus outbreak is still only at the second stage in Thailand, permanent secretary for public health Sukhum Kanchanapimai said yesterday, meaning the spread is still limited and mostly confined to overseas returnees, foreigners from affected countries and those in close contact with either group. But an association of doctors is warning that the nation might not be equipped for a rise to Stage 3, the highest level, a full-blown epidemic, and is slamming the government's "slow response" to the spread of the disease.
In an emotionally charged warning on its Facebook page, the Thoracic Society of Thailand said that this week's rise in the number of cases, particularly those attributed to local transmission, indicates that the country is beginning to enter Stage 3.
The society says it has tried to alert agencies involved of the need for preparations.
"And though there is a degree of response, this is still not enough to deal with this major health crisis."
In Stage 3, all hospitals, whether public or private must identify all patients with Covid-19 infections and isolate them to cut the rate of transmission.
The society also criticised government agencies responsible for combating the virus:
"The virus outbreak has shown that state mechanisms designed to respond to national crises are always one step behind.
"But this does not dampen the spirit of medical professionals who will not surrender to these tiny enemies. We will not bow to those in high places who lack expertise and do not understand how we work. Now is the time for us to prepare for war even if there are no efficient weapons or decisive commanders."
Tares Krassanairawiwong, director-general of the Health Service Support Department, says that the department issued an order, effective from March 5, prohibiting private hospitals from turning away emergency cases of Covid-19 infection. If it's necessary to refer patients elsewhere, they must ensure transport is arranged properly and must not let patients travel to seek treatment themselves.
Sukhum also stressed the need for China to get back to its normal production of medical supplies, especially masks and other necessary items to fight against the epidemic. He said the Thai government has already asked China for 180 million surgical masks, one million N95 medical masks and a million protective medical uniforms.
He also said that all hospitals under the ministry's control will receive N95 medical masks and other necessary protective uniforms today, and that the government will provide full support to all medical staff fighting against the disease, including extra pay.
The emergency operation centre under the Disease Control Department has compiled a report which suggests that Thailand remains unlikely to enter Stage 3, as the existing measures can still theoretically control the spread of the virus.
However, the Isara News agency quoted the report as urging that social distancing, especially a ban on mass gatherings, should be implemented in eight high-risk provinces, including Bangkok, this month.
If proactive measures are not urgently put in place, the report warns, infections may reach a point where they can no longer be controlled and the number of patients could reach 2,250 by May.
SOURCE: Bangkok Post
Keep in contact with The Thaiger by following our
Facebook page
.
Coronavirus UPDATE: World total passes 1 million cases, Covid-19 vs Flu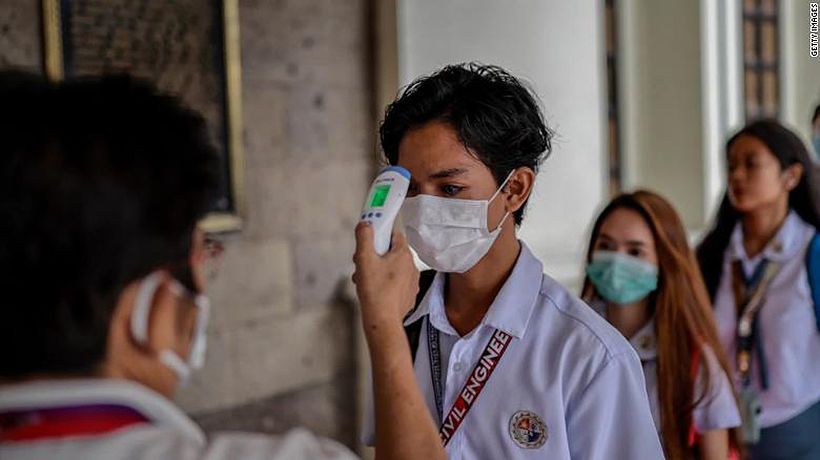 Case numbers have passed through the 1,000,000 mark, whilst world deaths have now reached over 50,000 as we wake up on the final day of the week in Thailand. Just after 7am the total around the globe has now reach 1,015,000 cases since the outbreak started and over 53,000 people have nw died as a result of the Covid-19 virus.
717,000 of those cases are still 'active' cases and over 37,000 of the patients are considered serious or critical.
Bottomline, we're still in the early days of this pandemic and the world has a lot more pain to endure, and action to take, before we see a levelling out of the curve and, eventually, a drop in cases. For now there is no cure whilst labs around the world are racing to develop a reliable and safe vaccine. Clinical trials are underway but scientists warn that the final results are probably a year away.
Again, it's the US, which added 29,317 cases in the past 24 hours, that is contributing nearly 25% of the world's current cases. Italy, Spain and Germany, all with populations of 46-82 million each, now lead China's total number of cases. China yesterday added 35 new cases and 6 deaths as it grapples with a steady re-opening of services.
Here are the world's 14 leading countries with coronavirus cases…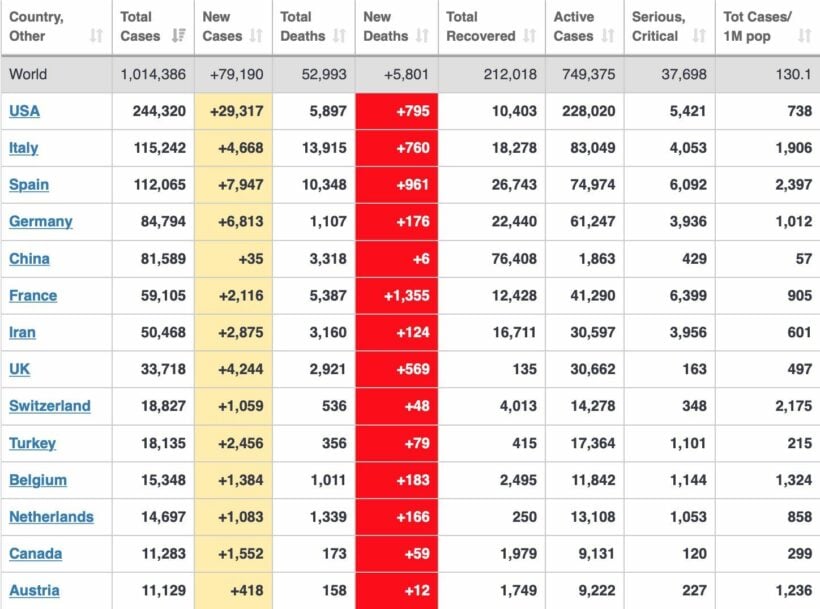 worldometers.com
THREE MONTHS AGO
Back on January 6 The Thaiger published an article about Thai arrivals being checked at four international airports after early cases of a mysterious virus were emerging in Wuhan, China. At that stage 59 patients had been placed under observation. Just three days later a case of the 'Chinese pneumonia' was detected in Chiang Mai.
DAILY TV NEWS REPORT below
THAILAND
Last night Thailand's PM announced a nationwide curfew between 10pm – 4am starting from today (Friday) to try to curb the spread of the Covid-19 coronavirus in the Kingdom.
There will be some exceptions to the new measure, including the transport of medical supplies, movement of people into quarantine, patients and travel of medical personnel, according to the statement presented this afternoon.
Also announced in the past 24 hours is a total ban on all foreign arrivals until at least April 15.
Thaveesilp Wissanuyothin, spokesman of the Center for Covid-19 Situation Administration, says that PM Prayut Chan-ocha has ordered the Ministry of Foreign Affairs to issue a new directive prohibiting any new arrivals.
COVID-19 vs SEASONAL FLU
Covid-19 and influenza vary drastically. 80% of Covid-19 infections have so far been relatively mild or even asymptomatic, 15% are severe (requiring oxygen and hospitalisation) and 5% are critical (requiring ventilation). These figures are considerably higher than what is typically observed in flu, a LOT higher.
Covid-19 is also more deadly than seasonal influenza. The raw data for mortality rates for Covid-19, based on cases to date, is currently estimated by the World Health Organisation (and all the available statistical data) to be between 3-4%, with seasonal influenza sitting well below 0.1%.
US
The US has now reported more than 244,000 cases, and the number of deaths has reached 5,900, 795 of them just yesterday. And 6.6 million people in the US filed for unemployment last week, the highest number of initial claims in history.
The government's appointed task force's response coordinator, Dr. Deborah Birx, says she can tell by looking at the US curve of coronavirus cases that not every American is following the guidelines set out by the administration for people to stay home and be vigilant about washing their hands.
"Just to everybody out there across the country, when we say no gatherings of 10, we want to be clear, if you have a family of 10, we don't want you to be split up. The guidelines mean people should be having no dinner parties, no cocktail parties."
"I know you've seen the slope on the US versus the slope in Italy, and we have to change that slope. What it means in the US is not everyone is doing it."
With more than 1,000 cases added in one day, there are now 9,191 people in California with coronavirus and 203 have died. New York City has a total of 49,707 coronavirus cases and has recorded 1,562 deaths.
BRAZIL
For third day in a row, Brazil's health authorities have reported a consecutive spike of more than 1,000 new Covid-19 cases in a single day. 1,074 new cases were announced yesterday, bringing the South American country's total number of cases to 7,910 and 299 deaths. The rapid spike, over the past week, is an indication of the country's starting of mass testing.
SPAIN
Spain announced 961 people had died in the previous 24 hours. The number of confirmed Spanish cases rose from 102,136 on Wednesday to 112,065 – an 8% rise that is similar to the rate recorded in previous days. Authorities believe the virus is now peaking and say they expect to see a drop in figures in the days ahead. Spain, the second-worst hit nation in terms of deaths, has also lost nearly 900,000 jobs.
María José Sierra, from Spain's health ministry's emergency co-ordination unit says… "We continue with an increase of around 8%. This points, as we have already seen, to a stabilisation in the data that we're registering."
CHINA
The Chinese city of Shenzhen, sharing a border with Hong Kong, is banning the eating of dogs and cats as part of a wider clampdown on the wildlife trade since the start of the new coronavirus.
Scientists speculate the coronavirus passed to humans from animals. Some of the earliest infections were found in people who had exposure to a popular wildlife market in Wuhan, central China, where bats, snakes, civets (small cat-like mammals) and other animals were sold.
TRACKING
If you want to track the growth of Coronavirus, and hopefully the eventual dropping of case numbers, here are some websites you can go to for the info…
Johns Hopkins University's Center for Systems Science and Engineering
The map aggregates data from 17 sources, including the World Health Organisation, the European Centre for Disease Prevention and Control, and several individual governments.
These statistics lay out the cases numbers and stats around all US states.
It's a general reference site that aggregates case numbers and lays statistics out in an orderly, numerical fashion.
If you want to track the 'curve' we're watching for the 'flattening of the curve', here it is in stark daily upsets.
SOUTH KOREA
How did South Korea contain, but not eliminate, Covid-19?
"A multi-prong approach was key", explains South Koreas Foreign Minister Kang Kyung-wha. She says the country worked quickly and identified "super spreaders," those who pass the virus to multiple people. Key, however, was taking an all-government approach, mobilising government ministries as well as regional and city governments.
"That strategy paid off, especially when it came to limited health care resources."
"When one region ran out of hospital beds we asked other provinces to open up beds in their hospitals. When it ran out of doctors, we asked doctors in other regions to help."
Keep in contact with The Thaiger by following our
Facebook page
.
All new arrivals to Thailand banned, effective immediately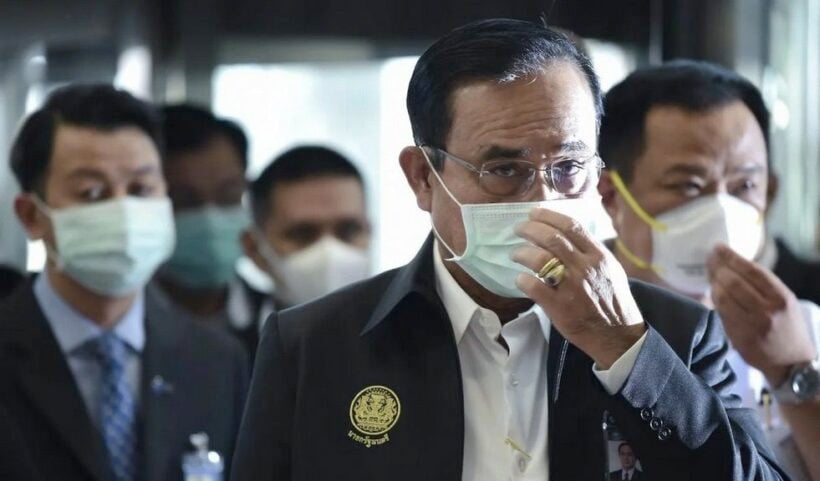 Effective today, and until at least April 15, Thailand will bar all arrivals due to the increasing number of Covid-19 coronavirus cases.
Thaveesilp Wissanuyothin, spokesman of the Center for Covid-19 Situation Administration, says that PM Prayut Chan-ocha has ordered the Ministry of Foreign Affairs to issue a new directive prohibiting any new arrivals.
"The spread of Covid-19 must be stopped. The Ministry of Foreign Affairs will give more details on the directive. However, people who already have permission and who need to enter Thailand are exempted, but there will be a strict process via the embassy."
Thaveesilp says Thais returning from overseas and foreign visitors are partly responsible for the continuing rise in the number of new infections.
"Though the number of travellers from overseas has significantly declined, the PM believes more needs to be done to stem overseas arrivals in order to further flatten the curve."
He says the PM wants to see stringent measures imposed on overseas arrivals between April 2-15. The Foreign Ministry has been tasked to find out ways to implement the directive from the PM.
Asked whether the government is moving toward imposing curfew to enforce its "stay at home" measure, Thaveesilp said "just wait for what the prime minister will have to say today."
He says 4 of the 6 Thais who recently returned from Italy tested positive for the virus, with another 50 people who have come into contact with them being quarantined.
As many as 47 of the 132 Thai Muslims in southern Thailand who returned from a religious function outside Kuala Lumpur last month have also tested positive and 4 have died. More than 1,000 people had to be quarantined as a result.
Four executives of the CP Group, Thailand's largest private company and one of world's largest conglomerates, returned recently from negotiating the Tesco deal and one of them died after being infected with the virus.
Thaveesilp says these figures only reinforce concerns that the spread of the deadly virus cannot be curbed if people from overseas continue to be allowed in without more stringent screening.
He says the PM told the Foreign Ministry to further tighten restrictions on Thais planning to return from abroad, asking them to postpone their trips until after April 15. This new measure, he said, applies to all Thai citizens abroad, including American Field Service exchange program students who are living in the US with their host families, with the exception for those already issued with permits to return to Thailand.
The total number of coronavirus cases in Thailand hit 1,875 today with 104 new infections confirmed over a 24-hour period, a fifth consecutive drop in the daily number. 3 more deaths were reported.
Source: The Nation | Thai PBS World
Keep in contact with The Thaiger by following our
Facebook page
.
New Covid-19 test kits produced in Thailand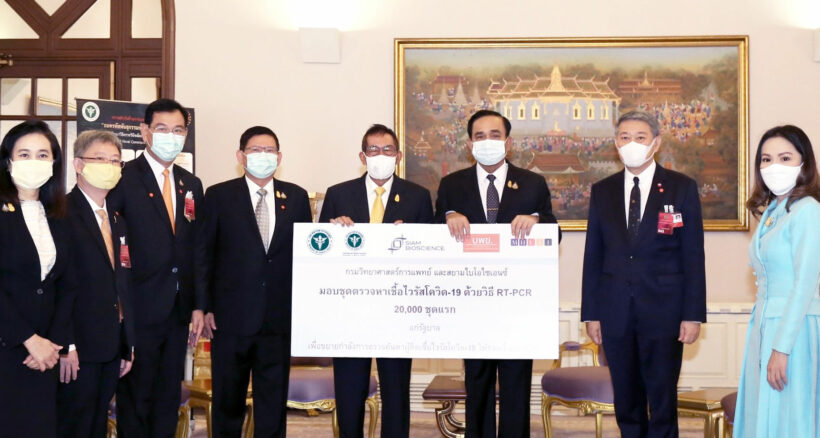 Today the first batch of 20,000 new Covid-19 test kits, developed by a joint effort of the Siam Bioscience and The Department of Medical Science, has been delivered to Government House. Each locally produced test kit costs around 1,500 baht each, while imported ones will cost about 4,500 baht each.
The association of Siam Bioscience and The Department of Medical Science aim to produce 20,000 test kits every week, and once 100,000 kits have been produced, they will be distributed among 100 hospitals nationwide.
Meanwhile, the Government Pharmaceutical Organisation yesterday approved the urgent purchase of 400,000 N95 masks and the same number of personal protection suits from China. A budget of 660 million baht has been earmarked for the purchase. China will send 150,000 by air within this week and will ship 250,000 in the next few weeks.
A similar story where Chulalongkorn University has developed, and currently testing, a new blood test for the Covid-19 virus. The "Baiya Rapid Covid-19" testing strip uses blood drawn from the fingertip and delivers results in 10 to 15 minutes.
SOURCE: The Nation
Keep in contact with The Thaiger by following our
Facebook page
.