Top 10 things to do when it's wet or raining in Phuket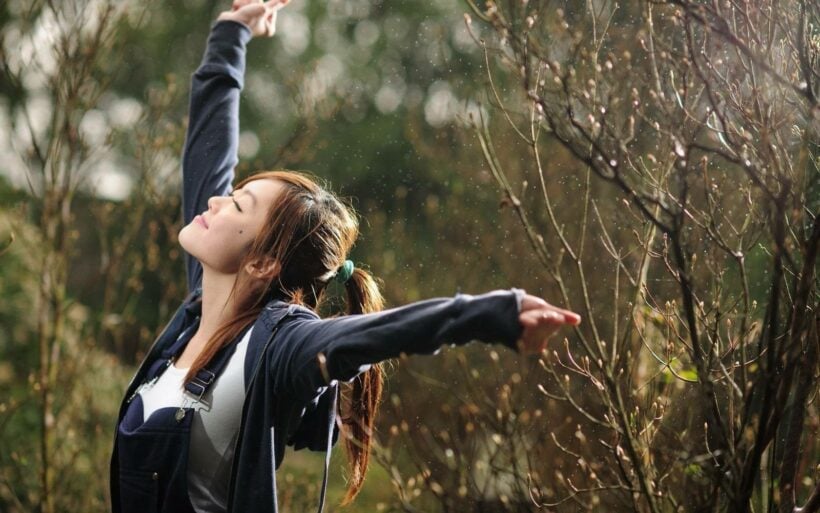 There's a bit of rain around. No worries. It's rainy season and the island looks a lot better when it's all green and the dams are filling. Try something on our instant list of the ten things you can do when it's wet and raining in Phuket. And, please, add to the list in the comments section on our Facebook page The Thaiger. We'll amend our list with your suggestions.
So here is our completely random Top 10 things to do whilst it's wet and raining in Phuket.
One of the best shows on the island. There's pre-show 'walk around' displays where you can see Muay Thai matches, traditional Thai villages and elephant shows (you can choose not to attend these if you're ethically sensitive about animal shows). Then it's into the theatre for an astonishing show about Thai culture and history which will blow your mind. For everyone in the family. I've been 20 or more times – always take tourist friends there for a lesson in Thailand 1.0. Almost impossible to explain what you'll see but, believe me, it's worth the price. There's also a mega-international buffet available before the show. Take your appetite. Even when it's wet or raining, the show is always on – they cleverly adapt the schedule to fit around the rain.

2. Simon Star Cabaret
There's the famous Simon Cabaret in Patong – there is also the companion show in Samkong – better parking and a newer theatre but much the same show. "The prettiest girls in Asia" they say. Completely family friendly but be prepared for a few questions after the show if you take the kids. Also, if you want to get a picture with one of the performers after the show you'll need to hand over 100 Baht or so for the pleasure. The shows are bright, spectacular, fun and a lot of fun. You'll forget about the rain and wet outside.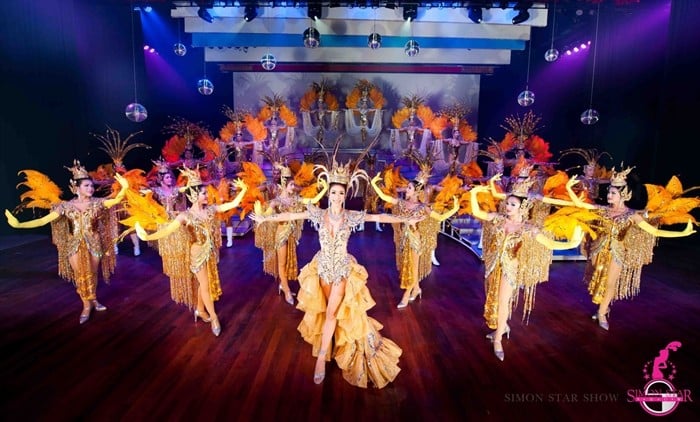 3. Jungceylon and Central Festival Shopping Centres
Head to one of the island's big international shopping centres for some retail therapy if there's a bit of rain outside. Both have plenty of label brands and excellent food options. There are also excellent cinemas at both locations where tickets will probably cost you a fraction of what you pay in your home country (unless you come from Nigeria where it's quite cheap I hear). Cost around 200 baht+ unless you go on cheap-Wednesday when the tickets are half-price. Car parking can be a hassle so look at taking a taxi. Rain? what rain?!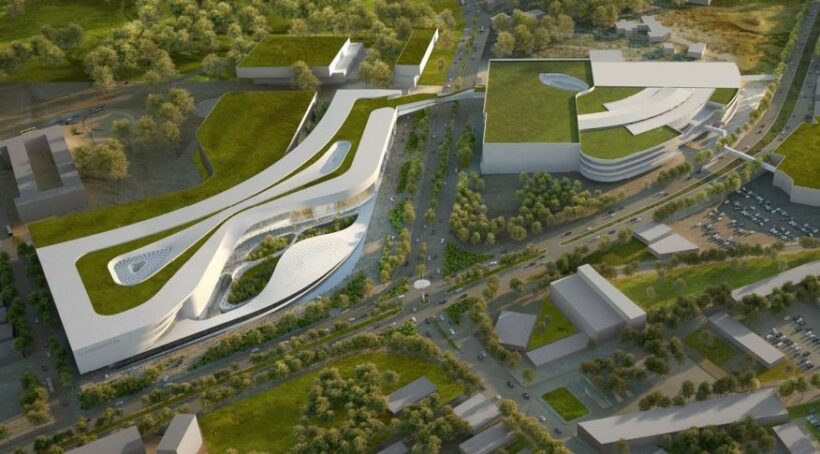 It has been much publicised that riding the incredibly intelligent elephants is cruel. Be part of the change and visit one of the best elephant sanctuarys in Thailand. Education is power, help spread the word that it is no longer acceptable to jump on the saddle. Yes it is an outdoor activity, but you are going to get wet anyway when you wash the elephants so get out there and play with the elephants.
The Elephant Jungle Sanctuary is a home for retired working elephants, set amongst three camps in remote sections of Phuket. It doesn't matter if it's wet and raining in Phuket – elephants love the wet!
There are a number of better, more elephant-friendly, alternatives around Phuket these days, all with the elephant's welfare as paramount. Also the Elephant Retirement Park, Phuket HERE.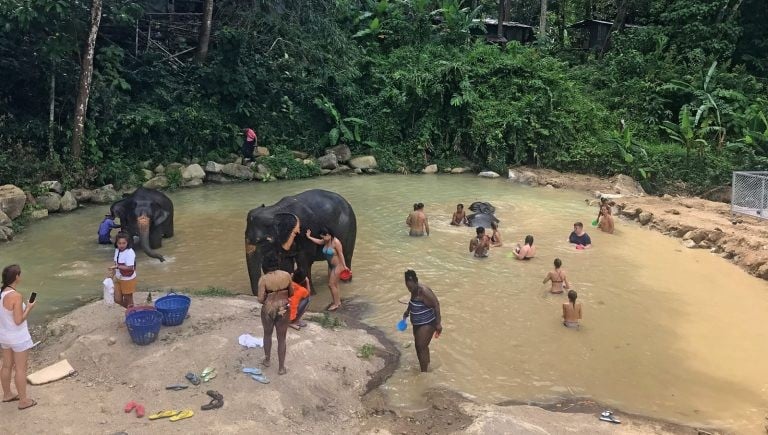 5. Have a Thai massage or Spa treatment
You deserve it. There's plenty of alternatives and style of massage all over the island, well, all over Thailand. A traditional Thai massage – firm, medium or light – will be an experience you'll always remember. Don't ask for firm unless you're prepared for some PAIN! Despite the publicity, most massages don't include a happy ending. Unless you're in Patong, you're probably not going to get that 'optional extra'. There are also plenty of spas for all sorts of additional indulgences. Many of the bigger international hotels have excellent spas for 'walk-in' customers. Leave the rain and wet outside and enjoy.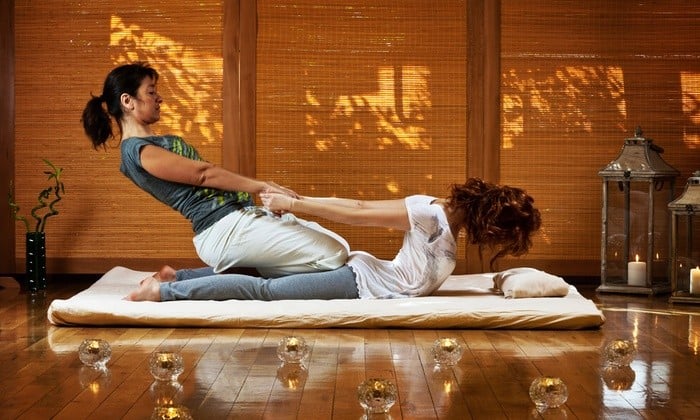 6. Go for a walk on the beach
It's still warm, the beaches are still amazing, the monsoonal air is fresh off the Andaman Sea and you can enjoy the drama of nature doing what it does. Also, be amazed at the people who have paid their hard-earned money to visit Phuket and, whether it's raining or not, are determined to go to the beach. And they do, sometimes with tragic consequences. Always obey the flags on the beach. Red means DON'T GO SWIMMING. Rain, sunshine, wet… the beaches are always amazing.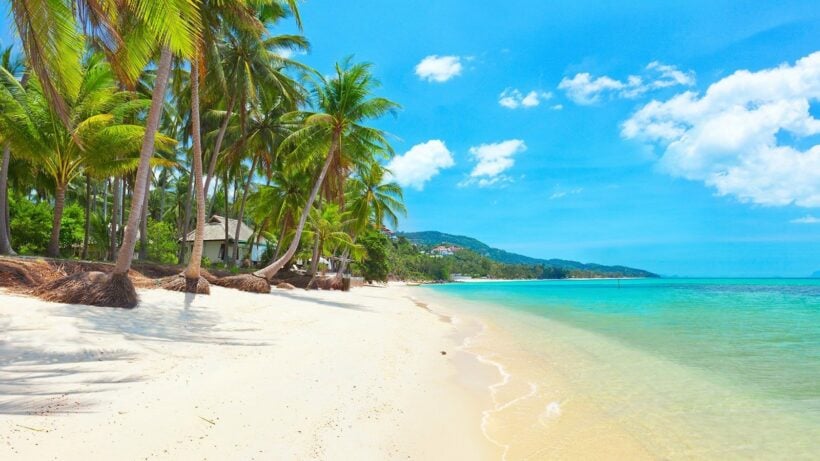 There's bowling alleys at Big C in Kathu and Jungceylon. They're really inexpensive and a great escape for a few hours. Strike or no strike you'll always look like a star in those rental bowling shoes (who have been worn by thousands of people before you… hmmmm). Wear socks.

Located in the very south of the island at Panwa Beach the Phuket Aquarium is an excellent spot to escape the weather and learn about the underwater world around Phuket. It is also safe for the children to roam inside and let them discover the seahorses, turtles and deep sea creatures. Good for a couple of hours, try and plan your trip outside of school pick up and drop off times as the journey South can be a long one.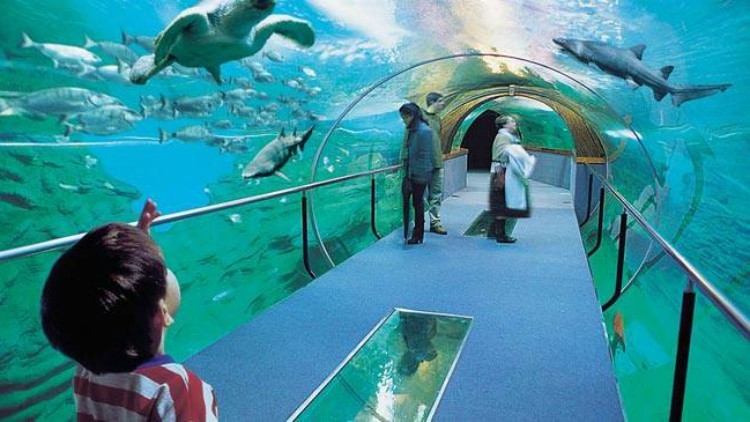 9. Phuket Trick Eye Museum
We love this place. A few hours of optical illusions and laughs. Great for the kids and the big kids as well. Located in the middle of Phuket Town. Take your camera or your mobile phone. An interesting back-story to the franchise of Trick Eye museums about a South Korean artist… you'll learn more about it when you go there. Perfect for a Phuket rainy day.

10. A Thai cooking class
Admit it, we all talk about taking Thai cooking class but few of us do. Hey, why bother with all that pesky preparation, cooking and doing the dishes when we can get magnificent street food for 50 baht, almost anywhere (except Patong where you'll pay a bit more). Most of the larger hotels all have their own Thai cooking lessons. But for the best of the best head to the Blue Elephant Restaurant right on the border of Old Phuket Town for a memorable experience. The Sino-Portuguese building used to be the old Governor's residence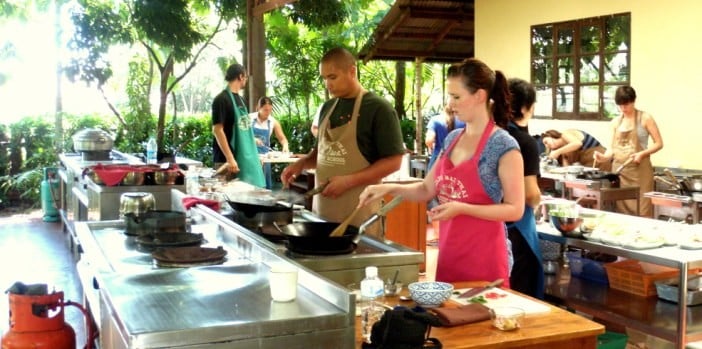 So get out and enjoy Phuket, whether it's sunny, wet or raining. Even if it is raining, remember the rain is warm!

A very Asian tale "Crazy Rich Asians" opens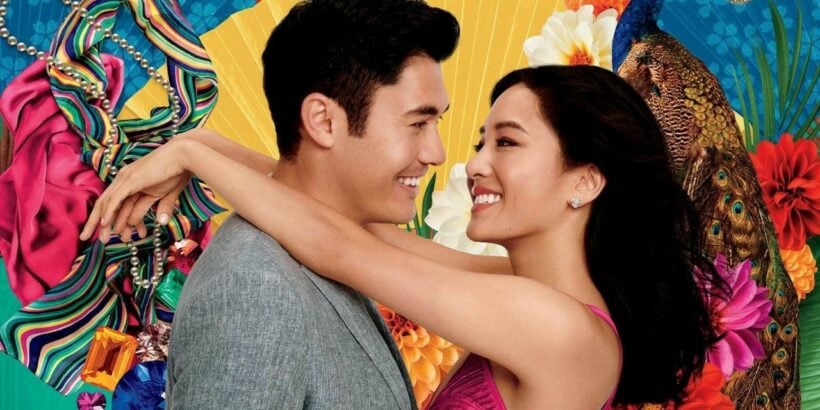 "The last high-profile Hollywood film with an all-Asian cast was The Joy Luck Club released in 1993."
By The Star, Asia News Network, Kuala Lumpur
It was a sweltering night in Singapore and the production of Crazy Rich Asians was in the last leg of filming. Director Jon M. Chu was sweating buckets and it's not entirely because of the humid weather.
Chu, who has worked on big budget Hollywood sequels like G.I. Joe: Retaliation and Now You See Me 2, said Crazy Rich Asians presented a whole new set of challenges for him.
Check out the Hollywood premiere of Crazy Rich Asians.
"Sometimes dressing people up for a wedding takes a lot more effort than filming ninjas on a mountain," Chu shared briefly on the set of Crazy Rich Asians, before rushing back to finish another scene.
Members of the media were observing the filming of an emotionally-charged moment featuring Rachel (Constance Wu, TV's Fresh Off The Boat) screaming into the night. In the scene with her were Tan Sri Michelle Yeoh and veteran actress Lisa Lu.
Some context: The ladies were all dressed to the nines for a high society wedding. At a later interview, Wu did not want to talk about how she prepared for that screaming scene.
"It's just actor stuff. If I have to tell you, it would be like I'm telling you how to fix a car, it's just boring," 36 year old Wu said with a laugh. Mind you, she had to do that scene over and over again just to get it right.
The truth is, there is nothing boring about what her character Rachel goes through in Crazy Rich Asians.

For the love of money
Rachel is an Asian-American economics professor living in New York with her charming boyfriend Nicholas Young (Henry Golding). One day, Nicholas invites her back to his country, Singapore, to attend his best friend's wedding.
It is only then that she finds out that her boyfriend is from a wealthy and well-connected family. Just how wealthy is this guy? Think crazy rich.
Based on the book by Kevin Kwan, Crazy Rich Asians is said to be inspired by real families and wealthy personalities in Asia. Kwan goes into specific details on what the rich do when they have too much money. From buying a hotel just to get rid of a snobby manager to hiring the Vienna Boys' Choir for a wedding, nothing is off-limits for the ultra-wealthy characters in the book.
However, Kwan won't divulge who these actual crazy rich Asians are.
"Nicholas is from this old money family. Wealth is passed through generations. He is very acutely aware that he is the heir to the riches that his family holds," Golding, 31, said about his character.
It's one thing to be rich but to be dating someone who is not from the same exclusive social circle? Oh, the madness.

Financial security
56 year old Yeoh steps in as Eleanor, Nicholas' mother and respected (think feared) matriach of the Young family. Eleanor makes it clear that she does not approve of Rachel. To be fair, she's just like most mothers with an only child who is set to inherit the family fortunes; tiger mum becomes (over)protective.
So, Eleanor hatches a plan to sabotage the relationship between Rachel and Nicholas.
"Eleanor would do anything for her son. She would die for him. And the thing is, she's not afraid to tell him all that," Yeoh laughed while explaining her character's motivation.
But that's not the craziest thing about Crazy Rich Asians. The fact that Hollywood is making a contemporary romantic comedy featuring Asians in leading roles is something unheard of.
Wu noted: "We've never had a studio movie with an all-Asian cast that was not a period piece."

Rich in diversity
The last high-profile Hollywood film with an all-Asian cast was The Joy Luck Club released in 1993. Wu lamented that Asians don't often get to be seen in a Hollywood film with a modern setting.
"Like, why don't we see Asians using cellphones? It's a way to include Asians in the current conversation by showing them in a contemporary context. We are here. Our stories matter and that to me is really groundbreaking," she said.
Other Hollywood cast members in Crazy Rich Asians include Ken Jeong (The Hangover), Awkwafina (Ocean's 8), Gemma Chan (Transformers: The Last Knight) and Sonoya Mizuno (La La Land).
From this region, expect to see the likes of Ronny Chieng, Pierre Png, Carmen Soo, Tan Keng Hua and Fiona Xie on screen. Hollywood newbie Golding described filming for Crazy Rich Asians as "insane" (his pun, not ours). Producer Nina Jacobson said they were looking for someone like Cary Grant to play Nicholas.
"There's a sense of class and elegance to Nicholas. At the same time, he's also down to earth. It was hard to find all those things."
"Henry did amazingly well on his screen test and he had all those qualities that we were looking for," Jacobson explained why the studio went with a newcomer.
While Golding has made Malaysia proud, his casting also stirred some controversy. There were those who noted how Golding was not "Asian enough" for the role seeing that he is part European.
Instead of dwelling on the backlash, Golding said he is proud to represent a part of South-East Asia that is mostly unknown to his Western counterparts.
"We have such a melting pot of identities in South-East Asia and that is something to be proud of. It's really important that we make this film. We're breaking boundaries and that is the most important takeaway," he said.
Value for money
Despite its very specific setting, Jacobson believes Crazy Rich Asians has stories that will resonate globally.
"We have a great universal story for anyone who has been rejected by their in-laws or people who have their foot in two different cultures," she said.
She also identified with Rachel as someone who is fascinated by a strange yet familiar new world.
"When I first read the book, I couldn't put it down. The expectations on Nick from his family was relatable. The story felt fresh and new. It took me to somewhere that I wanted to go," Jacobson said.
Will Nicholas' love for Rachel triumph over his family money?
Yeoh said you can't live on love alone: "When you're in love, you say you don't need money or you don't need anything (else). When love cools down and reality sets in, then what? Love is not bread and butter. You have to be sensible."
Yeoh saw Crazy Rich Asians as more than just a story about unimaginable wealth.
"It's also about the responsibilities of a family. Many people depend on them (Nicholas' family) for their livelihood. It's not just about them getting rich, it's also about the community.
"It's good to have money but it's what you do with it that really counts," she concluded.
And that token of wisdom is priceless.
STORY: The Nation
Top 10 busiest airports in the world – first half of 2018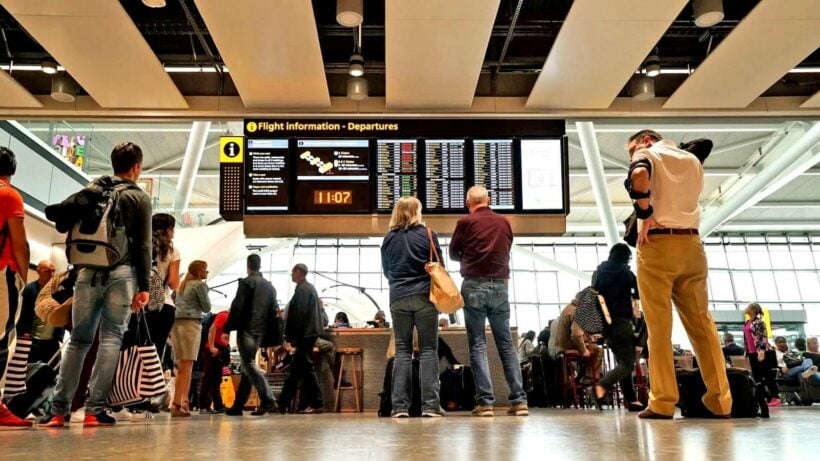 Beijing Capital International Airport is still the world's second-busiest airport by passenger traffic, witnessing with nearly 50 million passengers passing through in the first half of this year. This from the Civil Aviation Data Analysis, a civil aviation data platform based in Shanghai.
The list, comprising 17 international airports around the world, ranks airports in terms of passenger traffic as of the end of June.
So where is the world's busiest airport?
Hartsfield–Jackson Atlanta International Airport remains the world's busiest airport, with passenger traffic of 52.64 million in the first six months, while Indira Gandhi International Airport in Delhi saw the fastest growth of passengers with an increase of traffic of 13.41 percent.
No 10 – Indira Gandhi International Airport
Total passengers: 35.04 million
No 9 – Shanghai Pudong International Airport
Total passengers: 36.69 million
No 8 – Hong Kong International Airport
Total passengers: 36.91 million
No 7 – London Heathrow Airport
Total passengers: 38.07 million
No 6 – O'Hare International Airport, Chicago
Total passengers: 39.45 million
No 5 – Tokyo Haneda Airport
Total passengers: 41.06 million
No 4 – Los Angeles International Airport
Total passengers: 42.68 million
No 3 – Dubai International Airport
Total passengers: 43.74 million
No 2 – Beijing Capital International Airport
Total passengers: 49.38 million
No 1 – Hartsfield–Jackson Atlanta International Airport
Total passengers: 52.64 million

PHOTO: Passengers are waiting in the terminal of the Hartsfield–Jackson Atlanta International Airport, Dec 17, 2017 – VCG
The rise of the mixed use retail development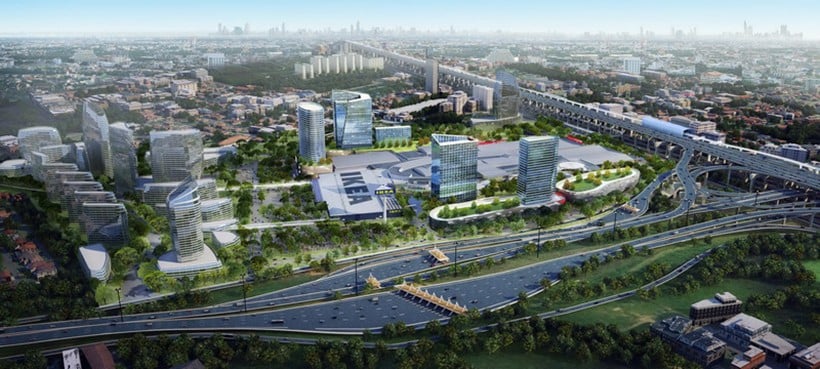 As our lifeststyles continue to change and morph along with technological and social evolution, so too our living spaces and the locations we choose to live. Behavioural changes among urbanites have led to the rise of mixed-use projects in Southeast Asian countries, according to property experts.
Christian Olofsson, shopping centre & mixed-use director of IKEA/Southeast Asia, told The Nation that the competitive environment in the retail industry precipitated the new format of incorporating non-traditional elements into a retail complex. Development of mixed-use retail properties is growing with the inclusion of residential units, entertainment revenues and healthcare facilities in a single site.
Catering to the needs of today's consumers and staying relevant is the goal of the re-think among major players, Olofsson said. The new strategy could bring higher return on investment if the developer optimises the opportunity and is able to better meet the needs of modern consumers than are single-use developers.
The concept is less risky as it comes with a greater variety of revenue sources. It can also help average out the land costs by integrating a mix of components with different types of incomes.
Given the positives, IKEA decided to develop a mixed-use project – Mega City – next to Mega Bangna, Olofsson said.
According to a report by the Council of Tall Buildings and Urban Habitat, 451 tall building are listed as under construction globally until 2025, of which a third are mixed-use projects combining hotels, residential units, offices, service apartments and retail outlets. In Southeast Asia, excluding Thailand, 16 mixed-use projects are currently under construction – eight in Malaysia, five locate in Indonesia, and one each in Singapore, Vietnam and the Philippines.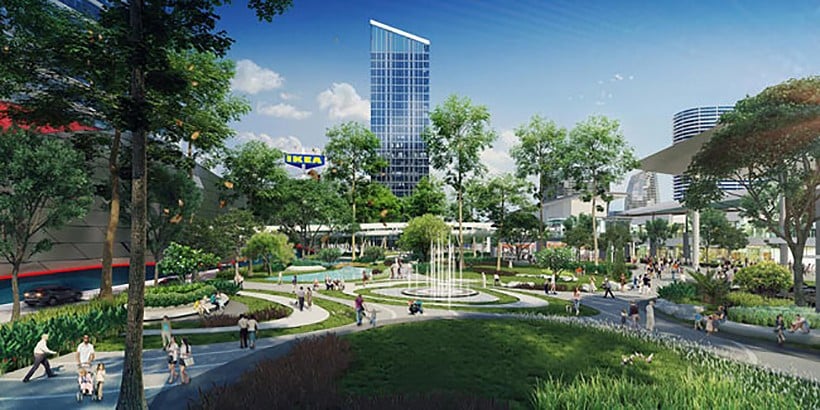 The Council on Tall Buildings and Urban Habitat is the world's leading institute on the inception, design, construction and operation of tall buildings and future cities around the globe. Founded in 1969 and headquartered at Chicago's historic Monroe Building, the council is a non-profit organisation with its Asia headquarters at Tongji University in Shanghai, a research office at Iuav University in Venice and an academic office at the Illinois Institute of Technology in Chicago. It facilitates exchanges of the latest technologies for tall buildings through publications, research, events, working groups, web platforms, and an extensive network of international representatives.
James Pitchon, head of Research and Consulting at CBRE Thailand, said it is not possible to develop a single-use project on a large site, citing the likelihood of oversupply in the local market, be it an office or residential project. Developers of large sites need a range of diversified incomes, he added.
Consumers like the convenience of having a range of facilities in one place that are easily accessible in a climate control environment. Having easy-to-reach retail outlets and a hotel in the same complex appeal to office tenants, especially for the convenience of foreign clients and visitors.
Thais are also open to the idea of staying in a condo next to where they work and play, provided it comes with privacy and exclusivity along with the convenience, Pitchon said.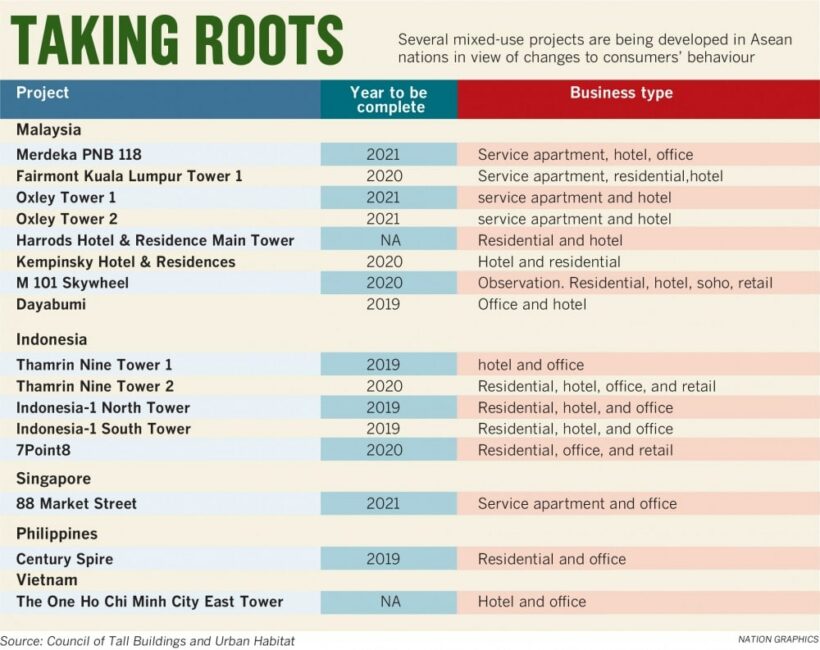 A JLL research said that the growth of mixed-use projects in ASEAN (the Association of Southeast Asian Nations) began to take off amid infrastructure development and changes to consumer behaviours in the region. The association marked its 50th anniversary last year and the region is gearing up for greater growth and investment.
Already powerhouses in the wider region, Southeast Asia's economies are projected to grow at an annual average of 5 per cent until 2020. The real estate industry stands to benefit as demographics and market size draw further investments, given the manufacturing and logistics advantages. The upgrade in ASEAN infrastructure, especially the advancement of high-speed rail networks, will attract development of mixed-use projects connected to the train stations, as is the case in Japan and Hong Kong, the research said.
Find more than 30,000 properties for sale in Thailand at property.thethaiger.com

SOURCE: The Nation