Return to Elephant Jungle Sanctuary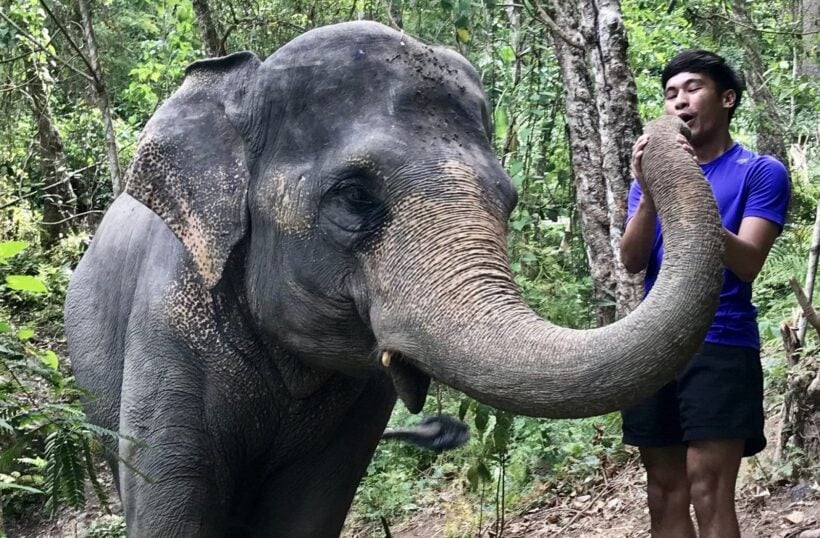 Phuket is one of the Thailand's most popular tourist destinations and continuously booming. There are so many attractions and activities that you can enjoy. One of them is visiting the Elephant Jungle Sanctuary.
Visiting this place is heaven on earth specially for animal lovers. You get to know the elephants and their back stories and learn the different ways to help them, individually and as a species.
December last year (2017) was indeed a memorable experience for me. I visited the camp for half a day and it was not enough. Knowing the elephants' experiences, being educated on how they survive, preparing their food, feeding, bathing and cleaning them was a once in a lifetime experience that I thought will never happen again.
This time I was lucky to be invited to visit all the sanctuaries! Monday morning I visited the same camp as last year – Camp 1 at Tambon Sa Khu; in the afternoon I went to Camp 2 at Phang Muang Sai Kor. I had barely recovered from the amazing whole day experiences at Camps 1 and 2. But right away, the next day,t exactly 6:45am Tuesday morning, I was picked up by the camp driver to visit the newest Camp 3 in Tambon Kathu near the Kathu Waterwalls. Indeed the Elephant Jungle Sanctuary is getting bigger. It means they are saving more and more elephants from working as loggers, performers and riders.
Here is what to expect in Half Day and Full Day Trip at the Sanctuary.
Camp Ride Service
The sanctuary will pick you up and take you back to your accommodation. This is included in your fee for both half and full day visitors. This awesome Sanctuary have the best staff that will help, guide and educate you about the amazing elephants.

Briefing
Once you arrived at the camp, you will be informed about the things that you are going to do and what not to do whilst with the elephants. At the same time you will learn about the Elephants' lives and experiences, particularly the individuals living in the camp.

Food Preparation
The fun begins! You will be given a quick lesson on what food you will arrange. Most of the time the elephants at the camp eat bananas, watermelons, corn and sugar cane. After preparing the food you will then carry the baskets to the feeding area.

Feeding Time
The goosebumps moment! Once all the food is well arranged at the feeding area, the elephants then arrive. If it is your first time, don't panic! I know what you feel, emotions that can't be explained in a single adjective – happiness, amusement, nervousness, excitement – all in one! This will be the time you will see some elephants excited for their food and people's affection. Everyone is encouraged to give lots of love to all of the herd, specially to adult giants who suffered a lot most of their lives living as an exploited animal outside the camp.

Lunch
Like the ride service, food is included in your fee. The camp prepares food for everyone whether you are a meat eater or a vegetarian like me!

Mud Bath
Play Time! This is one of the most exciting moments that I regret that I did not try last time. And I did it now, finally. I bet 'mud bath' is the best time for the giants since this is their ultimate play ground.
Note: Remember to always stay in front or by their side and never behind them, especially when they are lying down.

Swimming Time
My favourite! Swimming time is where you will scrape all the remaining mud off their bodies and because they are well taken care of most probably there will be a little feeding time again.

Souvenir
These are 'poncho' souvenirs for everyone! You can buy extra for 400 baht as a donation for the new building project – Elephant Clinic. They also sell Black Shirts with the logo of the Sanctuary as a design.

What is special if you are a Full Day Visitor?
All of these activities are part of the half and whole day visits. Here are the additional activities for the whole day visitor…

Mother and Daughter bonding
Walking Time
Heart to heart moment. Not everyone gets to experience quality moments with the elephants. I am so happy to be given an opportunity to have bonding time with Natalie and her son, Choke.
Beach Time
Since the elephants have a 'siesta', it's also break time for the staff. The whole day visitors will be sent to the beach for an hour of sun bathing and swimming. Did you see that? You get lots of amazing fun activities in one your. After beach time you will be taken to Camp 2 to join the afternoon session.
What to expect at Camp 3?
Since I was given a chance to visit the newest camp at Tambon Kathu, this is the best platform to share with all of you what to expect in the newest sanctuary. All pictures that are posted here were taken at Camp 3 (except for Natalie and Choke's picture at Camp 1)
This sanctuary is my sentimental favourite. It's super huge and it does look like a resort for the elephants. All camps have mud pools, swimming pool, a dining area, briefing area and shower rooms but camp 3 is pure beauty!

with Ebony and Erica (USA) and Ale (Spain)
Seize every moment!
The most important thing to do at the camp is to have fun, be safe and make friends! Please enjoy my short video here and I hope you take the opportunity to visit the Elephant Jungle Sanctuary when you're next in lovely Phuket.
Let's keep on supporting this amazing mission to save the elephants forever! Remember "Only humans can ensure the elephant's future."
You can follow Mark's yoga blog HERE.


Looking to jettison some items before jetsetting away or chartering a yacht? Look no further than Thaiger Classifieds where you can find and post items, work, property and more for free.

Read more headlines, reports & breaking news in Phuket. Or catch up on your Thailand news.

Motorcyclist crushed by truck in Thalang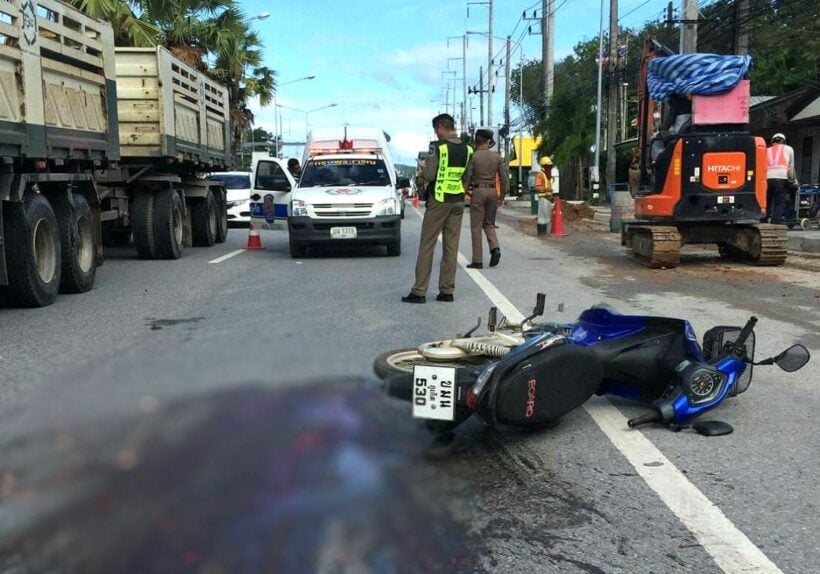 A motorbike passenger has died following an incident with a truck in Thalang this morning.
Thalang Police were notified of the accident on Thepkasattri Road southbound in Mueang Mai, Thalang.
Police and rescue workers arrived to find the body of a woman, identified by police as Boonnam Thepnui from Pattalung.  Her body was taken to the Thalang Hospital.
A motorbike on the road and a truck waiting were found at the scene.
Thalang Police report that the truck, whose driver was Nikorn Pakpoe from Surat Thani, was heading from Thalang towards Phuket Town. The motorbike, whose driver was Kamron Tampueak from Krabi with Ms Boonnam, were heading from the same way. Kamron sustained only minor injuries in the incident.
The truck slightly tapped the motorbike and the motorbike fell down on the road. Ms Boonnam was crushed under the truck and died at the scene.
Police are further investigating the incident.
Phuket beach back to normal after oil-spill clean-up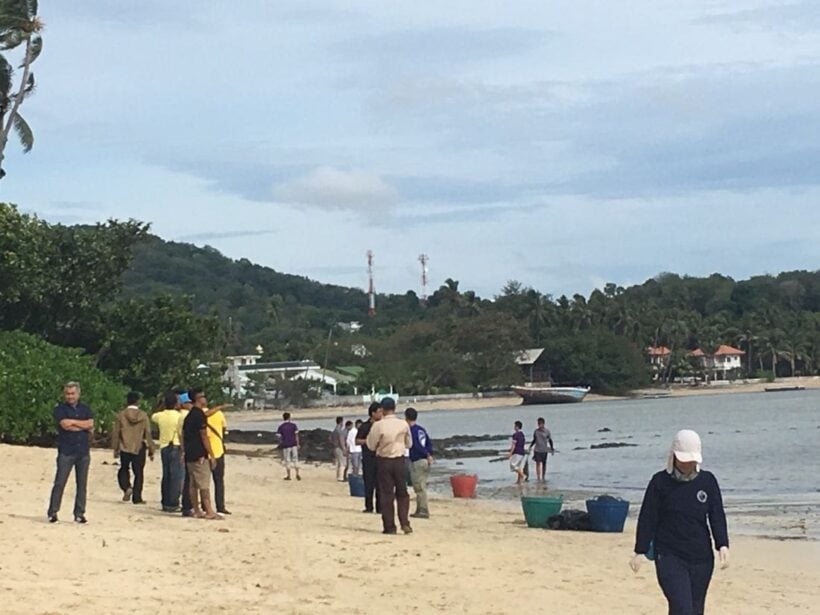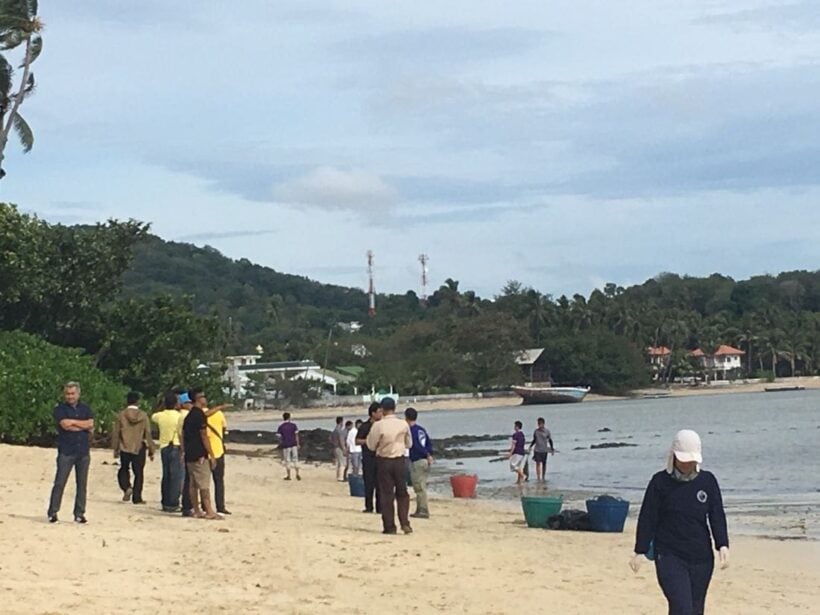 PHOTOS: The Phuket PR Office
A beach in Ao Makham is almost back to normal following a big cleanup was launched to clear a black oil spill that had polluted 300 metres of shoreline yesterday.
The oil spill was located along a beach at Ao Makham in Wichit over the weekend. It is believed to be from a big ship.
Read more about the discovery and clean-up HERE.
Navy officers along with hotel staff in the area were helping to clean the beach and remove oil-stained sand.  Beachgoers and tourists were still enjoying the beach during the clean-up operations, despite a strong smell coming from the oil.
The Phuket PR Office is reporting that the Phuket Marine Office has already filed a report to police in order to identify suspects who may have released the oil. They say they will face full legal action when identified as this oil affects the marine environment and tourism.
More efforts on fishing and tour boats management are also being considered in order to prevent any waste or oil releasing into the sea.

240 million baht in assets seized in Patong and Chiang Mai counterfeit raids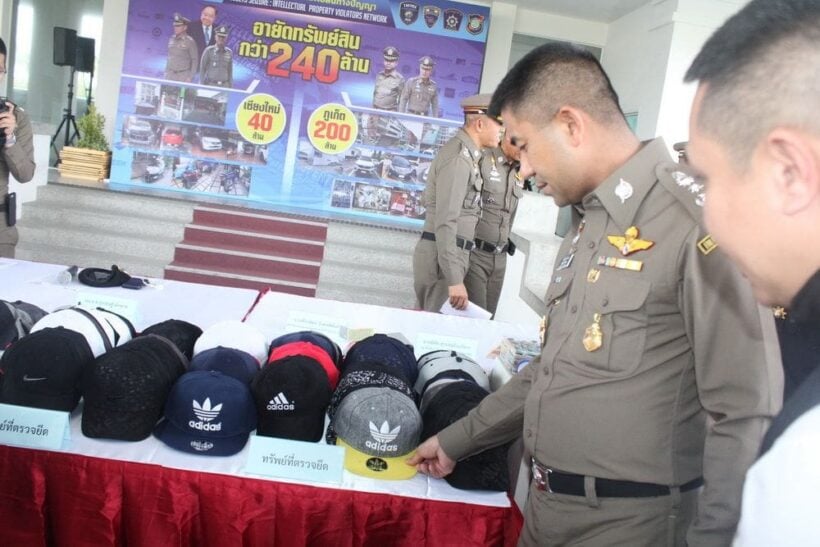 Lt Gen Surachate Hakparn is continuing his counterfeit goods crackdown in Patong and Chiang Mai where 240 million baht of assets have been seized over the past month.
At a media scrum held at the Police Region 8 headquarter in Mai Khao yesterday Surachate said, "We have raided four targeted areas in Patong and four targeted areas at the Chiang Mai night Bazar in our counterfeit goods crackdowns. More than 240 million baht of assets such as houses, land and cars have been seized."
The crackdown follows an investigation that found that many counterfeit goods are being sold online. Patong and Chiang Mai Night Bazar are also favorite places for tourists where fake brand-name items are popular.
"Officers have raided shops near Patong Beach on December 14. Officers seized counterfeit goods and arrested suspects yesterday as well."
Read more the recent counterfeit sting in Patong HERE.
"Two wanted suspects have now been arrested. 240 million baht of assets have been seized from the raids."