Happy Loy Krathong Phuket. Where to launch your krathong tonight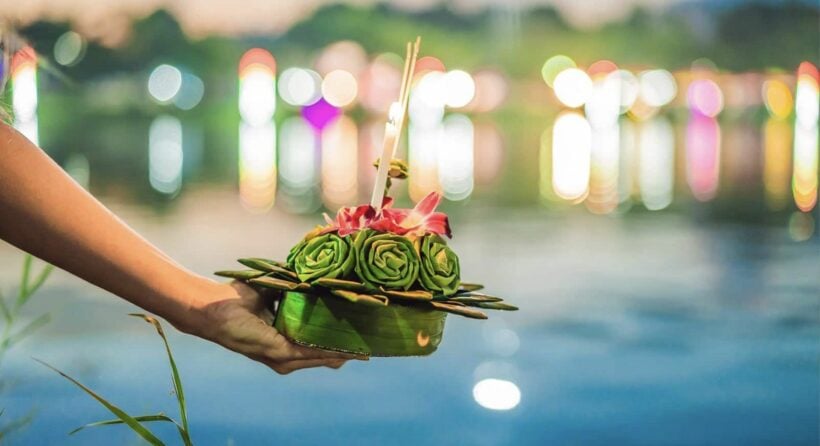 Happy Loy Krathong Phuket. But this year authorities are saying 'only floating Krathongs thanks'. No polystyrene, no steel pins – keep it natural and plant-based please. This year Loy Krathong in Thailand co-incides with the annual Halloween celebrations on October 31.
Authorities are also urging people to choose, or make, their krathongs using natural materials only. The latest craze for "edible" krathongs is also causing problems. Read about that HERE.
Loy Krathong is a festival celebrated annually throughout Thailand The name could be translated as "to float a basket", and comes from the tradition of making krathong or buoyant, decorated baskets, which are then floated on a river. Loi Krathong takes place on the evening of the full moon of the 12th month in the traditional Thai lunar calendar so the exact date of the festival changes every year.
In Phuket, the Provincial Office says fireworks, fire crackers and sky lanterns are prohibited "for people's safety" (but be assured there will still be a few sky lanterns seen flying off the islands beaches this evening).

Loy Krathong is celebrated at many of the island's popular waterways and at many of the beaches. Many hotels also host their own celebrations for their tourist customers. Here are a few of the locations you will be able to launch your own Krathong or buy one on site and watch families and couples launching Krathongs.
Popular locations in Phuket include…
• Saphan Hin Park Lake, Phuket Town
• Suan Luang Park (off Naka Market Road)
• Bang Wad Dam, Kathu
• The recreation lake near Ket Ho Temple in Kathu (The Thaiger 'local')
• Tin Mine Museum Lake on the Kathu back road, near BIS International School
• Nai Harn Lake and Nai Harn Beach
• Bang Maruam near the Alan Cooke Cricket Ground in Thalang
• Laguna (the main lake just inside the entrance)
• Just about anywhere along Patong Beach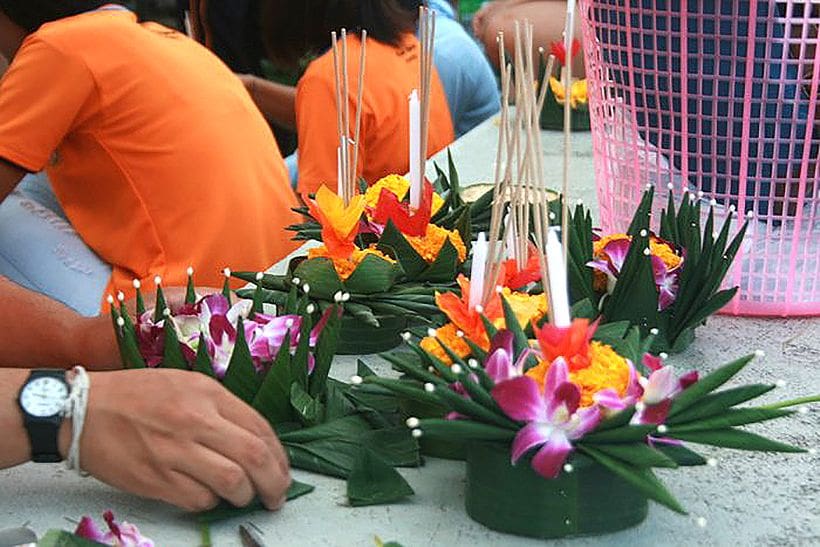 On the night of the full moon, Thais launch their krathong on a river, canal or a pond, making a wish as they do so. The festival may originate from an ancient ritual paying respect to the water spirits.
We would urge people to consider the environment if you're making your own Krathong or try and select Krathongs that are made from natural products. Many of the 'commercial' Krathongs use polystyrene and pins that end up scattered along our waterways and provide a hazard on the island's beaches when the Krathongs eventually wash ashore and disintegrate.
Same goes for the new fad of bread and "edible" krathongs. Officials say these can be dangerous for the fish and cause long term problems for water catchments.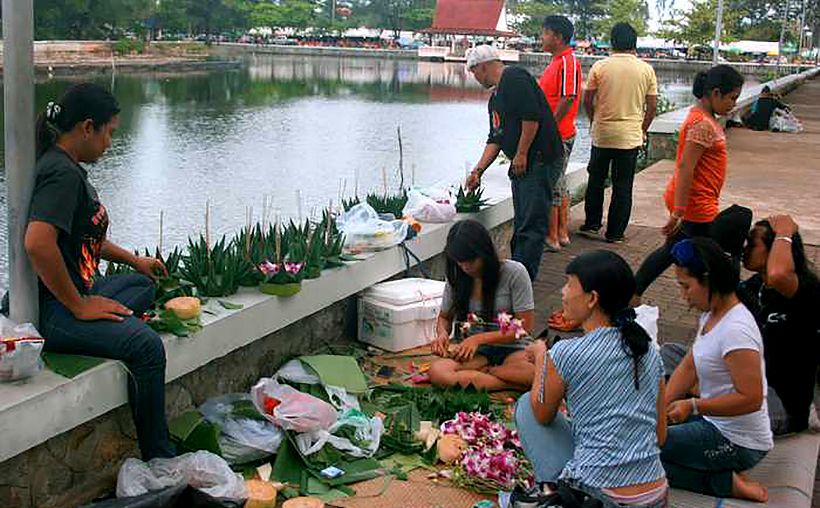 If you'd like to make a krathong, here's a very quick guide…
If you want the easy way out, you will find hundreds of stalls on the way or near any waterway around the island that is participating in the event. Try and pick ones that appear to be made from natural materials.
Happy Loy Krathong Phuket!
Keep in contact with Thaiger by following our Facebook page.
Never miss out on future posts by following Thaiger.
Burmese students to hold Bangkok cultural event to support Civil Disobedience Movement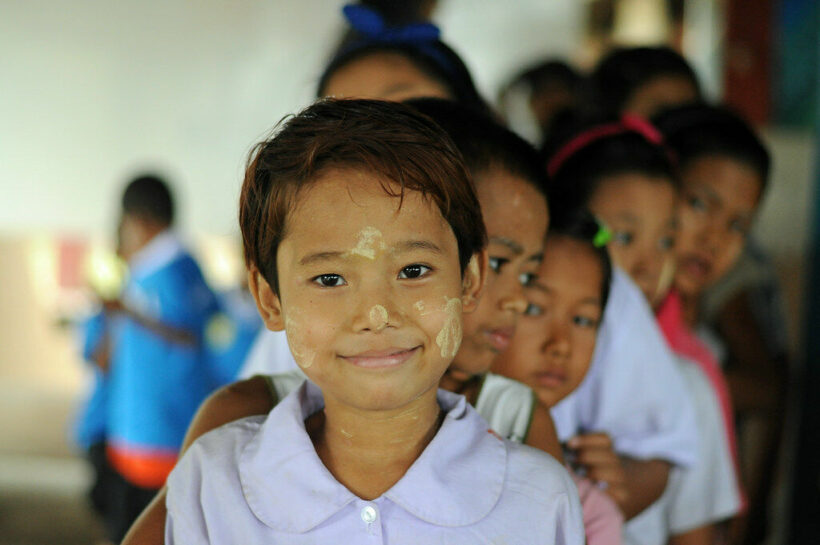 Burmese students in Thailand are holding an art and culture concert to raise awareness and funds for the Civil Disobedience Movement. The concert, called "Myanmar Spring," will be held on April 24 at the Bangkok Art and Culture Centre. The event will help fund the movement, which has staged protests over the February 1 coup in Myanmar by the military. It will honour the families of internally displaced individuals and of those who have lost their lives in the conflicts.
Last Friday, the Myanmar military allegedly killed 82 civilians, according to the Assistance Association for Political Prisoners, an advocacy group. The military then told the families of those killed that they would have to pay US$85 to recover their loved ones' bodies, according to Bago University Students' Union's Facebook page as well as Radio Free Asia's Burmese service.
Eyewitnesses in Bago say the Burmese military used grenades, RPGs, and assault rifles to quell anti-coup protestors, forcing many villagers and activists to flee and go into hiding. Military security forces are going through the neighbourhoods now and have cut off internet access. Since the February 1 coup, the military has been systematically cracking down against peaceful protesters, detaining 3,000 civilians and killing over 700 more.
NGO Human Rights Watch had published a call for the EU to take action and implement strict sanctions on the Burmese military on Thursday. And yesterday the US Embassy in Myanmar joined the call, posting on Twitter, urging peace.
The art and cultural event will also be held virtually on the same day. Anyone wishing to support the event outside of attending can buy t-shirts at the food festival being held on April 13. The orchestral music concert will be performed by a group of student volunteers and others. There will also be a poetry recital and other heartfelt performances, which the artists say will reflect the struggles for democracy in Myanmar.
Information on tickets and performances for "Myanmar Spring" is on their Facebook page HERE.
SOURCE: Thai PBS World
Keep in contact with Thaiger by following our Facebook page.
Never miss out on future posts by following Thaiger.
Giant monitor lizard visits Thai 7 Eleven store, video goes viral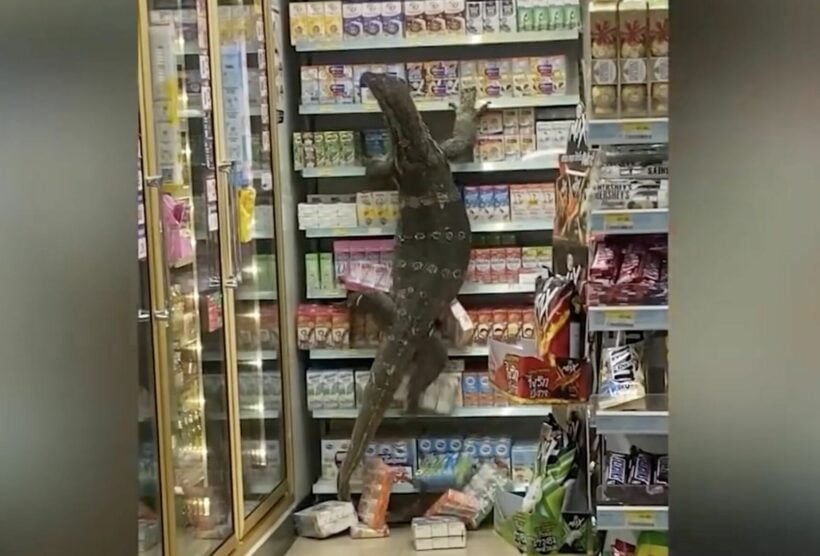 A giant, nearly 2 metre long, monitor lizard decided to visit a 7 Eleven store looking for food, with customers and staff wondering what he (or she) was going to do next. The lizard climbed up a fully stacked shelf of dairy products, with apparently no cares in the world, as he clumsily knocked off cartons of milk and other packages. At the top, he appeared to stop for a rest. After all, that was a big climb for a 2 metre monitor lizard.
Witnesses say he came from a nearby canal on the outskirts of Bangkok, in which it's speculated he probably struggled to find food outside due to months of dry weather that has led to lakes and canals drying up. Police were called and with them, they brought reptile handlers to catch the lizard and escort him outside. The video of the incident has gone viral worldwide, and can be watched HERE.
Noting from Culture Trip, monitor lizards will generally run away from people. They do not prey on humans but will defend themselves if threatened. They can make an intimidating hissing noise and often lash with their tail to protect themselves. Their claws and teeth can also inflict nasty injuries, which are prone to infection."
If you see a monitor lizard in the dairy section of your nearest 7 Eleven, best give it some space and leave the beasty's removal for some experienced hands.
SOURCE: YouTube/The Guardian
Keep in contact with Thaiger by following our Facebook page.
Never miss out on future posts by following Thaiger.
Weekend party event in Phuket reports positive Covid attendee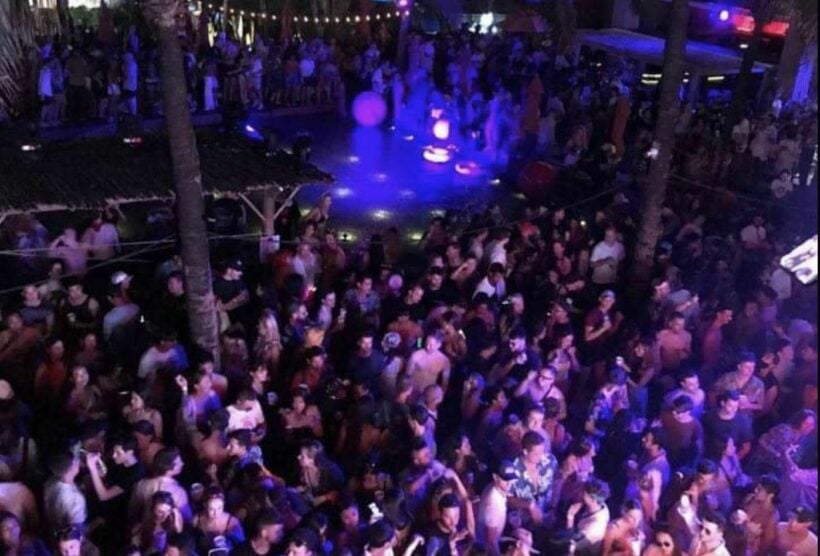 A band member from Bangkok who attended three 'Kolour' party events in Phuket over the weekend has tested positive for Covid-19. The main Kolour Beachside Main Event was held at Cafe Del Mar, along Kamala's foreshore. Other pre and post event parties were also held at Shelter and Illuzion, both in Bangla Road, Phuket.
The promoters Kolour Beachside have a published Covid-19 policy on their website.

The promoters sent out this letter today…
Thank you for joining us last weekend in Phuket at Kolour Beachside Pre-Party at Shelter April 2nd, Kolour Beachside Main Event at Cafe Del Mar Phuket April 3rd and Kolour Beachside After Party at Shelter and Illuzion April 3rd.
We have received enquiries from our guests ever since the news announced about a new wave that occurred in the Bangkok nightlife area.
We have been notified directly from one attendee that they tested positive for Covid 19 on April6th. The guest visited all 3 Kolour events in the past weekend. The guest also informed us that they attended one of the Bangkok clubs that has reports of a cluster before they arrived at our events and suspect this is the origin.
In light of this, we suggest all guests monitor their condition and, if in doubt, always put safety first by considering self-quarantine.
We are working with the appropriate authorities and will provide updates on a regular basis.
Please be aware of false rumours circulating around this situation and that we will only share verified information from sources on our channels.
Please follow to stay updated.
If you have any concerns or if you have any information that might be important around this, please email us directly at safety@wearekolour.com
Best, Kolour team
Laguna Phuket have postponed the Revive 555 Festival events following today's revelations. It appears that the band member contracted the coronavirus as part of the current cluster of infections recorded around Bangkok's nightlife in the past few days. Some photos shared with The Thaiger of the Cafe Del Mar event show very little mask wearing at the Kolour Beachside Party.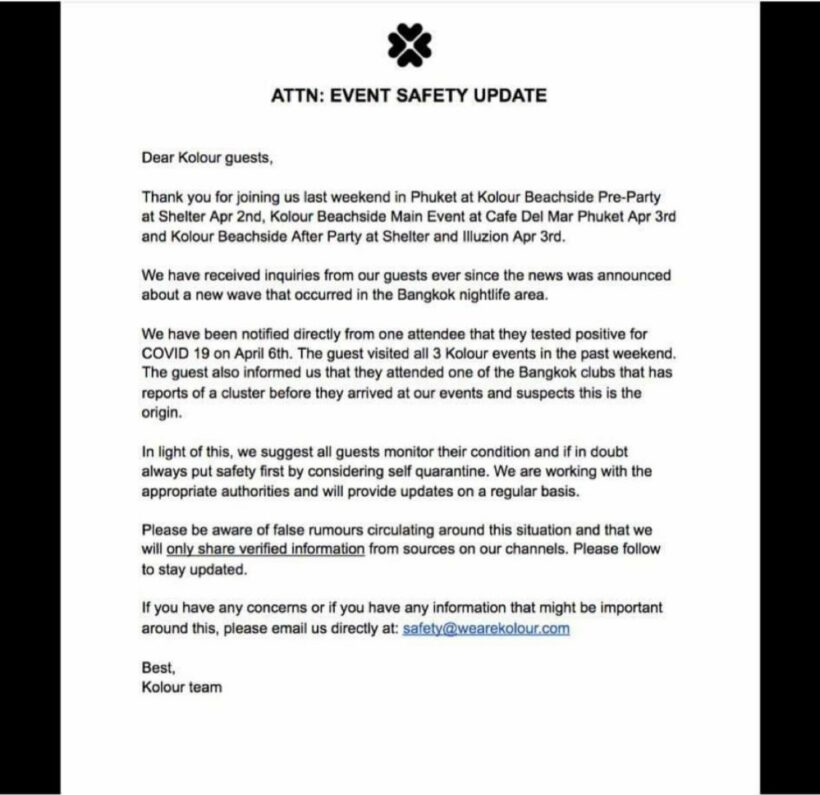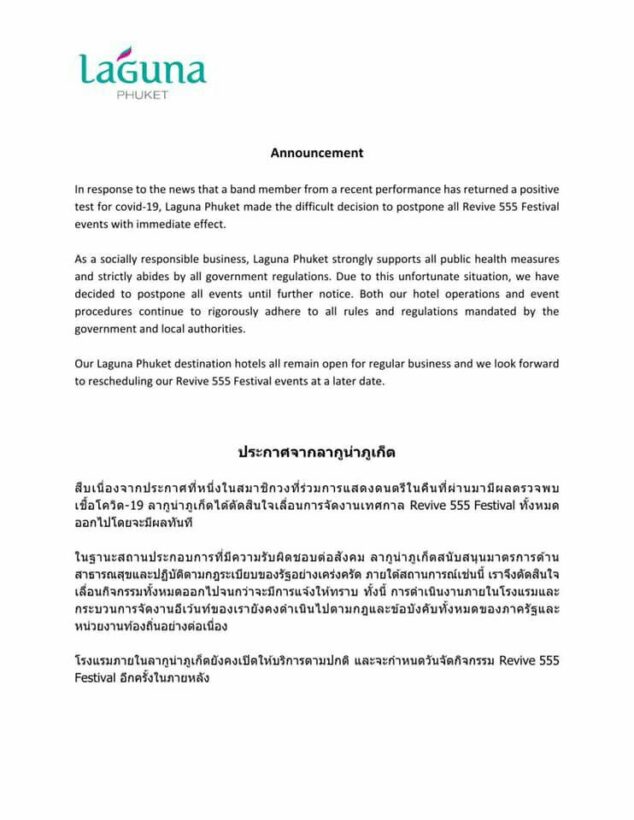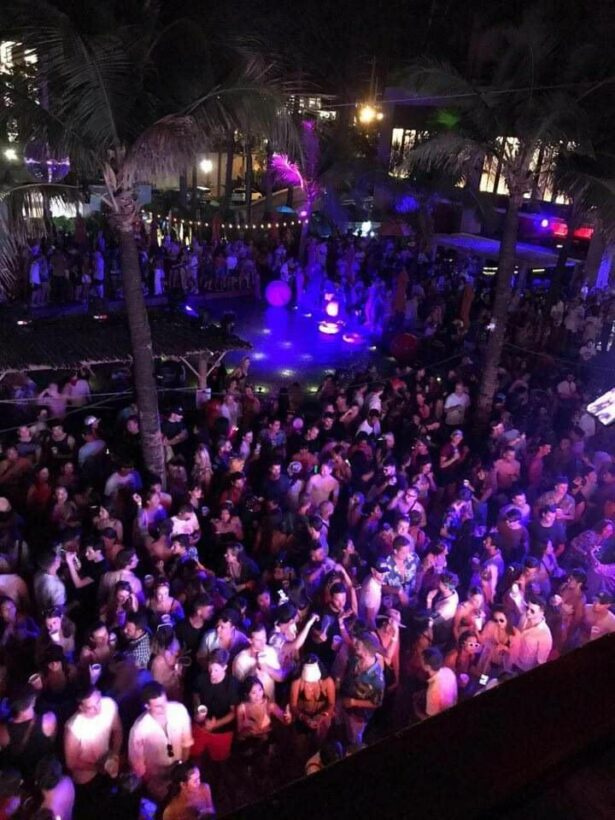 Keep in contact with Thaiger by following our Facebook page.
Never miss out on future posts by following Thaiger.