At least 18 dead in Canada's worst-ever mass shooting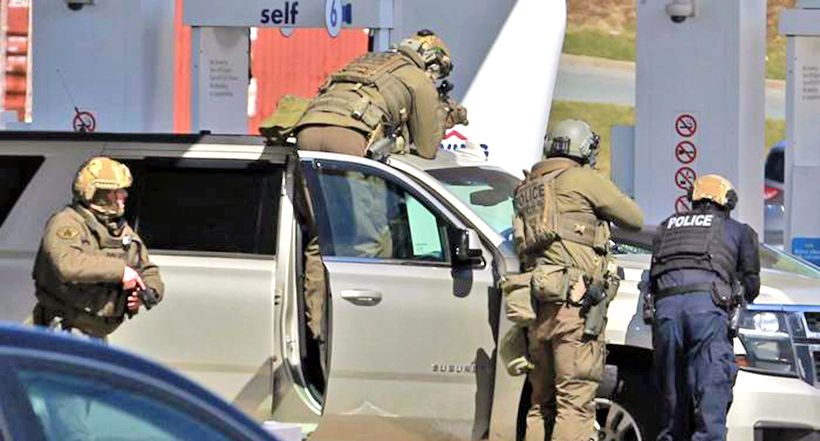 It is the deadliest mass shooting in Canadian history. Royal Canadian Mounted Police rushed to more than a dozen crime scenes yesterday after a shooting rampage by a gunman disguised as a police officer left at least 18 dead and homes in smoldering ruins in rural Nova Scotia.
Officials say the suspect, 51 year old Gabriel Wortman, died in the weekend attack. No motive has been given for the killings at this stage.
A spokeman for the RCMP told a press conference yesterday that police expect to find more victims after they comb through all the crime scenes, some of which are houses set ablaze, as victims, obeying government calls to stay at home due to the Covid-19 pandemic, were inside.
The spokesman said police teams were spread out at 16 locations across central and northern Nova Scotia. He said some of the victims knew Wortman, and others didn't.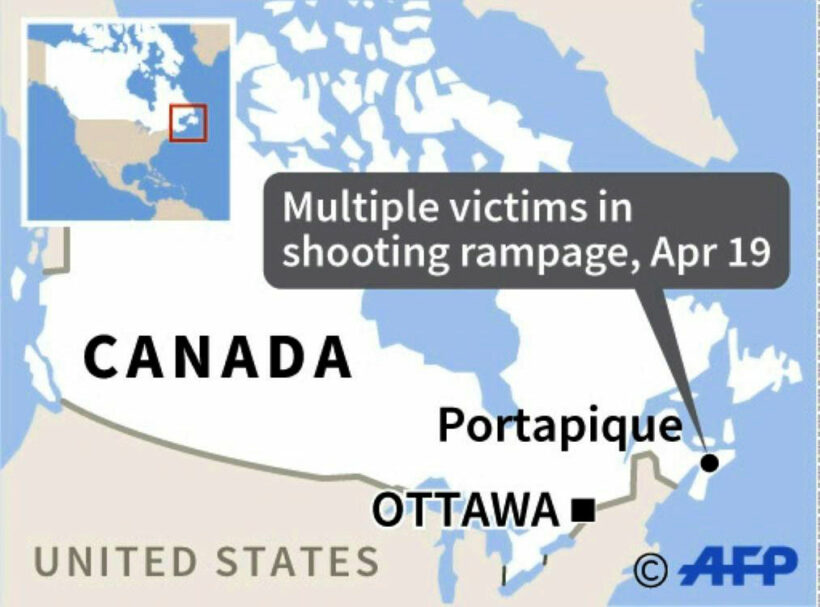 "We're relatively confident we've identified all the crime scenes. We have had five structure fires, most of those being residences, and we believe there may be victims still within the remains of those homes which burned to the ground."
The dead included a police officer. Another officer was wounded by gunfire and is now recovering at home. The dead officer was identified as Constable Heidi Stevenson, a mother of two and a 23 year veteran of the force.
"The 18 innocent lives lost will be remembered through Canada's history."
Canadian PM Justin Trudeau noted how close-knit the small province of Nova Scotia is.
"The vast majority of Nova Scotians will have a direct link with one or more of the victims. The entire province and country is grieving right now as we come to grips with something that is unimaginable."
"The pandemic will prevent us from mourning together in person, but a vigil will be held virtually to celebrate the lives of the victims."
Trudeau said the vigil will take place Friday night through a Facebook group. He asked the media to avoid mentioning the name of the assailant or showing his picture.
"Do not give this person the gift of infamy."
The 12 hour rampage began late Saturday in the rural town of Portapique, about 100 kilometres north of Halifax, where police warned residents to lock their doors and stay in their basements as the attack unfolded. The town, like all of Canada, was adhering to the government's advice to stay at home because of the pandemic, and most of the victims were inside when the attack began.
Authorities say several bodies were later found inside and outside one house on Portapique Beach Road, the street where the suspect lived.
Bodies were also found at other locations within about a 50 kilometre area from the neighbourhood where the shootings began, and authorities believe the shooter may have targeted his first victims but then began attacking randomly.
Police say the gunman wore a police uniform and made his car look like an RCMP cruiser.
"His ability to move around the province undetected was surely greatly benefited by the fact that he had a vehicle that looked identical in every way to a marked police car."
Police add that the gunman was either wearing an actual police uniform or very good copy.
At one point the suspect was forced to abandon his car and carjacked other vehicles to continue to "circulate around the province steps ahead of our investigators."
Authorities believe he acted alone. RCMP Commissioner Brenda Lucki says he was not well known to police and no note from the suspect has yet been found. She says police are still studying the crime scenes to determine what weapons were used.
According to his high school yearbook, Wortman long had a fascination with the Mounties. "Gabe's future may include being an RCMP officer," it said in his school yearbook profile.
Two health care workers at local nursing homes were among the dead, identified as Kristen Beaton, a continuing care assistant, and Heather O'Brien, a licensed practical nurse.
O'Brien's daughter, Darcy Dobson, wrote in a Facebook post that, "A Monster murdered my Mother."
"Murdered her, without a second thought. The pain comes and goes in waves. I feel like I'm outside of my own body. This can't be real. At 9:59 am she sent her last text message to our family group chat. By 10:15 she was gone."
Police initially said Wortman had been arrested Sunday at a gas station outside Halifax, but later said he had died. It was not clear how, and police did not provide further details, but one official said that there was an exchange of gunfire between the suspect and police.
Mass shootings are rare in Canada. The country overhauled its gun control laws after gunman Marc Lepine killed 14 women and himself at Montreal's Ecole Polytechnique college in 1989. Before this weekend's rampage, that had been the country's worst mass shooting.
SOURCE: The Associated Press
Keep in contact with The Thaiger by following our
Facebook page
.
Never miss out on future posts by
following The Thaiger
.


Find more SE Asian News courtesy of The Thaiger.

Broke? Find employment in Southeast Asia with JobCute Thailand. Rich? Invest in real estate across Asia with FazWaz Property Group. Even book medical procedures worldwide with MyMediTravel, all powered by DB Ventures.

The world's Top 10 languages, spoken by native speakers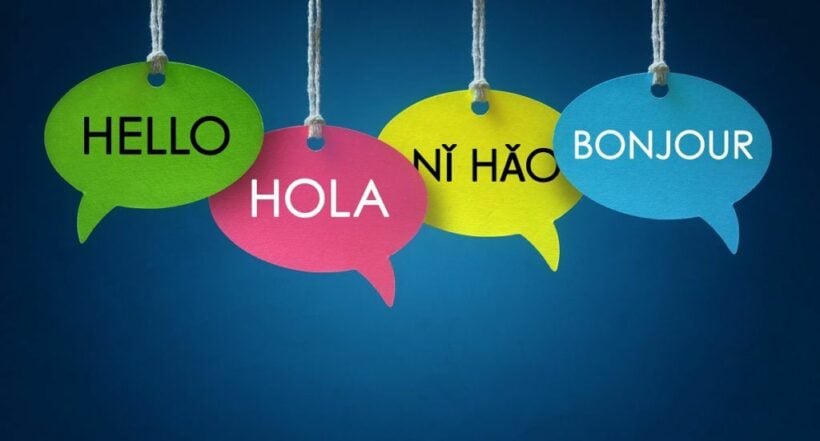 I battle to speak one language, English, and can barely order my lunch in Thai. And, whilst studying French for 7 years at school, I can only ask a French-speaker for the time or order coffee. Sacre Bleu! The world's most common languages changes over time and a world interlinked on the internet and aviation, like never before, is making profound changes to the way we communicate, as a species..
You can be sure the 'conversation' will stir some heated debate over which is the most spoken languages, generally, and natively. But the numbers win (which we have updated from statistics in recent years).
For pop culturalists, we're sad to report that neither 'Klingon' (used by the Star Trek foes) or 'Minionese' have made it into the top 10 most spoken languages in the world.
When tallied, according to number of native speakers only, the following are the most spoken languages in the world, the languages people learn as their primary spoken tongue. When you count the Top 10 most spoken languages – the total number of people who actually speak them natively and as a second or third language, English is just slightly ahead of Chinese as the most spoken language in the world.
But here are the Top 10 languages, as spoken by native speakers…
1. Chinese, 1.3 billion Native Speakers
1.3 billion native speakers, roughly 918 million of whom speak Mandarin Chinese. It's definitely the most spoken language in the world with 1 in 6 of the world's population being a native Chinese speaker. Seeing as Chinese is a tonal language that uses thousands of logograms, it will certainly keep you busy. Even if you only count the speakers of Mandarin Chinese, it still has more than twice the number of native speakers than the second most spoken language. China's other main dialect is Cantonese, generally the lingua franca of southern Chinese.
2. Spanish, 460 million Native Speakers
Looking at native speakers, Spanish is just ahead of English with about 460 million native speakers. If you want a language that will open up entire continents to you, Spanish is considered a good choice. It is certainly the main language of the majority of South and Central America, Spain, and even large swathes of the US.
3. English, 380 million Native Speakers
You may have already noticed that this article is written in English, so you're one of the 380 million native English speakers. An additional 754 million people speak English as a second or third language, not necessarily fluently. English has had success as the lingua franca (common language) of business, trade, travel, aviation and international relations. The pervasive cultural power of the US in the second half of the last century means that English still dominates the world stage, for now anyway. For people in developing nations, 'English' means 'opportunity' and a 'better quality of life'.
4. Hindi, 340 million Native Speakers
To complicate matters, India has 23 official languages, with Hindi and Urdu leading the way. It is widely debated if these two dialects are separate or just one big language, Hindustani. It is spoken mainly in northern India and parts of Pakistan. At the moment there are moves to have Hindi displace English in the southern Indian states as the primary language of official communication. You probably didn't know it, but you already speak Hindi when you use the words bungalow, shampoo, jungle, bandana, pyjamas, cashmere, punch (the drink) and jodhpurs.
5. Arabic, 317 million Native Speakers
Arabic, like Chinese, is again broken up into numerous dialects that some could even describe as separate languages just lumped together the sake of convenience. Modern Standard Arabic is a primarily written form, closely related to the Classical Arabic of the Quran.
6. Bengali, 228 million Native Speakers
Huh, what? That's a language? Yep, and it's number 6 on the list. People who speak Bengali are principally in the western parts of today's India and Bangladesh. The Partition of Bengal by the British in 1947 separated West Bengal, now part of India, from its counterpart East Bengal, now Bangladesh. Bengali is the language of Kolkata, the Andaman Islands and 160 million Bangladeshis. The country is almost completely surrounded by Indian territory and faces the Bay of Bengal.
7. Portuguese, 220 million Native Speakers
Thanks to some intrepid explorers in the 15th century, Portuguese is spoken in a few colonial outposts and not just in Portugal. Portuguese traders and conquerors brought their language to Africa, Asia and the Americas. Apart from Portugal, the language is natively spoken in Brazil, Goa, Angola, Mozambique, Cape Verde, Guinea-Bisseau, São Tomé, Príncipe (all former Portugues colonies) and, interestingly, Macau.
8. Russian, 154 million Native Speakers
Russian remains one of the 6 languages spoken in the United Nations, and responsible for the literary classics of Dostoyevsky, Nabokov, Chekhov, Gogol and Tolstoy. Not a lot of Russian words have become commonly used in English, except maybe 'Vodka'. Hmmmm.
9. Japanese, 128 million Native Speakers
Japanese speakers mostly live in Japan, one of the most ethno-centric cultures in the world. Japanese boasts two distinct written forms – hiragana and katakana, and makes extensive use of Chinese Kanji characters. Some Japanese speakers also live in the US, the Philippines and Brazil.
10. Lahnda, 118 million Native Speakers
Lahnda (Western Punjabi), is a Pakistani language that primarily includes Western Punjabi. The Punjab was sliced in two by the British when they left, and millions of people were forced to abandon their homeland. But they're slowly taking their revenge, Bollywood-style. Punjabi music now account for 50% of Indian chart-toppers.
French? German? Indonesian? You get a chance in this next list, the most commonly spoken languages by the total numberof people who speak them.
1. English, 1.134 billion total speakers
2. Mandarin Chinese, 1.118 billion total speakers
3. Hindi, 615 million total speakers
4. Spanish, 534 million total speakers
5. French 280 million total speakers
6. 'Standard' Arabic, 274 million total speakers
7. Bengali, 265 million total speakers
8. Russian, 258 million total speakers
9. Portuguese, 234 million total speakers
10. Indonesian, 199 million total speakers

SOURCE: Babbel.com
Keep in contact with The Thaiger by following our
Facebook page
.
Never miss out on future posts by
following The Thaiger
.
Covid-19 deaths surpass 1 million whilst more reports emerge about former patients' "brain fog"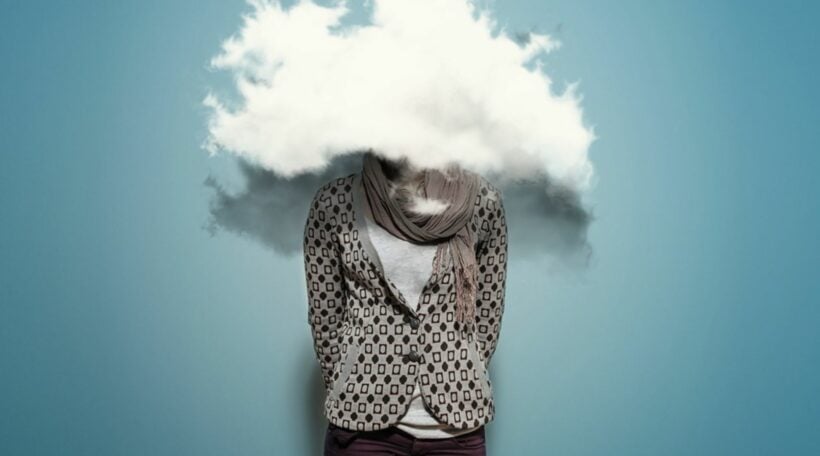 The world's Covid-19-related deaths has passed the 1 million mark overnight as the the cycle of the world's lockdowns and re-openings are getting mixed results. As of this morning, Thai time, the number of total deaths has reached 1,002,389, with 4,000-6,000 deaths still being recorded, globally, every day. And rising. On a more positive note, the number of daily deaths continues to level off, even dropping some weeks, as treatments continue to improve and the virus is better understood. At this stage, officially, only 0.42% of the world's population has so far been infected, according to worldometers.info.
The milestone comes in a week where another report from the UK catalogues the "brain fog" experienced by former Covid-19 sufferers.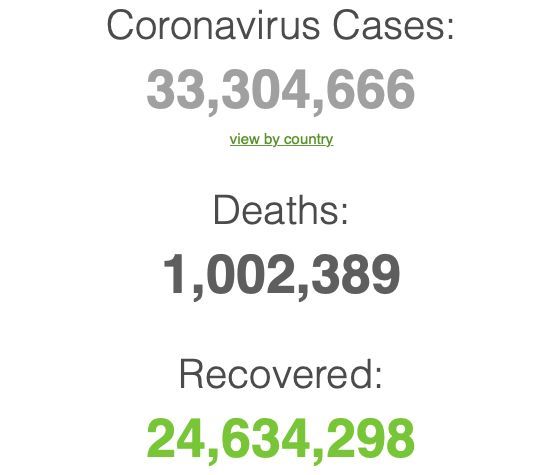 The current hotspots for the virus, now 9 months in circulation, of new daily cases is led by India. Yesterday, India added 82,000+ cases to the world total whilst the US is showing a resurgence in new cases after dropping the average down during August. There is also a resurgence in new cases in parts of Europe, including the UK, which is now recording more new cases than it was at its peak in the first wave in April and May this year. The following graphs records the top 10 countries for new Covid-19 cases recorded yesterday…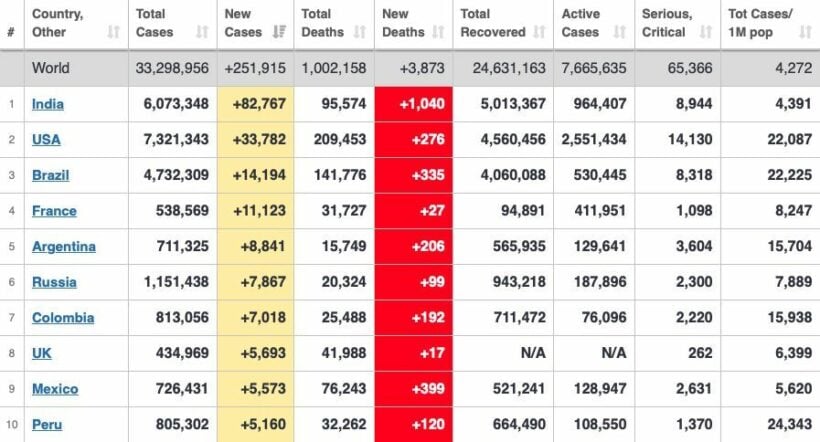 SOURCE: worldometers.info
Both South America and India are showing the highest rates of new cases, in pure numbers, whilst US health authorities are concerned about the latest surge in new cases as the country starts to head into its autumn and cooler weather.
Meanwhile, more former Covid-19 patients, even those who only suffered mild symptoms, continue to report about long-term effects from the coronavirus.
In Canada, some 130,000 Canadians have recovered but some patients report that they're experiencing "debilitating side effects" months after their infection. Canadian scientists report that they are finding some of the long-term effects of Covid-19 include heart damage as well as neurological issues like "brain fog" and "difficulty thinking". Other patients are reporting hair loss, fatigue and even painful lesions called "Covid toes," many weeks or even months after infection.
One study based out of Italy reports that nearly 90% of patients who have recovered from Covid-19 reported at least one persistent symptom two months later.
39 doctors wrote about these "long-haulers" and their battle with Covid-19 and their persistent symptoms in a manifesto published in the British Medical Journal. Following the report, the doctors called on politicians, scientists and public health officials to conduct more research into chronic Covid-19 symptoms and to create additional clinical services.
"Failure to understand the underlying biological mechanisms causing these persisting symptoms risks missing opportunities to identify risk factors, prevent chronicity, and find treatment approaches for people affected now and in the future."
The reports also defined the affected patients as not in the current list of "at risk" Covid-19 patients – usually elderly with underlying conditions – but instead representing a much wider demographic of younger and healthy patients who were experiencing the post-Covid symptoms.
SOURCE: BBC | CTV News
Keep in contact with The Thaiger by following our
Facebook page
.
Never miss out on future posts by
following The Thaiger
.
IATA proposes Covid testing before travelling to replace quarantine on arrival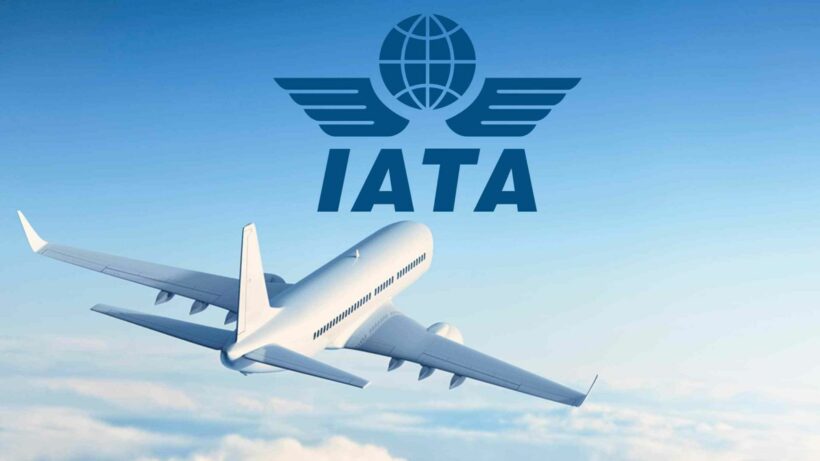 The International Air Transport Association is proposing travellers to take a Covid test prior to departure to replace worldwide mandatory quarantines on arrival. The push comes after it announces that international travel is down by 92% this year due to the Covid-19 pandemic. As many countries are imposing mandatory quarantines that can be not only expensive but up to 14 days long, the IATA is calling for all countries to work together to create a pre-flight testing requirement in all airports.
Alexandre de Juniac, IATA's Director General and CEO says that Covid testing is getting faster, cheaper and more accurate, which is why it is urgent to help kick-start the world economy by doing away with mandatory quarantines.
"The key to restoring the freedom of mobility across borders is systematic Covid-19 testing of all travelers before departure. This will give governments the confidence to open their borders without complicated risk models that see constant changes in the rules imposed on travel. Testing all passengers will give people back their freedom to travel with confidence. And that will put millions of people back to work."
He says the removal of such quarantine requirements for nations like Canada and UK would also help those nationals to leave their countries confidently by knowing that accurate testing would be in place. IATA has also asked for feedback and says of those travellers polled, 65% agree that if a person tests negative for Covid-19, then they should not have to undergo a quarantine on arrival. 84% also agree that, instead, travellers should be required to get tested with 88% even agreeing that they would submit to testing as part of the travel process.
Over 5000 travel businesses have reportedly backed the IATA's proposal after submitting an open letter to the president of the European Commission, demanding the EU to take action. However, testing and later vaccinating 7.8 billion people could prove to be a monumental task, one that may take months to devise a streamlined plan to carry out.
SOURCE: Travel Off Path
Keep in contact with The Thaiger by following our
Facebook page
.
Never miss out on future posts by
following The Thaiger
.