Flying in the dark – Lion Air crash investigation update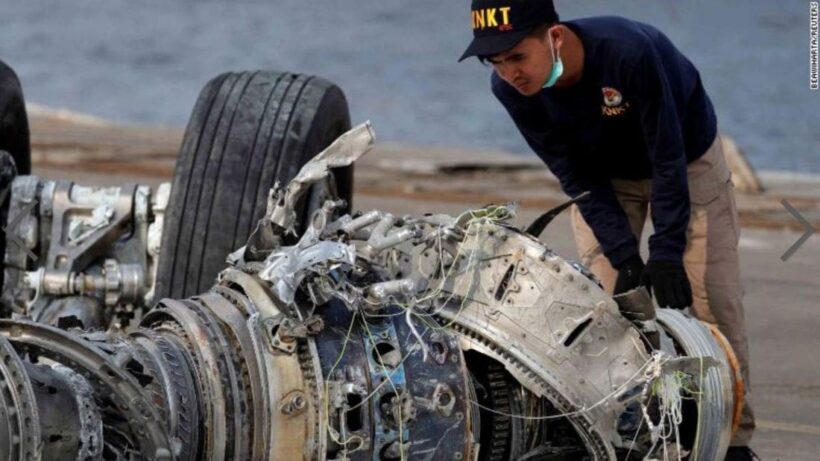 PHOTO: Komite Nasional Keselamatan Transportasi
As an investigation into the ill-fated JT610 Lion Air flight continues, questions are now being asked if the pilots actually knew how to fly the plane – that they may not have had full knowledge of the latest model, the Boeing 737 Max 8 jet.
A lawsuit against Boeing was filed last Thursday. The parents of one passenger are suing Boeing, claiming that the plane had an unsafe design. The suit alleges "Boeing failed to communicate a new safety feature that hadn't existed in previous 737s".
For its part, Lion Air's operational director accuses Boeing of "withholding information" from the company's pilots in the manuals about a safety feature that can automatically lower the airplane's nose to prevent a stall.
But the Boeing CEO Dennis Muilenburg told Fox Business Network last week that information was available as part of the training manual. Then on Wednesday last week, a Boeing spokesperson stated in an email that the company could not "discuss specifics of an ongoing investigation" but claimed the company "provided two updates for our operators around the world that re-emphasise existing procedures for these situations."
"We are confident in the safety of the 737 Max 8. Safety remains our top priority and is a core value for everyone at Boeing."
Lion Air has had a patchy safety record exacerbating a ban from European and US airspace between 2007 and 2016. Those bans have since been lifted, with the international civil aviation organisation giving Lion Air its top rating in terms of safety this year. Aviation experts consider the purchase of the Max 8 fleet may have been a tangible part of that boost to a top safety rating.
Mary Schiavo, a CNN aviation analyst and the former inspector general of the US Department of Transportation, says one of the selling points of the Boeing 737 fleet is that pilots can move from one plane to another easily if they are already trained on one of the jets.
She also said that updating a manual can be a long process for manufacturers and airlines and that, in this situation, there may have been an oversight. Schiavo speculates that Boeing likely "assumed it would save the plane when it looks like it might have doomed the plane."
A Federal Aviation Authority emergency directive sent to all Max 8 operators on November 7, in the wake of the Lion Air crash, explains that pilots can stop a malfunctioning automated system on those planes by pressing two buttons. The FAA bulletin said that "all carriers were to revise their manuals within three days".
"This condition, if not addressed, could cause the flight crew to have difficulty controlling the airplane, and lead to excessive nose-down attitude, significant altitude loss, and possible impact with terrain."
Last Wednesday, the Wall Street Journal reported that Southwest Airlines, a US budget carrier with a new fleet of MAX 8 planes, replaced two malfunctioning AOA (sensors that measure the plane's angle related to airspeed) sensors, in the three weeks before the fateful Lion Air crash.
As of today, the flight's cockpit voice recorder is still missing, thought to be buried in the mud at the ocean floor off Jakarta. The 'ping' to help locate the recorder went quiet about a week after the crash. The CVR would provide vital evidence into the pilot's actions and conversations leading to the incident.
Students are dropping out along Cambodia's border with Thailand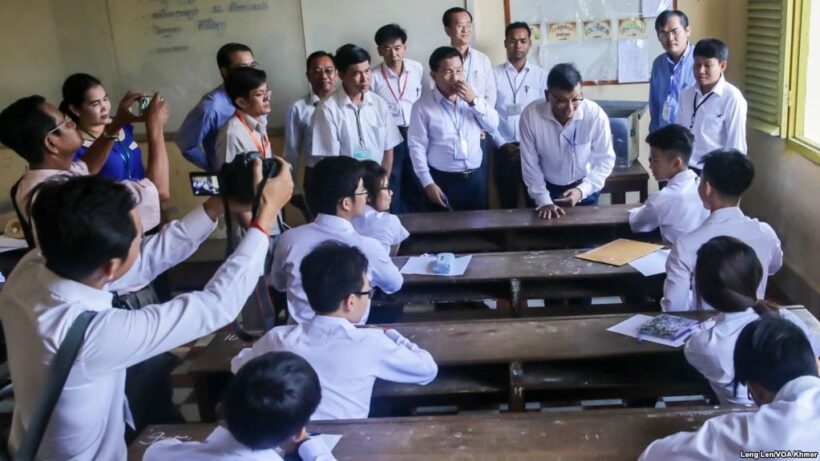 by VOA
A Cambodian official has reported that about 23% of children in three provinces along the border with Thailand have stopped attending school.
The Cambodian Education Minister Hangchuon Naron was speaking about the student dropout rate. He said that the rate in Battambang, Banteay Meanchey and Oddor Meanchey provinces was much higher than in other areas, where rates are 18 to 19 percent.
The education minister blamed poverty and parents who move to Thailand for work as the main reasons for the problem.
Cambodia's education ministry has begun training teachers to advise students to stay in school, while letting them choose their own study subjects. Teachers are also to advise students whose parents work abroad about the importance of education.
"So if teachers advise the students (to stay in school) that will help them to make the right decision. They could explain to those students that they need to pursue their studies successfully and then find local jobs as well."
But critics have expressed concern about the education ministry's plan.
President of the Cambodian Independent Teachers' Association, Ouk Chay Vy, says the plan fails to deal with the issues that cause students to drop out of school in the first place.
She says those reasons are poverty resulting from unemployment and a lack of land for farming. She noted that, in Cambodia, many students stop going to school because they need to work to support their families.
Ouk Chay Vy said a better plan would be for the government to try to increase the number of jobs so that citizens could have better living conditions.
"If the government could give them help, it would still not be enough," she added.
Suon Sinuon is a farmer from Banteay Meanchey. She said that three of her children dropped out of school while they were in the sixth and ninth grades. They went to Thailand to work and help support the family.
She said that the children did not want to stop going to school, but had no other choice because of the family's needs.
"Others who have enough money don't let their children migrate, but me, I am so poor that I had to let them go work in Thailand."
Radio Free Asia reported this story. Jonathan Evans adapted the report for VOA Learning English. George Grow was the editor. VOA partners with The Thaiger for weekend radio news.
Better analysis needed to track down the source of new chemicals in illicit drugs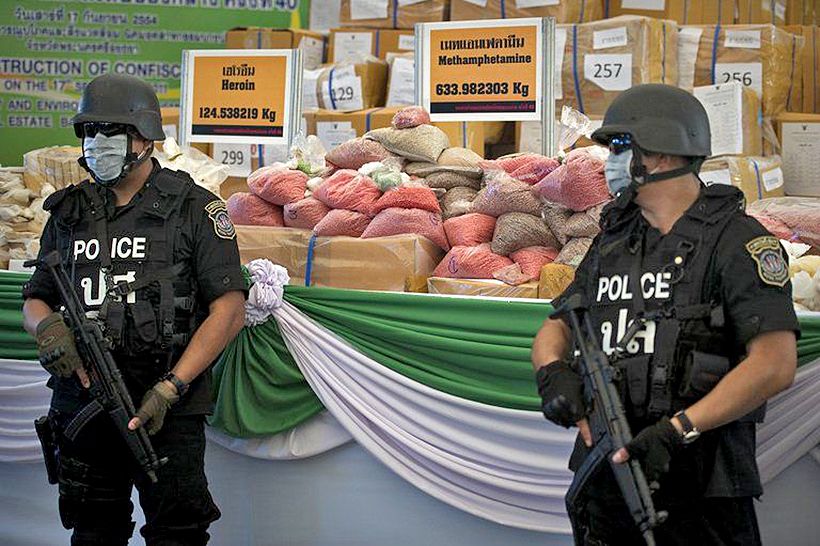 The Office of Narcotics Control Board has been training personnel in drug analysis to handle new illicit substances coming onto the streets.
A Chinese analysis lab has recently discovered 230 new psychotropic substances which are making their way into recreational drugs and other foods.
China has subsequently banned several beverages and sweets that contain these new illegal substances.
Thailand's Justice Minister Prajin Juntong says that better analysis was key in drug prevention and suppression, as it helped identify the sources of the precursor chemicals. Each source used different formulae or ingredients, he said.
"New chemicals that were not used in narcotics before, and not listed in official databases, are now being used. So each confiscated batch will no longer be destroyed right away but be analysed first."
"Lab tests are time-consuming and require new technology to ensure tests can keep up with the drug trade. This information was shared globally."
He reported that  Thailand has been cooperating with Australia, China and Singapore and other ASEAN countries in sharing knowledge and analysis techniques.
"Thailand usually serves as a transit country for narcotic smuggling to a third country."
China's National Narcotics Control Commission analyst Liu Peipei says her agency recently found 230 new psychoactive substances that could yield "highs", but had different ingredients from heroin, methamphetamine and other common drugs.
"Recently China has banned the sale of a beverage contaminated with a narcotic that may be harmful to consumers. We also found THC (the active chemical in cannabis) in chocolate and jelly," she said.
SOURCE: The Nation
Golden Triangle drug labs increase shipments 1000% – Speed and Ice pouring over the border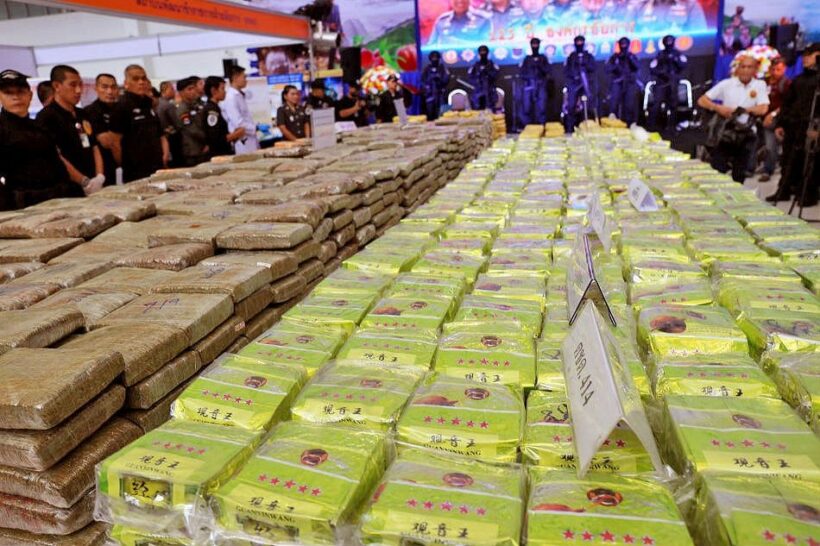 The number of seizures of high-purity crystal methamphetamine are surging into northern Thailand. The demand rises and the methods of detection and enforcement also improve. It's a vicious circle.
Authorities say the number of drug seizures have risen 1000% in just the past 2 years, a stark indication of the growth in industrial-scale production in neighboring Myanmar.
Some 18.4 tonnes of crystal methamphetamine or 'ice', was seized in Thailand last year, according to preliminary statistics from the Thai Office of the Narcotics Control Board. They know it's a tiny proportion of the amounts produced and shipped out undetected.
That figure is up from 5.2 tonnes in 2017 and 1.6 tonnes in 2016. It's more than three times the amount captured across all of Southeast Asia five years ago – a staggering rise in production and distribution.
Thailand remains a major trafficking route for the artificial drug manufactured in Myanmar's Shan and Kachin states – the north-eastern states of Myanmar that border China, Laos and Thailand.
Police say organised crime groups work with local pro-government militias and armed rebels to set-up "super labs" and allow transport through the regions to borders beyond.
The same mega-labs are also pumping out 'cocktail' tablets of methamphetamine, mixed with caffeine and other 'fillers'. The drug is nicknamed 'yaba' in Thailand. Specialist chemists and 'cooks' are brought in from Taiwan and China to run the meth labs in Myanmar, while the ingredients and lab equipment mostly come from China.
The methamphetamine tablets are a low-grade recreational drug, inexpensive and popular with blue-collar workers and low-end recreational drug users across South East Asia. The price for a 'yaba' pill has plummeted from around 200 baht to 80 baht in the past five years.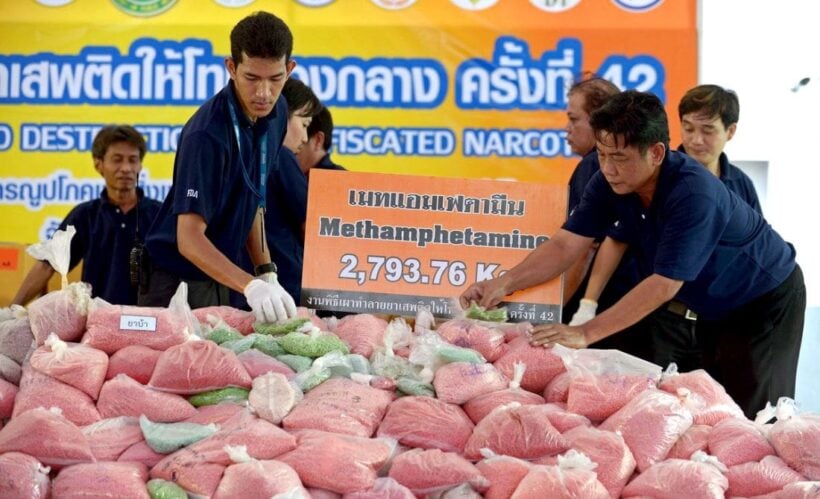 But the Golden Triangle, bordering north-eastern Myanmar, Laos and Thailand, has a long history of illicit drug trafficking.
It came to the West's notice as a cultivation hub for opium and heroin refining but those, now, easily detected crops are being replaced with methamphetamine production. The factories are easily hidden underneath the jungle canopy, and with the assistance of 'co-operative' local authorities, armed gangs and state-sponsored militias, the precursor drugs and final product move in and out with little trouble.
Once the drugs have made their way through Thailand the drug syndicates use "motherships" that intercept the drugs off the Andaman coast and distribute them to other parts of South East Asia, Australia and New Zealand.
Whilst the growth in production and purity of the drugs is alarming authorities, they are also intercepting and detecting a lot more of the road shipments making their way across the Thai borders. But they readily admit they are only netting a tiny part of the larger iceberg.
Despite the frequent showcasing of large drug hauls by Thai police, the vast majority of the drugs coming out of the back-doors of Myanmar's meth labs are getting through undetected.