Pic of female sunbather on Phuket balcony goes viral in social media

A photo of a female tourist sunbathing in a bikini on a balcony of a condo in Phuket. has gone viral in social media today.
A Facebook user has posted the picture of the woman lying face down at a balcony of a condominium, her feet were dangling off the side of the building. The photographer was worried she was at risk of falling.
The message with the picture read, "Understand that Phuket has nice sun shine which is good for sunbathing. But that condominium might have a swimming pool and sun desks. Should you better sunbath there? "
The person who made the post stated that while he was driving to work, he saw the woman which he believes is probably a tourist the was sunbathing on a balcony of a room on the fourth floor. So he stopped the car and took the photo.  He posted the pic as he wanted to warn others that it is dangerous to do this.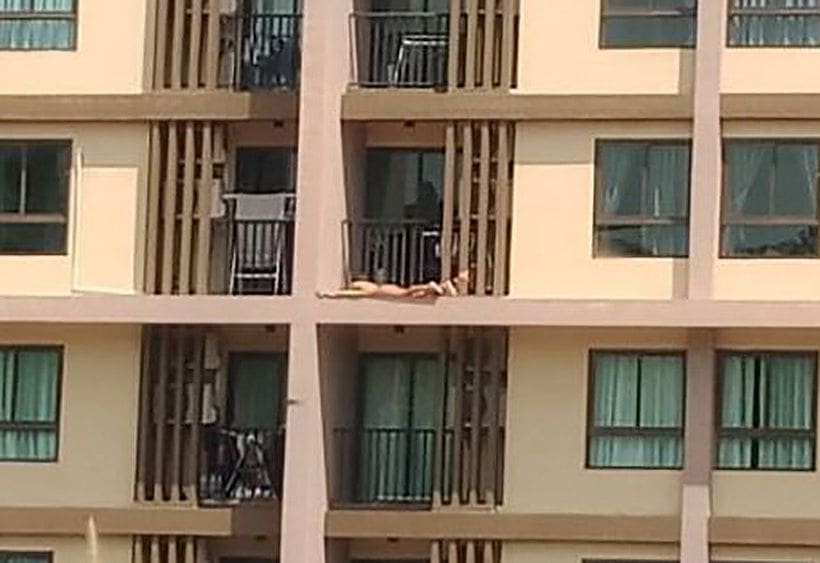 Read more headlines, reports & breaking news in Phuket. Or catch up on your Thailand news.

Thanyapura hosts Phuket's biggest cycling event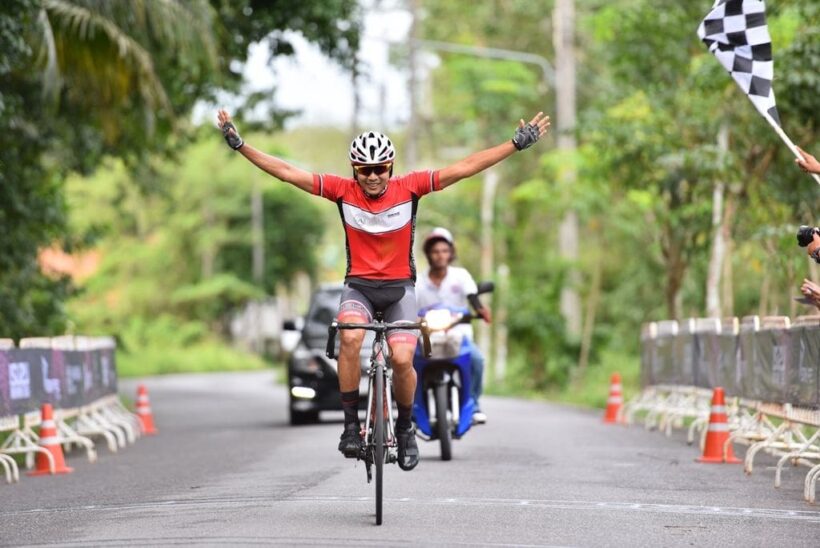 The fourth annual Classic Cycling Race took place at Thanyapura Health & Sports Resort on Sunday, 9 December 2018. The event is the biggest cycling race in Phuket with over 250 cycling professionals and enthusiasts arriving to test themselves on the challenging route mapped out by the resort.
Cyclists had a choice of 2 distances: 45 km and 106 km. Both routes offered the cyclists a truly stunning view to compliment their race. Phuket's tropical jungle, protected national parks, diverse mountainous terrain and dramatic oceanscape were all enjoyed as the racers tackled the route.
All participants were given a race kit and event t-shirt, and 100 lucky racers also received a limited edition cycling jersey. Trophies and cash prizes of 3,000 baht for the 106 km route first place winner, 2,000 baht for the 106 km second place winner, and 1,000 baht for the 106 km third place winner, were awarded. There were also a number of Thanyapura vouchers and lucky draw items up for grabs.
"As a triathlon coach, I believe in practice and consistency. It's motivating to see the speed at which we can progress, and how it is directly related to the amount of time we spend in the saddle. For me, building muscle memory and endurance would be the key first steps to success."
"We enjoyed seeing so many cyclists taking part at our annual Classic Cycling today, and we look forward to welcoming all the racers back to Thanyapura again next year," said Ekkarat Phantip (Ricky), Head Triathlon Coach at Thanyapura.
This year's 106 km route was dominated by Lucy Richardson for the women and Witthawat Waree for the men, who each took first place. Second place was taken by Nopjakorn Wanthong for the women and Samuel Lord for the men, and Daniel Amby for the men came in third.
The 45km route was won by Nichaphat Chansuk for the women and Dollawat Luansawai for the men. It saw Krittiporn Roumjai for the women and Thapakorn Mekhmanee for the men taking second place, and Kirawan Pussayapaibun for the women and Hem Ongsara for the men coming in third.
"As Asia's premiere sports & health complex, we are very proud to once again organise the Thanyapura Classic Cycling, and enjoy seeing more and more people take part year after year. Cycling is a big part of Thailand's sport culture, and is linked to many health benefits," said Thibault Gonnet, Thanyapura's Director of Operations.
"It is great to see a steady increase in the sport's popularity. It is our mission to continue to support and organise events like this to motivate all generations to live a healthy and active lifestyle, filled with the fun of sports and play."



Officials warn motorists about road construction along Patak Road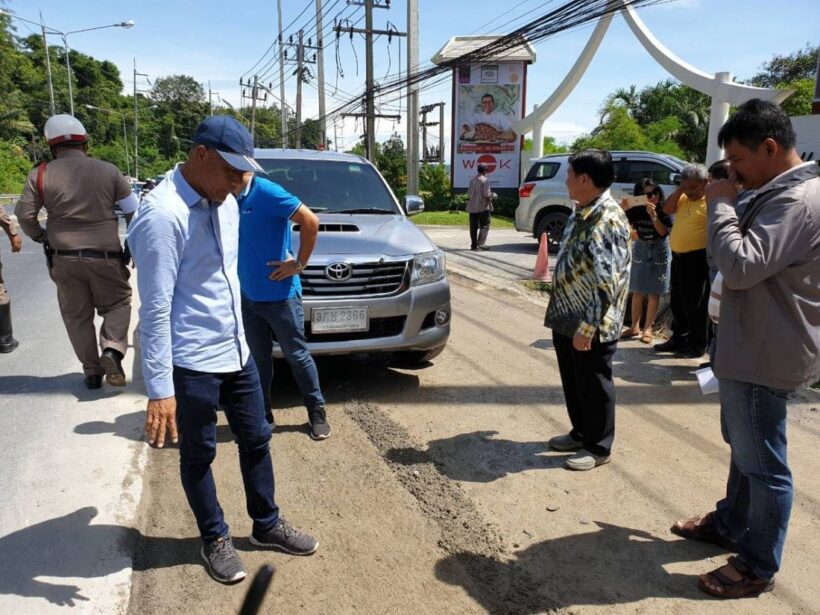 PHOTO: The Phuket PR Office
Phuket officials have followed up complaints after some motorists had been injured in various incidents on Road No 4028 (Patak Road). Signs in three languages and traffic lights have been installed to help warn motorists.
Phuket's Vice Governor Prakob Wongmaneerung inspected along Patak road and the new warnings today.
Vice Governor Prokob says, "Some motorists have been injured on this road which is now being renovated between Chalong and Karon, a stretch of 1.5 kilometres. The contract runs for three months from October 13 to January 16 with a 12 million baht budget."
"Warning signs and light are now being installed to warn motorists. Warning signs will be in Thai, English and the Chinese language. The contractor will also clear some loose materials off the road while the road is being constructed."
"Many roads in Phuket are being renovated to improve the island's roads and safety. Please be careful when driving.  The construction is being hurried as fast as possible."


Man found hanged in room in Koh Kaew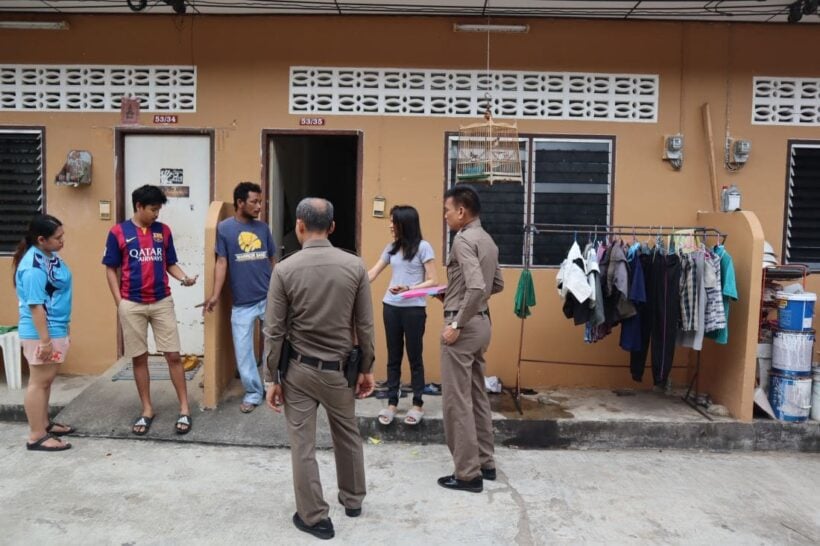 A Thai man has been found hanged inside a room in Koh Kaew over the weekend.
Police and rescue workers arrived at the man's accommodation to find the body of a man who was later identified as 27 year old Damrong Manjit from Ranong. He was found hanged inside his kitchen. His body was taken to Vachira Phuket Hospital for a formal autopsy.
22 year old Kattika Jitjam, Khun Damrong's wife, told police that she was together with Mr Damrong for two years and have two children. They had not argued before the incident.
She told police that on Sunday morning Damrong woke up and asked her if she loves him. She said she loved and cared for him. After that she fell asleep. When she woke up again she found Damrong hanged in the kitchen of their accommodation.
Mr Damrong's friends told police that he was a nice man. They thought that he might have been jealous of his wife, that she might have been with another man or that there might be a misunderstanding.
Police are investigating the incident.

There are mental health services available in Phuket. Samaritans of Thailand 24 hour hotline 02 713 6791 (English) or 02 713 6793 (Thai). Mental Health Hotline at 1323 (Thai).