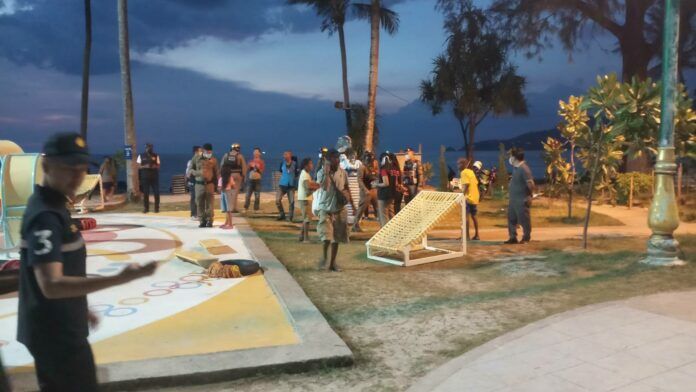 Phuket officials are working to tackle homelessness around Patong Beach.
Officials from the Phuket Protection Center for the Destitute said they inspected Patong Beach and the surrounding area from Monday, January 16 to Friday, January 20, along with Patong Police and Patong Law Enforcement officers.
The team found eight homeless people including four men, three women, and a young girl. The team recorded the homeless people's personal information and escorted three of them to the Phuket Protection Center for the Destitute.
The remaining five homeless declined to go to the centre.
Homelessness has increased on the island province in recent years, particularly among migrants, The Phuket Express reported.
Factors contributing to the growing number of homeless people include the Covid-19 pandemic and restrictions, as well as the tourism industry and job market.
Phuket is not Thailand's only tourist hotspot dealing with homelessness. Pattaya is also struggling to deal with its vagrancy issues.
Earlier this month, Pattaya dwellers complained about a group of homeless people camping at an abandoned building on South Pattaya Road in the Nongprue sub-district of Bang Lamung district.
The campers were reportedly sleeping and urinating in the old building, and garbage was scattered about the site.
Some residents said homeless people had been around the area for over a decade, but Covid exacerbated the issue. Residents called on city officials to fix the problem since it bothered tourists.
Last year, Pattaya officials tried new ways to improve the city's issues with homelessness. In July, Wittisak launched a campaign to help integrate homeless people back into society.
Officials set up a stand in front of the Mike Shopping Mall in the South Pattaya beach area. At the stand, the officials helped homeless people with issues over documentation, as a first step to integrating them back into society.
Will Phuket and Pattaya find any long-lasting solutions to their problems with homelessness?