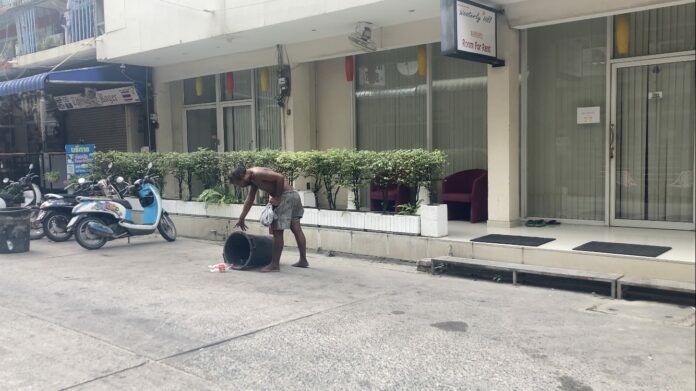 Pattaya dwellers aren't too thrilled about homeless people living in an abandoned building in the city. On Monday, local media reported that a group of homeless people were camping at an abandoned building on South Pattaya Road in the Nongprue sub-district of Bang Lamung district.
The building was home to a former convenience store that lost business during the Covid-19 pandemic.
The campers were reportedly sleeping and urinating in the old building, and garbage was scattered about the site.
The Pattaya News reported that a homeless person blocked traffic by lying down on Beach Road yesterday. He was being aggressive and randomly yelling at passersby, the outlet said.
Residents are not happy about the situation. One woman, Patcharaporn Paopad, said the homeless group was making noise at night. She said she tried to cordon off the area with a rope, but the group then used her rope as a clothesline.
Some residents said homeless people had been around the area for over a decade, but Covid exacerbated the issue. The residents called on city officials to fix the problem since it bothered tourists.
Pattaya officials are continuing to struggle with the city's homelessness issues. Last month, Pattaya's deputy mayor inspected a homeless encampment under Motorway Route 7, after nearby residents complained about the growing number of homeless people.
Last year, Pattaya officials tried new ways to improve the city's issues with homelessness. In July, Wittisak launched a campaign to help integrate homeless people back into society.
Officials set up a stand in front of the Mike Shopping Mall in the South Pattaya beach area. At the stand, the officials helped homeless people with issues over documentation, as a first step to integrating them back into society. They helped people reconnect with state agencies to receive basic needs. This included proper IDs, shelters, jobs, and Covid protection.
Another initiative by Pattaya authorities last year was a new approach to drug problems. If people living on the streets were found to be using drugs, police would offer them the chance to enrol in a rehabilitation programme, instead of arresting them.
Will 2023 be the year that Pattaya truly tackles its homelessness problems? We'll see.