Thai soldier accused of raping 75 boys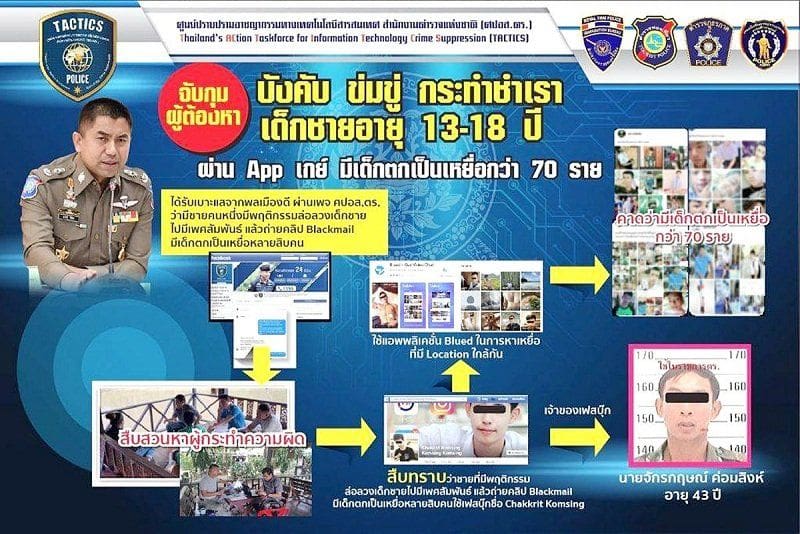 A 43 year old former Thai soldier has been arrested for raping 75 boys, many of whom were aged under 15 at the time of the alleged crimes.
It is claimed he lured his victims by using the photo of a handsome younger man as his own profile picture in a gay chat application and then Facebook. Authorities are now trying to provide remedial measures for the victims and are urging anyone else who might have been a victim of the man to file complaints with police.
Former Master Sergeant Chakkrit Komsing, living with HIV, allegedly used obscene pictures sent to him by the boys to coerce them into meeting him. He is accused of then also recording the attacks on video for the purposes of blackmail, according to acting Immigration Bureau chief Pol Maj-General Surachate Hakpal in his capacity as deputy director of the National Technology and IT Crime Suppression Centre.
Using the man's own notes about the attacks, police counted a total of 75 victims, 28 of whom were aged 13-18 and were clearly identified with names and home addresses in Khon Kaen, Udon Thani, Kalasin and Maha Sarakham.
Police are now working with various authorities to locate and help the victims, he said, urging more victims and parents to step forward and offer information that might be relevant to the inquiry.
Chakkrit was immediately sacked from the 3rd Cavalry Division at Premtinnasulanon Military Camp in Khon Kaen following his arrest in Nam Pong district yesterday.
The 14 year old boy who filed the first complaint claimed that he had met a military man after first chatting with him online.
The boy said he tried to leave because the man was clearly not the youth he had seen in the man's Facebook profile photo, whereupon Chakkrit allegedly threatened to release the boy's obscene pictures online and raped him in the car.
Surachate said police had established that Chakkri had been diagnosed as HIV-positive in 2009, began treatment in 2015 and started working at the Khon Kaen military camp just eight months ago.
Chakkrit has been charged with six criminal charges, including raping a minor under 15, molesting a minor under 15 with threat of assault and taking away a minor under 15 from his parents for lewd acts.
Deputy army spokeswoman Colonel Sirichan Ngathong said the army had handed the suspect over to police to let justice run its course as this was a case of individual wrongdoing.
She said Chakkrit was now in the custody of Khon Kaen's Nam Pong Police and that Chakkrit's former supervising agency – which has also set up a fact-finding committee into this allegation to run in parallel with the police probe – would co-operate with the police investigation and would ensure justice to both the accused soldier and his alleged victims.
She said if the soldier were found guilty as accused, he would face both disciplinary and criminal code punishments.
STORY: The Nation
Keep in contact with The Thaiger by following our
Facebook page
.
Gambling wife arrested after husband calls police in Nakhon Ratchasima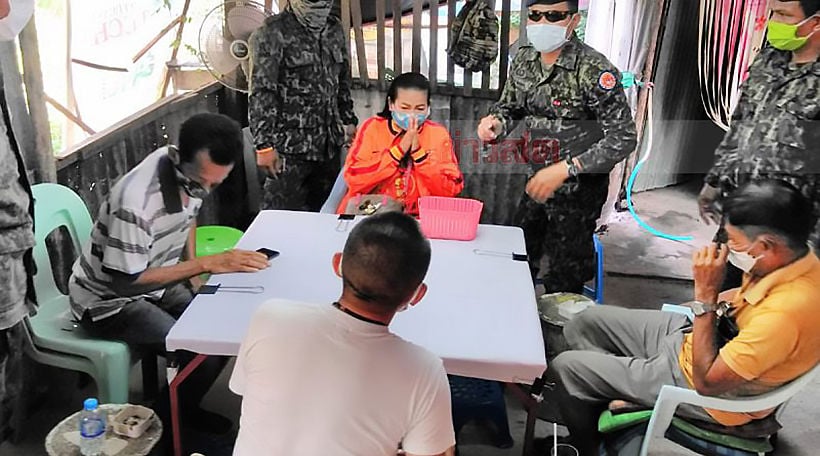 Thailand's recently declared state of emergency has meant the temporary closure of many businesses, leaving a lot of people with a lot of time on their hands. One woman in the northeastern Nakhon Ratchasima province grew bored and decided to invite some friends around for a bit of light home gambling playing cards. But her husband was afraid she might end up infected with the Covid-19 coronavirus, so he called the police (gambling is illegal in Thailand, officially.)
Police arrested 4 suspects, 3 men and and the wife playing the card game "rummy." The suspects have been sent to the Nakhon Ratchasima Court for prosecution. The province's deputy governor says officials received a complaint from a male citizen, later revealed to be the husband of the female suspect. The province has ordered 22 businesses to temporarily shut down in order to minimise the spread of Covid-19. This caused the husband and wife to have perhaps a bit too much free time.
It was not the wife's first infraction. She had been regularly spending her free time gambling in a village located behind the province's Saint Mary's Hospital. The husband, fearing the worst, decided strict action was required. He called police and gave the exact location of where the card games were taking place. The suspects were arrested with cards and 4,000baht in cash was confiscated. Thankfully, none of the suspects had a fever or showed virus symptoms.
We fear another headline in coming days… something along the lines of "wife beating up husband in north eastern Thailand".
SOURCE: Thai Residents
Keep in contact with The Thaiger by following our
Facebook page
.
Northern Thailand's air pollution reaches hazardous levels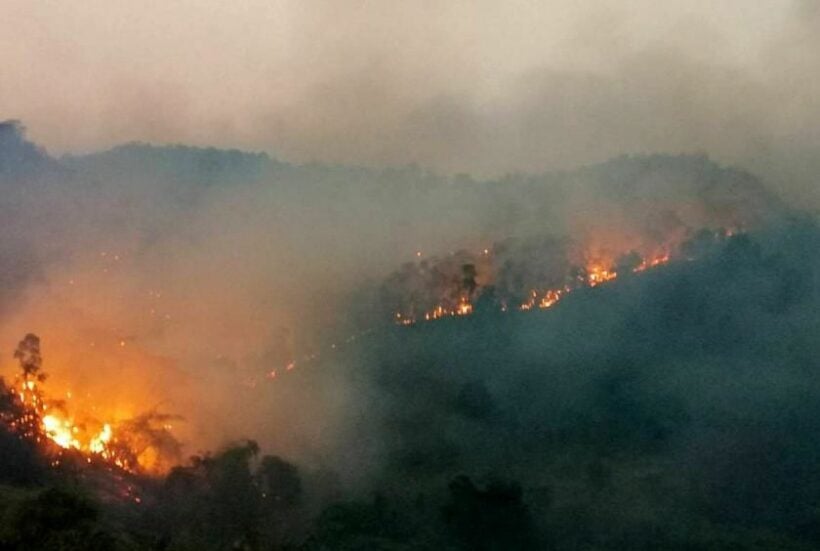 Air quality in the north of Thailand is actually 'hazardous' today, as bushfires in Chiang Mai's Doi Suthep-Pui National Park have caused air quality to become nearly 20 times higher than Thailand's already lax "safe" limit of '50'. PM2.5, (dust particulate matter with diameter of 2.5 microns or lower), rose to 925 micrograms per cubic metre in some locations yesterday. It has dropped this morning but still remains 'hazardous' in many locations around the region.

Due to the Covid-19 coronavirusoutbreak, all national parks, wildlife sanctuaries and other protected areas in Thailand are closed until further notice. Some tourist destinations such as the Similan Islands and Surin Islands are within national parks and are also closed.
The bushfires in the parks and crop burning, in plantations and farms in the region and in neighbouring countries, has pushed air pollution readings in Chiang Mai and other provinces in the region up to nearly 1,000 micrograms for short periods, specifically near the areas of the fires.
Not helping the situation is a week of temperatures around 40C every day (with more on the way), and no rain (the temperatures are from stations in the city area, not in the mountains surrounding the main town). The fire at the national park near Chiang Mai also poses dangers to residents as it has raged near communities in and many landmarks, such as temples.
Hundreds of officials and soldiers have been called in to fight blazes over the past week. Helicopters have dropped water to control one fire that's been raging since Wednesday evening around the Doi Suthep area, north west of Chiang Mai city, in the Doi Suthep Pui National Park.
"They've spent more than 14 hours a day trying to being the blaze under control."
Local officials say the massive fire has now been "brought under control," but the air pollution persists with more smog from plantation fires burning in the area and to the north in neighbouring Myanmar.
PM Prayut Chan-o-cha has expressed concern over massive damage caused by the fire, primarily for the health of the elderly and children. He's asked them to avoid going outside because of the smoke and poor air quality.
Chiang Mai isn't the only northern province plagued with air quality issues. The PM2.5 dust index also revealed severely unhealthy levels of air quality in Chiang Rai, Mae Hong Son and Nan provinces.
The government says it's working with Myanmar officials to address the issue.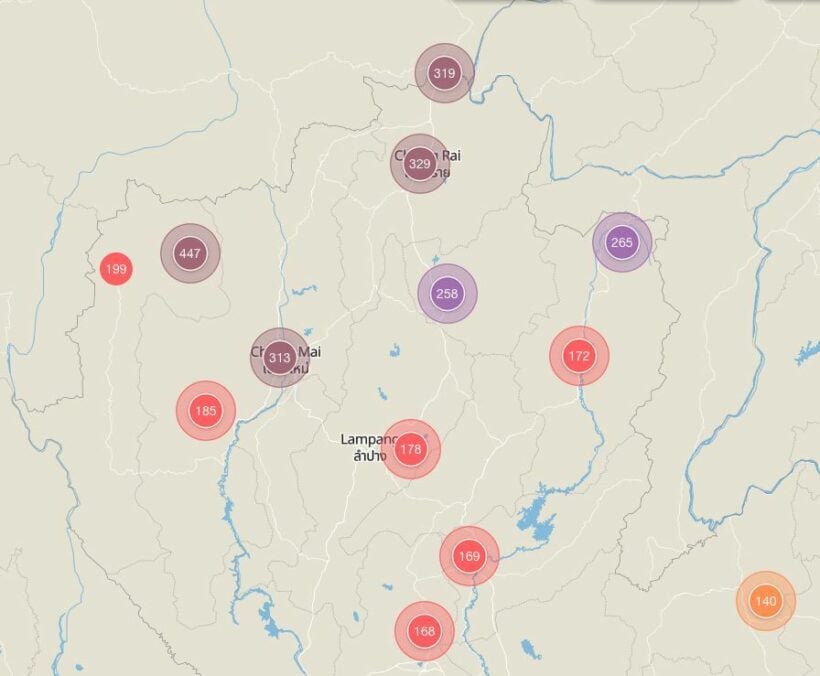 Airvisual.com (Sunday morning 9am – Thai Time)
SOURCE: Chiang Rai Times
Keep in contact with The Thaiger by following our
Facebook page
.
African horse virus believed responsible for dozens of horse deaths in Northeast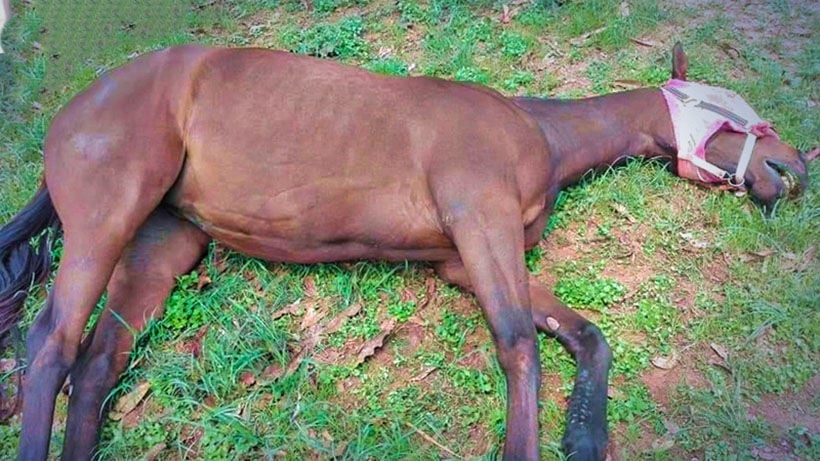 The sudden deaths of dozens of racehorses in Thailand's Northeast are now believed to be tied to an African horse virus. All of the dead animals, whose count now stands at 42, were found during an inspection of barns in Pak Chong district in Nakhon Ratchasima, north eastern Thailand.
Doctors from Thailand's Department of Livestock Development suspect the deaths are from the first locally detected cases of African horse sickness.
Dr Pasawee Somjai, a veterinarian with the provincial office, did not give further details about the barns or their locations or when the deaths of the racehorses had taken place. Samples from the dead horses have been sent for a detailed autopsy at the National Institute of Animal Health and test results are expected in a week.
African horse sickness mainly attacks horses and donkeys, with gnats being the carriers. The virus attacks the lungs and respiratory system quickly and can kill a horse within hours. Pasawee said all the dead racehorses were buried to prevent insects from spreading the disease to others.
The Thailand Equestrian Federation circulated a letter on Thursday advising all members to stop moving horses out of their areas to stem the possible spread of the disease.
SOURCE: Chiang Rai Times
Keep in contact with The Thaiger by following our
Facebook page
.