Toxic free school lunches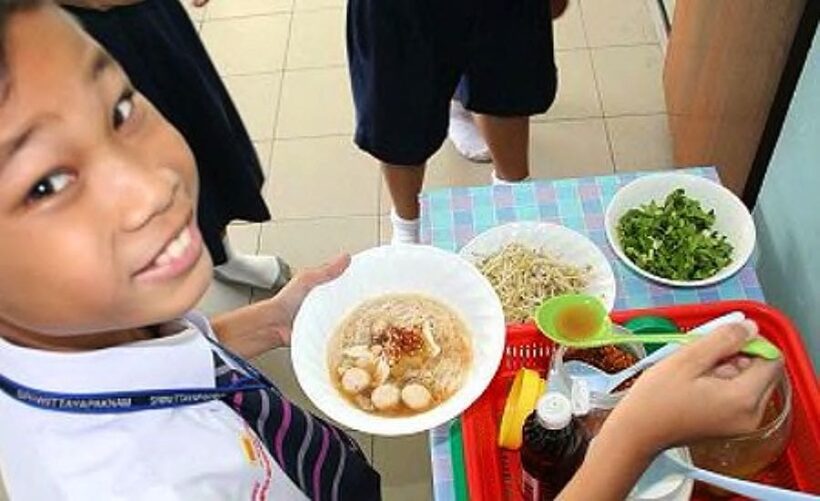 "Meat balls and sausages used in student lunches were also found to be contaminated with borax and formalin."
A major study has been released researching contaminants in vegetables used in the state-sponsored school lunch program. You'd hope that the lunches were fresh and nutritious, right?
Instead, they were dangerous.
Vegetables and fruits found in lunches for students under the government's free lunch program are almost 100 percent contaminated with pesticides and 99 percent of the urine samples from students and teachers in four provinces were tested with organophosphate, a deadly toxic pesticide that can attack the nervous system.
The alarming findings were the result of a research jointly conducted by Thai Education Foundation, Thai Health Promotion Foundation, Field Alliance of Chiangmai University and Greenpeace Thailand between July 2017-October 2018 on student lunches in 55 schools in Chiang Mai, Pathum Thani, Sakon Nakhon and Phang-nga provinces.
Vegetables, widely used in student lunches which were tested, include carrot, cabbage, Chinese cabbage, kale, long bean and tomato.  However, only two types of chemicals were tested – organophosphate and pyrethrum because organophosphate are widely used in insecticides for fruits and vegetables.
Thai PBS reports the the Thai Education Foundation secretary-general Marut Jatikate said that the most alarming findings appear to be the organophosphate residue found in 99 percent of the 436 urine samples from students and teachers in the four provinces.
Organophosphate poisoning symptoms include increased saliva and tear production, diarrhea, vomiting, small pupils, sweating, muscle tremors and confusion.
He said that the tests this time focused on two chemicals – organophosphate and pyrethrum – but they should have covered more toxic chemicals.
Nevertheless, he said findings from this research would be sent to the schools and parents of students in order that they would change the menu of student lunches but switching from mass-produced vegetables and fruits to organic vegetables and fruits which should be safer.
Besides the unsafe fruits and vegetables, Mr Marut said meat, meat balls and sausages used in student lunches were also found to be contaminated with borax and formalin.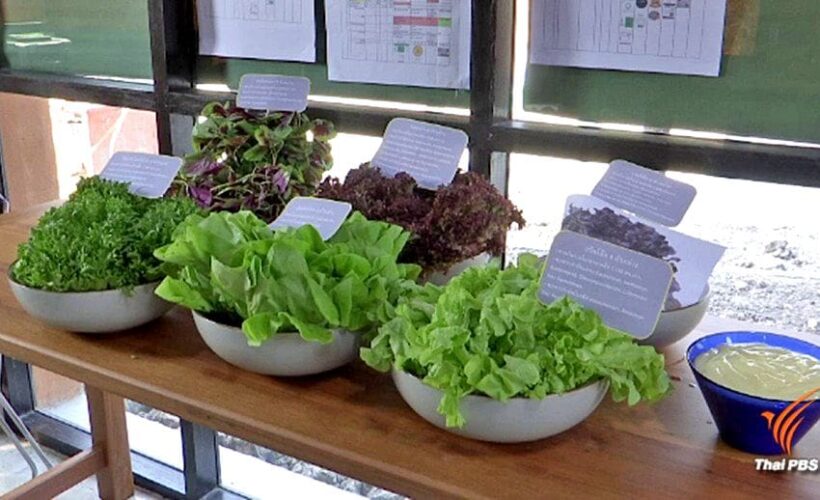 ORIGINAL STORY: Thai PBS


Read more headlines, reports & breaking news in Phang Nga. Or catch up on your Thailand news.
Summer storms on the way for north, north-east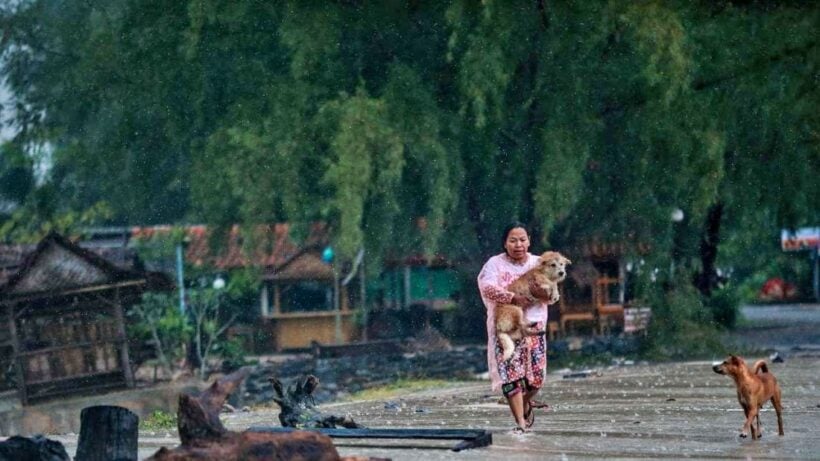 FILE PHOTO
People living in the north of Thailand are being warned to brace themselves for some summer thunderstorms until Wednesday. The Meteorological Department issued an alert today saying the storms will be caused by a high-pressure system from China that will interact with the hot weather over upper Thailand.
Outbreaks of summer thunderstorms will be likely from today to March 27. Thundershowers, gusty winds and hail are possible first in the Northeast and the East then the Central, and the North region.
Are you affected?
March 23-24
North: Kamphaengphet, Phitsanulok, Phichit and Phetchabun.
Northeast: Nong Bua Lamphu, Sakon Nakhon, Nakhon Phanom, Udon Thani, Buri Ram, Surin, Si Sa Ket and Ubon Ratchathani.
Central: Nakhon Sawan, Chai Nat, Lop Buri and Saraburi.East: Nakhon Nayok, Prachin Buri, Sa Kaeo and Chachoengsao.
March 25-27
North: Kamphaengphet, Phitsanulok, Phichit and Phetchabun.
Northeast: Nong Bua Lamphu, Udon Thani, Khon Kaen, Loei, Chaiyaphum, Nakhon Ratchasima, Buri Ram, Surin, Si Sa Ket and Ubon Ratchathani.
Central: Uthai Thani, Nakhon Sawan, Chai Nat, Lop Buri, Saraburi and Phra Nakhon Si Ayutthaya including Bangkok and its vicinity.
East: Nakhon Nayok, Prachin Buri, Sa Kaeo and Chachoengsoa.
SOURCE: The Nation
Hazardous: Chiang Mai again leads the world in air pollution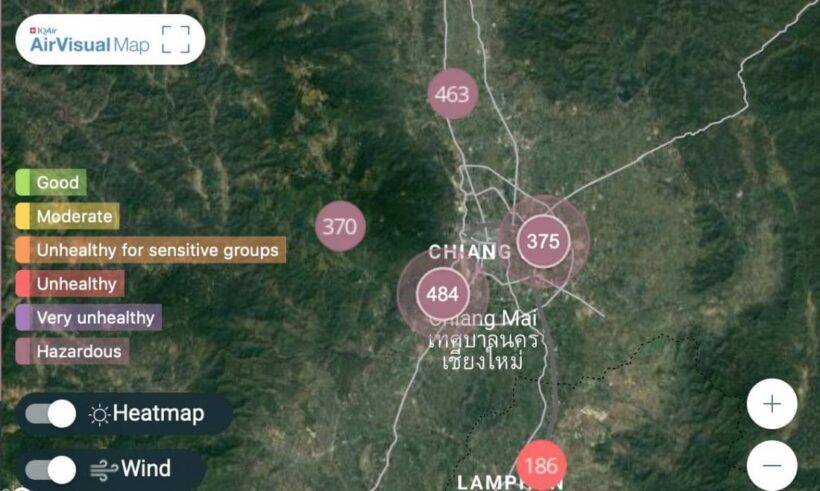 Chiang Mai is back on top of the world's list of most air-polluted cities, according to the AirVisual.com website.
AirVisual reports at 1.45pm that the air quality index (AQI) of Chiang Mai on Saturday stands at 471 (##!!??!!) , much higher than the 100 AQI safety standard (the WHO lists the safety limit as 50 on the AQI scale). It's been about 350 all day today.
In its six scale listings Chiang Mai is now listed at the bottom as 'Hazardous', the scale doesn't go any lower.
The northern capital has been covered with white, mostly bushfire smoke and smog, for almost two weeks prompting Chiang Mai residents to wear N95 air-filter marks outdoors. Or stay indoors.
The Chiang Mai University, the Rajamangala University of Technology Lanna and Chiang Mai provincial administration confirmed that the air quality in the city remained critical.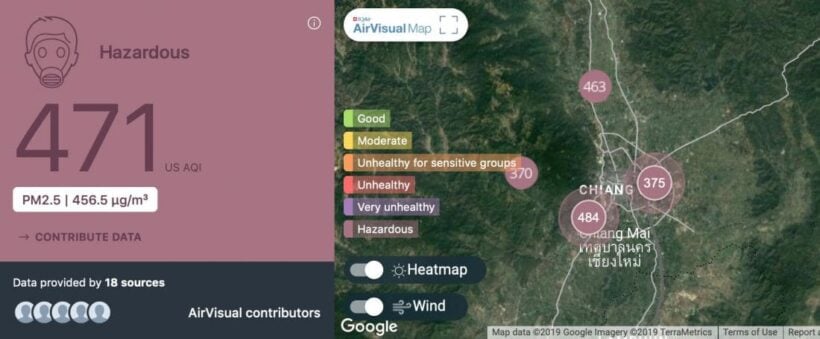 American drug suspect impersonated 'Mr Thomas' for 25 years, arrested in Chiang Mai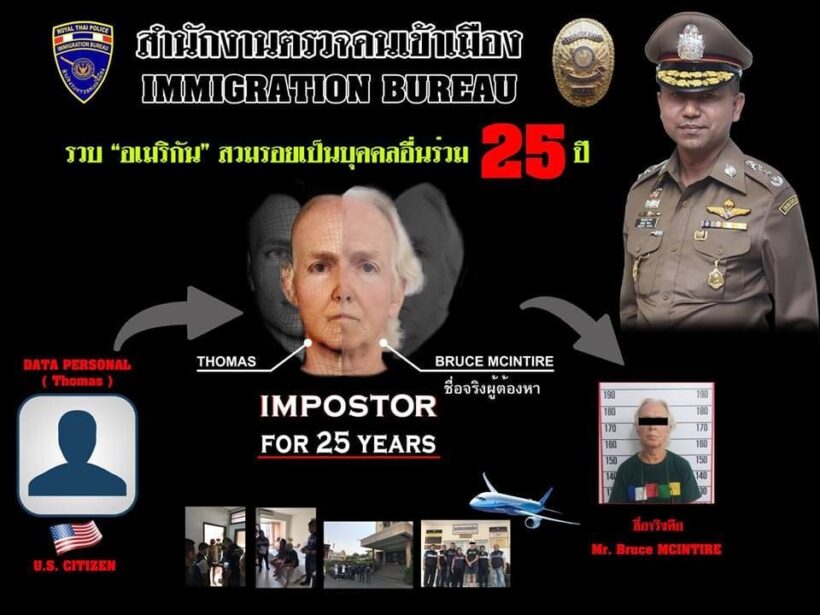 PHOTOS: Surachate Hakparn, Immigration Bureau
A 67 year old American man, wanted as a drug suspect, has been arrested in Chiang Mai this week. He had been living under the identity of another person with whom he shared a similar face, for more than 25 years.
The Thai Immigration Bureau reports that they have arrested a 67 year old American man Bruce McIntire. He is a drug suspect who has been on the run for 25 years and using the identity of another man. He has been living in Thailand for six years.
Officers were notified by the American Embassy that a man named 'Mr Thomas' who shared similar facial features with Mcintire, submitted an application for a new passport. Officers found that his name already existed in another passport.
Mcintire has now admitted that he used fake documents to get a dodgy passport through a Nigerian passport forgery gang. He then used his fake passport in the name of 'Mr Thomas' to apply for a passport renewal.