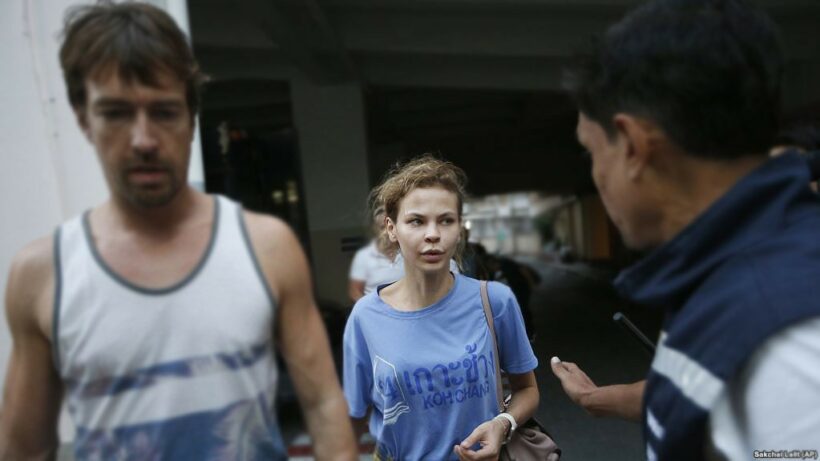 The Belarusian self-proclaimed seductress, nabbed by police last February in Pattaya running 'sex classes' for Russian tourists in the party town, remains in a Thai prison. In the days after her arrest, her relatively minor immigration transgression ramped up into an international scandal when she claimed she could dish dirt on US President Trump and some of his alleged Russian associates.
She said she knew people. She said she had secret recordings. If it was all a gamble to help secure preferred treatment or an early release, the gamble hasn't paid off as yet.
After appearing in court in September along with her sex-mentor Alexander Kirillov, she's still awaiting the next move in the Thai legal system – likely, a date with the Courts set for January next year. Six other Russians nabbed during the sex course remain in jail as well.
Anastasia Vashukevich, better known as Nastya Rybka, has stuck to her story all the while rotting in a Thai prison awaiting progress in her case and some help from a wealthy Russian businessman who is currently embroiled in the investigations into Russian interference in the 2016 US Presidential elections.
According to a story in the NYTimes.com, she says she is waiting to hear back from the man she claims she had an affair with, Oleg V. Deripaska, a Russian tycoon and oligarch. She claims that she sent the tapes to him and is waiting to hear back from him, hoping that he'll do something to 'arrrange' her release. Good luck with that!
In April, the United States imposed sanctions on Mr. Deripaska and six other Russian oligarchs as punishment for interference in the 2016 election and other Russian aggressions.
Read the rest of the NYTimes.com article HERE.


Read more headlines, reports & breaking news in Pattaya. Or catch up on your Thailand news.

Two die in Pattaya ferry engine room tragedy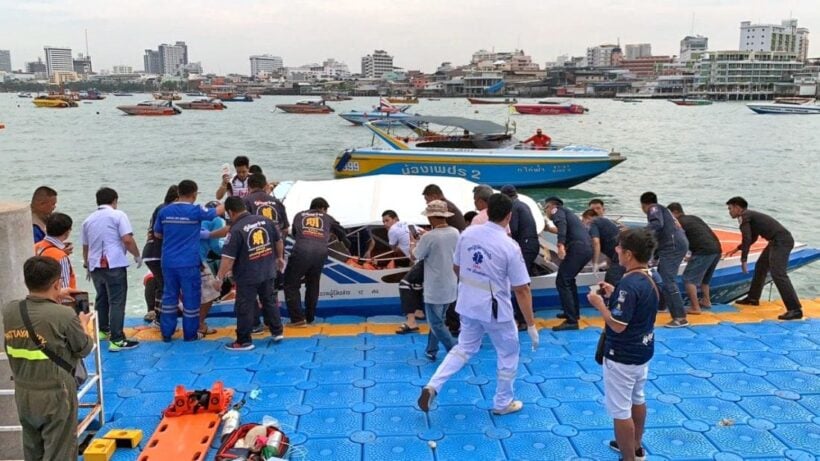 by Theerawat Thongma and Dethawee Theewarangkool
Two workers have died and another three remain in critical condition after allegedly inhaling toxic fumes when they were cleaning a boat-restaurant's engine room.
The vessel was anchored at a pier off Chon Buri province yesterday.
Muang Pattaya precinct superintendent Pol Colonel Apichai Krobphetch led a rescue team to head tot he scene of the incident at 11.30am.
They found the five workers who had reportedly passed out while cleaning the engine room of the Nava Chakkapat.
At this stage it's believed they all succumbed to toxic fumes, as the ventilation system had not been switched on.
When police and emergency responders arrived they found one worker dead at the scene, and another died whilst being rushed to hospital.
The names of the victims have not been released at this stage. Police are investigating the incident to determine the cause of death before deciding on any further legal action.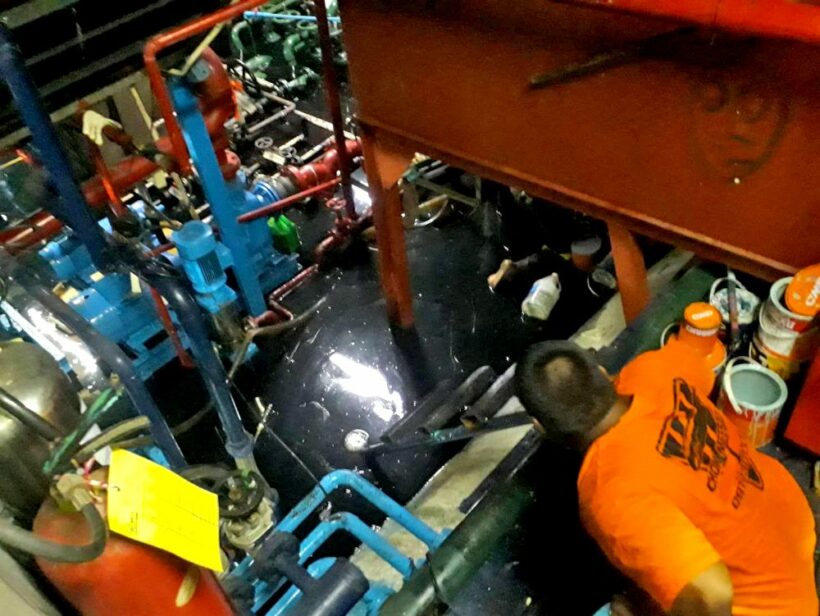 ORIGINAL STORY: The Nation
72 year old fined 500 baht for blocking ambulance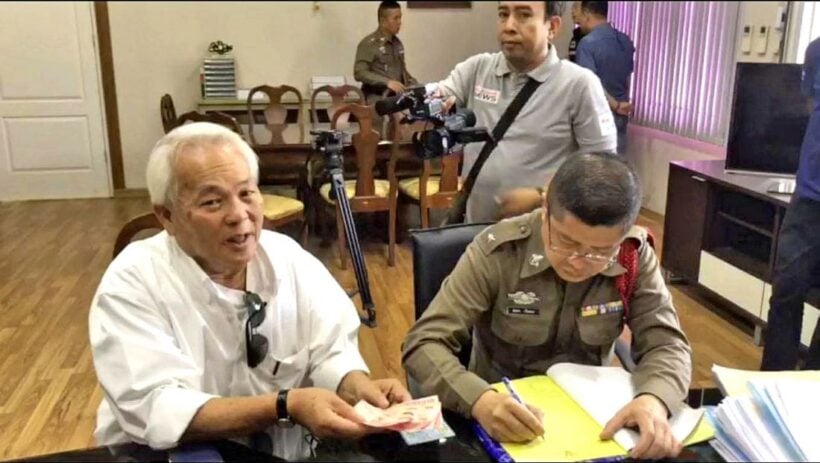 by Preewadi Khunnaklad. PHOTO: The Nation
A 72 year old white sedan driver, caught on camera as the person behind the wheel of a car blocking an ambulance on Sukhumvit Road in Chon Buri's Muang district, has been fined 500 baht as he acknowledged the charge of driving in a manner to block traffic.
Muang Chon Buri superintendent Pol Colonel Atinan Nuchanart says that Prawit Boonthaneepakorn, who was accompanied by his daughter and car owner, met the police superintendent to explain his side of the story on Thursday.
Read the original report and see the video HERE.
The elderly man claims he was 'astonished' by the siren and flashing lights and froze. As he paid the fine, the man said he apologised to the ill person in the ambulance and hoped the patient recovered quickly.
The incident, which was resolved by the ambulance having to push into another lane, was caught on camera and the clip went viral on Thai social media, attracting widespread criticism.
SOURCE: The Nation
Pattaya's reclaimed beaches are washing away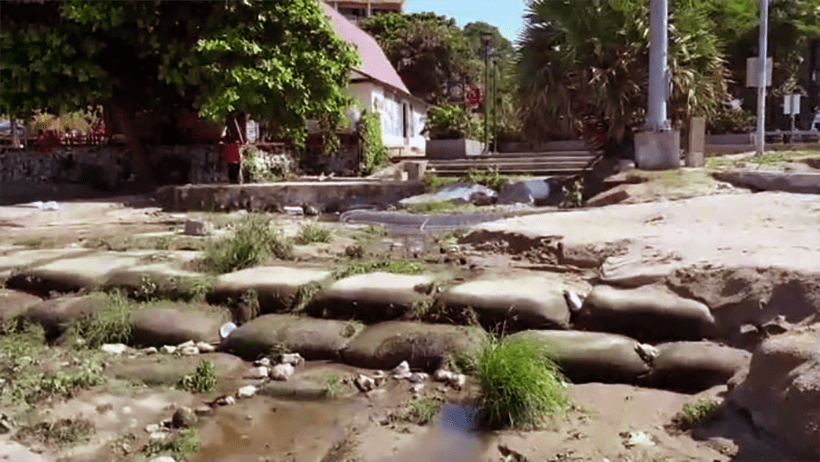 PHOTO: Pattaya Mail
All the money and effort Pattaya has spent to rebuild its beach is being wasted through little or no maintenance. This is the opinion shared with Pattaya News by tourists to the region.
Numerous visitors have told Pattaya Mail reporters about weeds, moss and water-filled gouges running through the northernmost part of the beach near the Dusit Thani Hotel in Pattaya.
They say the low-lying beach is suffering constant inundation from storm run-off flowing across the Beach Road and taking some of the new sand out to sea. The water is cutting channels into the newly replaced sand areas and wild grass and moss is growing there.
Additionally, tourists say there is uncollected rubbish which is rotting there as well. Tourists and expats point out that Pattaya has spent more than a 500 million baht to repair its beach, but aren't spending the relatively little money to keep it looking beautiful.

Beach reclamation underway. PHOTO: The Nation
SOURCE: Pattaya Mail