New Camry Hybrid provides luxury in a larger model with electric advantages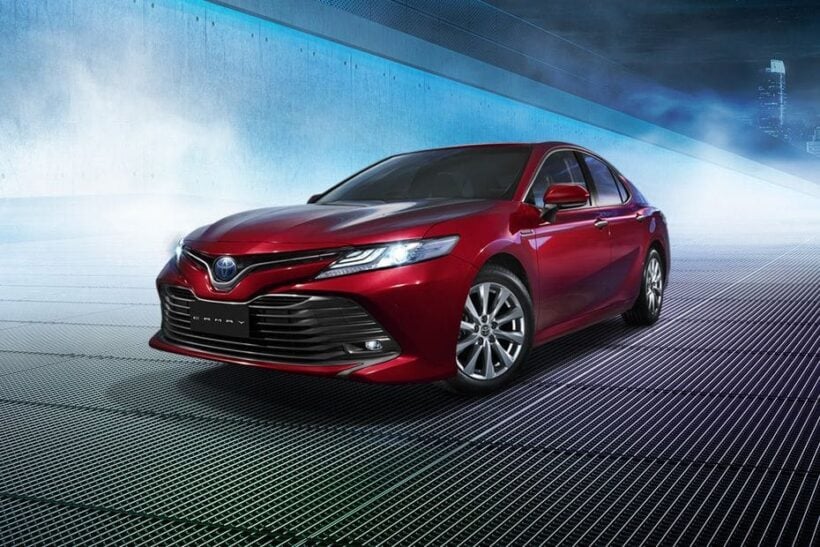 by Kingsley Wijayasinha – The Nation Weekend
The interest in electric cars is hotting up in Thailand but Thai manufacturers, so far, have been reluctant to take the FULL electric plunge.
In the meantime Toyota is hoping their new Camry Hybrid will draw a good number of customers thanks to its packaging overhaul. The hybrid is battery operated with a back-up petrol engine to boost performance and help recharge the batteries.
The 2.5 HV Premium hybrid, priced at 1.799 million baht, is the top Camry model in Thailand and brings to mind Lexus, Toyota's luxury brand. And then there is also choice between the traditional petrol-engined 2.5-litre (1.539 million baht) and 2.0-litre (1.445 million baht) powerhouses.
The 2018 Camry boasts large body dimensions – 4,885 millimetres in length and 1,844mm in width. The wheelbase is 2,825mm (50mm longer than the previous model) and the car runs on 215/55 tires on 17-inch alloy wheels.
While the exterior design may appear provoking, with its unnaturally huge and aggressive front grill and muscular dimensions, the interior is furnished with high-quality genuine leather upholstery along with artificial leather, powered front seats with memory for the driver's seat and steering positions.
The larger dimensions result in a larger cabin both front and rear, while the seats are comfortable too. The cabin is the total opposite of the previous model, which wasn't so flashy. And that's something you would expect from Toyota. But with the new Camry, the thinking has changed much – it just reminds me of the Lexus ES300 (which actually shares the same TNGA platform).
While the Lexus gets a Mark Levinson sound system, the Camry gets a JBL DVD with navigation system, eight-inch touch screen and nine speakers (including subwoofer), as well as T-Connect Telematics that connect easily. There is one USB port in front and two at the rear.
The driver gets a head-up display on the windshield and there's a full package of smart safety systems including blind-spot monitor and rear cross-traffic alert, auto high beam and lane departure alert. There's also a dynamic radar cruise control that slows down or speeds up depending on the vehicle in front.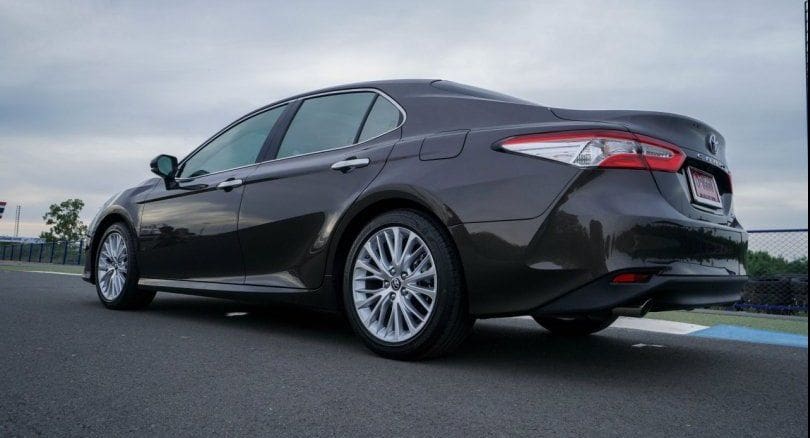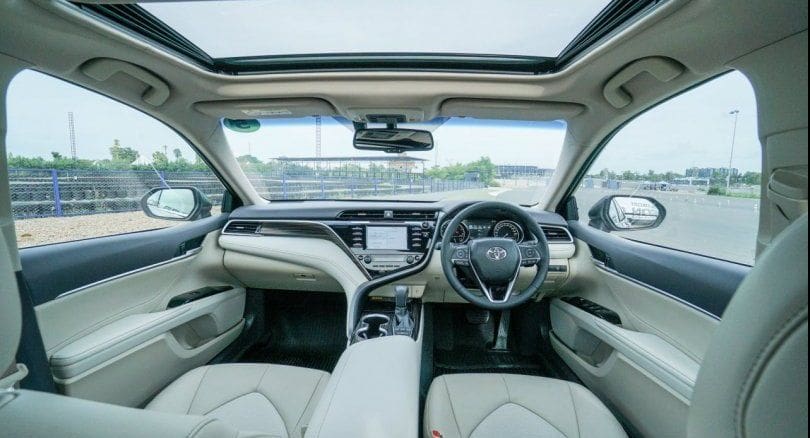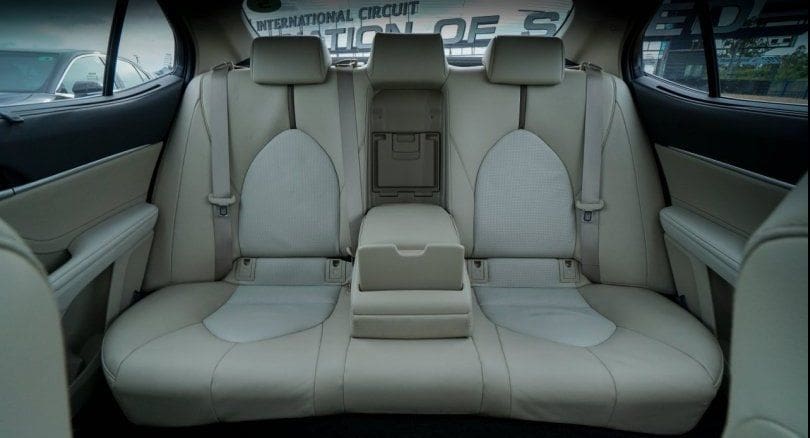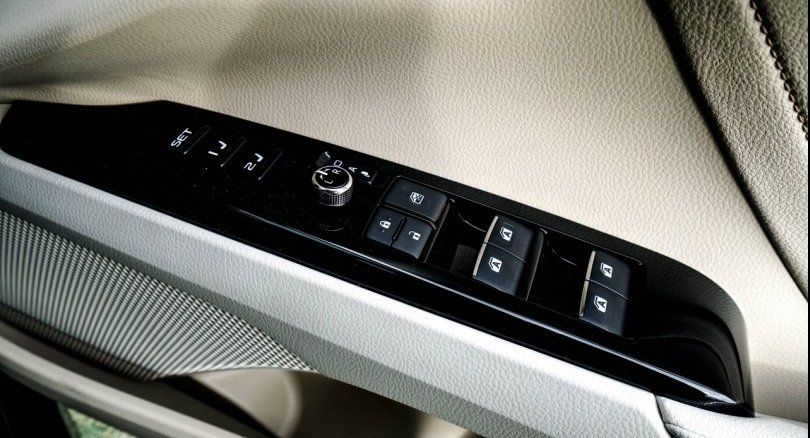 It's a pity that Toyota hasn't decided to offer a plug-in version of its hybrid products. The Camry gets into pure EV mode occasionally, for example after pressing the start button, but the nickel metal hydride battery's capacity isn't large enough to cover long distances.
Nevertheless, the fuel economy is pretty good since it's a hybrid – Toyota claims it can achieve an average of 25km/litre in combined city and highway driving mode.
The efficient 2.5 gasoline engine in the Camry Hybrid pumps out 178 horsepower and 221Nm, while the electric motor is capable of producing another 88 horsepower and 202Nm (though the combined engine and motor output is limited to 211 horsepower). When that happens, the Camry was able to raise eyebrows with its powerful straight-line acceleration, and it gets even better when the sport button is pushed. The stepless E-CVT (Electronic Continuously Variable Transmission) is silky smooth and gives the Camry Hybrid a cultured performance.
Despite the powerful acceleration, the hybrid is 100 kilograms heavier than the 2.5-litre version, and the driver will easily feel the added weight during cornering. Make a normal U-turn and you can feel it's a pretty heavy car.
On the other hand, the Camry 2.5G (which I also drove after the hybrid) has a better weight balance and cuts through corners easily. But even in sport mode, the power and response is incomparable to the hybrid when both the engine and motor is going full rev.
The steering isn't too sharp, but offers decent precision and weight. The brakes, meanwhile, have and improved feel although it still takes some getting used to due to the energy regenerative system that turns deceleration forces into electric energy.
After a few days of driving both the Toyota Camry 2.5HV Hybrid and the 2.5G, it was the hybrid that offered a better and more complete package even with the higher pricing.
Toyota Camry 2.5 HV Premium specs
Engine: 4-cylinder DOHC 16-valve
Displacement: 2,487cc
Bore and stroke: 87x103mm
Compression ratio: 14.0:1
Max power: 178ps/5,700rpm
Max torque: 221Nm/3,600-5,200rpm
Motor Generator: Permanent Magnet Synchronous Motor
Hybrid Main Battery: Nickel Metal Hydride
Capacity: 6.5 A/hr
Max power: 88ps
Max torque: 202Nm
Combined engine and motor max power: 211ps
Transmission: E-CVT (Electronically-controlled Continuously Variable Transmission)
Final drive ratio: 3.193
Average fuel economy: 25km/litre
Average CO2: 92g/km
Suspension (f/r): McPherson strut/double wishbone
Steering: powered rack-and-pinion
Turning circle: n/a
Brakes (f/r): vented disc/disc
Dimensions (mm)
Length: 4,885
Width: 1,840
Height: 1,445
Wheelbase: 2,825
Track (f/r): n/a
Weight: 1,650kg
Wheels: 17-inch alloys
Tyres: 215/55 R17
Fuel tank capacity: 50 litres
Price: Bt1.799 million
Distributor: Toyota Motor Thailand Co Ltd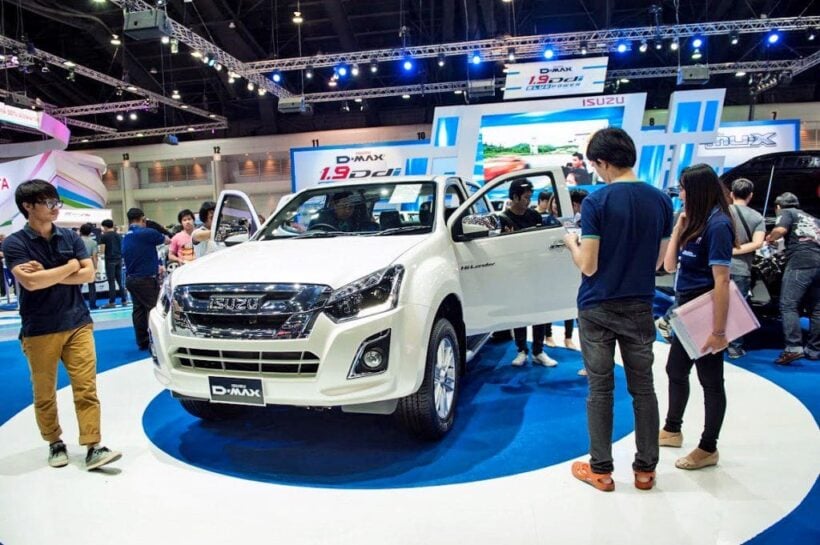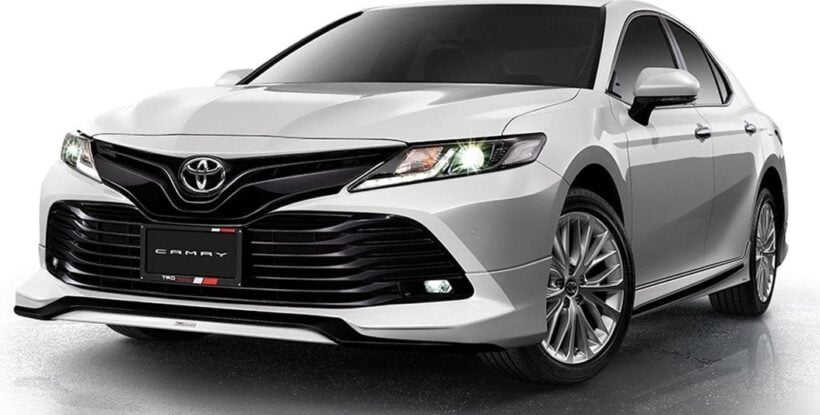 Keep in contact with The Thaiger by following our
Facebook page
.
Never miss out on future posts by
following The Thaiger
.
Court orders suspension of Thai TV news channel during political protests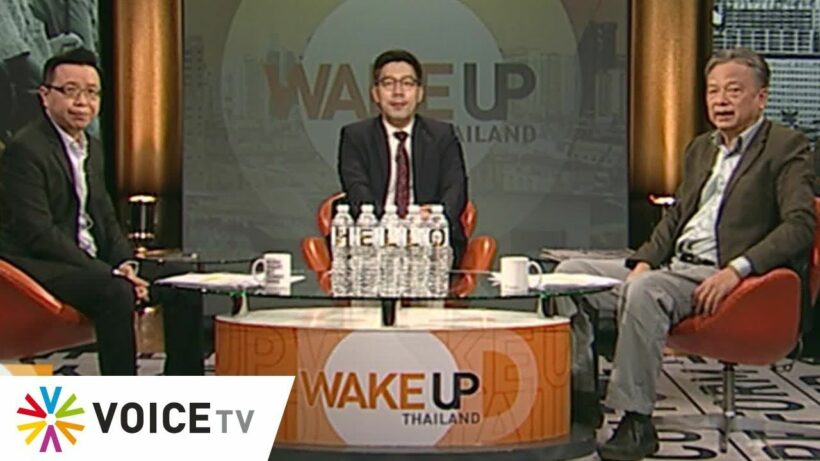 The Criminal Court has agreed to suspend the Thai media company Voice TV for allegedly violating the State of Emergency orders which prohibit media content "considered to be a threat to national security".
Talk about the Voice TV shut down has been circulating on social media. It's not the first time the network has come to the attention of the NCPO, in the past, and the current government. Reuters reporters confirmed the claims with digital ministry spokesperson Putchapong Nodthaisong who said "Voice TV will be suspended". The order applies to all of the company's online platforms, including social media accounts.
The media company also allegedly violated Thailand's Computer Crime Act by spreading "false information," the spokesperson says.
The Chief Executive Officer of Voice TV, Mekkin Phetchapa, posted a statement on the company's Facebook page saying the court ordered to close all of the platforms associated with the media company, but Voice TV has not received any documents yet.
"Voice TV confirms that what we are holding on to as a professional duty. Media has no distortion, misleading or destroying public security and peace."
Mekkin says that for the past 11 years, Voice TV has been openly transparent and responsible for the facts from all parties.
"Let power and responsibility be righteous."
The State of Emergency banning public gatherings of more than 5 people was imposed in the early hours of last Thursday morning, leading up to the breaking up a pro-democracy protest 'camp' outside the Government House in Bangkok. The order also bans news or online messaging that "could harm national security."
"It is extremely necessary to introduce an urgent measure to end this situation effectively and promptly to maintain peace and order."
"Publication of news, other media, and electronic information that contains messages that could create fear or intentionally distort information, creating misunderstanding that will affect national security or peace and order."
Since the decree was announced, police have threatened a crack down on local media outlets covering the pro-democracy protests as well as an activist Facebook group saying they pose a "threat to national security."
A document, signed by National Police Chief Suwat Jangyodsuk, was leaked and circulated on social media. It requested the Telecommunications Commission and Digital Economy and Society Ministry to ban The Standard, The Reporters, Voice TV, Prachatai and the Free Youth movement Facebook page. There have been no reports about the other media outlets being suspended at this stage.
SOURCE: Reuters| Facebook: Voice TV
Keep in contact with The Thaiger by following our
Facebook page
.
Never miss out on future posts by
following The Thaiger
.
House Speaker confirms agreement for special parliamentary session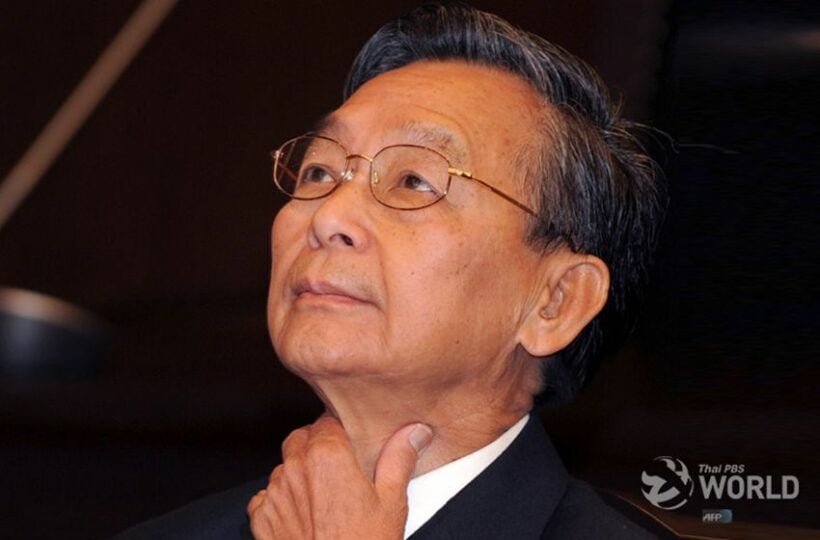 The Speaker of the lower house of Parliament has confirmed that there is cross-party agreement for an extraordinary parliamentary session to be convened in the wake of the ongoing political unrest in Thailand. Chuan Leekpai has notified PM Prayut Chan-o-cha of the agreement to hold the special session in a bid to seek a resolution to the conflict. Anti-government protests have been taking place all over the country since mid-July and, while all have been peaceful, rallies are increasing in size and frequency. Activists are pitching a 10-point manifesto, with demands including the resignation of the PM, the dissolution of parliament and the holding of fresh elections, as well as a re-drafting of the constitution.
In his letter to the PM, Chuan calls on the cabinet to back the announcement of a Royal Decree, which will declare the opening of the special session. He proposes an initial general debate, with no voting requirement, so that MPs and senators can express their opinions and work to find a solution to the current impasse. The PM has already voiced his support for an extraordinary session of parliament.
Meanwhile, a number of opposition figures are calling for the state of emergency imposed on Bangkok to be lifted, declaring its implementation illegal and unnecessary. They are threatening legal action against the government if this proves to be the case, with the Pheu Thai Party renewing its calls for the PM's resignation.
SOURCE: Thai PBS World
Keep in contact with The Thaiger by following our
Facebook page
.
Never miss out on future posts by
following The Thaiger
.
Police threaten jail time for anyone taking selfies at protests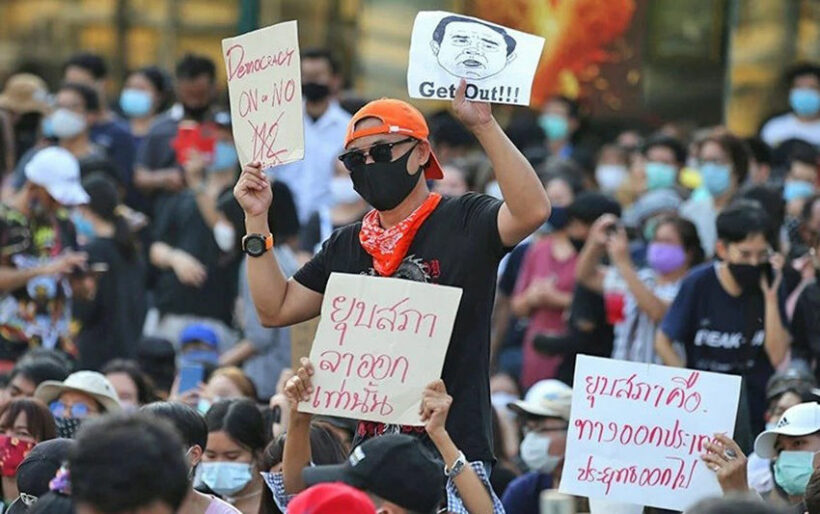 The State of Emergency recently imposed on Bangkok amid escalating political unrest carries some sweeping powers, some of them rather creative. According to a report in Coconuts, police are warning that anyone taking a selfie at anti-government protests is risking 2 years in jail and a fine of up to 40,000 baht. You'd have to really want that photo…
The emergency decree is being invoked in everything, from the arrests of protesters and their leaders, to the threat of restrictions being slapped on media outlets whose reporting is deemed unfavourable.
"We are under the severe state of emergency, which is a special law. We must hold this law seriously. Everything we do is under international standards."
Meanwhile, the latest clampdown has led to the arrest (and subsequent temporary release) of one doctor and the firing of another. After riot police in Bangkok used water cannons laced with chemicals to disperse a protest on Friday, around 400 Thai doctors called on officials to refrain from using such irritants against activists.
Jarosdao Rimpanichkit, a doctor at Bangkok's Mongkutwattana General Hospital, was promptly fired for having put his name to the letter. In a statement, the director of the military hospital, General Rientong Nanna, says the facility could not support employees who are, "allied with the king's enemies."
Meanwhile, another doctor, Tossaporn Serirak, has been released on bail after being arrested for violating the emergency decree. Tossaporn has become something of a hero figure to pro-democracy activists, after he began offering medical assistance at rallies and criticising officials for the tactics used against peaceful protesters.
SOURCE: Coconuts
Keep in contact with The Thaiger by following our
Facebook page
.
Never miss out on future posts by
following The Thaiger
.