Thailand
National park officials in Chachoengsao search for elephant critically injured from gunshots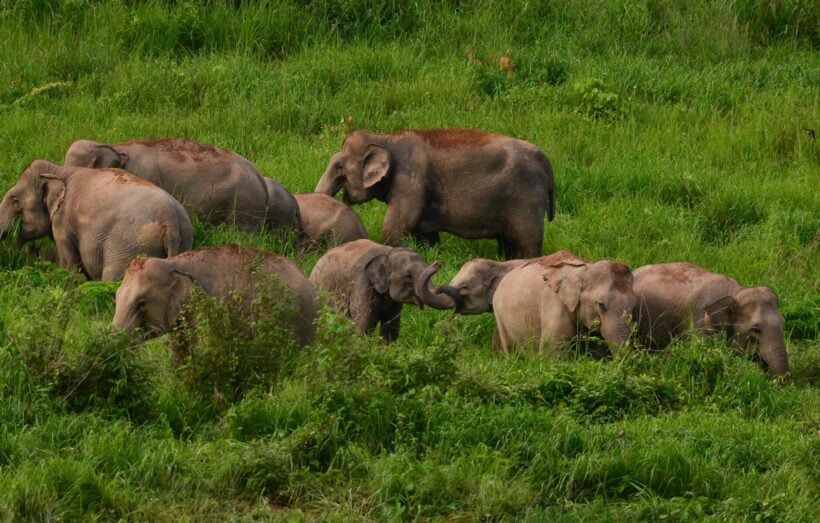 Thailand's National Park Service team and veterinarians are working hard to find a wild elephant, known as "Plai Noo Sing," who was shot several times and critically injured in a forest in Chachoengsao, east of Bangkok.
Since last week, officials from Khao Ang Rue Nai Wildlife Sanctuary have been on the lookout for a 20 year old wild elephant who was shot 10 times with dozens of shotguns by a villager in Sanam Chai Khet district and escaped into the forest with the help of its herd of about 100 elephants.
According to a local source, the elephant was occasionally spotted wandering around palm and sugar cane farms with its herd to scavenge for food, causing damage to the plantation.
Dr Sunita Wingwon, a veterinarian from the Protected Areas Regional Office 2 in the Si Racha district of Chon Buri, led a veterinary team to the sanctuary on Monday, where they used drones to help find the injured elephant seen walking with other elephants in a nearby forest area.
Shotgun bullets were discovered all over the body, including the middle of the back, the sides of the neck, perforated ears, two front legs, and the trunk, based on drone photographs.
Although Plai Noo Sing used his trunk to suck up the mud and heal the cut in the middle of his back, others may cause serious inflammation, especially the wound in the centre of the back could spread to the spine, according to Dr. Sunita.
"In this case, the officer must seek medical attention immediately because the harm was caused by a human being rather than a natural illness. If left unattended, there is a risk to life. We wish to locate him as quickly as possible so that we could have a chance to heal him rather than leave him to suffer and die in the midst of the forest, which would be a tragic story".
SOURCE: News Directory