Moral and social media support pours in for leading medical marijuana researcher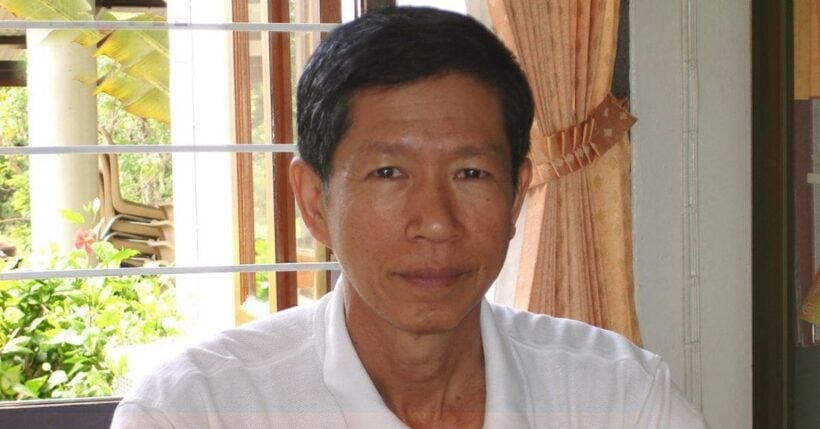 Khao Kwan Foundation president Decha Siripat has been receiving moral and social media support after a combined force of police, military and anti-narcotic officials raided the foundation's offices in Suphan Buri last Wednesday, seizing about 200 marijuana plants, cannabis oil, dried marijuana seeds and marijuana powder.
Some foundation staff were also held in police custody on charges of illegal possession of narcotics whilst a summons has been issued for Mr. Decha, requiring him to report to police in Suphan Buri to acknowledge a charge of illegal possession of narcotics.
The Khao Kwan Foundation president is currently in Laos on a study tour.
Thai PBS reports that former Thai senator, Rosana Tositrakul, said on her Facebook page that she has known Mr. Decha for over 30 years as a man who has dedicated his life to the development of Thai rice to fend off attempts by agro industry giants to gain a monopoly on Thai rice seed.
She added that Mr. Decha was also a campaigner for the reduction of the dependence on farm chemicals, and as a researcher in the use of marijuana for medical purposes used himself as a guinea pig for the testing of medicinal marijuana.
When it was proven to be safe and effective against certain ailments, he distributed the product to temples for free distribution to patients.
Ms. Rosana said she did not understand why the foundation was raided, despite the fact that marijuana has been removed from the List of Category 5 narcotic drugs, and questioned the motives of the officials, wondering whether the action was to benefit vested interests planning to monopolise the development and commercialisation of marijuana in Thailand.
Jana district hospital director, Dr. Supat Hasuwankit, also says he also suspected some hidden agenda.
"Arjarn Decha is a teacher of local wisdom and a brave leader whom the Public Health Ministry should support."
Former House speaker and rector of Rangsit University, Dr.Arthit Urairat, joined a chorus of netizens in voicing moral support for Decha, saying that cannabis oil was meant to help sick people and to ease their pain, but the Thai law is obsolete.
SOURCE: Thai PBS


Read more headlines, reports & breaking news in North East Thailand. Or catch up on your Thailand news.
Questions arise over specs of collapsed wall at school in Khon Kaen that killed 4 year old girl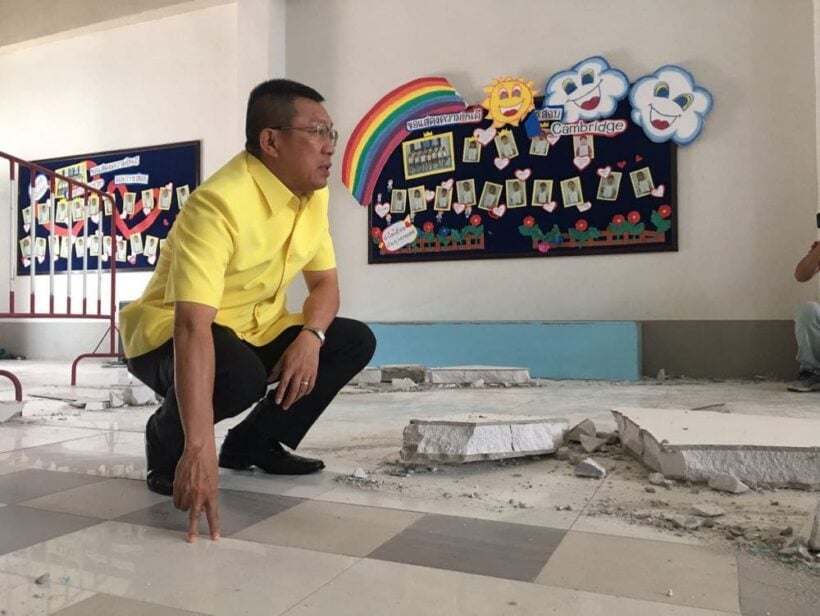 Khon Kaen's governor Somsak Jangtrakul today led police and related officials to inspect a private school building in Tambon Ban Ped in the main city area. The building had partially collapsed during Monday's hail and rain storm that hit the are, killing a four year old girl.

Somsak revealed that an initial investigation shows the building construction hadn't followed the approved plan and specifications.

During yesterday's summer storm around 4pm, three pre-school children were waiting for their parents with teachers at an open atrium in the three-storey building. A section from the top of the concrete wall suddenly fell on them from an 8 metre height, killing a 4 year old instantly and injuring two pupils and two adults, including the deceased girl's father.

An inspection of the cordoned off area, still littered with debris from the collapse, found the building's construction had deviated from the approved plan, said Somsak.

"The part where the concrete wall and ceiling fell down should have been a solid wall according to the plan, but was installed with glass windows," he said citing that a team from the Public Works and Town and Country Planning Office would later conduct a detailed inspection of the building.

In order to prevent a recurrence of the tragedy, Somsak said he would also have the provincial education office suspended classes at the school, and the damaged building would be closed to any use. He would also ask the provincial education office to have all schools check the structural stability of their buildings as a safety precaution.

Thanyawalai Panna, who had obtained the licence for the school, apologised on behalf of the school for the tragedy and said she was saddened by what had happened. She said the school would take responsibility for the affected families of the deceased and the wounded.

However, she insisted that the school building's construction was according to the original plan.

Ban Ped superintendent Pol Colonel Prawit Toha said police had initially interviewed the school executives but hadn't yet filed any charges against anyone pending a detailed building inspection.

Police would obtain the plan from Tambon Ban Ped Municipality to compare with the school building owner's plan to see if there were any discrepancies, he said.

Construction of the building began in 2013 and was completed the following year and opened for operations. There were 40 teachers and staff and nearly 400 students from pre-school level to Prathom 4.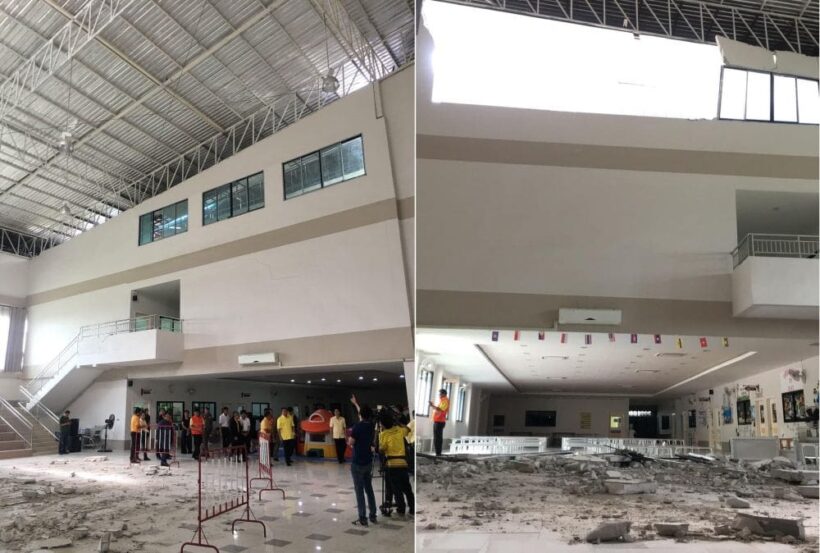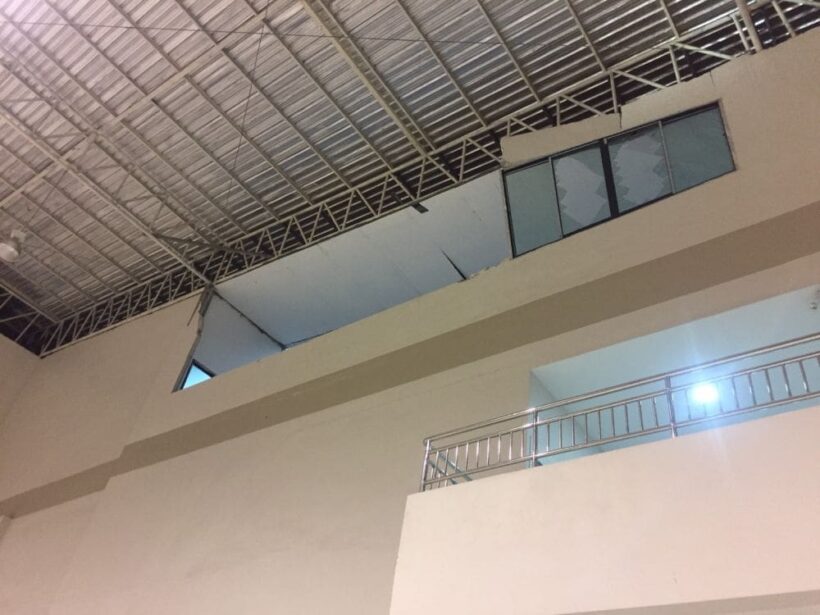 SOURCE: The Nation
Elderly mother of murdered Thai woman is seeking help to bring her daughter's body home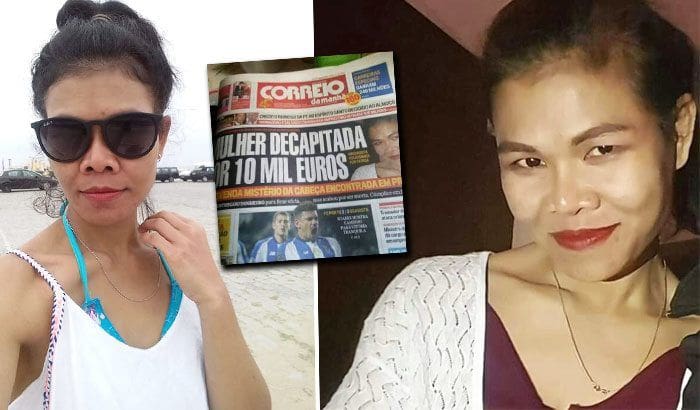 PHOTO: Matichononline
The family of a Thai woman murdered in northern Portugal in March is now calling for assistance with the cost of repatriating the body back to Thailand.
According to Portuguese media the woman, Natchaya Saranyaphat, was murdered on March 7 by another Thai woman. Natchaya's head was found on the Leca da Palmeira beach, 300 kilometres north of Lisbon on the Atlantic coast.
The dead woman's 76 year old mother from the north-eastern Surin province says that Natchaya was the youngest of her five children. She says her daughter had been working in Portugal and been sending back up to 6,000 per month. Another Thai woman, Sangam Sawaiprkhon, has since been arrested in Portugal as a suspect in the murder of Natchaya, allegedly over a disagreement about 358,000 baht. They had jointly invested in a massage shop in Portugal.
The woman's elderly mother says she needs help from the provincial or Thai government as her family is very poor and unable to pay for the retune of her daughter's body for burial.
A Ministry of Foreign Affairs spokesperson says they had received a report from the Royal Thai embassy in Lisbon and local police about the murder and the arrest of the Thai suspect in Portugal.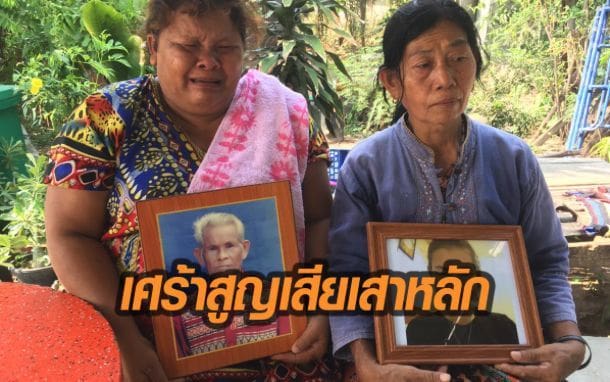 Forecast drought will weaken the Thai economy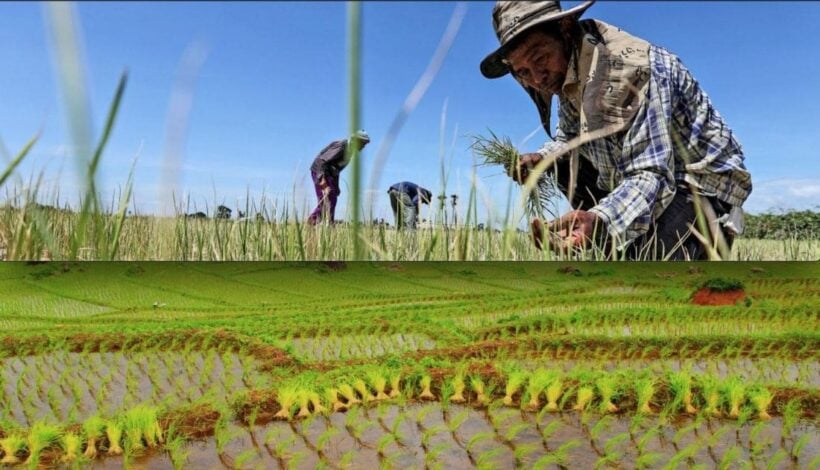 Thailand suffers calamities at both ends of the annual weather spectrum – both drought and flood. But as the demands on agriculture grow, with a growing population and the rise of tourists and development, the effects of these two extremes are becoming more apparent.
Which leads us to this year's outlook of lower rains which is exposing the poor management of the Kingdom's water resources. Greater development and growing population bases hasn't been met with more or larger water catchments.
So Thai farmers are expected to face a tough 2019 as forecasters say the drought will be more acute than usual, lowering the water levels in reservoirs in the central and northeastern provinces especially.
Int eh south, Phuket, Thailand's largest island and surrounded by water, has an acute water shortage as of Songkran and, without adequate monsoonal rain between now and November, will be facing a water crisis if it has to rely on its own island resources.
The Director General of Department of Agricultural Extension Samran Saraban says the drought this year is exacerbated by El-Nino weather cycle which causes temperature to rise 1-2 degrees higher than normal and cause the water levels in major reservoirs to drop to worrisome level. Higher temperatures mean more evaporation and more usage of reserves.
The Thai PM Prayut Chan-o-cha has called for farmers not to grow off-season rice as drought is predicted to spread into northeastern and eastern regions. That there will likely be a new administration coping with political instability will not help leaders focus on the country's looming water shortage.
The long dry season will lower certain farm outputs, pushing up their prices. However, an overall farm income is set to decline because the drought will leave other negative affects to farmers who are also the consumers as well. This will affect the purchasing power of farm households, which account for one-third of Thais.
Etc, etc, etc.
Economists estimated the damage from the drought on the economy this year could be high. Kasikorn Research Center estimate the drought could cost at least 15.3 billion baht. Whilst Anusorn Tamajai, Dean of Economics Faculty, Rangsit University, estimates the drought to cost even more – 20-30 billion baht -because it would affect the outputs of off-season rice, sugarcane and tapioca.
"It will dampen the purchasing power of farmers in the second quarter."
Siam Commercial Bank's Economic Intelligence chief Yanyong Thaicharoen said that the lackluster farm income can slash the growth rate of domestic consumption this year to 3.5% versus 4.6% growth last year, in addition to other factors, namely, high household debt and slower demand for durable goods.
Spending power from farmers, according to SCB, is crucial to sustain the growth of the economy. However, the grassroots economy is bracing for negative outlook this year.
There will be intense pressure on this season's management of Thailand's valuable water resources, through the remaining hot season and as the catchments gather water during the monsoon.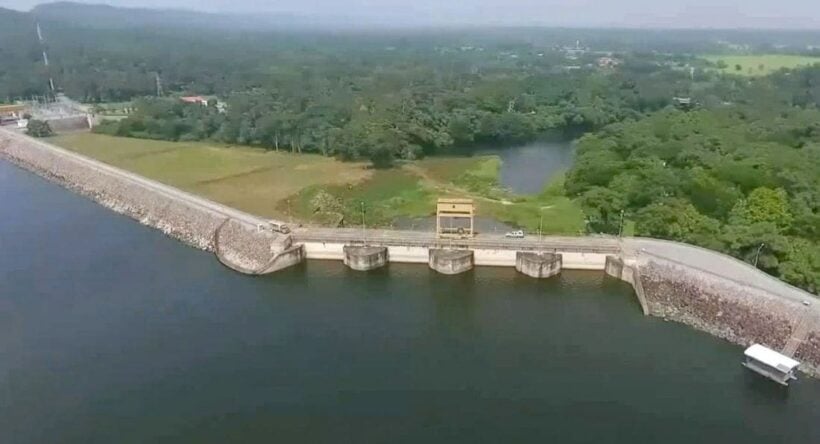 SOURCES: Thai PBS | The Thaiger | Wikipedia