King Bhumibol Adulyadej – an enduring legacy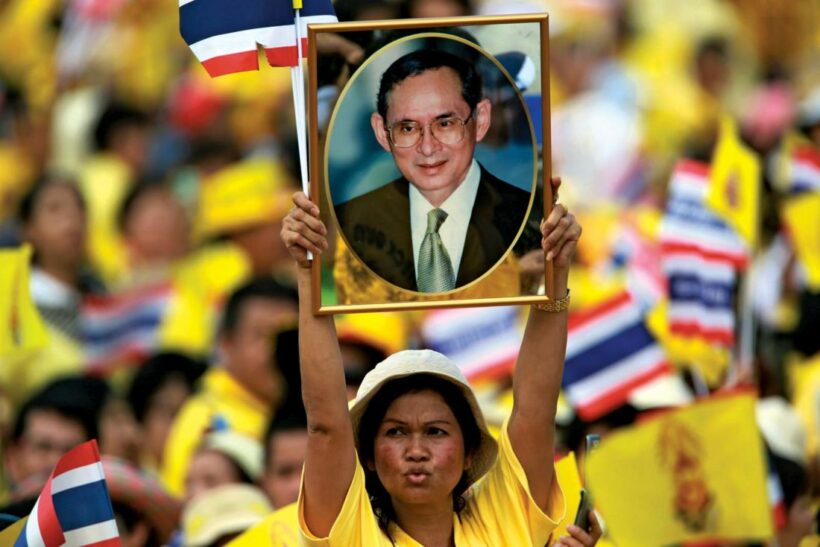 His Majesty King Bhumibol Adulyadej (December 5, 1927 – October 13, 2016) was Thailand's monarch for just over 70 years. At the time of his passing in 2016, King Bhumibol was world's longest-serving head of state and the longest-reigning monarch in Thai history. Amongst his many other gifts, he was was revered as a calming and compassionate influence overseeing Thailand's stormy political history in the second half of the 20th century.
He was the ninth king of the Chakri dynasty and is also referred to as Rama IX.
Bhumibol's early days
Bhumibol Adulyadej was born on December 5, 1927, in Massachusetts, USA. As the second son born to his parents, and because his birth took place outside of Thailand, young Bhumibol was never expected to ascend Thailand's throne. His reign came about only after his older brother's mysterious death.
His father, Prince Mahidol Adulyadej, was studying for a public health certificate at Harvard University. His mother, Princess Srinagarindra, was studying nursing at the same time.
When Bhumibol was one a year old the family returned to Thailand, where his father took up an internship in a hospital in Chiang Mai. Prince Mahidol died of kidney and liver failure in September 1929.
Thailand's democratic revolution
In 1932, a coalition of military officers and civil servants staged a bloodless coup against King Rama VII. The Revolution of 1932 ended the Chakri dynasty's absolute rule and created a Thai constitutional monarchy. Princess Srinagarindra took her two young sons and daughter to Switzerland a year later where the children were placed in Swiss schools for their early education.
In March 1935, King Rama VII abdicated leaving his 9 year old nephew, Bhumibol Adulyadej's older brother Ananda Mahidol as Thailand's new monarch. But the child-king and his siblings remained in Switzerland due to his young age and nascent political developments in Thailand. Two regents ruled the kingdom in his name. Ananda returned to Thailand in 1938 but his brother Bhumibol continued his schooling in Switzerland until 1945 .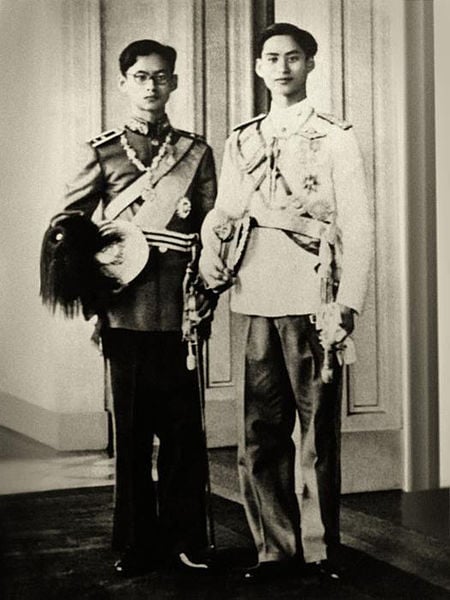 PHOTO: King Mahidol Adulyadej and his younger brother Bhumibol Adulyadej
On June 9, 1946, the young King Mahidol was killed in his palace bedroom from a single gunshot wound to the head. Two royal pages and the king's personal secretary were convicted of assassination and executed although controversy still swirls around the incident.
Bhumibol returned to the University of Lausanne in Switzerland to complete his degree and his uncle was appointed Regent, ruling in his place in Thailand.
Marriage to Queen Sirikit
The young King Bhumibol met the daughter of the Thai ambassador to France, a student named Mom Rajawongse Sirikit Kiriyakara, during a visit to Paris. Adulyadej and Sirikit began a courtship some time in 1946.
In October 1948, Adulyadej crashed into a truck and was seriously injured, losing his right eye and suffering back injuries. Sirikit spent a lot of time nursing and entertaining the convalescing king. King Bhumibol's mother encouraged Sirikit to transfer to a school in Lausanne so that she could continue her studies and spend more time with the young King.
Adulyadej and Sirikit were married in Bangkok on April 28, 1950. She was 17 and he was 22 years old. The king was officially crowned a week later and became King Bhumibol Adulyadej.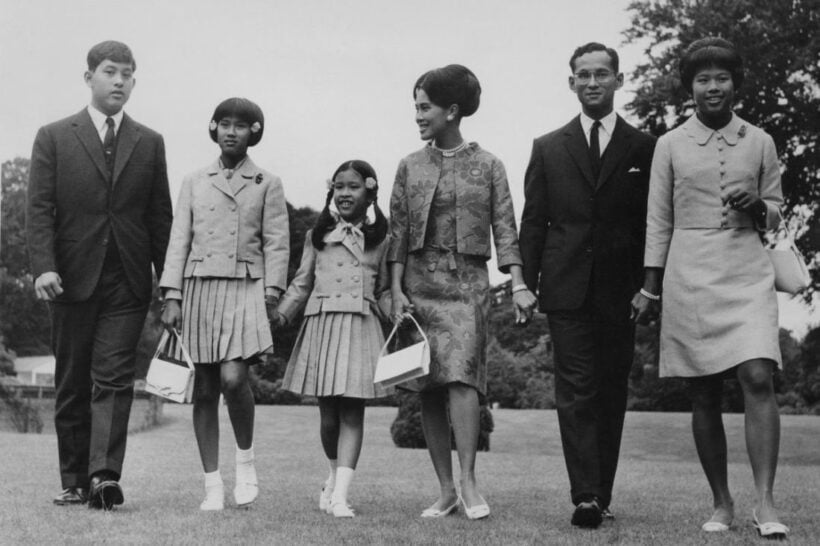 PHOTO: King Bhumibol Adulyadej, Queen Sirikit and his four children (a young Prince Maha Vajiralongkorn on the left)
Half a century of military dictatorships
In the early days of his reign Thailand was ruled by a military dictator, Plaek Pibulsonggram, until 1957. Then the first of a series of coups, which would dog the Kingdom for the second half of the 20th century, removed him from office. The King declared martial law ending with a new military dictatorship formed under a trusted ally of King Bhumibol, Sarit Dhanarajata.
During the next phase of his rule the young King would revive many abandoned Chakri traditions, including the need for subjects and staff to kowtow – bowing and keeping their head below the monarch. He also started to make public appearances around the Kingdom – an activity which would become a hallmark of his reign, significantly reviving the prestige of the Thai monarchy and staying of the royal family.
Coups took place in 1963, 1977, 1980, 1981, 1985, and 1991 (and more in the 21st century). Although King Bhumibol worked hard to remain above politics, he refused to support the 1981 and 1985 coups, and was seen as a settling influence in the swirling political events.
Democratic governments
When a military coup leader was selected as PM in May 1992, huge protests broke out around Thailand. Known as 'Black May', the demonstrations turned into riots. Fearing a civil war, Kong Bhumibol called the coup and opposition leaders to a televised audience at the palace.
Adulyadej pressured the coup leader to resign. New elections were called and a civilian government was elected. This intervention was the beginning of civilian-led democracy that has continued, with a few military interruptions, to this day, most notably the intervention of the military in a coup in 2014 when the National Committee for Peace and Order seized power.
King Bhumibol's image as an advocate for the Thai people, reluctantly intervening in the political fray to protect his subjects, became an enduring legacy.
Death
Since 2006, King Bhumibol suffered a number of health issues and was hospitalised frequently. He died at the Siriraj hospital in Bangkok on October 16, 2016. Crown prince Maha Vajiralongkorn became the 10th King of the Chakri Dynasty, and his official coronation was held between May 4-6, 2019.
Although Bhumibol was never intended to be Thailand's king, he is lovingly remembered as a successful and beloved Thai monarch, who helped calm successive political turbulence over the seven decades of his reign.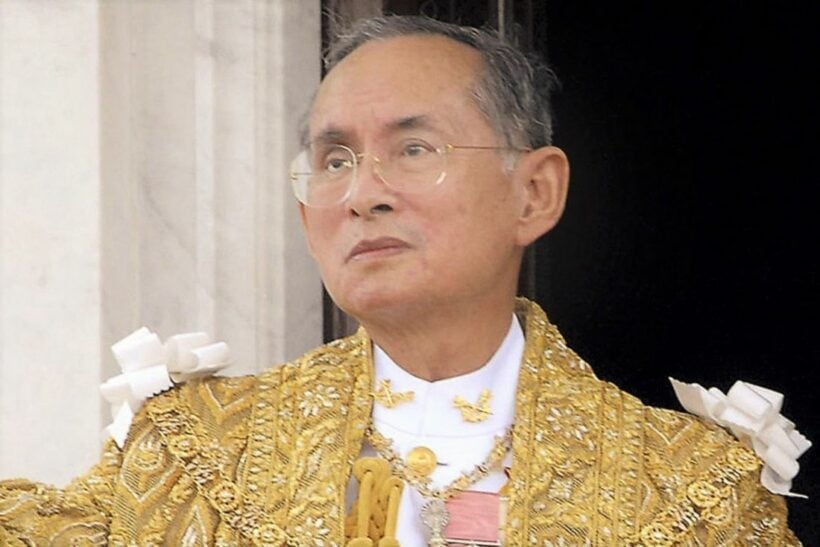 Keep in contact with The Thaiger by following our
Facebook page
.


Have something to say? Scroll down to leave a comment, or visit our Thaiger Thailand Q&A Forum to discuss people, events, to-do and more with the local community.

Read more headlines, reports & breaking news in Thailand. Or catch up on your Thailand news.

Two new SV 14 boats donated to Disabled Sailing Thailand in Phuket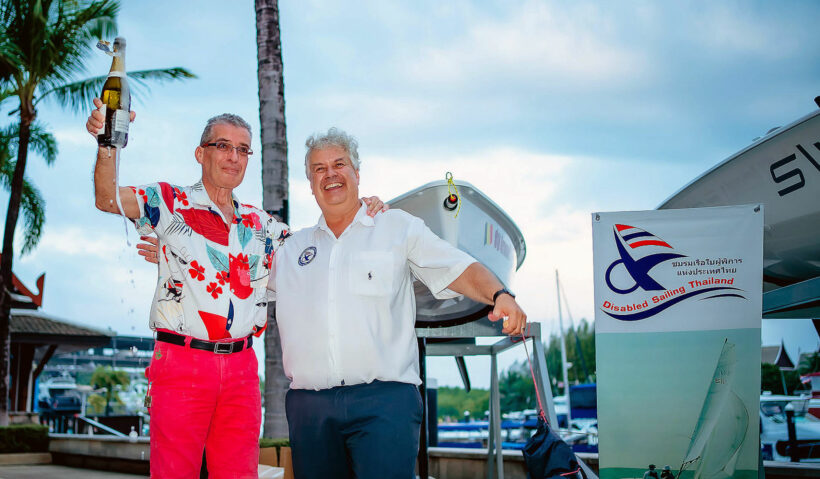 Two new sailing boats have been added to the Phuket fleet of Disabled Sailing Thailand. Two boats have been launched, the S\V Arnaud 1 and S\V Arnaud 2, named after long-time Phuket expat and philanthropist, Arnaud C. Verstraete.
The two 14 foot S\V14 sailing dinghies are designed to be sailed by people with disabilities and will support Disabled Sailing Thailand's goal to make sailing a sport easily accessible for everyone.
Arnaud kindly donated them to Disabled Sailing Thailand and was present to celebrate their launching in Phuket recently.
"I've been following Disabled Sailing Thailand with interest for some time. What they are doing, providing opportunities to people with disabilities that never before existed, is a great thing and something I am proud to support. It's not only about sailing though, it's about building people's self-confidence and giving people with disabilities the feeling of freedom and enjoyment."
Disabled Sailing Thailand was established in 2015 with the aim to provide people with disabilities the opportunity to experience sailing in a safe environment, empowering them and giving them the freedom and mobility on-the-water that is often lacking in their lives onshore.
The availability of these boats in Phuket is part of an ongoing effort to make the island a more accessible destination for people with disabilities. They will appeal to international travellers with disabilities who are looking for safe and accessible activities to enjoy while traveling, as well as to professional Para Sailors from around the world who can now come and train in Phuket.
Disabled Sailing Thailand's Founder, Peter Jacops says the kind donation of the two brand-new S\V14s by Arnaud will make a big difference to sailing in Phuket.
"Currently, there are very few boats in Thailand that are suitable for para sailors and the S\V14 is a perfect sailing dinghy for novice or professional. These two new boats means our fleet in Phuket now totals four and we will be able to offer more fun sailing opportunities for people with disabilities on the island."
For more information about Disabled Sailing Thailand and the S\V14, visit disabledsailingthailand.org and sv14.org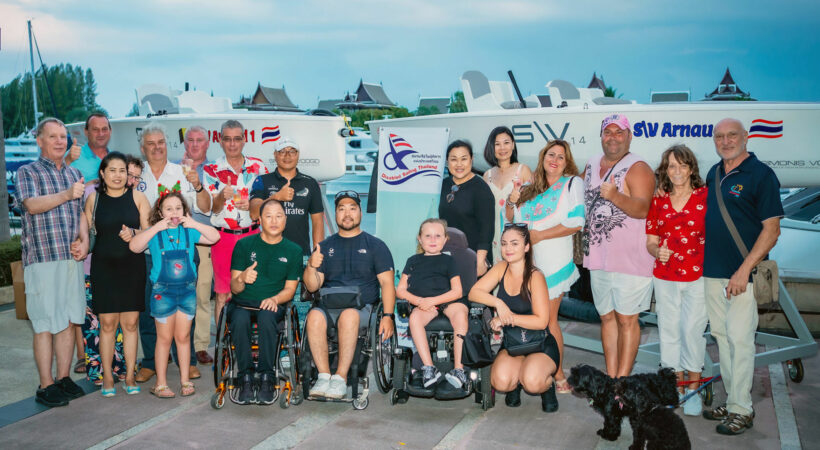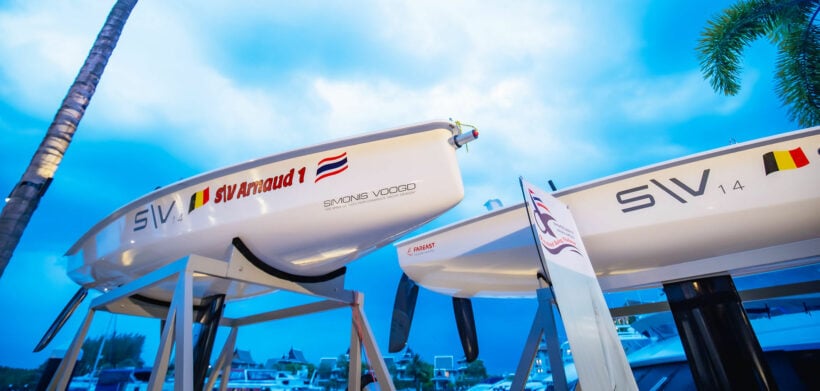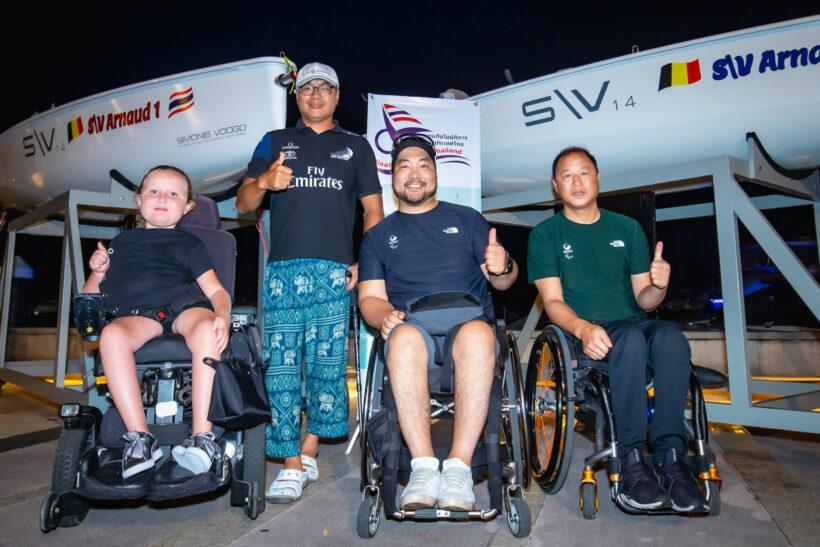 Keep in contact with The Thaiger by following our
Facebook page
.
Tesla's Elon Musk wins defamation trial over 'pedo guy' tweet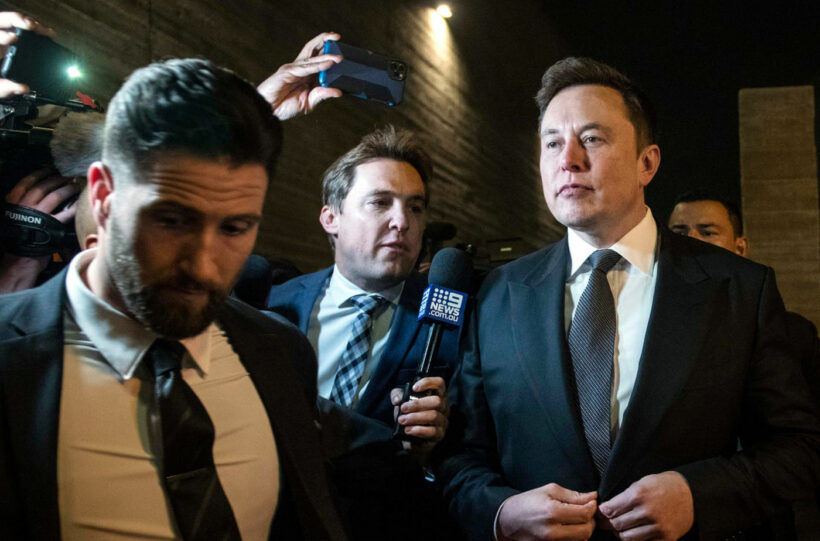 PHOTO: Christian Monterrosa/EPA
"My client went toe to toe with a billionaire bully."
Tesla's mercurial Elon Musk has emerged victorious after a defamation trial as a federal court jury swiftly rejected the US$190 million claim brought against him by a British cave explorer, Vernon Unsworth, who Musk branded a "pedo guy" on Twitter. The incident happened during the attempts to rescue the 13 young football players from the Tham Luang cave in Chiang Rai in July 2018.
The unanimous verdict by a jury of five women and three men was returned after roughly 45 minutes of deliberation on the fourth day of Musk's trial. The case has been closely watched by legal experts because it is believed to be the first major defamation lawsuit by a private individual to go to trial over statements made on the Twitter platform.
Musk shook hands with his lawyer after the four-day trial in LA. He didn't address Mr. Unsworth, whose team had told the court earlier on Friday the Tesla CEO should pay at least US$190 million in damages for his tweets about the diver.
Meanwhile, 64 year old Vernon Unsworth spoke outside the courthouse saying that he was resigned to his defeat.
"I accept the jury's verdict, take it on the chin and get on with my life."
L. Lin Wood, a high-profile trial lawyer, leading the legal team for the plaintiff Vernon Unsworth, says the jury's decision signals a higher legal threshold for challenging libelous material on social media.
"The challenge that was thrown down by Elon Musk was that if you don't sue it's true. We sued because it's false."
"This verdict puts everyone's reputation at risk."
The outcome was a triumph for Musk, whose fickle behaviour in a number of instances last year came under close scrutiny from federal regulators and shareholders of Tesla, his Silicon Valley-based electric car manufacturer.
48 year old Musk, who had testified during the first two days of the trial in his own defence and returned to court on Friday to hear closing arguments, exited the courtroom after the verdict."
"My faith in humanity is restored."
Unsworth's lawyer says he nevertheless saw the lawsuit as meaningful in helping erase the stain he said his client's reputation suffered.
SOURCE: Thai PBS World | The Guardian
Keep in contact with The Thaiger by following our
Facebook page
.
A Thai grandmother, a stroke, four dogs and a cat = musical magic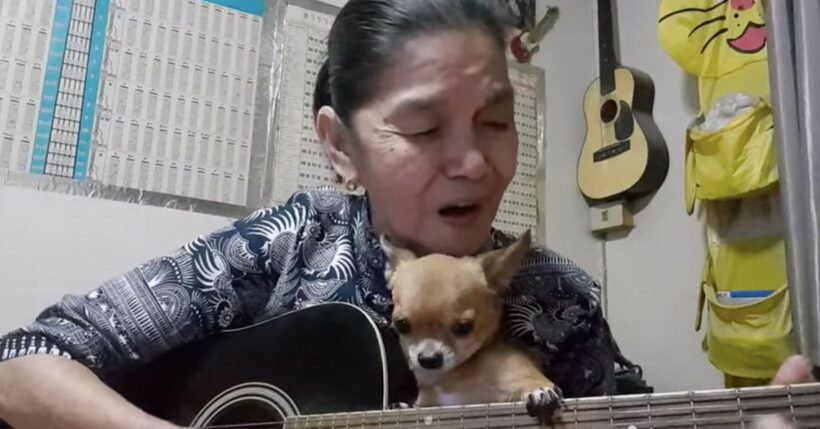 A Thai grandmother, singing soothing ballads to her chihuahua 'Jew Jam', has become an unexpected internet hit. In the video (below) there is also a cat that sings along with the guitar accompaniment provided by Malinda Herman.
Malinda says she sings the songs to the pets (the chihuahua is adorable) to "exercise her facial muscles". Malinda was in a car crash leaving the left side of her face paralysed.
Her repertoire goes from old ballads, to general pop and The Beatles, all in English. She also plays the piano (although would someone get the damn thing tuned!!) A fresh Chinese songbook is on the way too.
Together Jew Jam and Malinda, and her three other dogs, live together. And don't forget the cat providing harmonies.
The good news is that, along with the singing and the love of the five pets, Malinda says her facial muscles have recovered 75% already. The work on her recuperation has spawned over 650,000 subscribers and 100s of video clips. On Facebook, the Thai grandmother goes by the username หญิงชรา กะ หมาน้อย which translates to Old Lady With Dog.
Plenty more of Malinda at her official page HERE.
We wish Malinda the very best for her recovery and hope her home is alive with the sound of music, and the cat, for many years to come, long after she's fully recovered.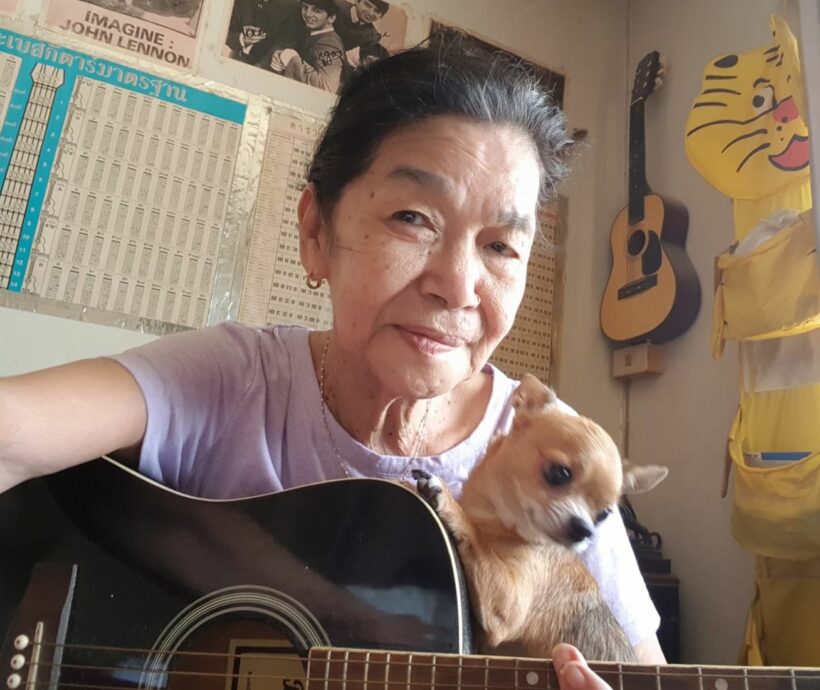 Keep in contact with The Thaiger by following our
Facebook page
.