506 more people rounded up and arrested in latest immigration sting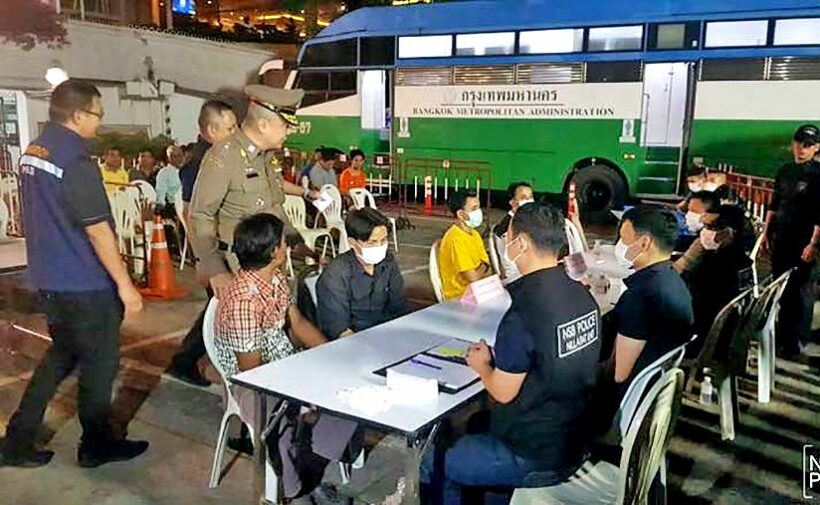 PHOTO: The Nation
Police have rounded up and arrested another 506 foreigners in their X-Ray Outlaw campaign, mostly for living illegally in the Kingdom.
The results of the recent operations, checking foreigners nationwide, were announced at another late night media conference at the Grace Hotel on Soi Sukhumvit 3 at 1:30 am today by the deputy Immigration Bureau chief.
He said 52 foreigners were arrested for overstaying visa, breaking down to 29 Burmese, 10 Laotians, 5 Indians, 3 Cambodians, 2 Russians, 2 Nigerians, and one Vietnamese.
He said 384 others were arrested for sneaking into the kingdom without documentation. They include 206 Burmesee, 112 Laotians, 52 Cambodians, 4 North Koreans, 3 Indians, 3 Vietnamese, 3 Nigerians, one Pakistani and one Belgian.
A spokesperson say that 70 other foreigners were arrested on other charges: 46 Burmese, 6 Laotians, 5 Cambodians, 2 Vietnamese, 2 Americans, 2 Chinese, 1 Malaysian, 1 Kazakhstani, 1 Indian and 1 Pakistani.
The citizenship of four of the arrested illegal entrants is still being confirmed, according to the Immigration Bureau.
SOURCE: The Nation


Read more headlines, reports & breaking news in Thailand. Or catch up on your Thailand news.
Thailand pledges to soften harsh refugee policies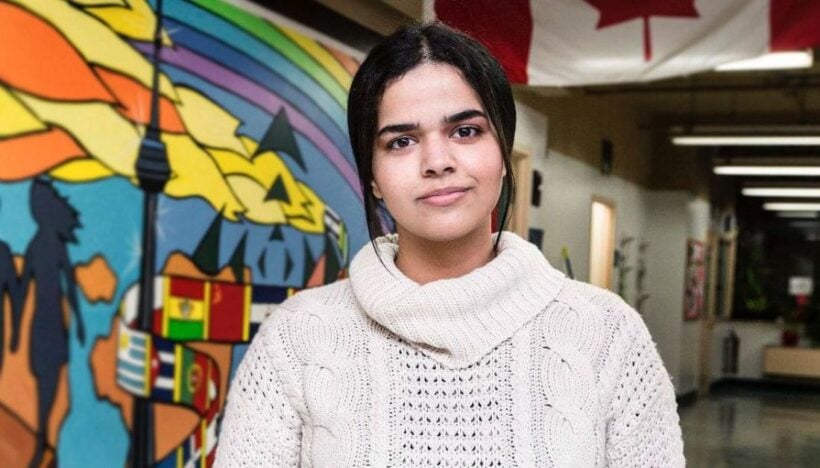 PHOTO: Toronto Star
Thailand's immigration chief is pledging an upgrade of the country's draconian treatment of refugees following the intense international media coverage of the young Saudi woman's attempt to seek asylum.
Rahaf Mohammed became the biggest international story across the world for a week after being intercepted during a transit stopover in Bangkok, on her way to Australia, and was immediately prepared for deportation back to Saudi Arabia.
Following the 19 year old's Twitter stream, as she barricaded herself inside her hotel room, Thai authorities were forced into damage control as the woman's plight shed light on the harsh treatment of people arriving or transiting through the Kingdom in the hope of seeking asylum.
Her barrage of Tweets called on her rights and demanded to speak to the United Nations High Commissioner for Refugees. Thai authorities, painted into a corner, eventually acceded to her demands.
As a diplomat at the the Saudi Arabian Embassy in Bangkok was quoted at the time… "Thai authorities should have confiscated her phone, not her passport."
Rahaf Mohammed was eventually taken in by Canadian authorities.
The high profile Chief of Immigration, Surachate Hakparn, says refugees would no longer be returned home "involuntarily" if they arrived in Thailand and claimed they were seeking asylum. He pledged that, moving forward, when it comes to asylum seekers, "Thailand will now follow international norms".
Thailand has, in the past, refused to recognise and shelter asylum seekers and routinely deports them back to their home countries where they face potential dangers.
At this stage, Thailand is not a signatory to the UN convention on refugees.
Surachate, speaking about the case in recent days, says he was adamant that Thai authorities didn't caved to "pressure" in Mohammed's case.
Surachate has spearheaded a firm crackdown on illegal immigrants over the past year, resulting in women and children refugees, previously released on bail, rounded up again and put back into detention. The Immigration Chief describes the accommodation as "government shelters", despite earlier commitments by Thai authorities to no longer detain single mothers and children.
But this week Surachate has pledged that mothers and children held in immigration detention would be given bail.
SOURCES: The Nation | The Guardian
Australian woman deported for overstaying visa by over 100 days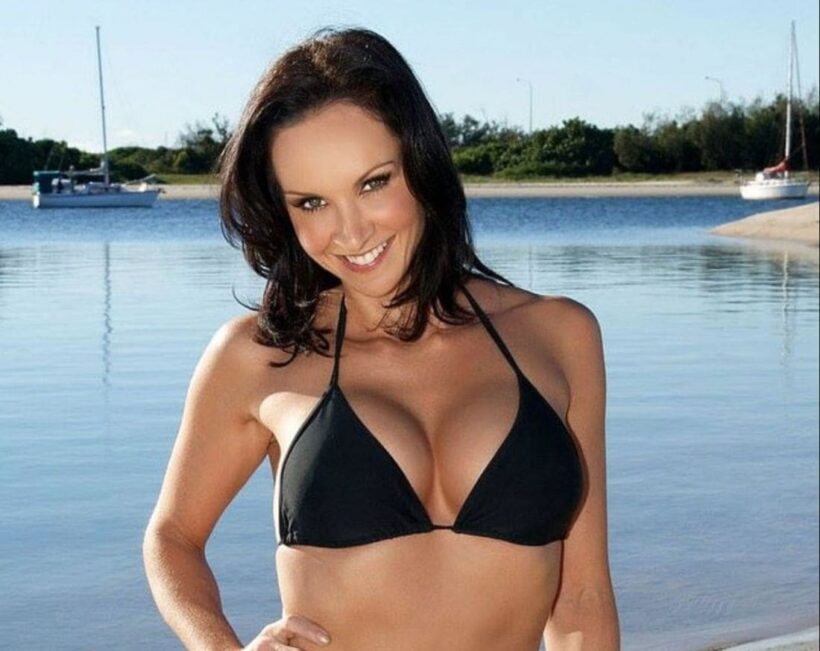 PHOTOS: Facebook/Claire Johnson
An Australian woman, who was caught overstaying her visa by 111 days, will be released from detention and deported by Thai authorities tonight.
She came to the media's attention on Monday after sending urgent messages to a friend saying that she was being taken to a detention centre and that "they are taking my phone".
46 year old Claire Amelia Johnson is an Australian Gold Coast resident. She will depart Bangkok on a QANTAS flight scheduled to arrive in Sydney tomorrow (Friday) morning.
She was due to return to Australia more than a week ago but on Monday evening sent messages to her friend Juliet Potter and told her that she was in an immigration detention centre in Bangkok and begged her to please "help me".
Read The Thaiger story about her desperate pleas HERE.
Ms Johnson had been running a medical tourism business called Cosmetic Holidays International that offered cosmetic packages in Phuket".
The business was voluntarily deregistered with the Australian Securities Commission in May 2017, after five years of operation, but her social media accounts continued to promote her cosmetic-surgery tourism business.
Thailand's immigration chief, Surachate Hakparn, told Australia's Fairfax media that Ms Johnson had been arrested, as well as fined, and would be deported after overstaying her tourist visa by more than 100 days.
"My Immigration Department will send her to Australia. She leaves tonight."
Australia's Department of Foreign Affairs and Trade would say only that it was "providing consular assistance to an Australian woman detained in Thailand", without naming Claire.

VIDEO: Thai netizens outraged as school makes student cut hair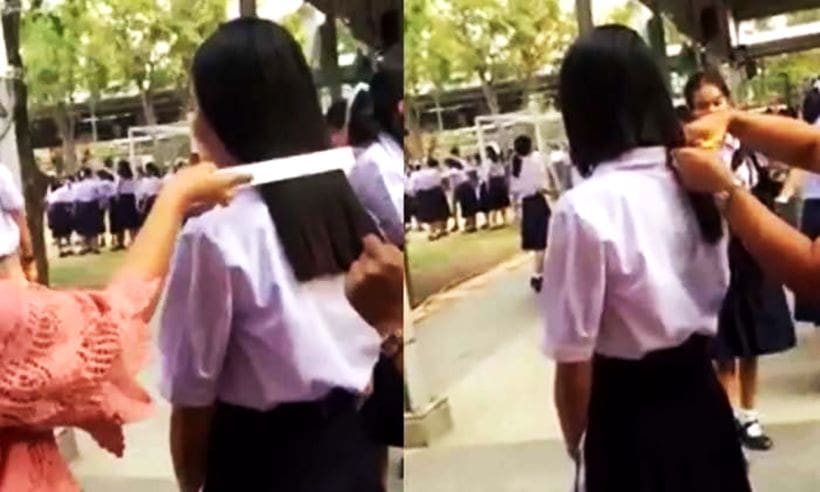 A student at a school in Kanchanaburi, western Thailand, has uploaded a video to social media sparking a meltdown on Thai social media.
In the video, the student films a school teacher measuring her friend's hair, while another teacher cuts it to follow the rules which state students cannot grown hair more than 9 inches from the top of the ears. Regardless of the anger voiced by the online community, in the video below we can see that no one else seems disturbed by the hair cut, which could mean they expect to follow the rules.
As the internet was busy slamming the actions of the teachers, news surfaced that the girl filming has had her grades adjusted following her posting the video. The school representatives told media that they were shocked at how the situation had been blown out of proportion. They issued the girl filming the incident a punishment due to the trouble she has caused by using social media to bring disrepute to her school.
The school has been very transparent with the issue, showing records kept of the incident on January 10. The rules are clearly stipulated and all students in the school are aware of the length limits. The girl involved in the incident had been warned several times but had refused to comply with the rules.
The two students will not face expulsion but rather, loose grade points.
#ว่าด้วยดราม่าเรื่องตัดผม จากคลิป บางทีมันก็ดูเกินไปกับการวัดตรวจแล้วตัดเลยแบบนี้ ซึ้งไม่มีการถามเด็กเลยสักคำว่า จะเอาไง โอเคมั้ย จะแก้ยังไง ? มันกฎของโรงเรียนก็จริง แต่กฎของกระทรวงที่เขาวางเอาไว้หละ ทำไม รร.ทำไมไม่ทำตามบ้าง ถ้ายังจะเอาแต่ความสะใจตัวเองหรือบ้าอำนาจ ต่อไประบบข้างราชการครูจะแย่แบบนี้ลงไปเรื่อยๆแน่นอน

Posted by Black Hat on Wednesday, January 16, 2019
SOURCE: Thai Rath