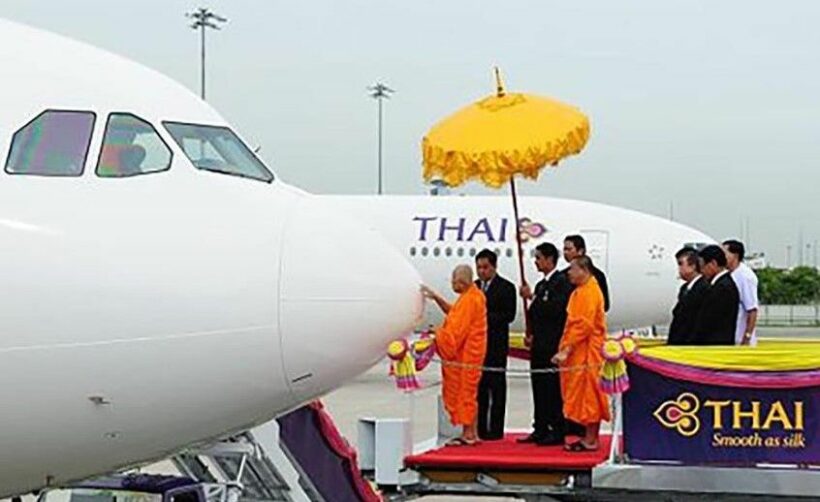 Thai Airways has announced a special flight on November 30 that will give passengers the opportunity to chant Buddhist mantras while flying over 99 sacred sites in the Kingdom. Wiwat Piyawiroj, executive vice-president at the struggling national carrier, says passengers will fly over Bangkok and 31 provinces, taking in 99 holy sites, over which they will be able to chant Buddhist mantras.
The flight will take off from Bangkok's Suvarnabhumi airport at 1.30pm on November 30, landing back at the airport at 4.30pm. Bookings can be made up until November 25. An economy seat is expected to cost around 6,000 baht. However, if you fancy doing your chanting in more plush surroundings, a business class seat will set you back around 10,000 baht.
According to a Bangkok Post report, the flight is part of the airline's "Magical Flying Experience" campaign. Wiwat says its aim is to give the tourism sector a boost, in accordance with the government's policy. It's not clear how this works however, as passengers will remain in the sky for the duration of the flight.
"There will be no landing during the flight and passengers will receive positive energy from chanting while onboard."
Meanwhile, the secretary-general of the Association for the Protection of the Thai Constitution, Srisuwan Janya, says union members at Thai Airways will today file an official complaint at Government House over the airline's rehabilitation plan, which they say contains irregularities.
The plan was approved by the Central Bankruptcy Court in September. As part of the plan, nearly 5,000 employees have applied for voluntary resignation. The airline currently employs around 20,000 staff and is fighting for survival, crippled by debts of over 330 billion baht, after years of mismanagement and a culture of corruption. There's going to be a lot of positive energy required to come back from that.
SOURCE: Bangkok Post