The coronation of King Maha Vajiralongkorn Bodindradebayavarangkun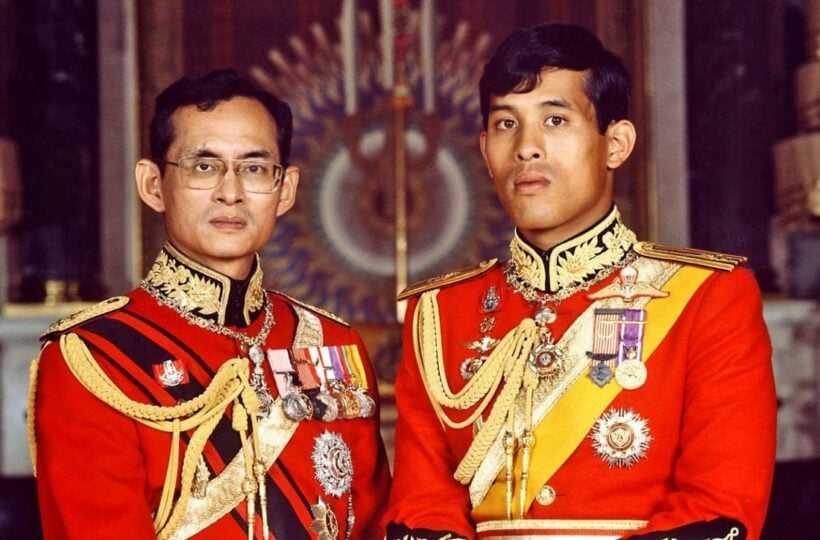 PHOTO: A younger King Maha Vachiralongkorn with his father, the Late King Bhumibol Adulyadej
May 5, 1950. King Bhumibol Adulyadej was coronated in a grand ceremony at the Grand Palace and around the streets of Bangkok. That's nearly seven decades ago when the last coronation took place in Thailand.
The 1950 coronation ceremony began the reign of King Rama IX, making him the ninth king of the Chakri dynasty.
In three weeks time, Thailand will again undertake the sacred and auspicious event when the coronation ceremony for HM King Maha Vajiralongkorn takes place, running from May 4-6 at the Grand Palace in Bangkok.
Despite having ruled since 2016, following the passing of his father, King Maha Vajiralongkorn Bodindradebayavarangkun will formally become the head of state in Thailand following the coronation.
Ever since the monarchy was established in 1238 during the kingdom of Sukhothai, all ceremonies related to the monarchs have been based on a blend of Hindu and Theravada Buddhist rituals and traditions.
For next month's Royal Coronation, these rites include the chanting of prayers by Buddhist monks and sacred water being collected around the Kingdom's principal rivers and springs to be used for the purification bathing of the king; part of the Brahma-Hindu ceremony.
The Thaiger will provide information and articles hoping to convey the significance of this auspicious event for the Thai people.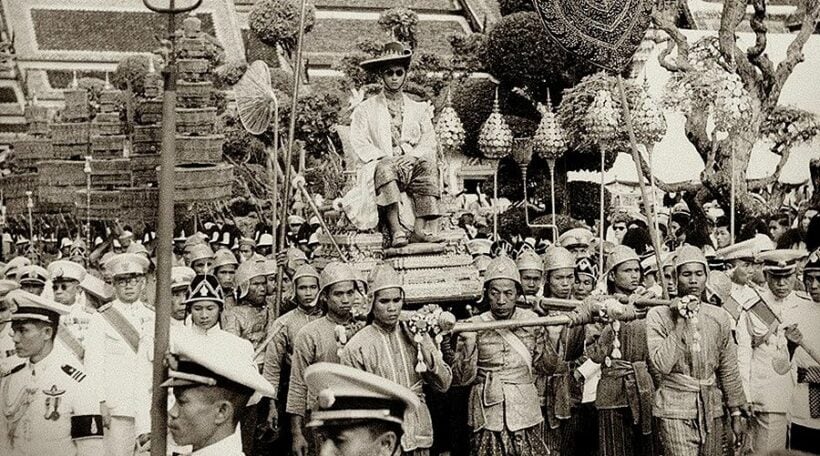 May 5, 1950, the coronation of King Rama IX
📱 Download our app on Android or iOS for instant updates on your mobile
📧 Subscribe to our daily email newsletter
👍 Like/Follow us on Facebook
🔔 Subscribe to or Join our YouTube channel for daily video updates
Bangkok sees 7.87 million vehicles over Songkran holiday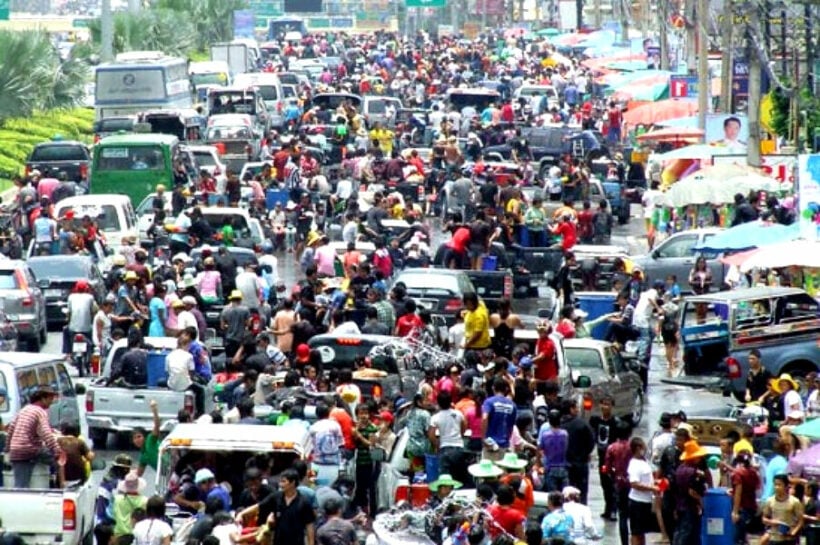 Covid-19 and its third wave be damned, close to 8 million vehicles travelled in and out of Bangkok so far during this year's Songkran festival holiday period. Thailand's Ministry of Transport released figures yesterday on the yearly holiday and revealed that more than 7.87 million cars, trucks, buses and motorbikes hit the roads and travelled into and out of Bangkok during the festival period, despite almost all official celebrations, events and gatherings being cancelled nationwide again this year.
The figures, calculating incoming and outgoing traffic between April 10 – 14, show that travel is much lower than originally predicted but massively higher than last year's travel. The drop makes sense as many predictions may have been made before the last minute closures of entertainment venues and cancellation of Songkran events due to the recent third wave outbreak of the B117 strain of Covid-19.
The 7.87 million vehicles figure is about 30% lower than predicted. There were also an estimated 4.52 million people using public transportation such as buses over the holiday period, again lower than predicted, this time by about 36 per cent.
On the other hand, in what may be a bad sign for Thailand's health, at a time when new daily records are being set for Covid-19 infections, many more people are ignoring the pandemic and travelling anyway.
The nearly 8 million vehicles on the roads to Bangkok during Songkran represent a nearly 35% increase over last years Coronavirus-muted figures. And when social distancing is of utmost importance, the 4 and a half million people travelling by public transport is a startling 74% increase over the nearly completely locked-down figures of 2020's Songkran holiday period.
One final note for the "if Covid-19 doesn't get you, climate change will" crowd: Of the 7.87 million cars, buses, trucks, and motorbikes on the road, a very non-eco-friendly 7.4 million of them were private vehicles.
SOURCE: The Pattaya News
📱 Download our app on Android or iOS for instant updates on your mobile
📧 Subscribe to our daily email newsletter
👍 Like/Follow us on Facebook
🔔 Subscribe to or Join our YouTube channel for daily video updates
Covid UPDATE: Wednesday's new infections rise to 1,335 people, 36 people in "serious condition"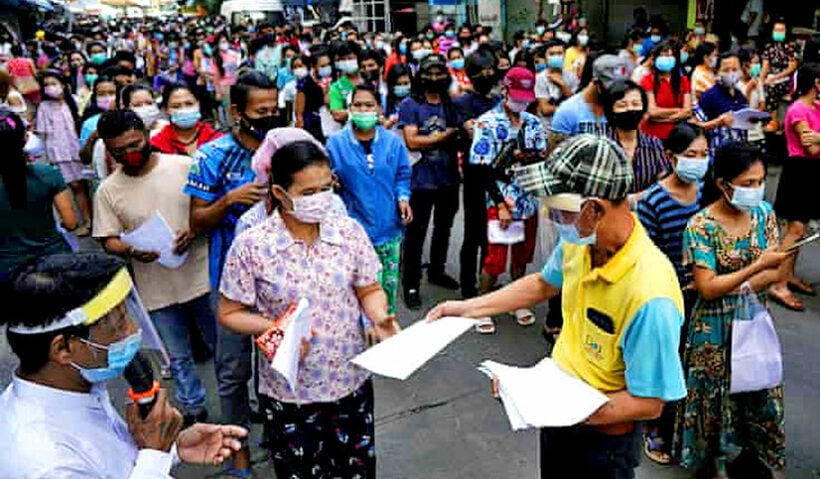 Thailand's CCSA has announced 1,335 new infections today, after a slight dip in the 10 day surge yesterday. 1,326 of those new infections are local, not imported, and mostly from Bangkok. Today's tally takes the national total to 35,910 since January 2020 when the first case outside China was detected in Thailand on January 13.
The new infections have mostly emerged in Bangkok with 351 cases. Surrounding provinces report an additional 115 infections today. In other provinces, 877 people.
It's also been reported today that 36 people are currently in a serious condition and 9 people are on ventilators. Here's the number of cases reported each day since the start of April…
April 1 – 26 infections
April 2 – 58 infections
April 3 – 84 infections
April 4 – 96 infections
April 5 – 194 infections
April 6 – 250 infections
April 7 – 334 infections
April 8 – 405 infections
April 9 – 559 infections
April 10 – 789 infections
April 11 – 967 infections
April 12 – 985 infections
April 13 – 965 infections
April 14 – 1,335 infections
Meanwhile, Prachuap Khiri Khan officials have ordered the closure of "high risk venues" such as pubs, bars, water parks, children's playgrounds, gyms, cinemas, game shops. The Governor says restaurants can open "but no alcohol can be served". This includes the seaside town of Hua Hin.
In Krabi there is now a total of 11 infections, 6 new ones yesterday.
In Chon Buri, which includes Pattaya, there were 99 new confirmed infections of Covid today … a similar number to the past few days.
Total number of infections being treated in provinces…
• Bangkok: 1,689
• Chiang Mai: 880
• Chonburi: 594
• Samut Prakan: 416
• Narathiwat: 304
• Prachuap Khiri Khan: 265
• Samut Sakhon: 166
• Pathum Thani: 124
• Sa Kaeo 105

📱 Download our app on Android or iOS for instant updates on your mobile
📧 Subscribe to our daily email newsletter
👍 Like/Follow us on Facebook
🔔 Subscribe to or Join our YouTube channel for daily video updates
Bangkok police tracking down owners of Thong Lor clubs where virus resurfaced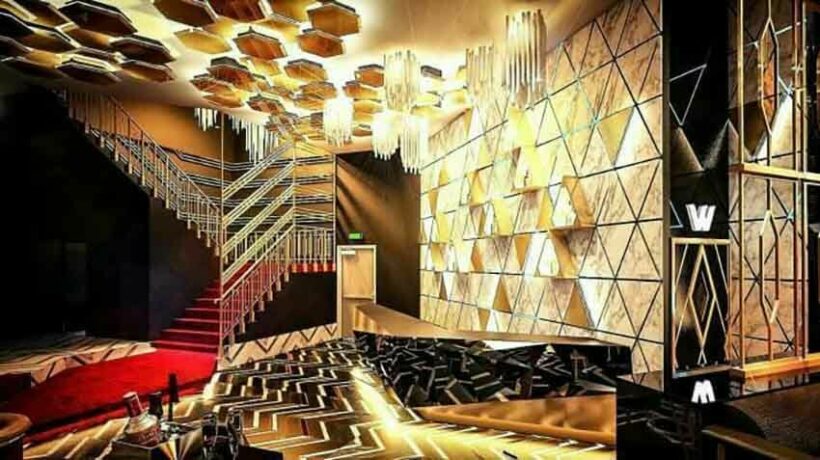 Police in Bangkok are on the hunt for the owners of 2 nightclubs considered ground zero for a third wave of Covid-19 currently spreading around the country. The Krystal Club and Emerald Thonglor 13, in the capital's fashionable Thonglor district, are currently closed, with the managers of both sentenced to 2 months' imprisonment. However, officials are now attempting to track down the real owners of both establishments.
Nation Thailand reports that the authorities are examining ownership and shareholding documentation related to the 2 venues, after police chief Piya Tawichai confirmed a cluster of Covid-19 infections is believed to have spread from the clubs. The managers of both venues have been charged with violating the emergency decree and disease prevention regulations, with the Bangkok Municipal Court sentencing them to 2 months' imprisonment on April 9.
The head of Metropolitan Police Division 5, Sophon Saraphat, has also transferred 2 Thonglor police officers, including the superintendent of Thonglor police station, while an investigation into the Covid-19 cluster continues.
Sophon says authorities are also examining the operating licences of both clubs, which have been closed for 30 days, while officials determine if they should be shut down for a period of 5 years.
3 nightlife venues in Phuket, thought to be behind a resurgence of Covid-19 in the southern province have been closed as part of a wider temporary shutdown of nightlife on the island. It is not yet known if the owners will face prosecution.
The Illuzion and Shelter nightclubs in Patong, along with the Café del Mar beach club in Kamala each held mass parties during the weekend of April 2- 4, with invited guests travelling from as far as Bangkok. Media reports put attendance at each party at over 3,000.
SOURCE: Nation Thailand
📱 Download our app on Android or iOS for instant updates on your mobile
📧 Subscribe to our daily email newsletter
👍 Like/Follow us on Facebook
🔔 Subscribe to or Join our YouTube channel for daily video updates