The big 'fake' Indian wedding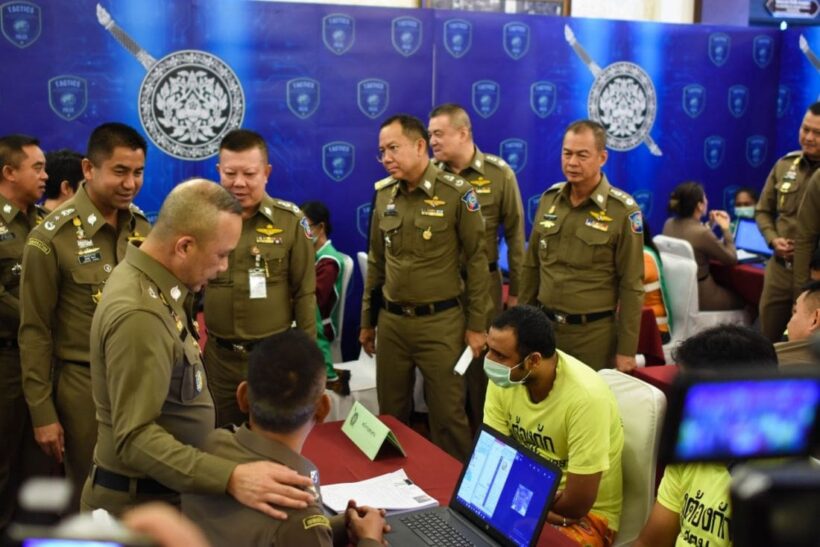 A police crackdown had led to the arrest of 28 people involved in a marriage scam for Indian nationals who seek to stay in Thailand long term.
The suspects include a 53 year old Thai-Indian man who acted as a marriage broker and prepared the documents needed, while the other 27 are Thai women who were allegedly paid 8,000-10,000 baht to marry the Indian men.
Following police checks on over 8,000 Indian nationals staying in the country, 127 visas have been revoked.
Eleven Indian men, who initially entered the country on a tourist visa, have been arrested and charged with hiring Thai women for marriage.
Thailand's Action Taskforce is warning Thai women to not take part in these scams, and warns that those who do get married for money, will be arrested and charged.
Then, upon further investigation, police found that some of the Thai women involved in the scam were married to up to three foreigners, and one of the women who applied for the marriage licence was 70 years old.
The scam came to light in May last year, when some Thai women in Wang Muang district in central Thailand, found their names on marriage certificates despite never having been married.
SOURCE: Bangkok Post


Read more headlines, reports & breaking news in Bangkok. Or catch up on your Thailand news.
Earth Hour next week, everyone invited to join Bangkok by switching off lights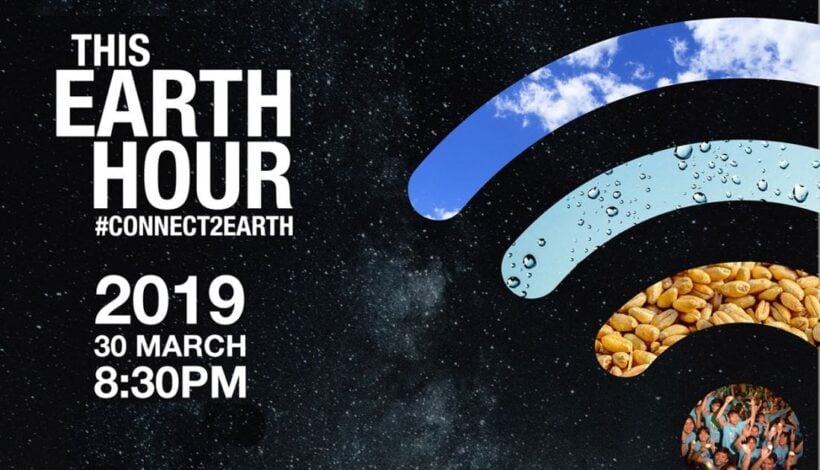 The Bangkok Metropolitan Administration is inviting Bangkokians to join in "60+ Earth Hour 2019", by turning off electrical appliances and lights for one hour from 8.30-9.30pm on Saturday, March 30.
The rest of Thailand is also invited to join in the annual environmental initiative. The BMA has participated in Earth Hour since 2008 by encouraging Thais to switch off lights to show their concern for the planet.
The BMA says they're joining 262 organisations to participate in the event. Bangkok's main celebration venue will be Central World Plaza on March 30.
The BMA say that last year's event, when 121 organisations and establishments took part, was a success with 2,002 megawatt reduction in power usage during the 'lights-off' hour which was calculated to have a cash value of 7.86 million baht or a reduction of 1,026 tons of carbon dioxide.
Started as a symbolic lights-out event in Sydney in 2007, Earth Hour is now celebrated in 188 countries as a global moment of solidarity and action to save the planet.
Summer storm cell hits Bangkok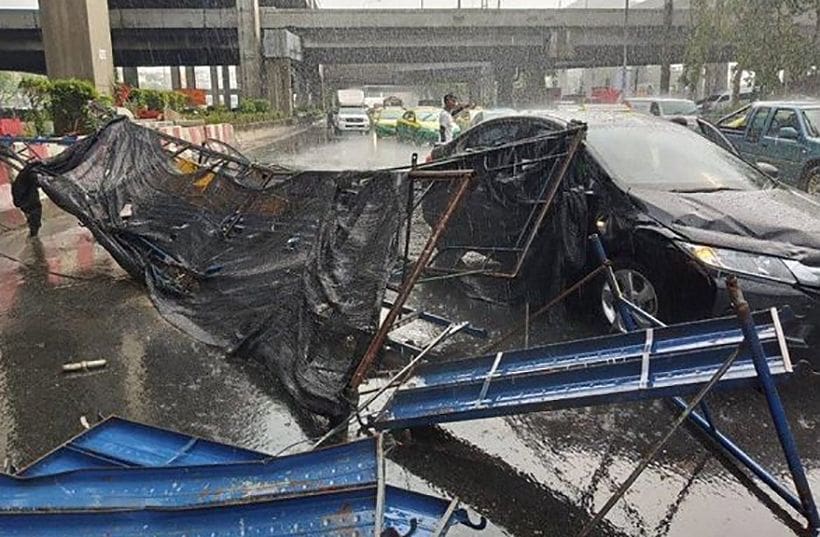 PHOTO: @fm91trafficpro
A sudden and brief summer storm swiftly passed through Bangkok's Lak Si and Don Mueang areas yesterday afternoon.
The storm left some damage in its trail, including toppled small trees on Soi Vibhavadi 60, clogged drains and an under-construction Vibhavadi-Rangsit pedestrian bridge's metal scaffold falling onto a car at Lak Si Intersection.
The stormy weather took place around 3.30pm and lasted over 10 minutes.
The Thai Meteorological Department had previously warned about storms, gusty winds, hail stones and lightening in upper Thailand from March 23-25 and continues to warn people to avoid open fields, big trees or billboards during the storms.
Forecast for the Central areas of Thailand…
Up to March 23, hot to very hot during the day. Minimum temperature 23-27°C. Maximum temperature 36-40°C. During March 24 – 27 2019, hot during the day. Isolated to scattered thunderstorm with isolated gusty and hail. Minimum temperature 22-26°C. Maximum temperature 33-38°C. Southeasterly wind 10-15 km/hr.
SOURCES: The Nation | TMD
Two Suvarnabhumi crimes solved by Surachate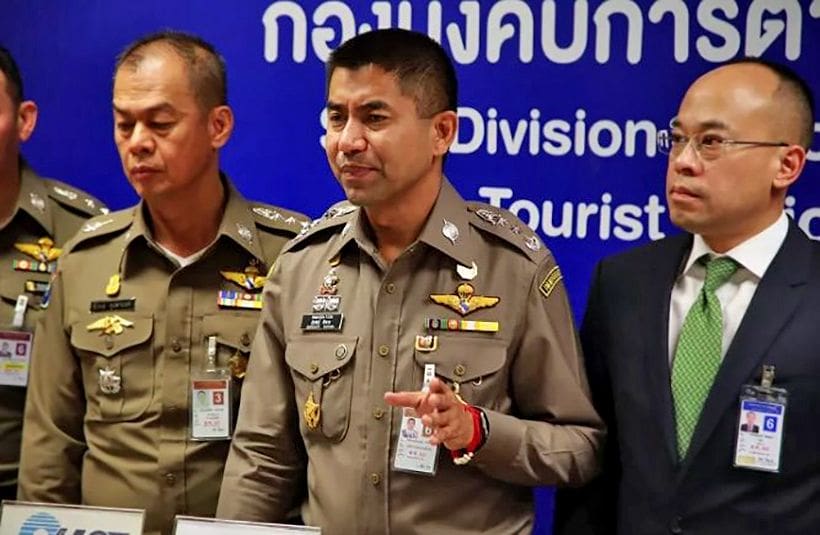 PHOTOS: Thai Rath
Lt-Gen Surachate Hakparn, the high-profile immigration chief, has announced the solving of two cases at Suvarnabhumi Airport in Bangkok.
One involved a Thai woman using a passport illegally by adding extra pages. The other was the arrest of members of a Mongolian pickpocketing gang who had been preying on tourists at the airport and on the city's Skytrain.
Firstly, the French embassy contacted Thai immigration with news that a 39 year old Thai woman, Chananya Daengthong, had applied for a visa with a passport that had added pages.
Officials found that four pages had been removed and replaced with new, fake pages. Chananya later admitted that she had been banned from entering The Netherlands after overstaying her visa there and had received no entry stamps on two pages in her passport.
She had then arranged, via a woman called "Nott", to contact a man on a Line application called "Fa Sai". She paid him 11,000 baht to alter her passport.
The other case resulted in the arrest of three men, all members of a Mongolian pickpocketing gang, responsible for stealing more than 200,000 baht from people at the airport and on the BTS Skytrain services from the city. Working in tandem with a woman, they targeted tourists.
Warrants went out for their arrest and they were soon nabbed whilst coming back into Thailand after going back to Mongolia.
In a latest theft on March 8 they followed a 59 year old German who had arrived on Thai Airways flight from Frankfurt. The victim only realised he had been pickpocketed, losing cash and a credit card, when he was in the taxi. CCTV showed that the woman in the gang was responsible for the theft.
The gang were then seen to be continuing their thefts on the Airport Link and BTS. In another case they lifted AUD$500 from an Australian on the Airport Link.
Surachate says the Mongolians would steal around Bangkok and the main airport then return to their home country. Credit cards were used to purchase brand name items at stores.
SOURCE: Thai Rath