Tropical storm Wipha causes landslides in Tak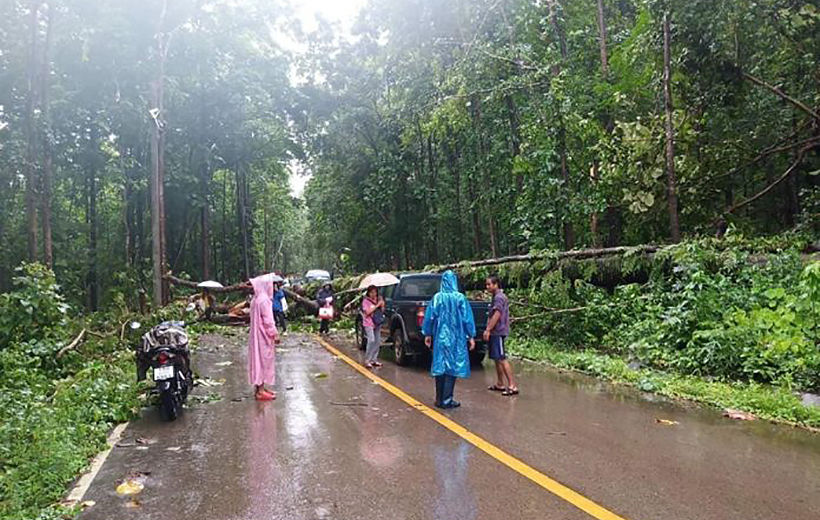 A heavy rainstorm passing through the north has triggered landslides that closed down a two kilometre long stretch of the Mae Sot-Mae Sariang highway in Tak yesterday, according to Khao Sod. Tak is west of Chiang Mai on the border with Myanmar.
Five houses and one car were severely damaged but luckily nobody was hurt.
Tha Songyang District Officer Prateep Potiam, together with soldiers and volunteers, had already removed mud and trees uprooted by the storm.
Flooded roads are slowing down traffic and movement around the Chiang Mai area, and other regions in the north, as a result of the fallout from tropical depression 'Wipha' which crossed the North Vietnam coast, heading westward towards Thailand, over the weekend.
Read the rest of the report from the north HERE.
SOURCE: khaosod.co.th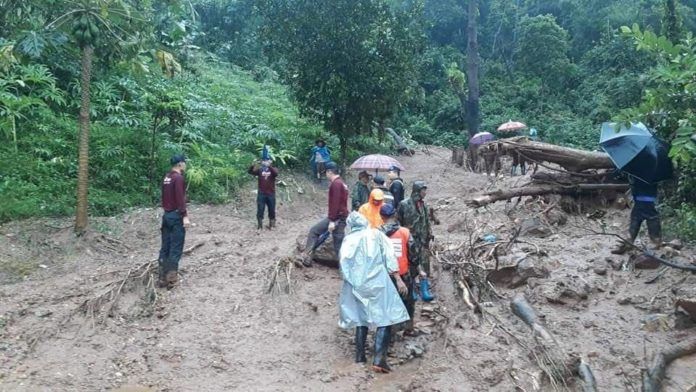 Department warns of possible floods and landslides for 12 provinces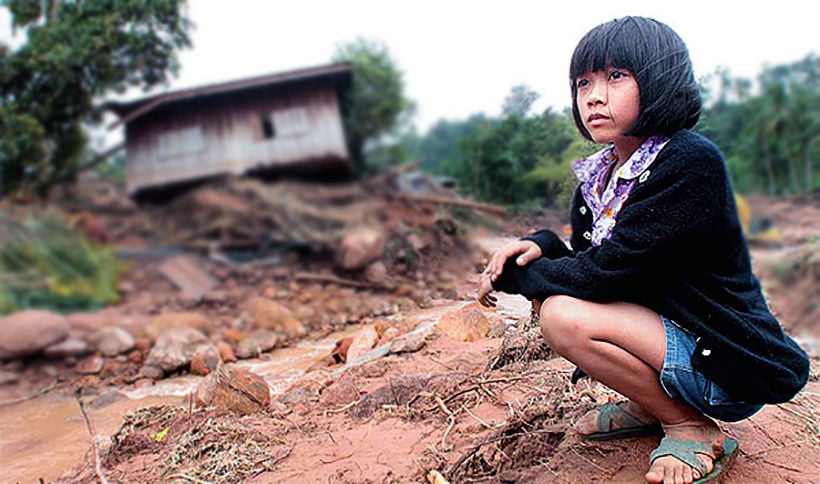 FILE PHOTO
Officials and emergency responders in 12 provinces have been instructed to be prepared, and put equipment on standby, to cope with possible floods and landslides until August 20 (Tuesday).
Department of Disaster Prevention and Mitigation director-general Chayaphol Thitisak says the alert was issued because of heavy downpours in the North, the Central and southeastern coastal areas.
Officials were told to monitor weather conditions, as well as rainfall and river levels around the clock while also preparing fast-moving teams and equipment to be stationed at disaster-prone areas, ready to aid residents. The locals have also been urged to follow weather reports closely, according to The Nation.
The 12 affected provinces include…
Mae Hong Son (Muang, Pang Mapha, Khun Yuam, Mae Sariang, Mae La Noi, Pai, Sop Moei districts), Chiang Rai (Mae Chan, Mae Suay , Mae Lao and Wiang Pa Pao districts), Phayao (Chiang Muan, Chiang Kham and Pong districts), Phrae (Song, Long, Wang Chin and Rong Kwang districts), Nan (Muang, Bo Klua, Chalerm Phrakiat, Wiang Sa, Chiang Klang, Tha Wang Pha, Na Noi, Na Mun, Pua, Thung Chang, Santisuk, Mae Jarim and Ban Luang districts), Uttaradit (Ban Khok, Tha Pla and Nam Pad districts), Tak (Tha Song Yang, Mae Ramat, Mae Sot and Pop Phra districts), Nakhon Nayok (Muang district), Trat (Bo Rai and Khlong Yai districts), Ranong (Muang, Kra Buri, La-un, and Kapoe dsitricts), Phang Nga (Muang, Kapong, Takua Pa and Tai Muang districts), and Trang (Na Yong district).
The department's hotline is 1784 and monitored 24/7.
FORECASTS: weather.com
Meanwhile the forecast from weather.com for Phang Nga is for mostly dry conditions during the warning period.

…whilst Chiang Rai's forecast includes a greater chance of rain.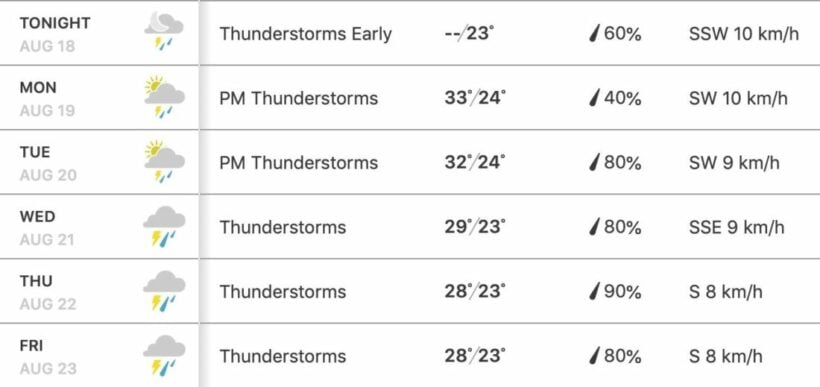 Thai farmers reluctant to scale down use of 'toxic' herbicides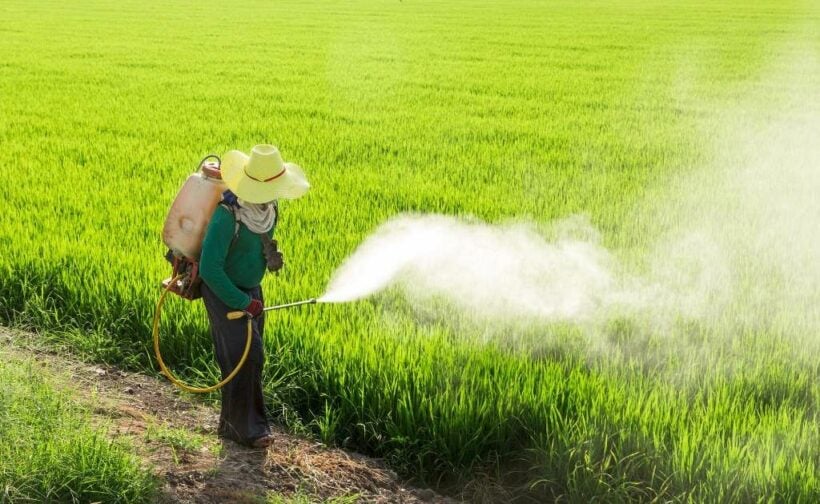 Thai farmers say they oppose the proposed bans on herbicides paraquat, glyphosate and chlorpyrifos.
The Thai government plans to phase out three chemical weed killers, widely used by Thai farmers, by the end of this year.
Farmers say they oppose the restrictions of use because the chemicals provide higher crop yields, according to Thai PBS who headed out into the fields to survey farmers' attitudes to the proposed restrictions.
A recent field survey of farmers in Phrae, northern Thailand, indicated that many of the local farmers were unlikely to forsake the weed killers while an effective alternative is not currently available.
Thai PBS reports that the Phrae provincial governor Pongrat Piromrat says that the local government had been encouraging farmers to turn to organic farming. But he admitted the results had been limited because the organic produce is less popular among wholesalers and consumers and because the produce does not look as attractive or fetch the same prices as its non-organic counterparts.
The farmers say, because of their large farms and shortage of labour, they need to use the three herbicides and weed killers before and after cultivation to get large enough harvests to generate the incomes they need.
Organic farmer Mr. Ronnakiat Kamnoi, village headman of Tambon Mae Poong in Wang Chin district, said the government should use incentives to persuade farmers to stop using the toxic chemicals, and launch educational campaigns so farmers better understand the health and environmental risks from the chemicals and the merits of organic farming.
Starting in October this year, farmers who want to continue using the three chemicals must register with officials in their respective areas and undergo training on their proper use.
Retail sellers of the three chemicals are also required to register with authorities to obtain sale permits.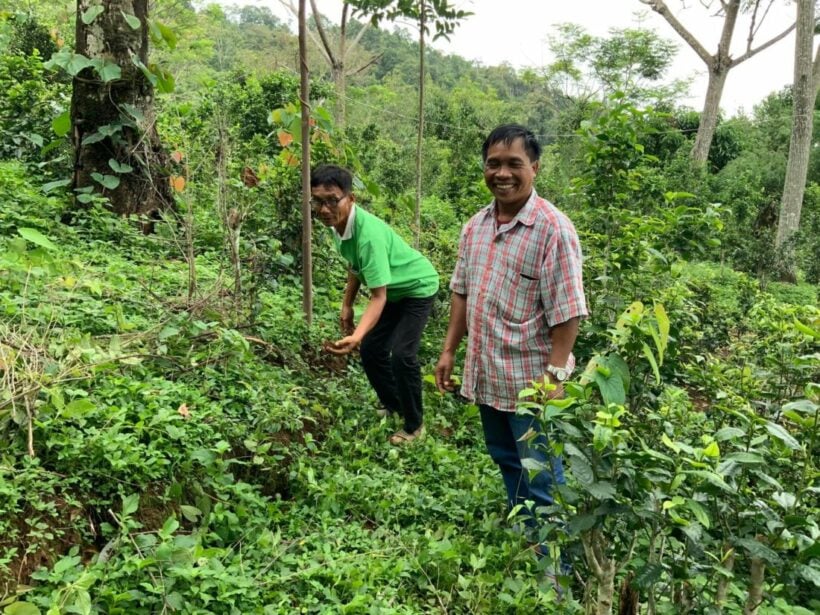 PHOTO: Thai PBS
Convicted US pedophile caught teaching children at his home in northern Thailand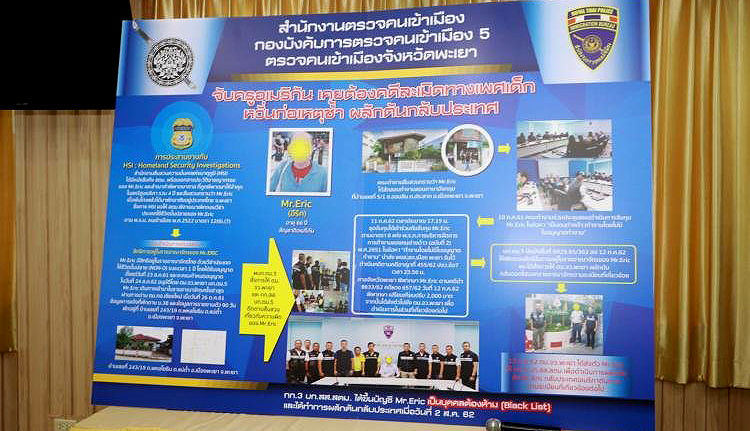 Immigration police have nabbed a convicted American pedophile in Phayao in the north of Thailand.
66 year old "Mr Eric" had a language school set up at his own home in the main city district of Phayao and was allegedly teaching children English without a work permit.
The man's full name was not provided in the Siam Rath story.
Siam Rath reports that the chief of Thailand's immigration bureau had received representations from the department of homeland security in the US about Mr Eric.
Homeland security officials told Thai police that the suspect had left the US after being convicted of sex crimes against children and was headed for Thailand.
The man was sentenced to four years jail in the US but the sentence was suspended. He was also ordered to pay a fine of $11,500 and compensation before he flew to Thailand.
Immigration police and the department of labour went to visit Mr Eric at his home on Soi Ormsin on Prasat Road. He had a small language school set up in his house and was conducting classes with children when officials arrived. They initially charged the man with working without a work permit and detained him ahead of probable blacklisting and deportation.