Tropical storm Wipha causes landslides in Tak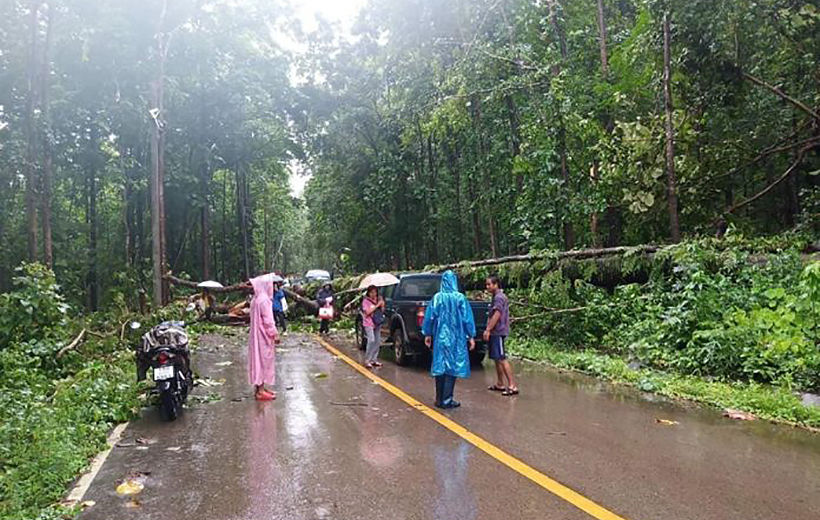 A heavy rainstorm passing through the north has triggered landslides that closed down a two kilometre long stretch of the Mae Sot-Mae Sariang highway in Tak yesterday, according to Khao Sod. Tak is west of Chiang Mai on the border with Myanmar.
Five houses and one car were severely damaged but luckily nobody was hurt.
Tha Songyang District Officer Prateep Potiam, together with soldiers and volunteers, had already removed mud and trees uprooted by the storm.
Flooded roads are slowing down traffic and movement around the Chiang Mai area, and other regions in the north, as a result of the fallout from tropical depression 'Wipha' which crossed the North Vietnam coast, heading westward towards Thailand, over the weekend.
Read the rest of the report from the north HERE.
SOURCE: khaosod.co.th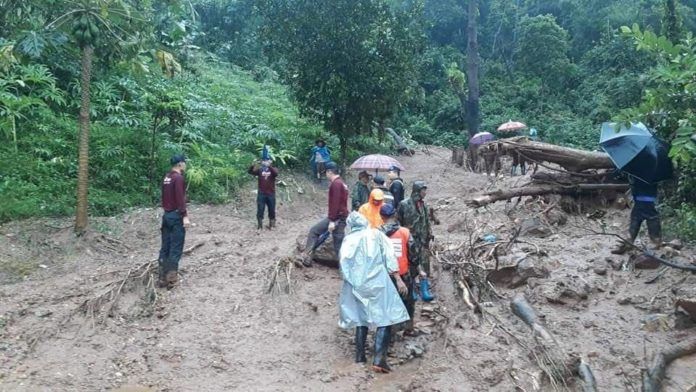 Keep in contact with The Thaiger by following our
Facebook page
.
Man fatally shot in hunting expedition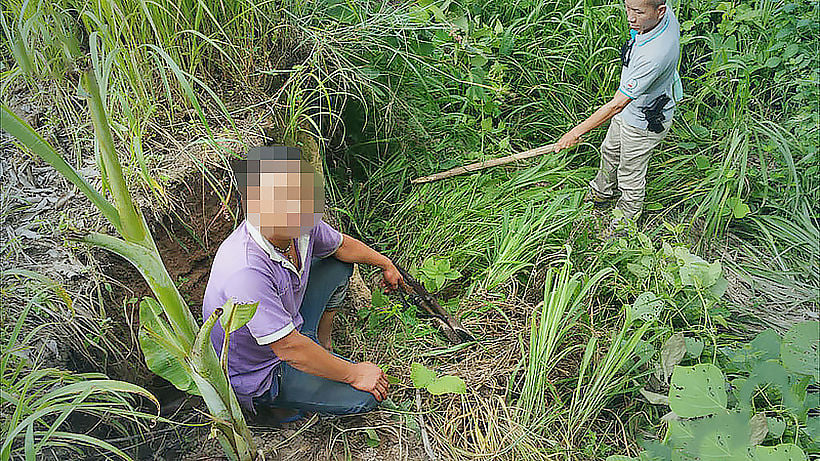 Authorities in Lamphun province, south of Chiang Mai, have arrested 29 year old Weerachai Rorwongtawan for allegedly shooting dead his friend, Phitsunu Tanupetchpan, while hunting with 2 other friends. The suspect told police he had invited his friends to go hunting with him, and that he and Phitsunu were in different areas of the forest. When he saw something moving among some bamboo, he thought it was an animal and fired. Phitsunu later died of his wounds.
Weerachai claims he was shocked to hear his friend's cries, and quickly decided to call the police and an ambulance. But the dead man's older brother pointed to inconsistencies in the alleged killer's story. He said Weerachai told him he thought Phitsunu was a wild cat and hence shot him. But when questioned by police he said he thought his friend was a rat.
He also said Weerachai did not confess initially that he had shot his brother, saying it was an accident. Police have confiscated the gun and are questioning Weerachai and the other people hunting at the same time. All were charged with use of narcotics after urine tests.
SOURCE: Nation Thailand
Keep in contact with The Thaiger by following our
Facebook page
.
Thousands arrested nationwide for illegal motorbike racing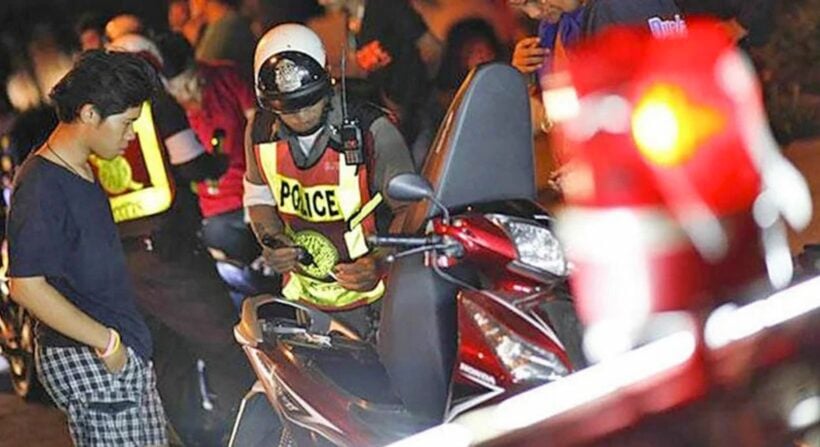 Since the lifting of the national curfew on June 14, gangs of illegal street racers, known as "dek waen" or "vanz boys" have quickly returned to Thailand's roads. From June 20-30, police arrested more than 5,600 racers and seized more than 17,700 bikes nationwide. PM Prayut Chan-o-cha has warned against gatherings and street racing, and says that regardless of the curfew police should take action against the racers, even threatening a renewed curfew. During the curfew, public complaints on illegal street races dropped from over 600 to less than 300 a month.
The assistant national police chief says Bangkok police and the Provincial Police Region 1 which covers the lower central plains, arrested 109 such racers, seized 11,743 motorcycles and prosecuted 3,088 shops for illegally modifying motorcycle parts. Most modifications were to motorcycles' exhaust pipes, increasing the noise they make, thus the locally coined word "vanz." Police also put 668 parents of illegal racers on probation.
The Provincial Police Region 8, covering the lower South, says it seized 237 motorbikes and 311 illegally modified exhaust pipes, and put 175 young motorcyclists and 28 parents on probation. Police in the northeastern Ubon Ratchathani province arrested 85 motorcyclists and seized 317 motorcycles and about 300 modified exhaust pipes. Police in the northeastern province of Nakhon Ratchasima arrested 476 motorcyclists and seized 665 bikes and 204 substandard exhaust pipes.
The Provincial Police Region 6, which oversees part of the North, arrested 6 racers, put 1,921 motorcyclists and 212 parents on probation and seized 1,306 motorcycles.
The Provincial Police Region 7 which also covers lower south provinces put 5,009 motorcyclists on probation and seized 4,632 bikes and 357 modified or substandard exhaust pipes.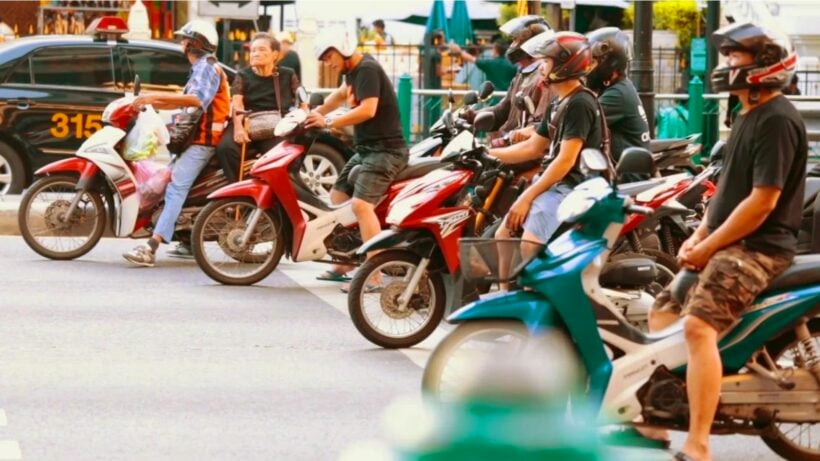 SOURCE: Bangkok Post
Keep in contact with The Thaiger by following our
Facebook page
.
Billions in illicit drugs burned in Thailand and Myanmar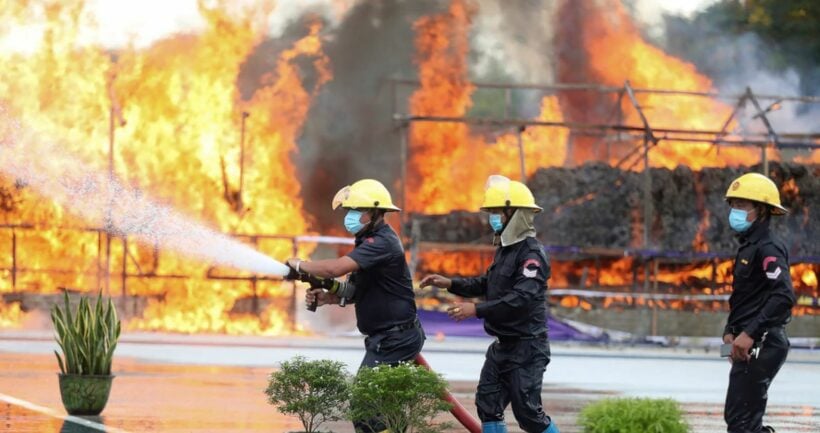 In a joint operation, authorities in Thailand and Myanmar destroyed 25 tonnes of illicit drugs valued at more than 62 billion baht (US$2 billion) in Ayutthaya and Yangon. The move comes as drug cartels in the Golden Triangle boost supplies and seek new channels of distribution. The Golden Triangle, where Laos, northern Myanmar and Thailand meet, has been a hub of illicit drug traffic for decades. Authorities say production there is now taking place on an industrial scale.
In Ayutthaya, about 80 kilometres north of Bangkok, Thai authorities marked International Day Against Drug Abuse and Illicit Trafficking with a mass burning of drugs. Police guarded boxes of drugs unloaded from trucks while bricks of heroin and bags stuffed with methamphetamine pills, known as "yaba," were thrown into dumpsters for incineration. In Yangon, meanwhile, plumes of black smoke filled the sky as sacks full of drugs were set ablaze. Firefighters quickly extinguished the flames.
Thai authorities say Covid-19 travel restrictions and checkpoints helped reduce smuggling, but the United Nations Office on Drugs and Crime said last month that the trade continues to thrive. Thailand's deputy national police chief says drug criminals are getting more creative, and the internet is becoming a growing outlet for the illicit drug trade.
"Our children are making the wrong decision to order narcotic drugs online. And the dealers send the drugs to them."
Rising heroin use among young people is among several worrying trends. Though opium cultivation and heroin refining have dropped, methamphetamine production in Myanmar's northern regions has increased dramatically, with armed ethnic groups collaborating with organised crime elements. Thailand is used mainly as a conduit and distribution point, with some drugs sold domestically, but most smuggled onward.
Jeremy Douglas, the UNODC regional representative, says online drug sales represent a worrying trend, with an oversupply of meth pushing prices down and adding to more drug abuse.
"Above all we are looking now at an increase in drug availability. Very dangerous. Frankly speaking, Myanmar has become the transit place of narcotic drug distribution to Europe and Asia."
SOURCE: Reuters
Keep in contact with The Thaiger by following our
Facebook page
.