Thailand's longest wooden bridge under threat of collapse after rains soak west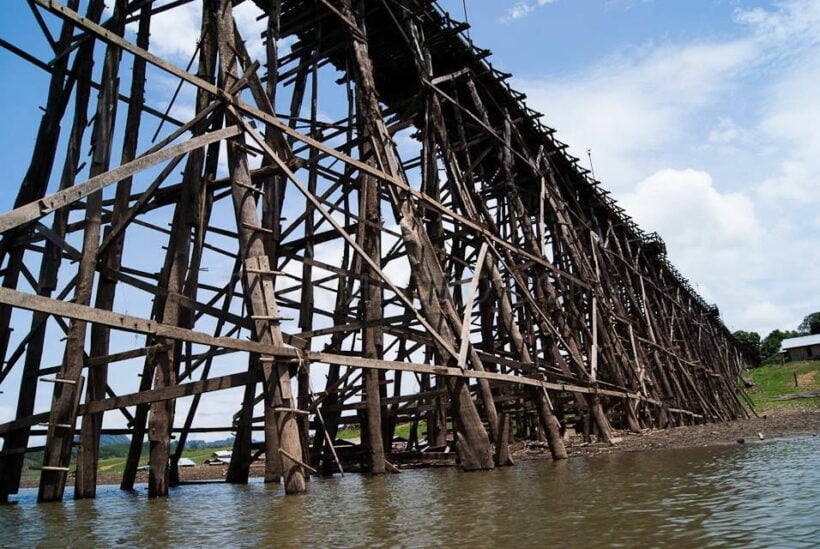 The famous Mon (Uttamanusorn) Bridge in Kanchanaburi in Thailand's west, the country's longest wooden bridge, is being watched around the clock by the Thai army for fear that it may collapse under the force of strong currents in the Songkalia River and a huge amount of debris which is piling up against the bridge's superstructure.
Uttamanusorn Bridge (Thai: สะพานอุตตมานุสรณ์; lit: 'Uttama Memorial Bridge') or commonly known as Mon Bridge(สะพานมอญ; Burmese: ဒဒန်ဆု) and Wooden Mon Bridge (สะพานไม้มอญ) is a wooden footbridge in Tambon Nong Lu, Sangkhla Buri District, northwest of Kanchanaburi Province, Thailand. It spans the Songaria River.
Using motor boats, troops and volunteers have been trying to remove the debris, mostly tree branches and logs, being washed out of the jungle and restricting the flow of water under the bridge.
Thai PBS reports that Colonel Saratvuth Chaisith, commander of the 29th infantry regiment based in the western province of Kanchanaburi, explained that the pressure of the water will increase and could force the wooden bridge to collapse, as in similar incident on July 28, 2013 when the midsection of the bridge collapsed.
Heavy rain has been falling in the Tanasserim mountain range area, bordering Myanmar, for more than two weeks, sending runoff from swollen streams into the Songkalia and Runtee rivers, said the colonel, adding that his troops are on standby to help the ethnic Mon people in Ban Sanaefong and Ban Koh Satoeng in Tambon Laiwo, Sangkhla Buri district, which are the localities most vulnerable to flooding.
Located in Sangkhla Buri district of Kanchanaburi province, the Mon Bridge is a famous tourist attraction for both Thais and foreigners.
SOURCE: Thai PBS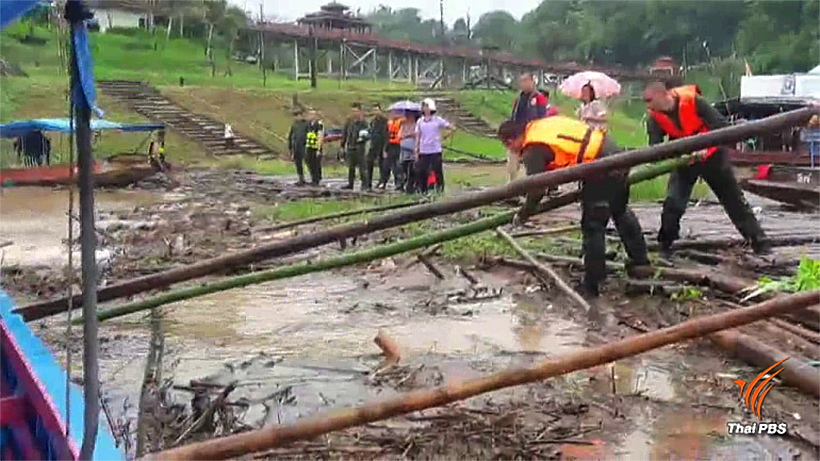 Keep in contact with The Thaiger by following our
Facebook page
.
5 year old Burmese girl raped, murdered in Tak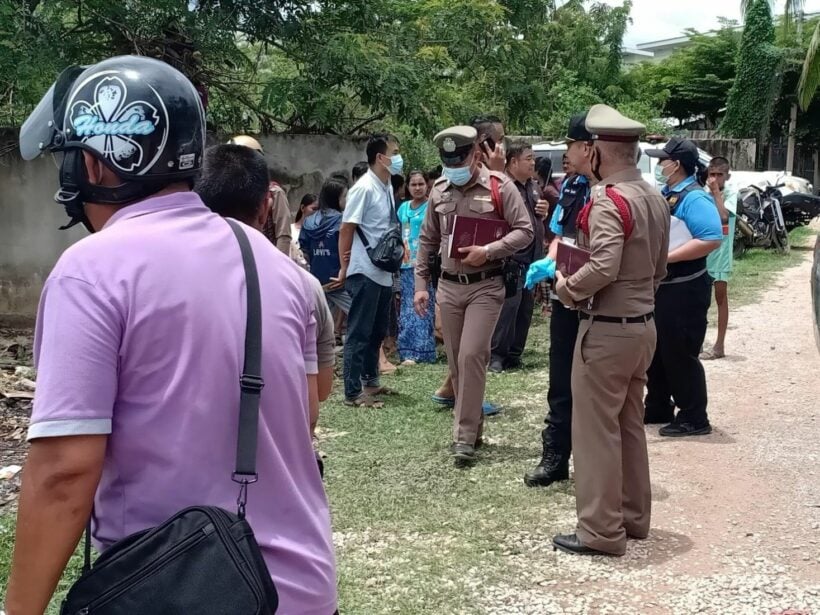 Villagers in the north western Tak province were shocked yesterday by reports of the rape and murder of a 5 year old Burmese girl. Her body was discovered in a forest in Mae Sot district. Police went to Muhajireen community in Mae Sot after being notified of the crime. They found the girl's body, her hands and legs bound with rope and her clothes torn.
It's was assumed the girl was raped and murdered. 3 suspects have been arrested while authorities await forensic test results. Mae Sot Hospital has confirmed the girl suffered internal injuries and bleeding. Doctors also found a piece of cloth stuffed in her mouth.
The community of about 100 residents were horrified by the news. They say the girl went missing at around 7pm on Friday and was found the next morning.
Witnesses claimed that they saw a man take the girl away while she was playing alone in the yard. He reportedly returned alone. It was later revealed the man had previously been convicted for rape and imprisoned for 7 years when he lived across the border in Myanmar.
SOURCE: Nation Thailand
Keep in contact with The Thaiger by following our
Facebook page
.
113 bodies recovered in Myanmar jade mine mudslide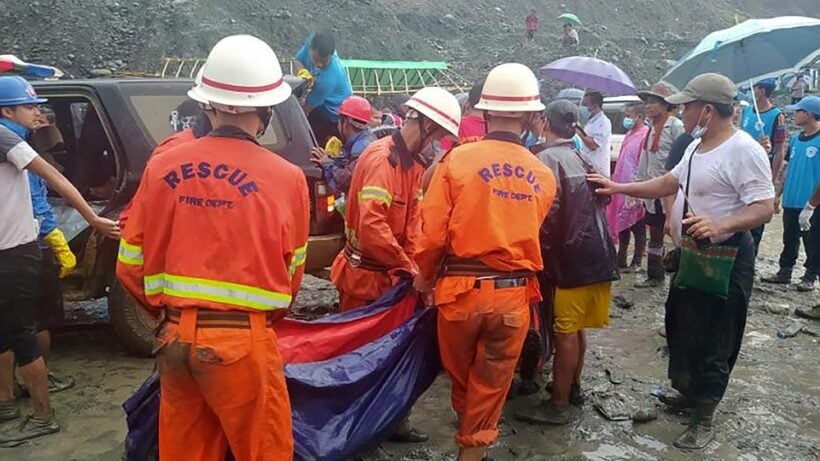 At least 113 are dead after a landslide at a jade mine in northern Myanmar. The Myanmar Fire Services Department says that the incident took place early today in the jade-rich Hpakant district of the northern Kachin state after a heavy rainfall. Photos in the post showed a search and rescue team wading through a valley apparently flooded by the mudslide.
"The jade miners were smothered by a wave of mud. A total of 113 bodies have been found so far."
"Now we recovered more than 100 bodies," a local official with the information ministry told Reuters by phone, "Other bodies are in the mud. The numbers are going to rise."
Fatal landslides are common in the poorly regulated mines of Hpakant, the victims often from impoverished communities who risk their lives hunting the translucent green gemstone.
A 38 year old miner who witnessed the incident says he spotted a tall pile of waste that appeared to be on the verge of collapse and was about to take a picture when people began shouting "Run, run!"
"Within a minute, all the people at the bottom of the hill just disappeared. I feel empty in my heart. I still have goose bumps… There were people stuck in the mud shouting for help but no one could help them."
Aung San Suu Kyi's government promised to clean up the industry when it took power in 2016, but activists say little has changed.
Official sales of jade in Myanmar were worth $750 million US dollars (23.3 billion baht) in 2016-2017, according to data published by the government. Experts say the true value of the industry, which mainly exports to China, is much larger.
Northern Myanmar's abundant natural resources – including jade, timber, gold and amber – have also helped finance both sides of a decades long civil war between ethnic Kachin and the military. The fight to control the mines and the money they bring frequently traps locals in the middle.
SOURCE: Al Jazeera | Newsvoice
Keep in contact with The Thaiger by following our
Facebook page
.
Billions in illicit drugs burned in Thailand and Myanmar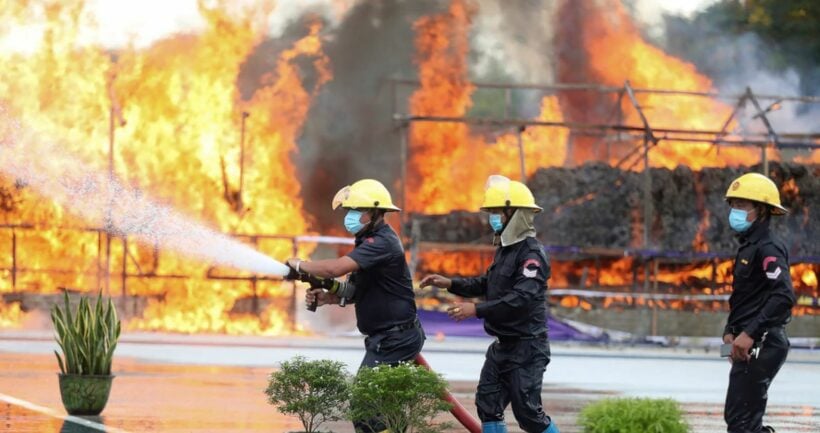 In a joint operation, authorities in Thailand and Myanmar destroyed 25 tonnes of illicit drugs valued at more than 62 billion baht (US$2 billion) in Ayutthaya and Yangon. The move comes as drug cartels in the Golden Triangle boost supplies and seek new channels of distribution. The Golden Triangle, where Laos, northern Myanmar and Thailand meet, has been a hub of illicit drug traffic for decades. Authorities say production there is now taking place on an industrial scale.
In Ayutthaya, about 80 kilometres north of Bangkok, Thai authorities marked International Day Against Drug Abuse and Illicit Trafficking with a mass burning of drugs. Police guarded boxes of drugs unloaded from trucks while bricks of heroin and bags stuffed with methamphetamine pills, known as "yaba," were thrown into dumpsters for incineration. In Yangon, meanwhile, plumes of black smoke filled the sky as sacks full of drugs were set ablaze. Firefighters quickly extinguished the flames.
Thai authorities say Covid-19 travel restrictions and checkpoints helped reduce smuggling, but the United Nations Office on Drugs and Crime said last month that the trade continues to thrive. Thailand's deputy national police chief says drug criminals are getting more creative, and the internet is becoming a growing outlet for the illicit drug trade.
"Our children are making the wrong decision to order narcotic drugs online. And the dealers send the drugs to them."
Rising heroin use among young people is among several worrying trends. Though opium cultivation and heroin refining have dropped, methamphetamine production in Myanmar's northern regions has increased dramatically, with armed ethnic groups collaborating with organised crime elements. Thailand is used mainly as a conduit and distribution point, with some drugs sold domestically, but most smuggled onward.
Jeremy Douglas, the UNODC regional representative, says online drug sales represent a worrying trend, with an oversupply of meth pushing prices down and adding to more drug abuse.
"Above all we are looking now at an increase in drug availability. Very dangerous. Frankly speaking, Myanmar has become the transit place of narcotic drug distribution to Europe and Asia."
SOURCE: Reuters
Keep in contact with The Thaiger by following our
Facebook page
.