Airport shutdown tarnishes Hong Kong's business image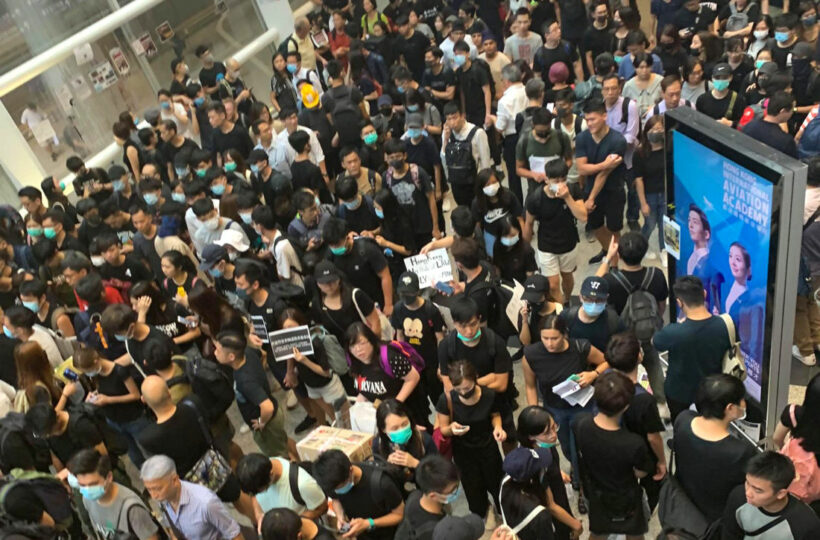 PHOTO & VIDEO: Bill Barnett, c9hotelworks.com
Thousands of supporters of the largely leaderless pro-democracy protest movement descended on the Hong Kong Airport terminal yesterday in an effort to get the message out to the world about their struggle and the harsh tactics used by police.
They achieved that result whilst testing the resolve of Beijing, accusing the protest organisers of 'terrorism'.
Mass flight cancellations disrupted one of the world's busiest air-transport hubs yesterday causing chaos for tourists and business travellers and playing havoc with global airlines' flight schedules.
The protests, which have seen both sides adopt increasingly extreme tactics, had been restricted to small pockets of the former British colony. But the cancellation of more than 150 flights was a rare case of the pro-democracy movement having a direct impact on travel and tourism in one of Asia's key business hubs.
Analysts say twitchy foreign investors will probably be thinking twice before setting up shop in Hong Kong, which has long prided itself as being Asia's leading business city with air links for executives and tourists buzzing across the region.
Hong Kong's Cathay Pacific Airways has taken a stand and told employees in a memo that the carrier has a zero tolerance for employees joining "illegal protests" and warned of disciplinary consequences.
The move follows the Chinese government warning Cathay Pacific, one of Hong Kong's best-known brands, to bar its staff from participating in the protests, an unusual interference into the territory's business affairs.
Hong Kong officials say that yesterday's protest risked hurting the city's reputation as a travel and transport centre. The airport handled 75.3 million passengers in 2018, making it the world's second-busiest international airport after Dubai.
Facebook page
.


Find more SE Asian News courtesy of The Thaiger.

Broke? Find employment in Southeast Asia with JobCute Thailand. Rich? Invest in real estate across Asia with FazWaz Property Group. Even book medical procedures worldwide with MyMediTravel, all powered by DB Ventures.

Covid-19 increasingly linked with patients who lose their sense of smell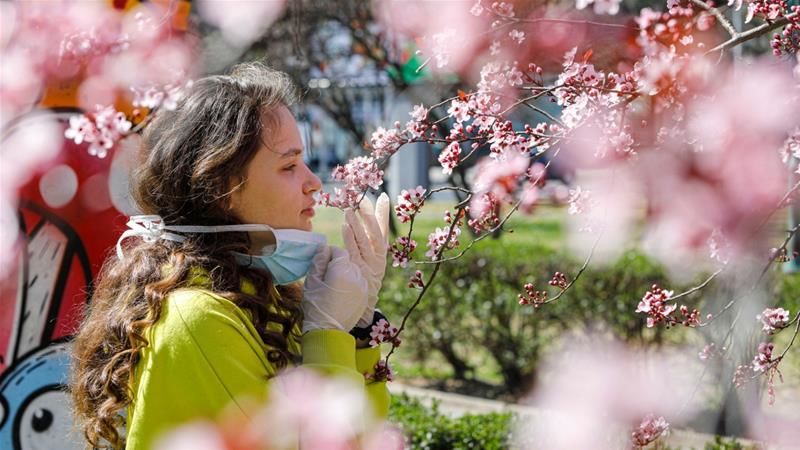 Wake up and smell the roses. But a group of Covid-19 patients simply can't as they've lost their sense of smell.
Anosmia, losing the ability to smell, can be psychologically difficult to live with and has no real treatment. Anosmia has been linked to some Covid-19 patients, both before they develop full symptoms or after they recover from the major respiratory symptoms. Others, who were asymptomatic, have also developed Anosmia.
An increasing number of Covid-19 patients are paying the price after surviving a brush with the virus. Some are facing a long-term inability to smell.
The president of anosmie.org says Anosmia "cuts you off from the smells of life, it's a torture."
"If you have the condition you can no longer breathe in the smell of your first morning coffee, smell the cut grass of a freshly mown lawn or even the reassuring smell of soap on your skin when you're preparing for a meeting."
Anosmia, also known as smell blindness, is the loss of the ability to detect one or more smells. Anosmia may be temporary or permanent. It differs from hyposmia which is a decreased sensitivity to some or all smells.
"You only truly become aware of your sense of smell when you lose it. Eating is a completely different experience too, as so much of what we appreciate in food is what we can smell."
There is already evidence from South Korea, China and Italy, some of the countries hit earliest with the coronavirus outbreaks, that significant numbers of patients with Covid-19 infection have developed anosmia or hyposmia. In Germany it is reported that more than 2 in 3 confirmed cases have anosmia. In South Korea, where testing has been more widespread, 30% of patients testing positive have had anosmia as their major presenting symptom in otherwise mild cases.
There are also other causes of anosmia – nasal polyps, chronic rhinitis, diabetes, Alzheimer's and Parkinson's. Now the novel coronavirus has been added to that list with the symptom alone allowing a diagnosis of Covid-19 in some cases.
Doctors report that when patients lose their sense of smell and don't get it back they note a real change in the quality of life and a level of depression that is not insignificant.
"According to the first numbers, around 80% of patients suffering from Covid-19 recover spontaneously in less than a month and often even faster, in eight to 10 days."
"For others it could be that the disease has destroyed their olfactory nerves, the ones that detect smells. The good news is that these receptors, at the back of the nose, are able to regenerate.
Two Paris hospitals, Rothschild and Lariboisiere, have launched a "CovidORL" study to investigate the phenomenon, testing how well different nose washes can cure anosmia.
In addition, there has now been a rapidly growing number of reports of a significant increase in the number of Covid-19 patients presenting with anosmia in the absence of other symptoms. This knowledge has been widely shared on medical discussion boards by surgeons from around the world managing a high incidence of cases.
Keep in contact with The Thaiger by following our
Facebook page
.
Australia shuts down border between 2 most populous states over Covid-19 fears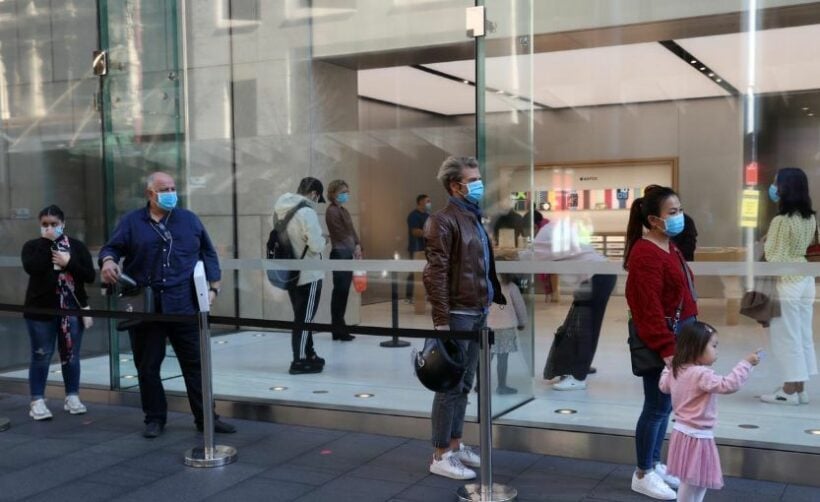 Australian officials are closing borders indefinitely starting from tomorrow for its two most populous states over Covid-19 fears, Victoria and New South Wales.
The move comes after authorities scramble to contain a coronavirus outbreak in the northern suburbs of the city of Melbourne, with some fearing that even these current containment measures may not work to stop the spread of the virus.
A resident in of the inner city suburb of Kensington, told Reuters… "Without a full Melbourne lockdown, I am not super confident this is going to be contained."
"I think people have very much forgotten about social distancing."
The decision marks the first time the border between Victoria and New South Wales has been shut in a century with the last closure occurring during the 1919 Spanish flu pandemic.
The number of Covid-19 cases in Melbourne, Victoria's capital, has spiked in recent days, with authorities implementing strict social-distancing orders in 30 suburbs while forcing nine public housing towers into complete lockdown.
New South Whales Police Commissioner Mick Fuller says he has requested military assistance to enforce the order.
"There will be aerial and other surveillance 24/7 right across the border."
The state reported 127 new Covid-19 infections overnight, its biggest one-day spike since the pandemic began-raising the alarm for as the Melbourne outbreak has caused many to panic. The country has reported an average of 109 cases daily over the past week, compared with an average of just 9 cases daily over the first week of June.
Australia has largely done well compared to other nations, reporting just under 8,500 cases of the Covid-19 virus. Currently, the US and Brazil rank at the top of the charts for the most reported coronavirus cases worldwide with both countries having an acceleration of new cases.
SOURCE: Reuters
Keep in contact with The Thaiger by following our
Facebook page
.
Dalai Lama releases musical album today on his 85th birthday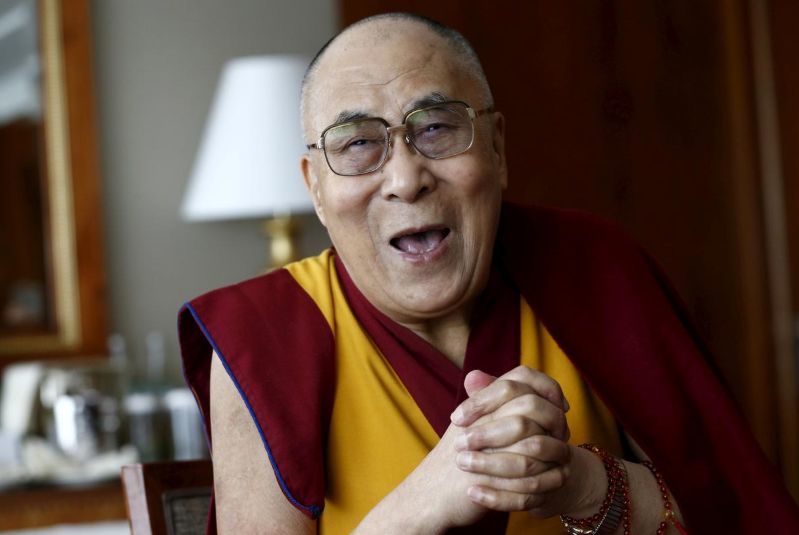 Today, as Buddhists worldwide observe Asalha Puja and Buddhist Lent Day, the Dalai Lama is also celebrating his 85th birthday by releasing an album full of mantras and teachings.
The album, titled "Inner World", starts off with the song "One Of My Favourite Prayers" and follows with reciting meditations and mantras featured with musical backgrounds. The record came about when musician Junelle Kunin, a student of the Dalai Lama from New Zealand, contacted him in 2015 with the idea – and much to her surprise, the exiled Tibetan spiritual leader said yes.
"I thought I'd have to try and convince him."
"That moment of recording him, my goodness I was shaking like a leaf before I went in there."
Kunin did the initial recordings at the Dalai Lama's residence in Dharamsala, India and then brought the recordings home where she, her husband other musicians produced the music for the tracks.
"It's an incredible honour. But it was unbelievably daunting like the trust and responsibility. It's immense," Abraham Kunin said.
The Dalai Lama says in a promotional video for the album that, "The very purpose of my life is to serve as much as I can."
SOURCE: Reuters
Keep in contact with The Thaiger by following our
Facebook page
.