Thailand's high-speed railway will carry first passengers in 2023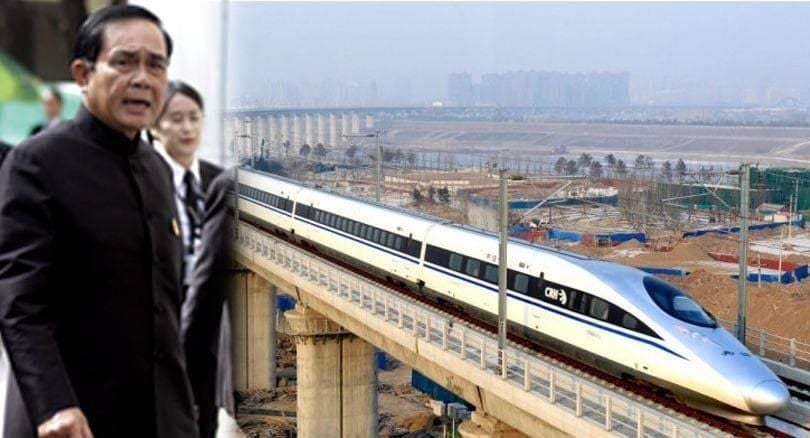 The first section of the 873 kilometre high-speed railway running between Thailand and China should be operating by 2023.
Thailand will now pay for the total cost of the 179 billion baht first section of the high speed rail line, but China is providing the design and will provide the train and carriages. The first 252 kilometre leg, from Bangkok to Nakhon Ratchasima, in the north east, is set to carry its first passengers in 2023.
The project is part of China's planned network of high speed rail links across south east Asia that will eventually connect Kunming in south western China with Singapore. The second section of the line will connect Nakhon Ratchasima to Nong Khai on the Laos border, through Laos and then to China.
The acting Governor State Railway of Thailand announced yesterday that the contracts are currently being finalised and will be signed before the end of the year. The project was delayed in 2016 when Thailand rejected Chinese financing citing high interest rates in the original contracts.
Contracts are also being finalised for the proposed high speed rail links between Suvarnabhumi and Don Mueang airports in Bangkok, and U-Tapao near Pattaya.
The trains will run at speeds up to 250 kph.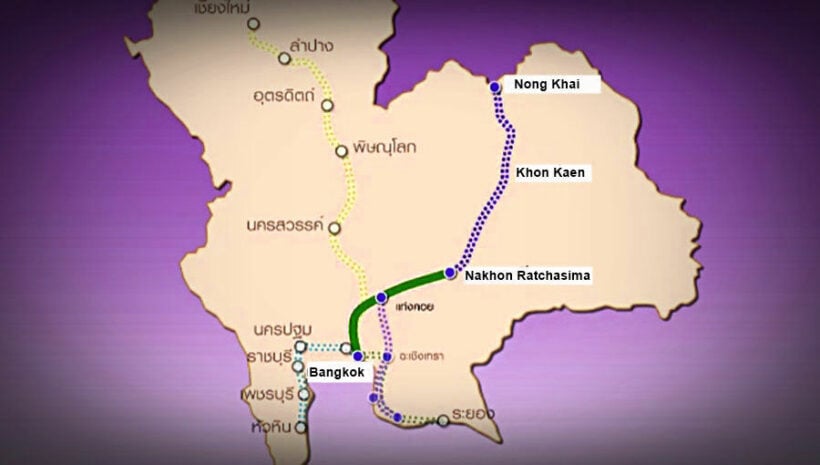 Keep in contact with The Thaiger by following our
Facebook page
.
Stranded migrant workers can stay and work in Thailand, for now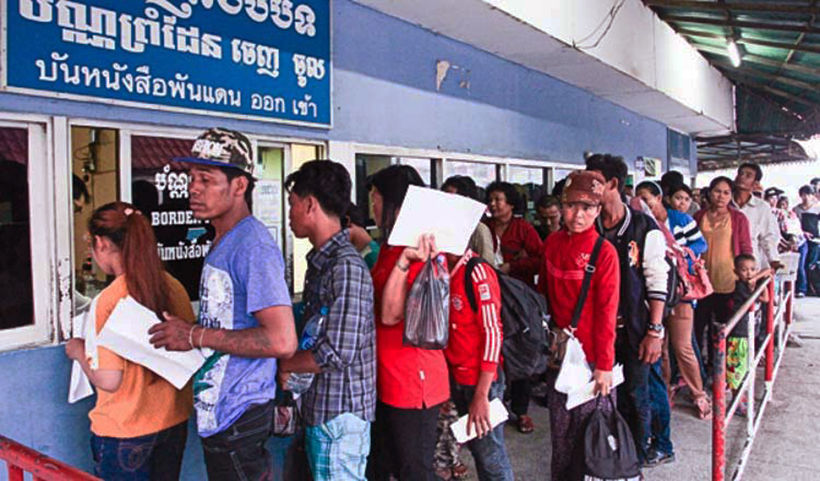 Today the Thai Labour Ministy is allowing stranded workers from Laos, Cambodia and Myanmar to stay and work beyond the expiration date of their work permits, due to the recent closure of their borders.
Labour Minister Mom Ratchawongse Chatumongol Sonakul says that the migrant workers are allowed to continue with their work until the borders reopen.
"This decision will benefit 108.586 migrant workers. They consist of 44,222 workers brought into the country to work for 4 years, based on memorandums of understanding with neighbouring countries, and 64,364 workers who hold border passes and work in border areas on a daily seasonal basis."
SOURCE: Bangkok Post
Keep in contact with The Thaiger by following our
Facebook page
.
Chiang Mai chokes as fires rage in the north of Thailand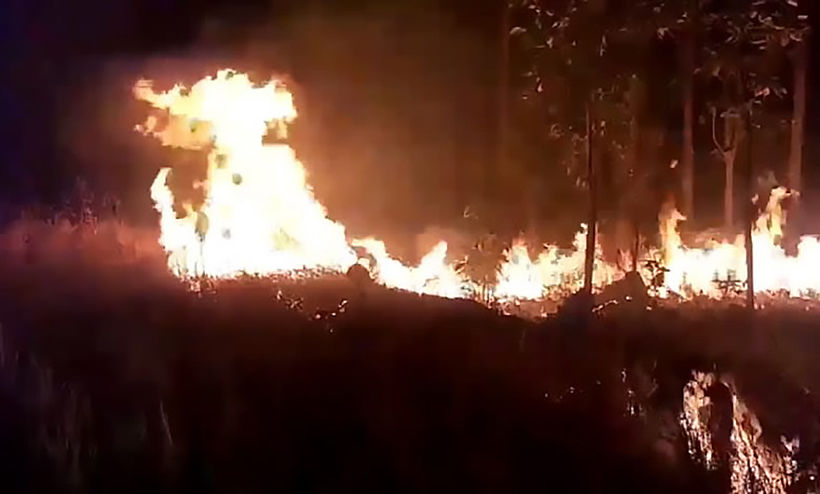 Northern Thailand is choking under a toxic shroud and it's not getting any better. Air pollution across the upper North remains "at critical levels," in many areas, including some of the main population centres. Authorities are monitoring almost 400 active hotspots in Chiang Mai alone yesterday.
The air quality didn't improve this morning, with IQAir recording "very unhealthy" air quality and hazardous PM2.5 dust levels at around 200 in parts of Chiang Mai and up to 270 around Chiang Rai today (below).
Thailand's official safe level is 50: the World Health Organisation sets it at 25. Though it's improved somewhat during the day, Chiang Mai once again rated world's worst for air quality.
According a 2019 report, PM2.5 caused 23,800 premature deaths in Thailand in 2017.
Government spokeswoman Narumon Pinyosinwat says fires have definitely affected air quality, with 17 provinces in the North reporting an increase in levels of PM2.5 pollutants yesterday. Only two, Nakhon Sawan and Uthai Thani in the north-east reported PM2.5 readings below the Pollution Control Department's "safe" threshold.
Chiang Dao district in Chiang Mai reported the highest PM2.5 reading in the North yesterday at 360.
Narumon says the worsening pollution is due to a combination of factors which include arson, drought and wind patterns which trap pollutants right over Thailand. Others say agribusiness, with its annual plantation field burnings, continues to exacerbate the problem.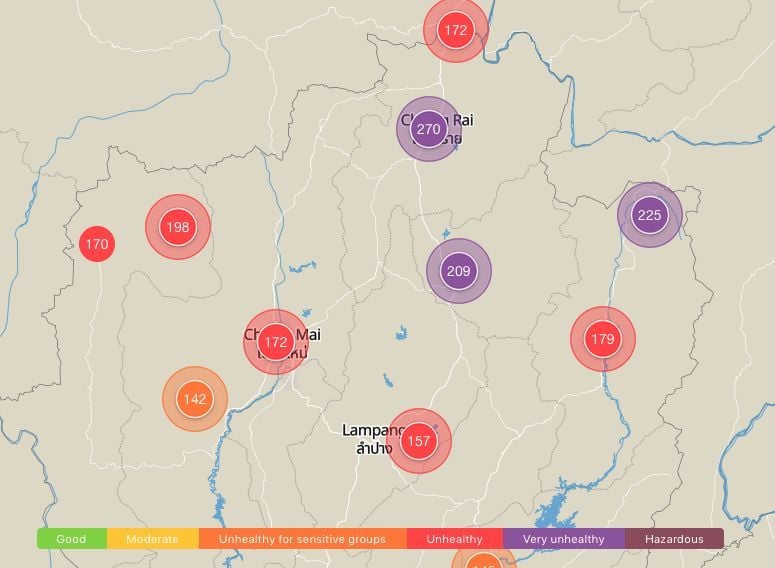 According to satellite data, on Saturday there were 3,809 hotspots in Thailand, 5,061 in Laos and 10,061 in Myanmar. As of yesterday, 398 hotspots, nearly 10% of the country's total, were found in Chiang Mai.
Most of the blazes were related to a continuing bushfire in Doi Suthep-Pui National Park, which suddenly raged out of control late on Saturday after burning for about a week.
SOURCE: Bangkok Post
Keep in contact with The Thaiger by following our
Facebook page
.
Thailand closes many of its land borders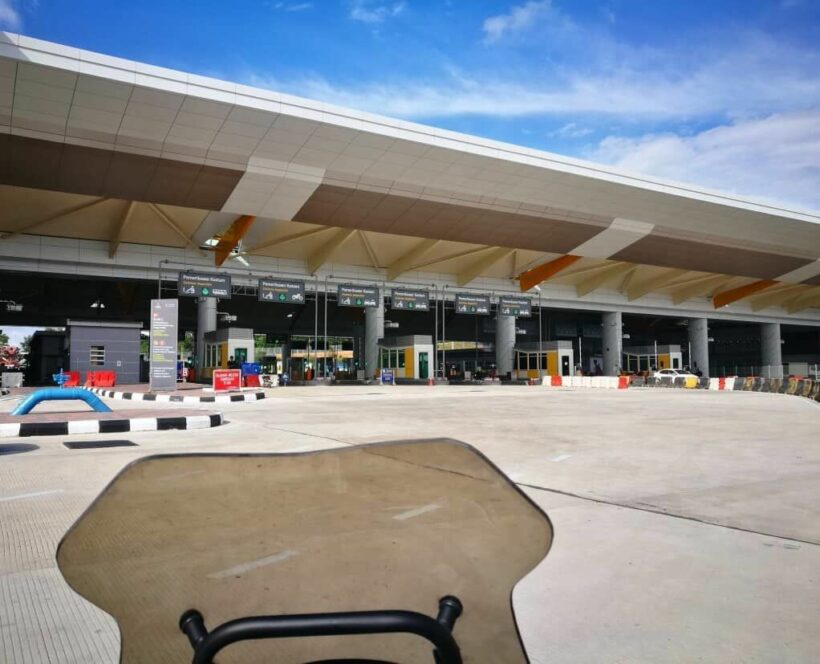 Interior Ministry, Anupong Paojinda, has given governors full authority to close all border provinces, but must leave one international checkpoint active for special circumstances. The move is the latest in Thailand's attempts to block any arrivals to contain the Covid-19 outbreak, which has spiked sharply with new cases this past week.
"The only exception will be Chiang Rai as it borders with Myanmar and Laos and will be allowed to maintain one checkpoint for each country for general trade purposes."
Key checkpoints to be temporary closed…
1. Thai-Mayanmar Friendship Bridge in Tak
Tak governor Anrasit Samphanrat, placed the order on Friday 20th that the closure of the first Thai-Myanmar Friendship Bridge as of today which will be closed until further notice.
The second Thai-Myanmar Friendship Bridge across the Moei River in Mae Sot district, which opened last October, will be the province's only checkpoint open to travellers.
2. The Phu Nam Ron and Three Pagodas passes linking Kanchanaburi and Myanmar will be shut from today to April 3.
Kanchanaburi governor Jirakiat Phumsawad, ordered the temporary closure of the Phu Nam Ron (the main crossing on the route to Dawei in Myanmar) permanent checkpoint in Muang district and the Three Pagodas crossing in Sangkhla Buri is the main pass connecting Sangkhla Buri and Payathonsu in Myanmar.
3. The Ban Khao Din in Sa Kaeo, which will be closed from Monday to April 5.
Sa Kaeo governor Woraphan Suwannus, has ordered three closures of Ban Nong Preu temporary checkpoint in Aranyaprathet district, Ban Ta Phraya temporary checkpoint in Ta Phraya district, and the Ban Khao Din permanent checkpoint in Khlong Hat district from Monday 23 to April 5.
Only the Aranyaprathet checkpoint will remain open to connect the country with Cambodia.
According to the Thai News Agency of the Public Relations Department, Mukdahan yesterday halted ferry service across the Mekong River to Savannakhet province in Laos until April 20.
Checkpoints with Malaysia were already closed for all intents and purposes after the Malaysian government locked down the country for two weeks from last Monday. Malaysia has reported 900 Covid-19 cases, the most in Southeast Asia. Read more HERE.
Keep in contact with The Thaiger by following our
Facebook page
.