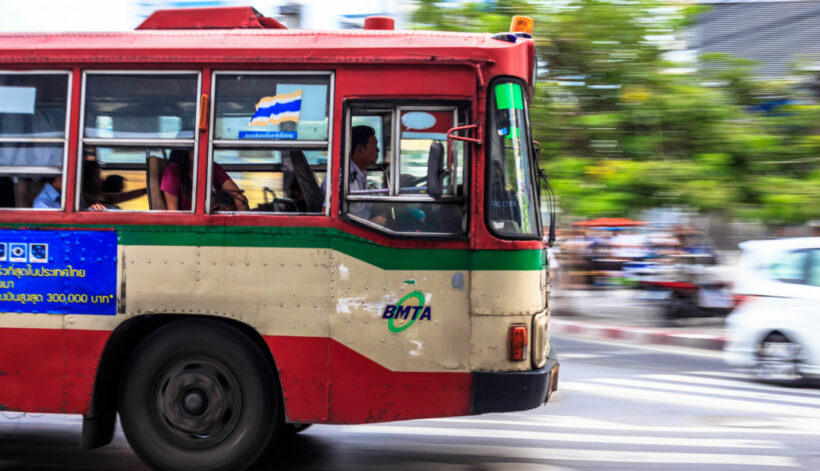 One in seven public transport vehicles failed safety checks in the first week of a new program
Vehicles failed the tests mostly because of a low-quality brake systems and excessive black smoke emissions
In better news, only three of 10,236 drivers failed the exam
About one in seven public Thai transport vehicles have failed safety checks in the first week of a new program introduced by the Department of Land Transport. Of the 7,088 vehicles tested nationwide from September 2-11, in attempt to improve the standard of public transport, as many as 1,020 have not made the grade.
The department ordered land transport offices nationwide to conduct a full check-up of public transport vehicles and drivers.
DLT director-general Peerapol Thavornsubhajaroen says the check-up campaign is will take up to three months to complete.
"During the first week, September 2-11, we already performed checks on 7,088 vehicles and found that 1,020 of them failed the evaluation."
The Nation reports that 1,212 of the tested vehicles were regular route vans, 2,381 were non-regular route vans, 2,219 regular route buses, 838 non-regular route buses, and 438 minibuses. Vehicles failed the evaluation mostly because of a low-quality brake system, excessive black smoke emissions or an unauthorised modification to engines and gear systems.
"We ordered the owners to fix their failed vehicles and bring them back for another check-up within 15 days."
There was better news concerning the public transport drivers, with three of 10,236 drivers failing the exam.
"We have already advised them how to prepare themselves before taking a remedial exam."
The director-general said the vehicle tests include checks of the engine, vehicle body integrity, brake system, wheel alignment, lights, smoke emissions, acoustics, as well as ensuring there were no gas leaks.
Driver were checked for physical fitness, colour blindness, reactions, their eyes, as well as a test on their general suitability as a public transport service provider.
Operators of public transport can bring their vehicles and drivers for a check-up at all land transport branches daily from 8.30am to 4.30pm, said Peerapol.
SOURCE: The Nation